Finally, a new season of Fake Cart Detective! And this time we get to go somewhere besides California!
Constantly here on DabConnection, we preach the eternal message: Avoid deadly lung injury by avoiding fake carts, shop only at licensed dispensaries. And that still holds true for the most part. Emphasis on "licensed," because unlicensed cannabis shops in California get busted all the time. California is ground zero for so much black market activity, it seems like every other state has its act together in comparison to Cali.
Well, it's time to let some other state have the spotlight. Michigan looks to be a rising contender for most troubled cannabis market. We do hear some distraught Yoopers calling out from there once in awhile, but when we finally get around to checking it out, we have no idea how it got this bad…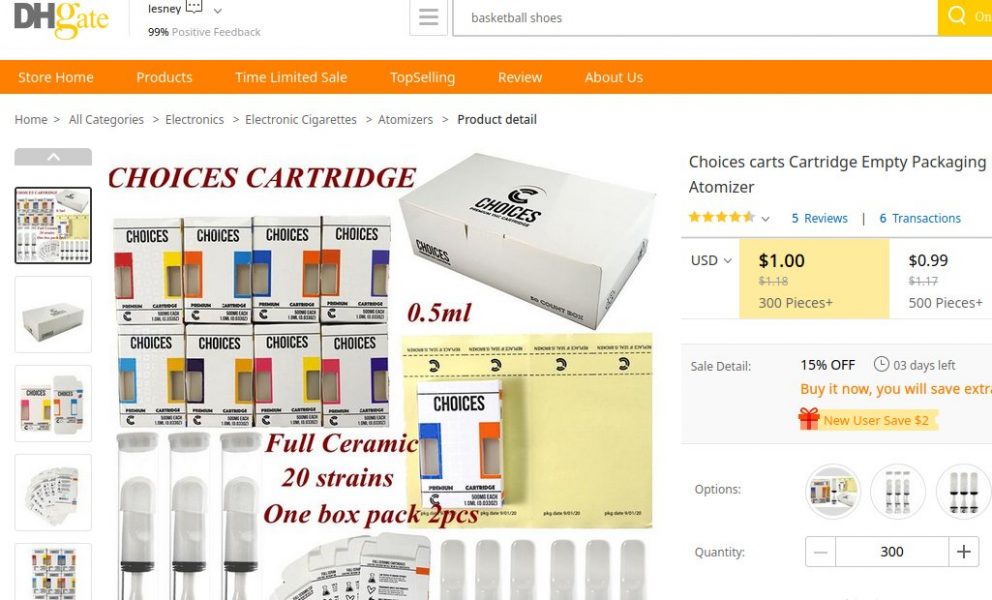 Choices is a fake cart brand rolling around Michigan
A reader reached out to us to inquire about Choices brand vape carts, which they found in Michigan. The Choices gimmick is they come bundled in two cartridges per package, each a .5 gram, each supposed to be a different flavor. Long story short, we find no company behind Choices, but we find the empty packaging right away on Vapes Wholesale, DHGate, and other fake brand packaging websites.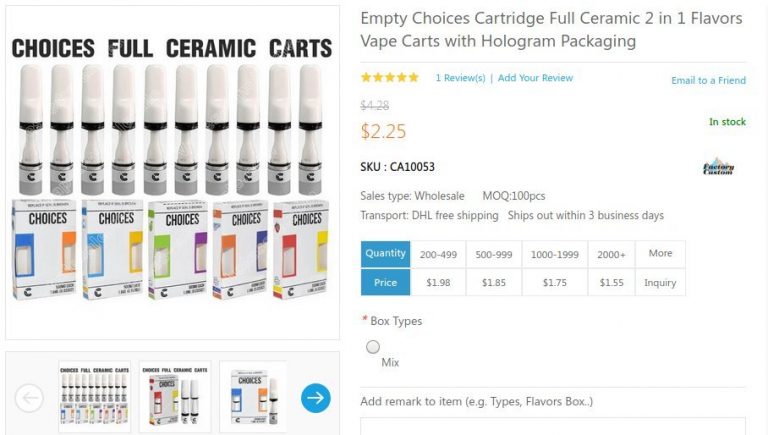 Once again, even if a brand was legit at one time, the fact that they're sold far and wide as empty packages to be filled by the anonymous buyer indicates that most of the ones you encounter will be fake. As it is, we see Choices carts being reported all over the r/fakecarts subreddit, so we'll leave it at that and move on.
UPDATE 8/27/21: A Choices cart just sent somebody to the hospital, as reported on Reddit: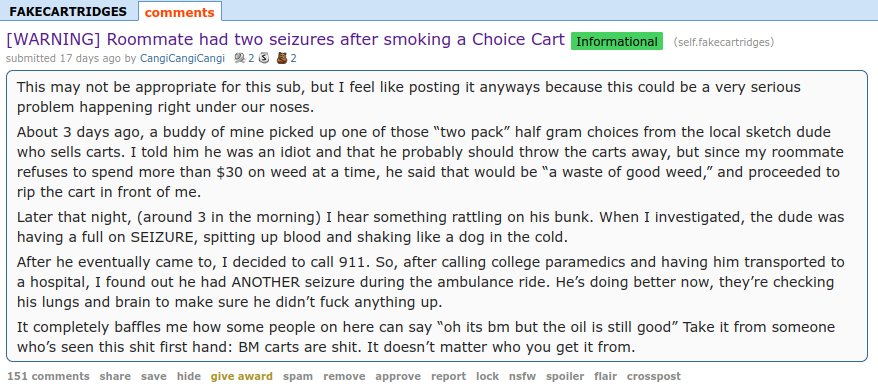 This time it was in Illinois, so still sticking to the Midwest. The victim was having "a seizure, spitting up blood and shaking like a dog in the cold." Graphic, but it goes to show what can happen. The problem is that an uncontrolled and unregulated product has no quality control, so you're gambling with your life.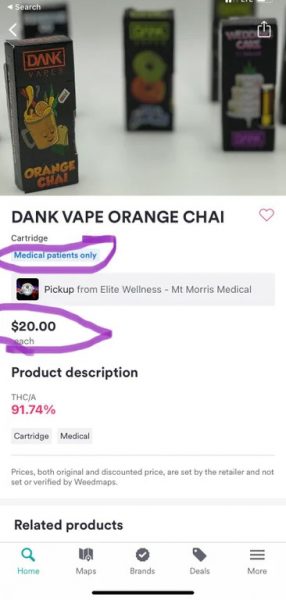 If your dispensary is selling Danks, report them!
This was the Reddit report which made us get concerned for Michigan's cannabis scene. If your medical dispensary is selling Danks and is openly advertising them on WeedMaps, you know something has gone horribly, horribly wrong! That report was posted on Reddit just this last weekend.
Utterly, without question, Dank is the one fake THC vape cart name which should send you running away! "Dank" is a name which should be synonymous with lung damage, vitamin E, popcorn lung, pesticides, heavy metals, lead poisoning, and patients on ventilators at the hospital.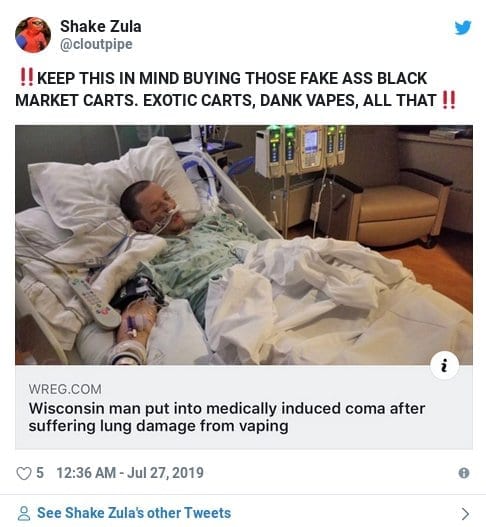 I don't care if they make the oil right in front of you, NEVER TRUST A DANK CART! This is going beyond individual health and becoming a public moral issue. Even if you get lucky and don't die from it, dozens of people have died from them and thousands more hospitalized. Buying a Dank cart is giving your money to people who don't care about the public's health. Anybody who offers this brand for sale should be black-listed out of the cannabis market. This brand is supported by blood money.
There are of course thousands of fake cartridge brands out there. There are so many that it comes down to compiling periodic top ten fake cart brands lists. But Danks is one case where it was one of the first black market brands to get attention, well-covered by mainstream media. Word should have gotten around about them, and yet here they are for sale at a medical dispensary, no less!
Michigan has a sketchy dispensary problem
So this Reddit thread has a customer showing the brand Savage Sticks, that they picked up at a Michigan dispo. Elite Wellness, you recall from the story above. A comment on that page says that Elite Wellness will sell you a boof cart but makes customers sign a waiver first to acknowledge that they're buying an unlicensed cart and know the risks.
This has to be a joke, right?
But here is an official news source, and I quote:
> "The Marijuana Regulatory Agency ended a practice that lasted from January 2019 through April of last year under which caregivers were able to sell untested product directly to provisioning centers for sale, so long as customer signed waivers acknowledging they knew the risks."
That is Savage Sticks, recalled in January 2020 in Michigan due to vitamin E acetate contamination concerns. The Reddit thread we just showed is from just 2 weeks ago. So maybe they cleaned up their act, but it's still darned risky vaping a Savage Stick cart from Michigan.
Here's another boof brand which a Redditor says came from ZaZa, a Michigan dispensary. This time there is no question of the authenticity; the "D" logo is taken from the Detroit Tigers baseball team. The other cart they show, Ace, doesn't even have dispensary stickers.
Generally every time we see the Michigan dispo scene discussed, people just seem to accept that dispos there will sell fake product and nobody is even complaining, at least not where it counts. But is that just Reddit gossip, or are official sources pointing to an issue as well?
Michigan dispensary raids!
The raid stories go on and on in Michigan. Back when the vape lung injury epidemic was still breaking health news, in November of 2019, the Detroit Metro Times reported:
> "Black-market THC cartridges are easy to find in Michigan because the state has done little to address the proliferation of illicit delivery services that advertise on websites and apps such as WeedMaps and Craigslist. A Google search for marijuana delivery services in Michigan lists dozens of websites that illegally sell untested vape cartridges in legit-looking packaging under the names Chronic Carts, Dank Vapes, Fruity Pebbles, Dr. Zodiak, Exotic Carts, and Fwaygo."
There it is, Dank vapes! Remember kids, tell your plug that Dank is stank!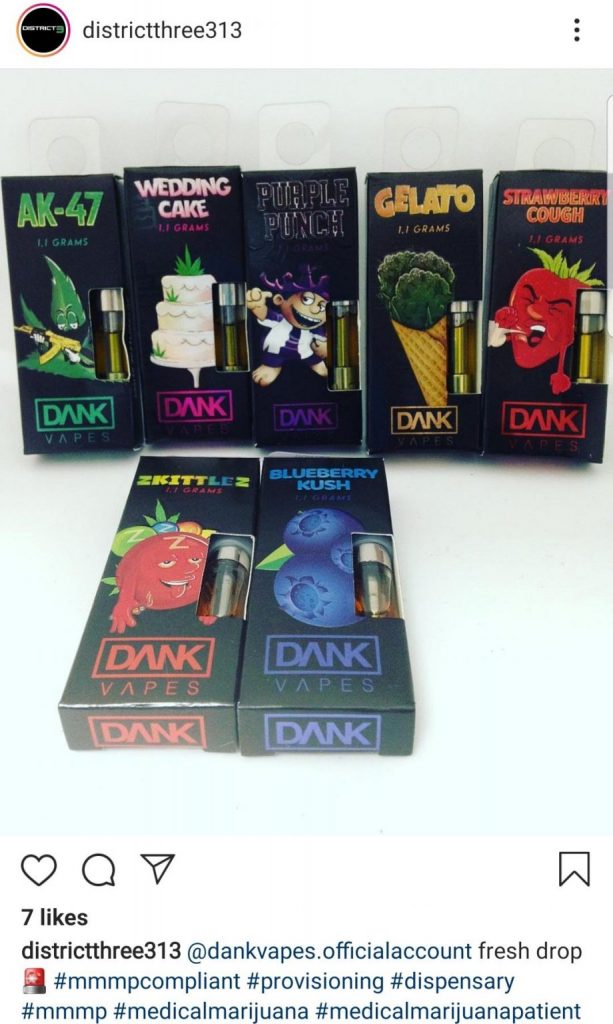 And here's another Michigan dispo selling Danks, reported 2 years ago.
One weird thing about Michigan regulation is that the state government is obsessed with nicotine vapes not falling into kids' hands, to the point where they just turn a deaf ear to anything else. The governor banning "flavored e-cigarettes" there even prompted dispensaries to have a buyback-exchange program for THC / CBD vapes instead. It could be that they are simply not caught up on the concept that cannabis can be vaped too.
This is pointed out in September 2019 in just about that many words: "And by attacking nicotine e-cigarettes and ignoring the cannabis vaping crisis, Whitmer and Michigan health officials have confused the public and directed attention away from the growing popularity of illicit cannabis cartridges."
Use caution when vaping cannabis in Michigan
Now information about bunk vapes in Michigan is tough to dig up, for two reasons: (1) COVID blows all other health news off the front page, and (2) California's cannabis black market is so loud that it drowns out the other 50 states combined. Nevertheless, even though some of these stories are a year or two old, the more recent reports indicate that considerable black market activity in the Michigan cannabis market is ongoing.
Normally we tell everyone: Get your product from a dispensary to ensure safety. With Michigan however, all bets are off.
Bottom line, we promise to keep a closer eye on Michigan. Great Lakes folks, you can help by reporting any black market product sightings, busts, or raids in Michigan here in the comments. You can also try out our forum, we promise it doesn't bite.