REVIEW OVERVIEW

SUMMARY
Today we will have a taste of Calm By Wellness, a brand that specializes in CBD and hemp-derived products. Their products include an assorted variety of gummies, tinctures, and topicals to help with everything from immunity to sleep. For this review, I will try their new Delta-8 gummies.
Pros:
Fast-acting
Low in sugar
Doesn't taste too artificial
Mild to moderate potency
Cons:
Recommendations: None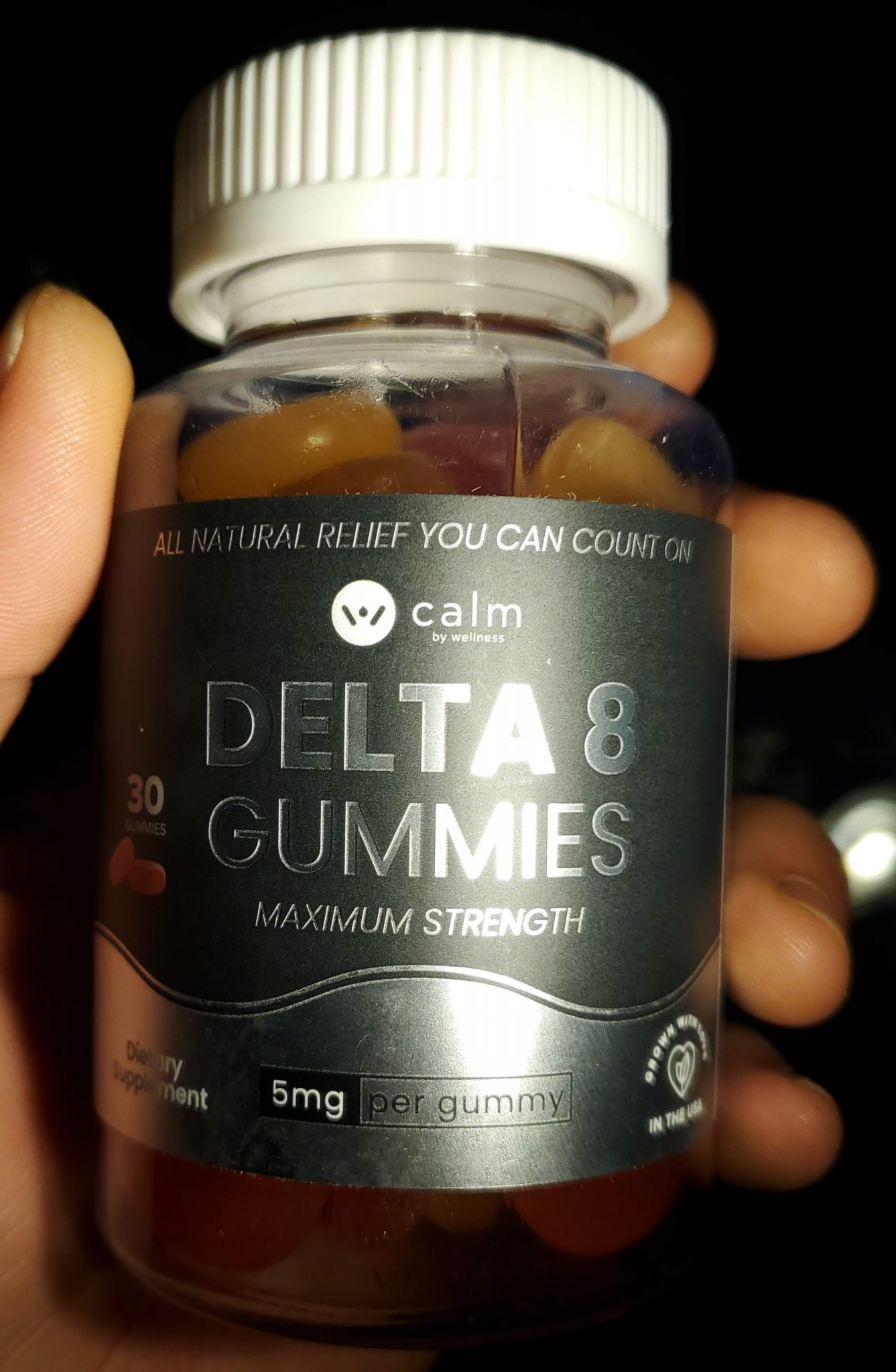 Calm By Wellness Delta-8 Gummies are low in sugar, which surprisingly doesn't taste artificial
This month, Calm By Wellness sent me a sample jar of their new Delta-8 gummies. As a type-2 diabetic with peripheral neuropathy, I mostly avoid THC/CBD edibles that are usually high in sugar (as they usually cause burning pain or sensation of pins and needles). However, these gummies were lower in sugar with 3 total grams per serving. You can find out more about Delta-8 THC here. These Delta-8 gummies come in a jar that reminds me of the ones seen in vitamin stores and pharmacies. In each jar, it contains 30 gummies in 2 flavors, which are orange and strawberry. Each gummy also contains approximately 5 mg of Delta-8 per serving.
* EDITOR'S NOTE: Folks, even if you do not happen to be diabetic, you are most likely getting unhealthy amounts of sugar in your diet. Sugar saturation is a serious health crisis in the Western world, contributing to obesity. Too much sugar also weakens your immune system, a salient point with a global pandemic going on. Cutting sugar in pre-packaged foods could slash rates of cardiovascular diseases. Any product that gives us a lower sugar alternative is worth attention. /end soapbox-mode, thank-you-for-coming-to-my-Ted-talk.jpg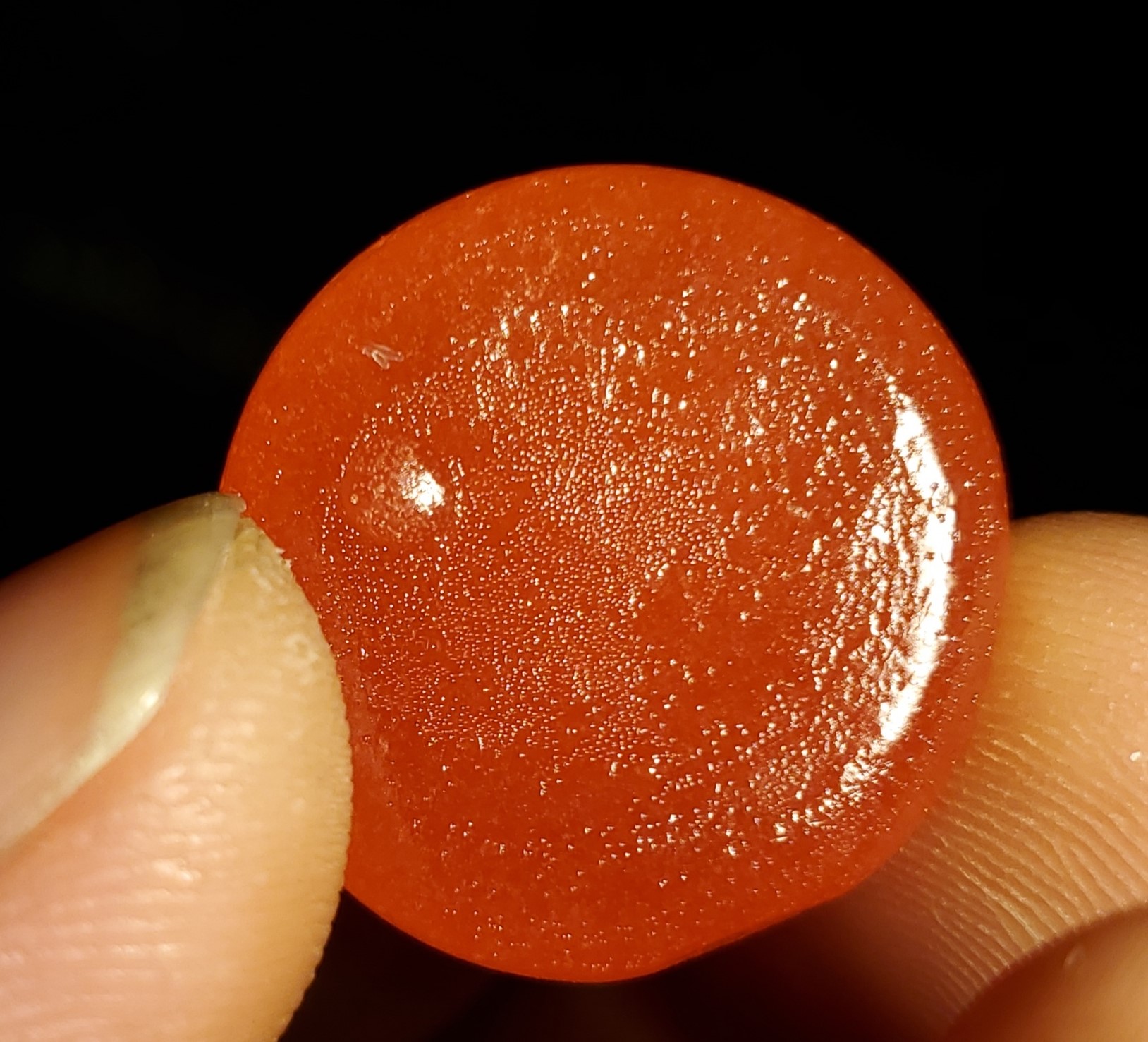 These Delta-8 gummies felt mildly relaxing with one serving, improved my sleep schedule with two servings
At first, I tried one piece to see if they had any effect on me. About fifteen to twenty minutes later, I felt mildly relaxed. Then, I took another, where I started to feel the full effects of the Delta-8. It started to feel almost sedative about an hour from the first gummy I had. So I felt these gummies were perfect for consumption right before going to sleep. Over the course of two weeks, I've gotten a better night's sleep in quite some time, while taking two pieces about an hour before bedtime. In addition to improving my sleep schedule, I was able to get a fuller night's sleep and woke up feeling recharged.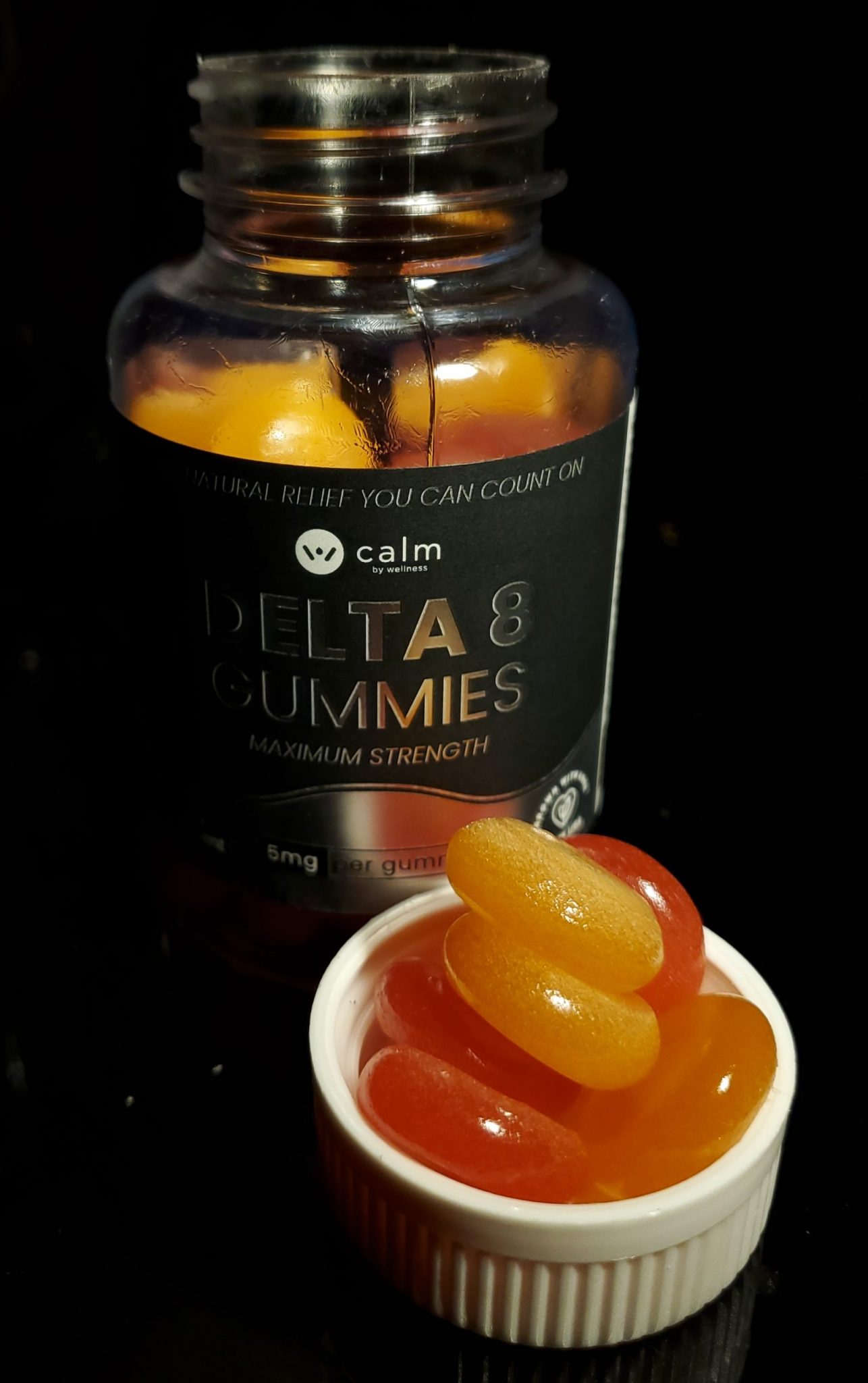 Not as immediate in its effects as other kinds of Delta-8 products, but far more effective than melatonin
Recently, I felt more immediate and slightly more euphoric effects from the other kinds of Delta-8 products, such as Spensary cartridges and Delta Munchies disposable vapes. But I felt the effects of these Delta-8 gummies were longer lasting and more effective over time. These gummies were especially useful in regulating my sleep schedule with their moderately sedative effects. Overall, I felt that Delta-8 was far more effective than melatonin, which I have used from time to time to treat my insomnia.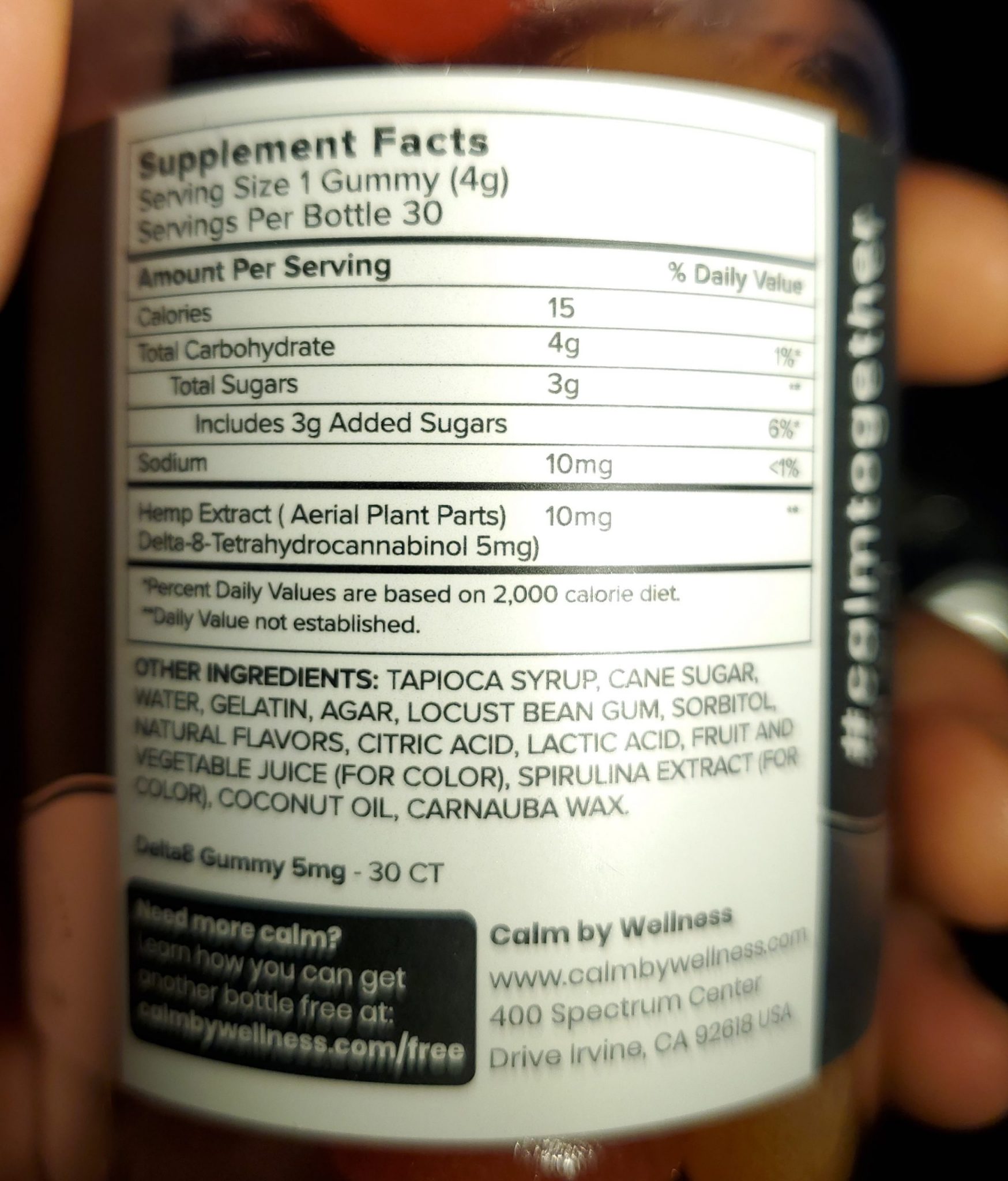 These Delta-8 gummies would be great for beginners and/or anyone prone to adverse effects of THC-high products
The full retail price for one bottle of thirty (30) Calm By Wellness Delta-8 Gummies is $49.99. In my opinion, these Delta-8 gummies provide a mellow and relaxing high that would be perfect for beginners and/or anyone who experiences any adverse effects to high-THC products. These Delta-8 gummies would also be helpful to anyone with anxiety, depression, and mild to moderate chronic pain. Price-wise, these gummies are similar to any other vitamin sold in health stores but far more effective. My advice is to start with one gummy then decide to take more if necessary, but no more than 3 gummies during one sleep cycle.
Overall, I would regularly buy Calm by Wellness Delta-8 gummies for sleep, which are also available in subscription bundles
These Calm by Wellness Delta-8 gummies are highly recommended for their low sugar, natural flavor, and mild to moderate potency. These Delta-8 gummies proved especially helpful for anxiety, depression, and sleep problems. These Delta-8 gummies also didn't taste too artificial and didn't raise my sugar levels during the night too much. This is also great news for both type-1 and type-2 diabetics, particularly those with peripheral neuropathy or related issues. You can find Calm By Wellness Edible (Delta-8) Gummies, which is also available in various subscription bundles here.
Have you tried Calm by Wellness Delta-8 gummies? Let us know in the comments or on our forum.