REVIEW OVERVIEW

SUMMARY
I got a box in the mail, and inside was the Extreme Q, flower vaporizer, how fun!
Packaged very securely, with not a space in the box 




Clear easy instructions, fast to use 

It comes with everything you need except the herbs (oh wait, there is a sample of that too, no flower though) 

Fun blue "mood" light and beep noises to let you know it's working 

Quality glass connections that slip on and off easily 

It can be used with the whip, the bag, or as a room aromatizer ~ Versatel 

Remote controlled for helping new folks and more precise control 

6 preset temp settings 

4 settings for the fan speed 

Easy-to-read display shows the temp, sound, timer, fan speed 

Power cord and adaptor included, very long for passing around 

Great flex hose that's not bent or ugly and should not kink anytime soon
See our video review of the Arizer Extreme Q Vaporizer here.
Pros:
Great design 'Modern space age'
Simple to use from the start
Quality glass bits for connections
Sturdy bags for filling
Cool stir stick (glass with yellow swirl)
Cons:
It needs to be plugged in to use (unless you fill a few bags and take them on the go)
The hose is not easy to store
There should be 2 glass stir sticks, they are so cute!
Recommendations: None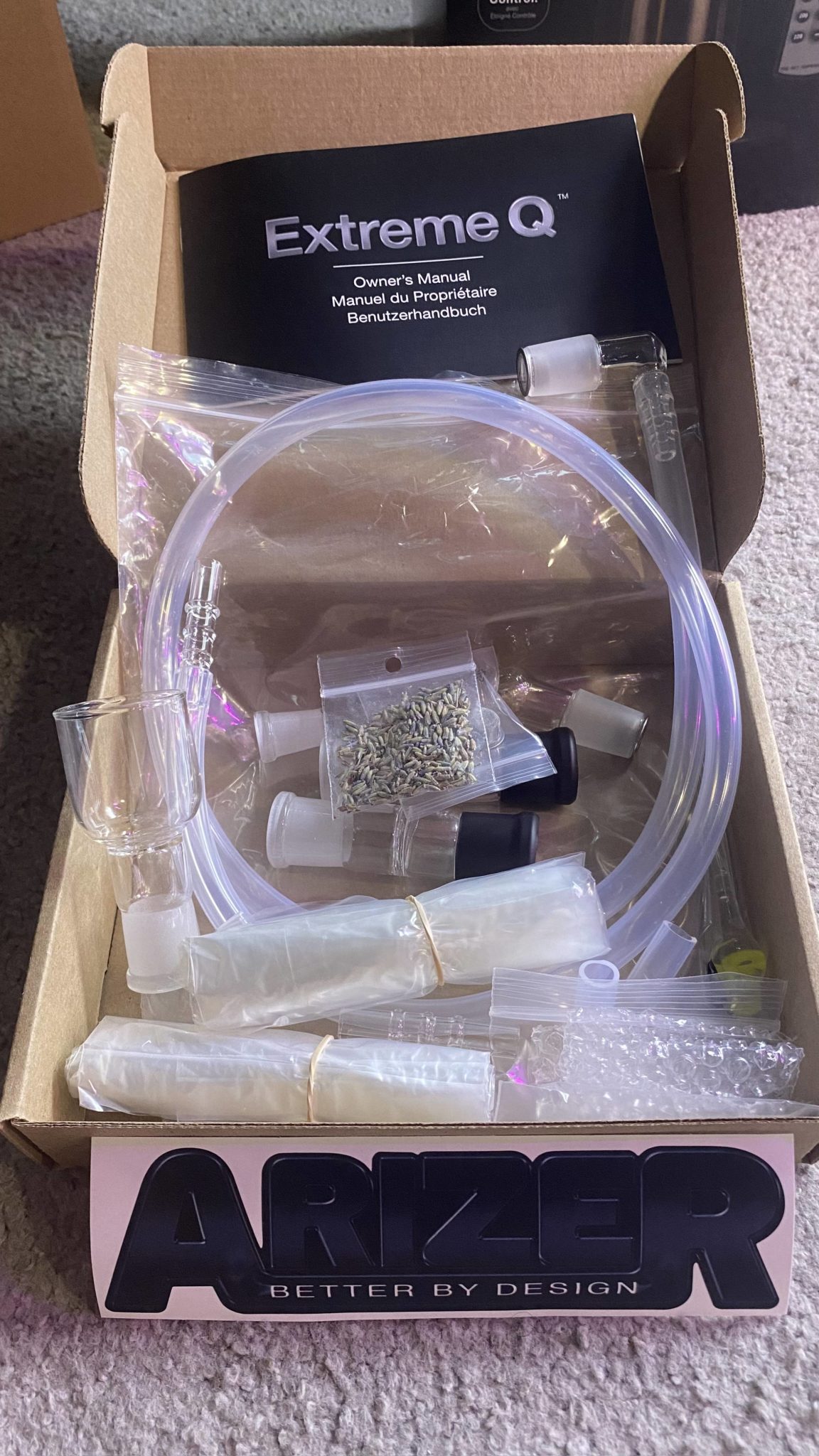 It's like opening a Christmas gift 
I'm very pleased to say that I got the Extreme Q from Arizer to try out. Opening the box was like a fun puzzle at first, everything was packed so well that nothing was out of place or broken. When I pulled out the base (multipurpose heater) I could tell right from the start that this was a quality product. One can easily grip it, and that gun mettle chrome is classy looking. The blue light that is on the bottom is just a chef's kiss to this well-designed unit. Also included are several glasses implements to use in its 3 functions.
There is also a fantastic remote control that lets you set the temp you're looking for fast and easily, with 6 choices you cannot go wrong. There are also 4 fan speeds if you want to use the whip as a shotgun, or when filling the bags (that also come with (2) and the glass bits to hook it up with a 45-degree piece to attach to the heater unit.) And there is also a timer function. And the thing I loved best was the glass stir stick with the yellow swirl at the top, so cute! It even had a few spare screens to swap out as they do need to be cleaned from time to time. Oh, there was also a cool sticker, that will go on my laptop with the rest. 
The Extreme Q by Arizer is a top-drawer product
I could not find one thing wrong with this build. It's simple and straightforward. At most, you spend 30 seconds reading the succinct instructions. It has everything you could ask for in a flower vaporizer, glass bits for bags, glass bits, and a hose for whips. It even has a glass bowl to put herbs to use as a room aromatizer, how cool is that? The remote control made my experience even more pleasurable as it set the exact temp, I wanted without having to press the on-screen buttons 200 times to get it to 200 degrees, thank you for that!
Now if you want to bump it up a degree or 2 the on-screens are great, but the remote has that button too. It also lets you control the fan speed; with 4 settings you cannot go wrong. I use the fan to get a shotgun, so turning it off easily is a great feature. Filling the bags is simple too. Add the flower, attach the bag to the glass bit, and insert it into the base, use the remote to turn it on, it's that flipping easy! I think I may love this product. The only thing for me is that I live in an older home with not so many plugs, but that's my issue. But maybe a battery pack to run it in the future?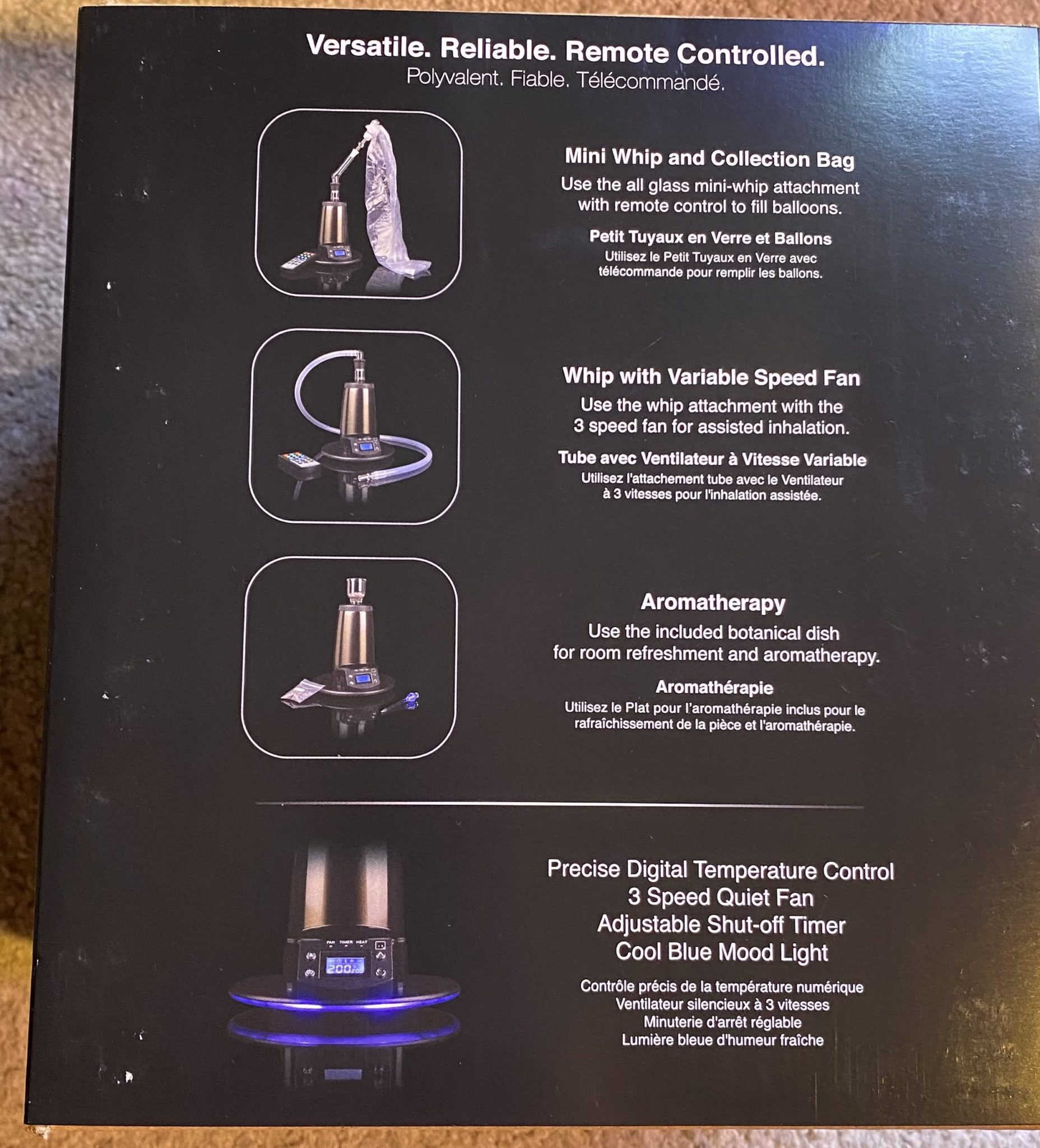 The high was fantastic
Money savings could happen, as I felt I got a lot more from my flower using the Extreme Q. It seemed like I would get high quicker and use less flower with it. I'm not sure this will hold true, but I'm going to keep testing that and see if I save money going through less flower, if so, I'll be getting another one just to keep it as a backup in case I break this one. Have I mentioned how awesome this thing is?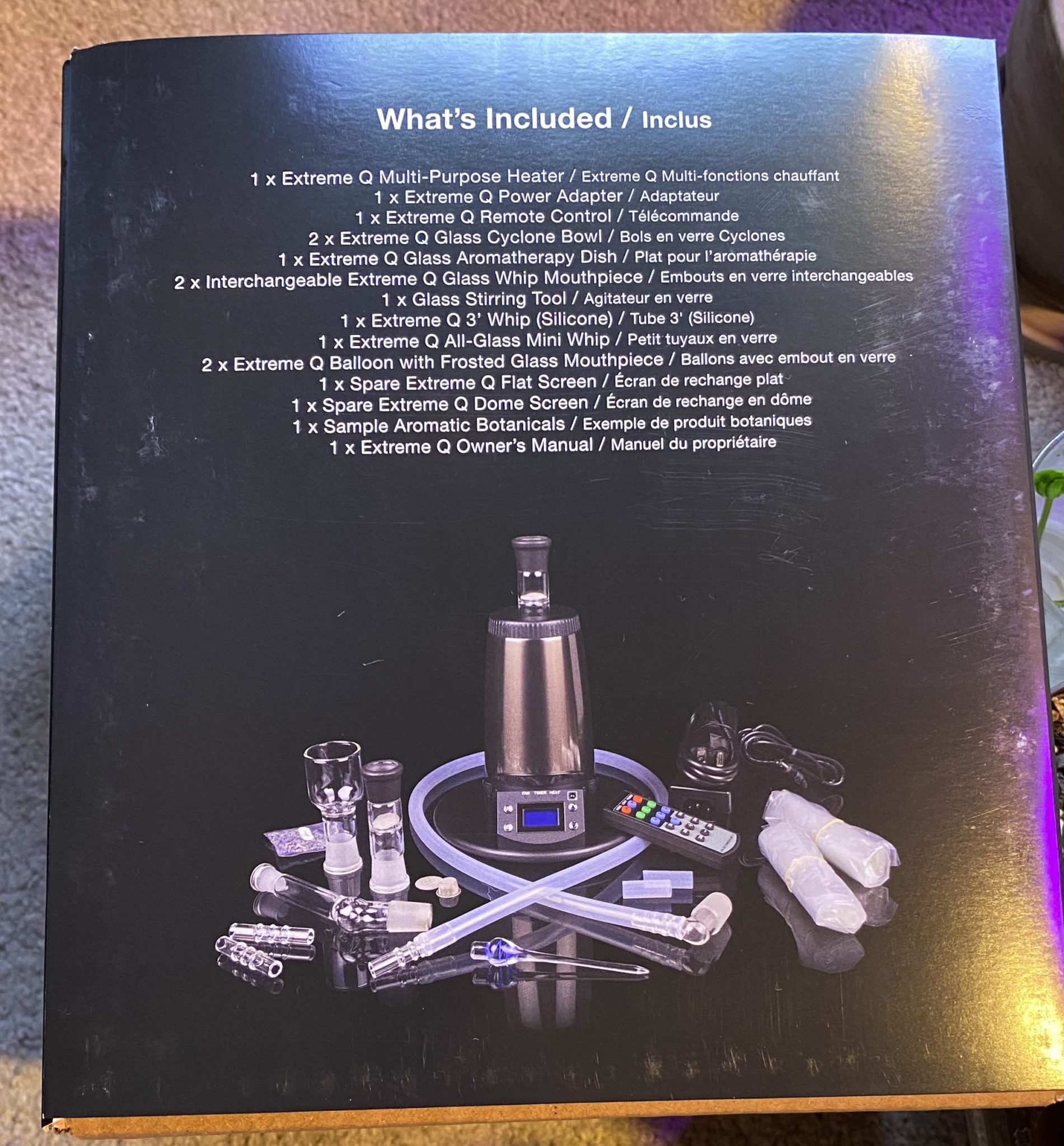 The value of the product is spot on!
Other than adding a battery pack for portability, I would not change a thing. Maybe add another stir stick, as it's useful for many things and would keep people's minds on your product even if not using it. Good PR.  
[EDITOR's NOTE:] We find the Arizer Extreme Q retails for $129.95 at Planet of the Vapes, and $99.99 at Aroma-Tek, for a couple price gauges.
Everything listed was in the box:
1 x Extreme Q Multi-Purpose Heater  

1 x Extreme Q Power Adapter 

1 x Extreme Q Remote Control  

2 x Extreme Q Glass Cyclone Bowl  

1 x Extreme Q Glass Aromatherapy Dish  

2 x Interchangeable Extreme Q Glass Whip Mouthpiece  

1 x Glass Stirring Tool  

1 x Extreme Q 3′ Whip (Silicone)  

1 × Extreme Q All-Glass Mini Whip 

2 x Extreme Q Balloon with Frosted Glass Mouthpiece  

1 x Spare Extreme Q Flat Screen 

1 x Spare Extreme Q Dome Screen  

1 × Sample Aromatic Botanicals 

1 x Extreme Q Owner's Manual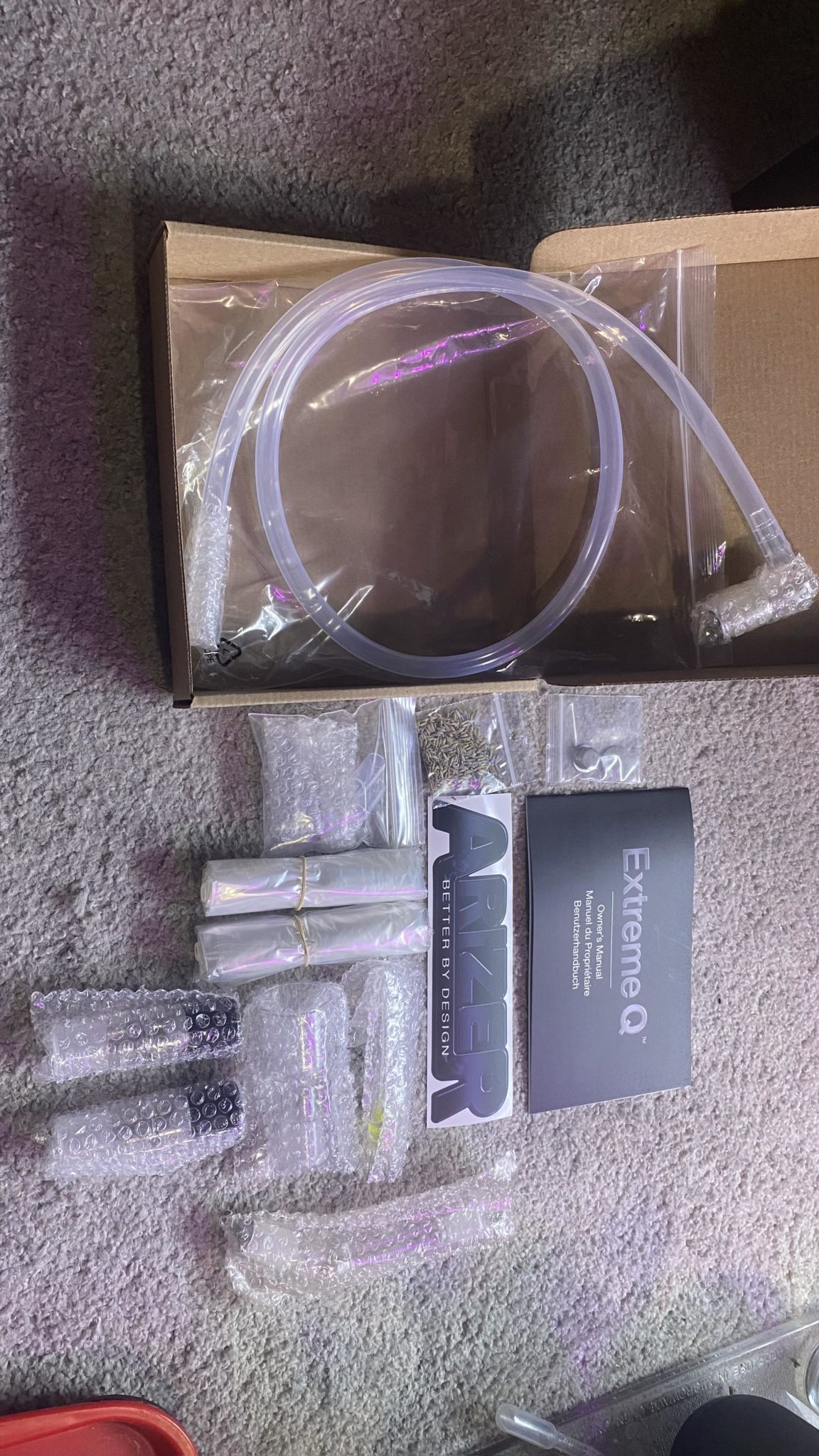 Will I be looking for more products from this company?
Try and stop me from looking. I'm very impressed with the quality of what I have got and am going to look and see what other products they have to offer. If everything is of this caliber, I'm a new customer indeed! 
You can find out more about the Arizer Extreme Q Vaporizer here.
If you tried Arizer products let us know in our hot-boxed forum.