REVIEW OVERVIEW

SUMMARY

Our review of Aces Extracts cartridges shows they are some of the best in California. These will be in our repeat buy rotation.
Aces Extracts is a California based extract company and here we review one of their disposable vape pens. We recently added it to our best cartridges in California list because it is so strong. The oil quality is top notch, the strength is unmatched and when we bought $500 worth of cartridges this one stood out from the pack by far.
Pros:
Great oil quality
Very strong
Actually delivers energy
Uses great hardware
Cons:
A little more expensive than some other options
Recommendations: We would like to see it available in more areas.
Licensing Information: Aces Extracts CDPH-T00000036
Aces Extracts is simply top notch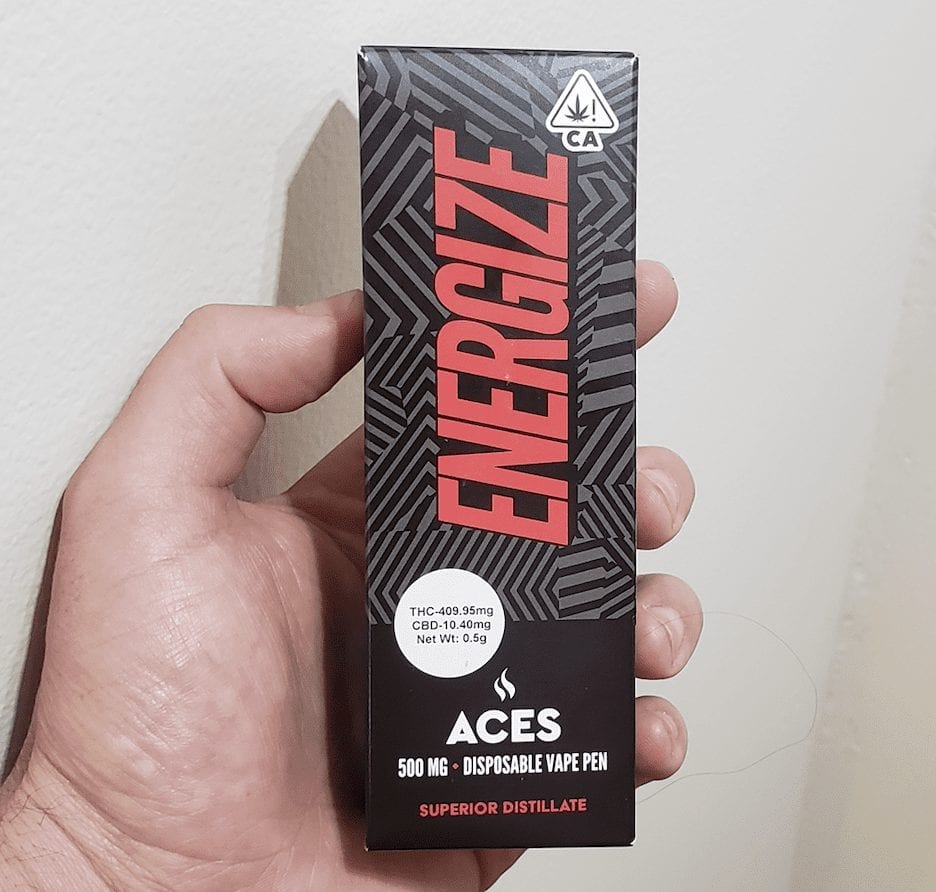 From using real authentic CCELL hardware, to having actual powerful oil, everything about the Aces Extracts vape pen was top notch. We bought this vape with a haul of a bunch of other cartridges and this one was really unique. The one we tried for this review is the ENERGIZE version and it lived up to its name.
Design and build quality is standard but great: Aces Extracts use a disposable CCELL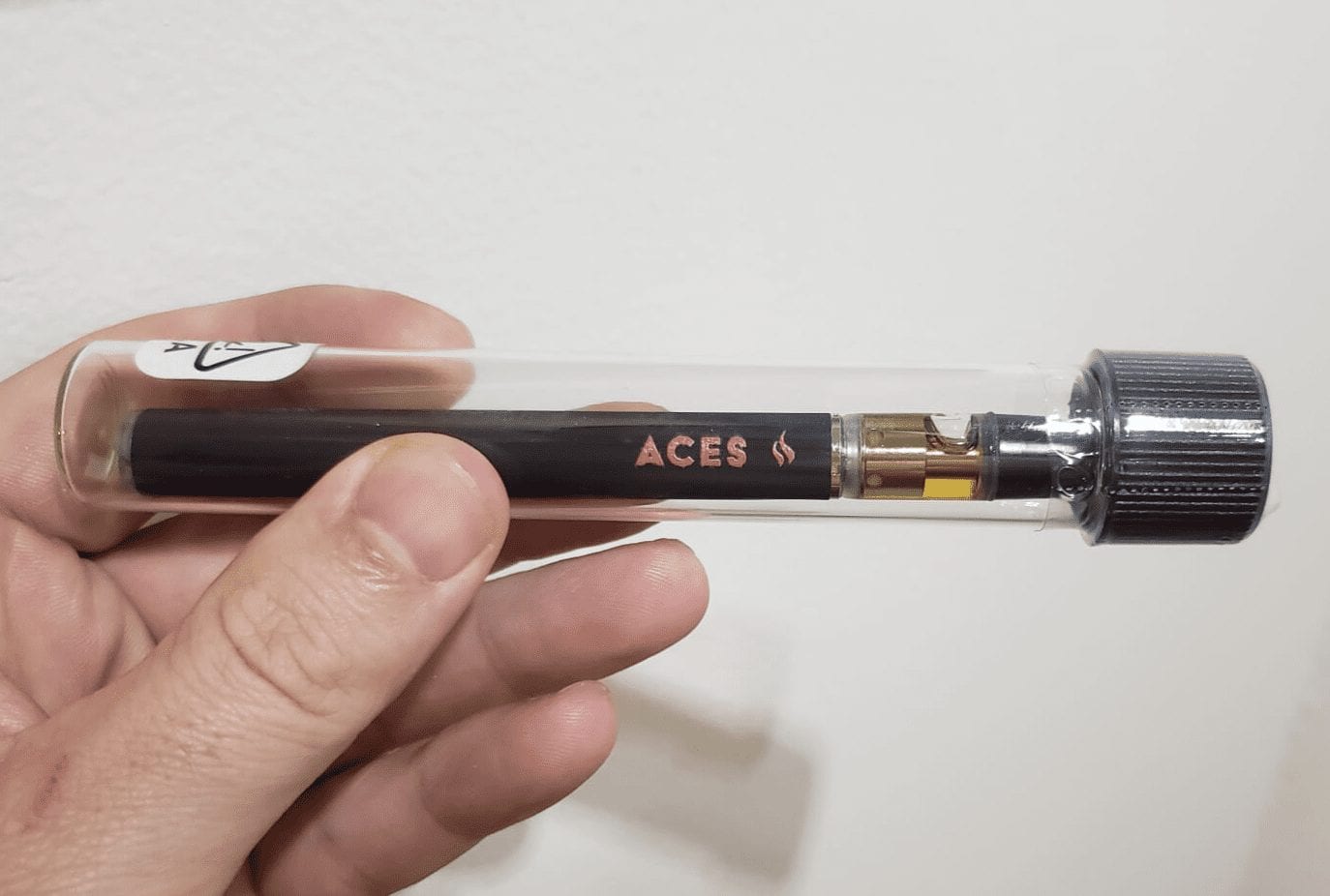 For the cartridge we tried here a disposable CCELL is used. On Aces Extracts stand alone cartridges, they use CCELL as well. You can't go wrong with CCELL, it's reliable, the failure rate is extremely low, it hits hard and when its an all in one vape pen the batteries are good.
Oil quality is excellent, some of the best
When we got the Aces Extracts cartridge, some of the other brands that were in the mix were Select Elite and Cookies. While Select was still really strong, Aces was tad bit stronger than Select. Aces Extracts completely blows Cookies cartridges out of the water.
When you take a look at the oil it is a yellowish color and not completely clear.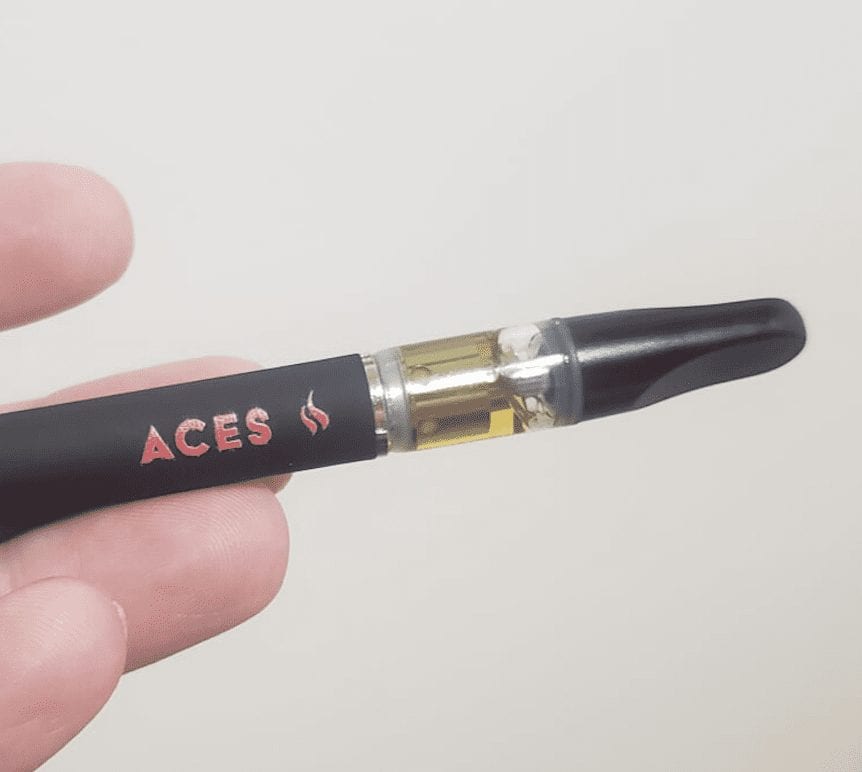 However, it does not have that dark look that Stiiizy has recently been getting. Everything from a visual standpoint shows that this would be a good oil. When you try it you can tell it is as well. The oil remains consistent throughout the entire cartridge, there was no color change or anything like that like we have seen on Brass Knuckles.
Aces Extracts does not test the highest on THC but is one of the strongest cartridges in California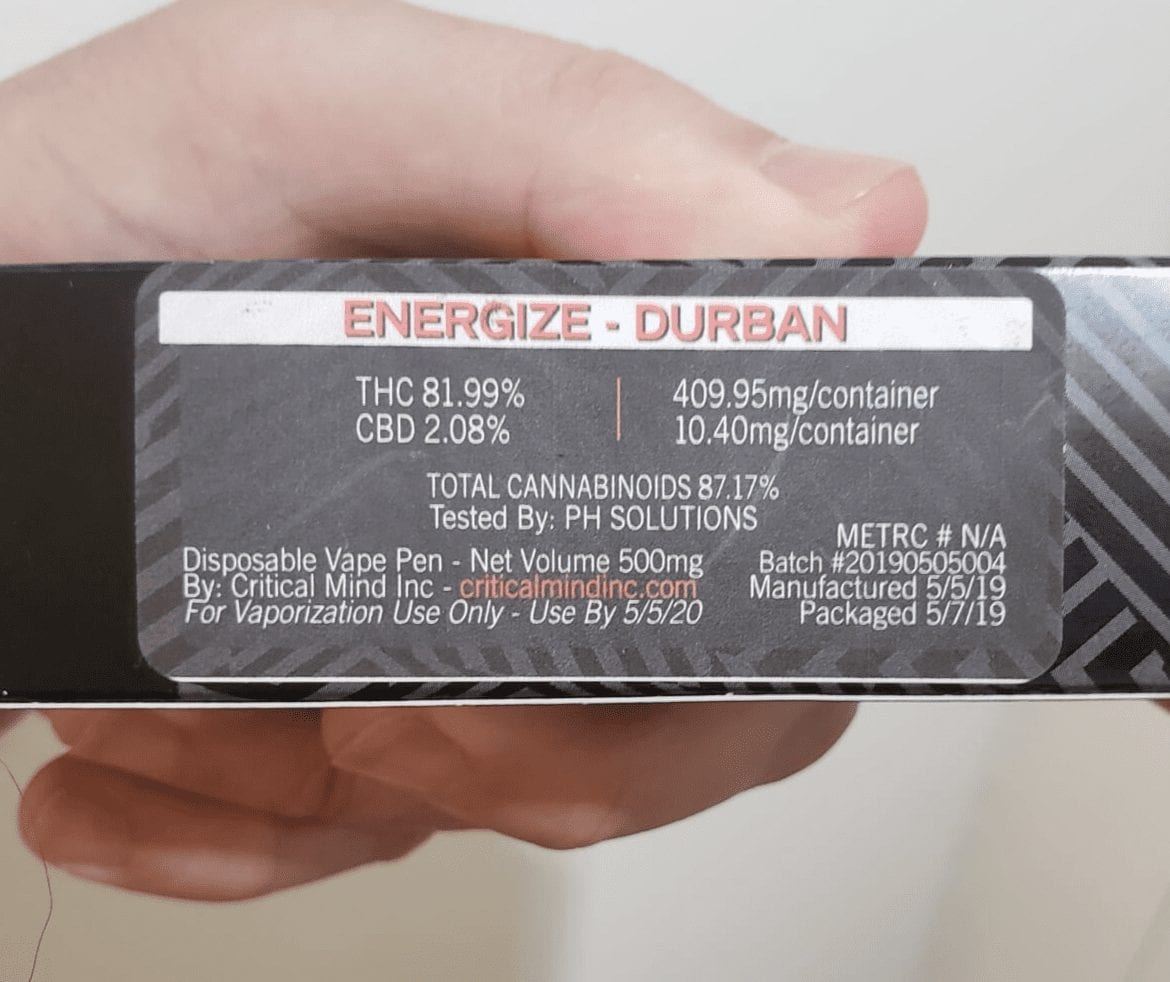 THC percentage is not everything when it comes to strength and Aces extract is a perfect example of that. This cartridge came in at just under 82% THC but it was stronger than the Raw Garden cartridge that was at 91% and the Select Elite cartridges at 90%. This also was stronger than many other cartridges we have tried in the high 80's and low 90's ranges.
Aces Extracts is definitely one of the strongest, if not the strongest in California. The vape we tried, ENERGIZE, delivered on it's name as well. A very clean energetic high came off this vape cart even with high strength.
Taste was very distillate like, but we like that taste
There is no artificial type of flavor on the Aces Extracts cartridge. It tasted almost exactly like a Kabunky cartridge. However,  we tend to like this taste because this is just what cartridges taste like. If you want something that has a specific flavor but is still strong you may wanna check out Airo Pro.
Efficiency was top notch on the Aces vape
The CCELL hardware that is used on the Aces Extracts vape pen is about as efficient as you can get. Lately there have been a few more variants that have come out that might be the tiniest bit more efficient like we saw on the Jackpot cartridge. However, the lack of a strong hit from that hardware type overall in effect less efficient.
Number of puffs is great, oil vapes slow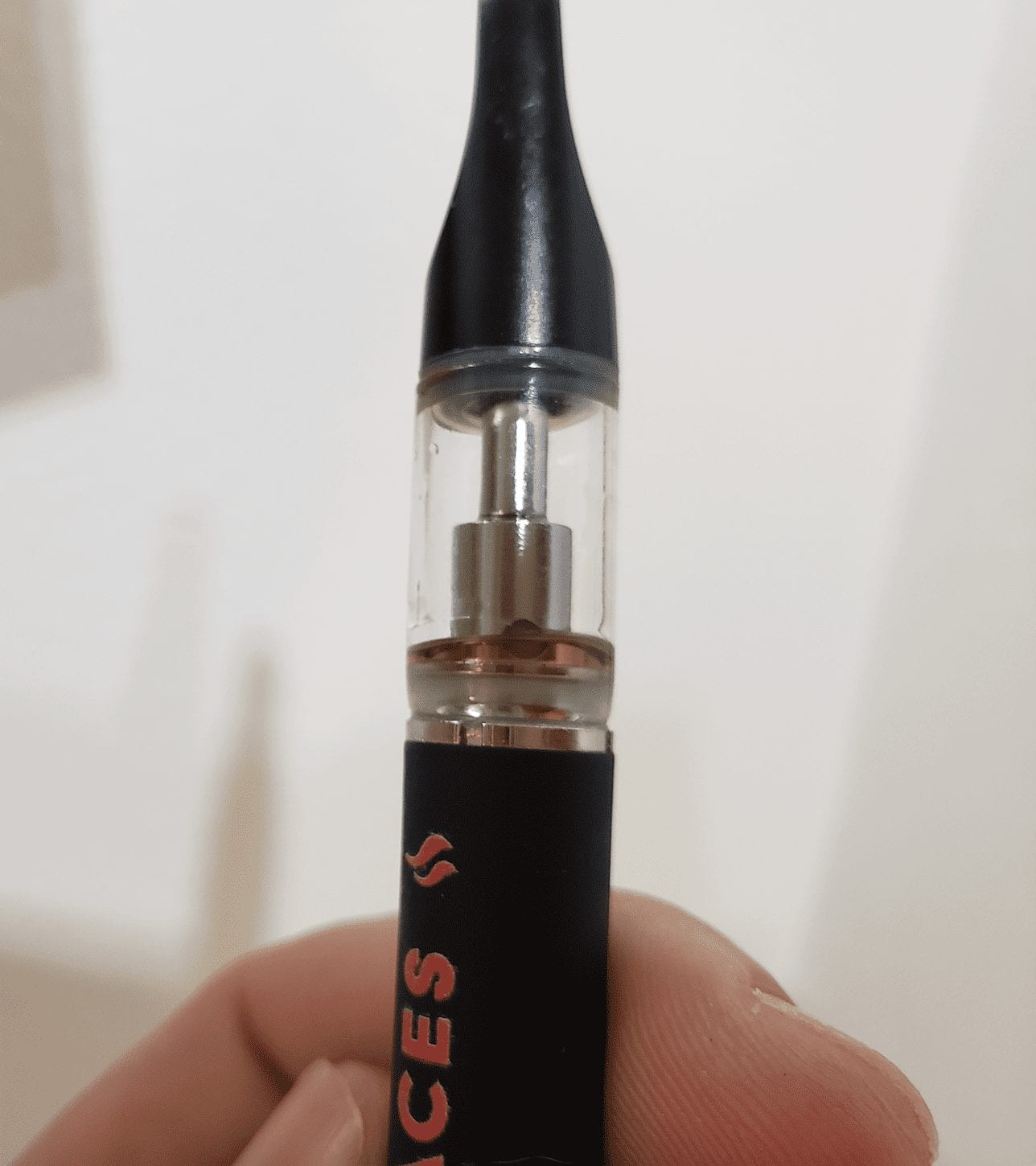 The Aces Extracts cartridge is one of the first ones I pulled out and kept testing it against other cartridges as we were going through them. The oil seems to vape very slow and does not just drizzle all the way within a day.
Aces Extracts was a little bit more expensive, but was worth it
This cartridge was $42 when most of the other ones were $35. At this particular dispensary though, they only had the Aces on a disposable vape pen. It makes sense that disposable vape pen might be a bit more than the other ones. However, the extra $7 compared to the other ones was definitely worth it. In fact, it was 12 dollars more than a Cookies cartridge, because Cookies was on sale for $30 a half gram.
I would any day pay the extra money for Aces Extract cartridge. It was worth the extra money over any of the other brands that we bought. Even at $7 or $12 more than the next cartridge, its still a great value. I bet if you find it as a stand alone cartridge at most dispensaries it's just be probably near the same price as the others. Even if it was $10 more I probably would pay $10 more on the Aces extract over the next brand.
Concluding this Aces Extracts review
The Aces extract cartridge turned out to be one of the best cartridge we've tried in California. It's strong, uses real CCELL hardware which is reliable, the oil burns slow and the value for the money is really good. There's nothing really to complain about on this and it's definitely something we would get again.
You can find Aces extracts vape pens, cartridges and products near you here. You could learn more about Aces extracts on their website.