REVIEW OVERVIEW

SUMMARY
Yocan sent me a wonderful new device that not only met my standards but gave me more. I truly adore this product. Its sleek, stylish appearance is more than welcome in my home. It was packaged very securely and was perfect when I took it out of the box. With easy-to-follow instructions, I was using my Yocan Pillar in no time at all. The simple-to-understand method of turning it on, setting the temperature, and starting a session made it hard for me to put it down. I felt safe doing dabs alone for the first time, it was amazing.  
The package design is fantastic and kept it very secure in shipping. The retail price of this unit is $129.99.
See our video review of the Yocan Pillar here.
Pros:
Solid-body and shape
Easy to use
Quick heating, fast to hit
Very sharable with friends, puff puff pass
Great battery life
Cons:
Water can spill out (especially when I'm high AF)
Recommendations: None

The Pillar is my new go-to and has made me more of a dab fan
When I was asked to review this item, I would never have expected something so fantastic as this Pillar. It has what they call TGT tch heating technology. It's ceramics and quartz heating coils, built so that you do not have one thing to worry about when loading this device. Simply pull apart the magnetic glass top to access the bowl area in which to place your concentrate. The instructions are simple to follow and remember, even for a stoner like me. 5 fast clicks and it flashes 5 times that it's on. Then you give it 3 fast taps to set the voltage. 2 taps start a 30-second session. I mean can we get any simpler? The base has a nice weight so that it's not top-heavy. You do however have to stay aware of how much you tilt this device as you can spill the water in the top bit if tilted too much.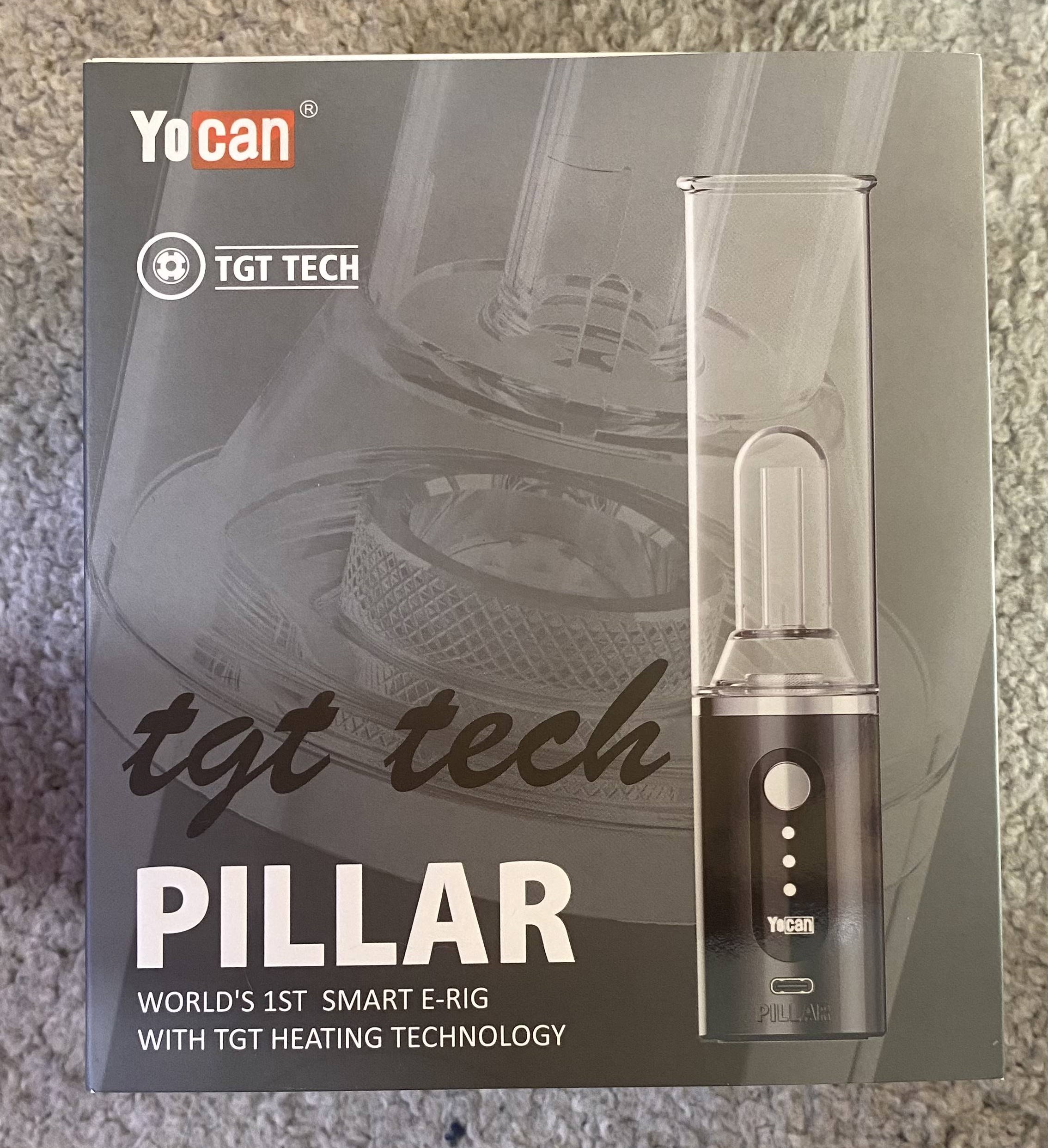 Fantastic price
For $129.99 you get such an amazing item. The Pillar is easy to use, easy to assemble and so convenient to have on the coffee table. I've cut my flower intake by ¼ since this has come into our home. The smart E rig technology also does not burn your product, which is nice. Sometimes you see that black scorching. So far, the first TGT QUAD coil with its lasted for over a week's worth of daily use and still going strong. I hope to keep using this for a very long time, and I cannot wait to see what they come out with next.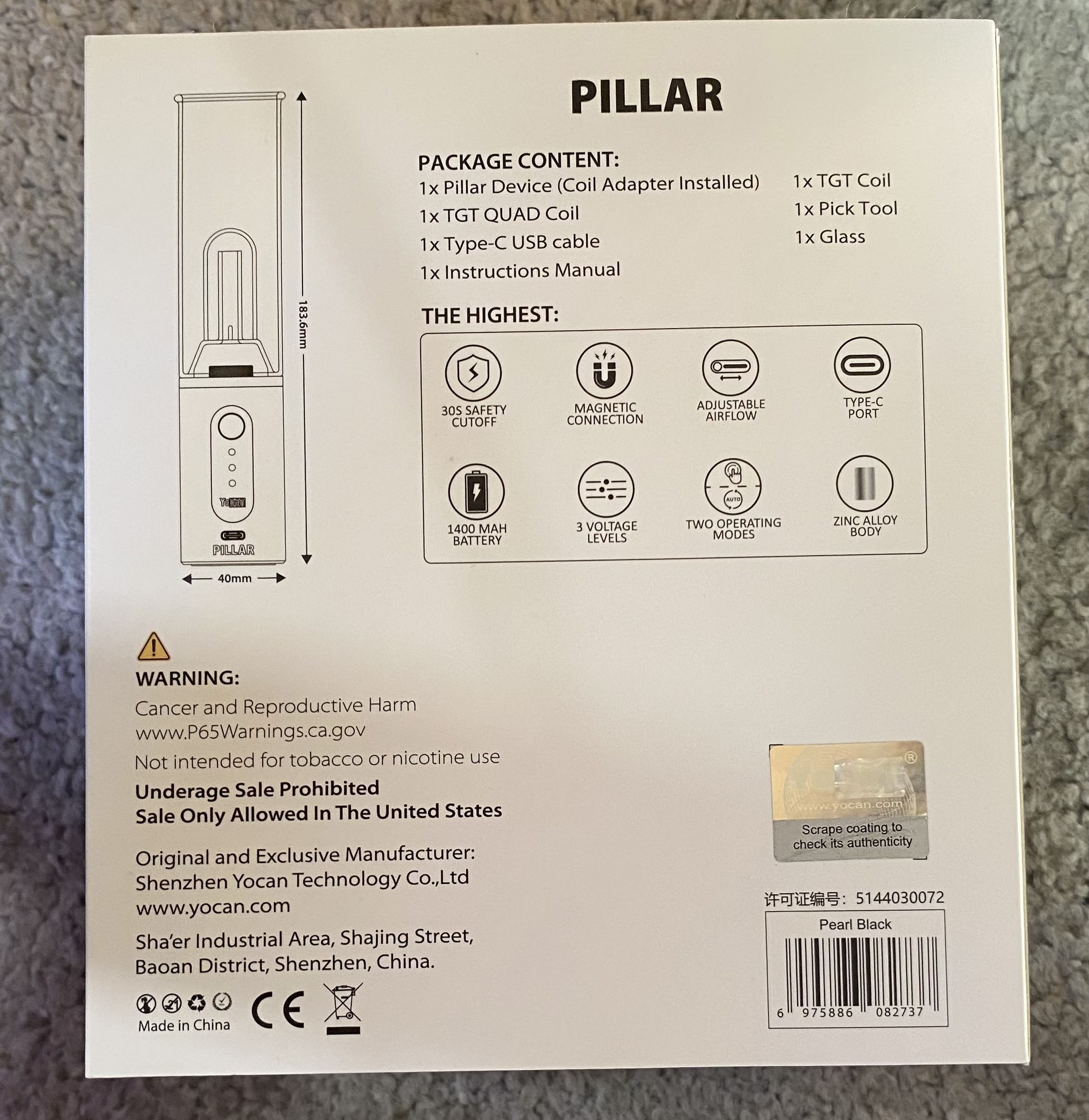 This is just brilliant
Whoever came up with this design should get a reward, it's amazing. I feel safe dabbing and I'm going to start doing it a lot more now. With its three voltage settings, I got a perfect cloud every time. Good to the last hit too, no burnt taste you sometimes get from overheating spots. Not here, the heat stays even and the product is smooth. I never realized how much I'm going to love doing dabs with this Pillar in my life, thank you Yocan for making it and for sending me one to try out. I know in all my reviews I make mention that I'm a flower guy all the time, and it's still the easiest and most familiar to me, that said, this rig has me thinking a new way, and if you give it a try you too may find this is the best rig out there.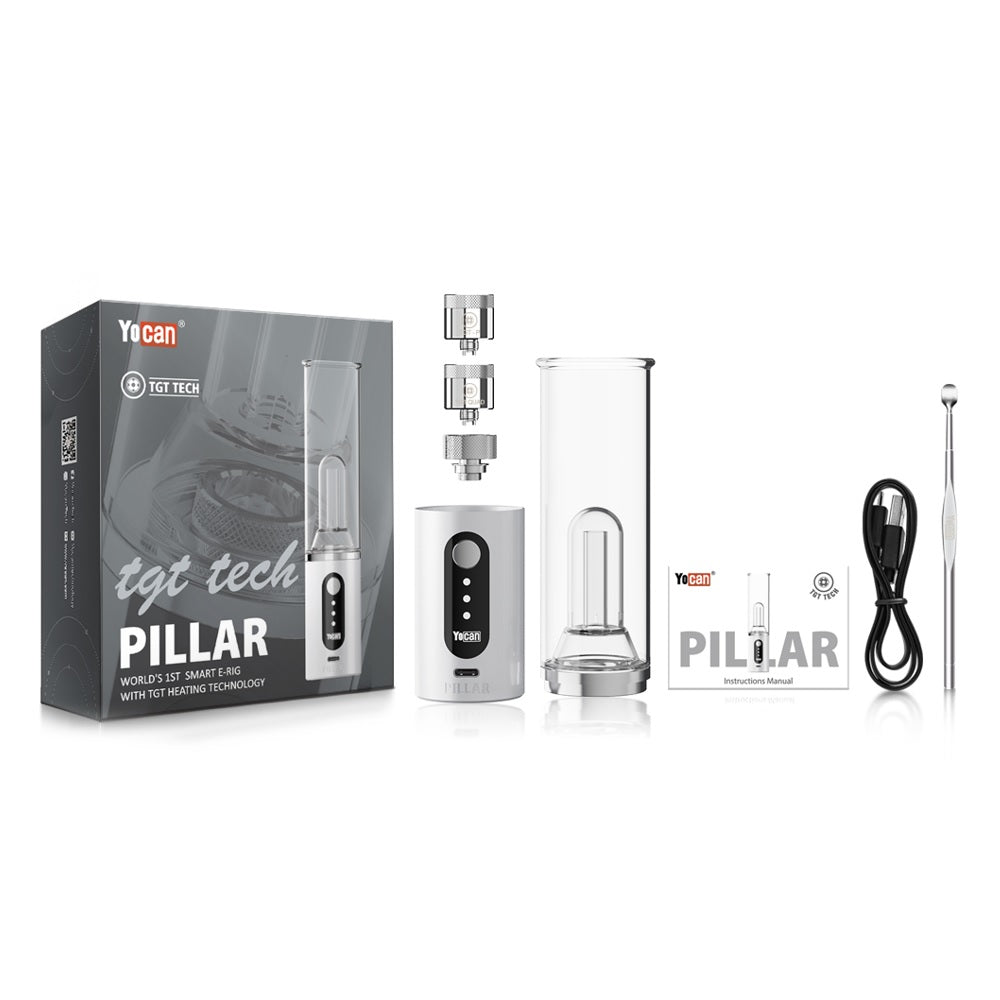 What's in the box…
The Pillar came with the following; 
Pillar device (coil adapter) 

TGT QUAD coil 

Type-C USB cable 

Instruction manual 

TGT coil (2) 

Pick tool 

Glass top (bubbler) 
Yocan, I give the Pillar a rating of 5 out of 5 red eyes. 
You can buy this awesome e-rig here.
Have you tried any of Yocan's products? Let us know in the comments or on our forum.
P.S. Yocan is giving away two Pillars. See more details here.