Vaping has become a fast growing popular alternative to traditional cannabis smoking. It's more discrete and has potentially lower second-hand side effects to those around vaping, making it more acceptable in many public areas. It's evolved to include many more options than traditional THC oils, adding CBD and other cannabinoids to the growing list of vaping choices.
Another reason vaping is popular is its ability to be more "on-the-go" than other smoking methods. Vape pens and carts can fit in pockets and can be used anywhere. There's no need to bring a lighter, grinder, paper, or even an electrical plug. Most vape options are battery-powered and reusable, making them less expensive than single-use blunts, wraps, or cigarettes.
While it may have started as a means to quit nicotine, vaping has grown into one of the most popular cannabis consumption methods. If you're a fan of vaping, there are many unique and interesting accessories that can amp up or tone down your vaping experience. Connoisseurs may want to make their vaping more experiential than practical, while others may want to make it more discrete and convenient. Whether you want to expand your vaping experience or make it easier, here are some tools to add to your lineup.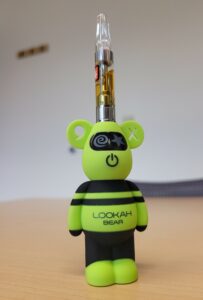 Discreet Vapes
The benefit of vaping is that a little goes a long way. So, you can puff a bit without much notice and get the effect you want. For those who want to be a little more off the grid about their vaping, there are tons of unique vapes designed not to attract attention. There are some designed to look just like a pen, while others are shaped to fit in the palm of your hand so they can be neither seen nor heard. Explore online smoke shops to see what's available in your style.
Customization
Since vapes are relatively inexpensive, there's no shame in dropping some cash to customize your piece to your liking. There are a few ways to amp up your vape, such as getting your preferred drip tip (mouthpiece), adding a wrap, or pumping it up with unique materials.
Drip tips are one of the most common customizations you can add. Most vaping devices come with a standard mouthpiece but have the option to add the drip tip you want and switch it up as you wish. You can find drip tips in glass, silicone, wood, or bamboo, to name a few. There are also different sizes and shapes to choose from based on what fits best for your mouth.
Wraps are a great way to make your vaping device wholly unique. Typically made from vinyl, wraps can be applied at home or by the seller. You can choose from a wide variety of unique designs or have something custom printed. These colorful additions not only allow you to express yourself, but they also protect your vaping device from scratching.

Other materials like crystals, spikes, or other design elements that speak to you can also be added to your vape. Similar to your phone, you can "bedazzle" your device as much or as little as you want. It's a great way to make it stand out and bring you that extra spike of joy when you take a hit.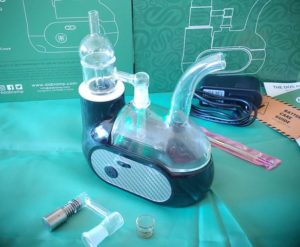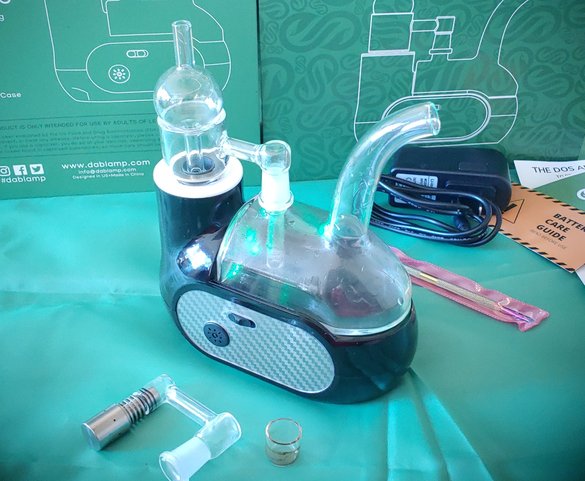 Dual-Use Electronic Rigs
While you may be familiar with vape pens and cartridges that use wax or oil, there are also more elaborate vaping devices that can vape both oils and dry herbs. These dual-use electronic rigs (e-rigs) are closer to a bong than a vape pen, making them less portable but more versatile. E-rigs allow you to vape cannabis in almost any form. These battery-powered devices can move around, but they're larger, so they're not as welcome in a public place. Everything from wax to oil to dry leaves can be used in these adaptable devices.
Stands and Holders
While vape pens and cartridges are quite portable, you may still want a permanent place to put them when you're at home or on the go. Stands are a great place to keep your hand-held devices when you're at home or a nice display place for your favorite devices. You can get stands that hold two, three, or more devices, each unique to your space needs and preferences.
When you're out and about, a vape holder can be convenient to ensure you don't lose or drop your device. Silicone holders are great for keeping handheld devices from slipping out of your hands. Some people opt for lanyards to hold pens so they're always at the ready. Whatever you choose, there are a variety of materials and designs available to create the experience you want.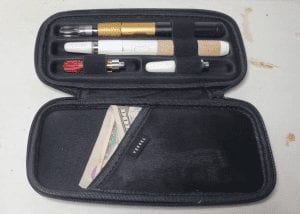 Cases
Slightly different from holders, cases are a place to store your vaping device when you're out and about. They're designed to keep any batteries, charging cords, drip tips, concentrates, or other accessories you enjoy in one place. Plus, there are a number of cases on the market designed to dampen the smell if you don't want that delicious dankness to spread to your pants pocket or purse.
Charging Ports and Battery Packs
Almost all vape devices these days (besides disposable options) are battery-operated and require some amount of charge. It's no different from a cell phone or other mobile device. Just like you may keep charging cords or battery packs on you for your phone, those exist for your vaping device, too. You can get at-home charging pads to make it easy to juice up your device and your phone at the same time. For convenient on-the-go use, you can get rechargeable battery packs that are thin enough to fit easily in your pocket or even magnetize or stick to your phone to allow you to charge up anytime, anywhere.
Custom Rags
Vaping can get messy sometimes! There are specially designed vaping rags out there to help you clean up any spills and ensure you're getting every drip. Beyond cleaning up spilled juice, there are also vape rags designed to keep your devices well polished and tarnish-free. These rags come with specialized cleaner infused to take away tarnish and prevent it from coming back. They're the ideal accessory to keep your vaping game fresh.
These intriguing items are just the beginning of the expanding universe of vaping tools and accessories. As vaping continues to grow in popularity, who knows what will be next in the vaping universe. Let us know what you plan to use and anything we missed in our forum.