REVIEW OVERVIEW

SUMMARY
We're having a 2-for-1 review here with Tronian vaporizer products. They sent along the Nutron, a vape cartridge battery for 510-threaded vape cartridges, and the Tronian Milatron, a dry herb vape, which we'll review separately next time.
The Tronian Nutron is a minimalist, but top quality, 510-threaded pen-style battery, going on their website for $18.99! That price point puts it in line for the cheapest batteries – compare Doteco MGear4 and TIK10 – while offering a far higher quality unit.
But for the video, we combined both. We're efficient that way. Check out the full video review of the Tronian Nutron here.
Pros:
Cheap!
Easy to use!
Quality design
Smart USB charge connector
Cons:
Mmmm, maybe should have a 4th voltage preset?
Recommendations: None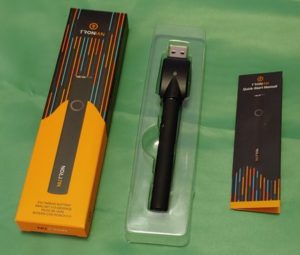 Minimalist Perfection
Personally, I've reviewed vape cartridge batteries of every size, shape, price point, and description around here. I have seen several competing design philosophies out there, especially the socket models (like the Rizo) vs. the pen models (like today's battery, shaped like an oilpen). And I think the winner is the modest and minimalist oilpen design!
I think there's a handful of aspects you could say you want for a cartridge battery, and then you're overthinking it:
compact
cheap
simple
efficient
So the minimalist designs, especially with oilpen builds, are really winning me over. I really don't think most of you are looking for a bunch of features on a cart battery. The whole point of carts is to be convenient. So why not keep it dead simple: Thread on, click temperature, draw, done.
The Tronian Nutron is built with solid engineering distilled to a hyper-efficient design.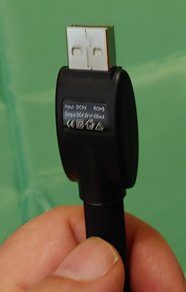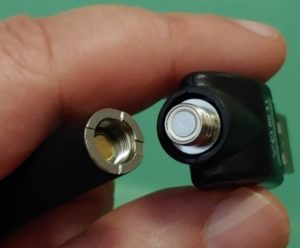 Innovative threaded USB charger
To start with, the unit comes with a USB charger which threads right into the top of the battery. So we have a USB device that sticks right into your USB port or adapter with no cord to untangle. The unit glows when plugged in; it was yellowish for me and turned green when fully charged.
That right there was such a handy feature, I'd say the whole industry needs to adapt this method. The thread connector is the charge port. Brilliant! As long as you take good care of it and don't let leaky cartridges clog it, it should be fine.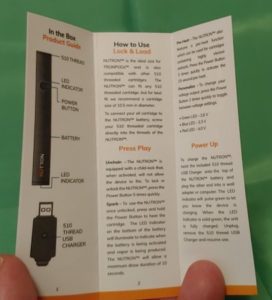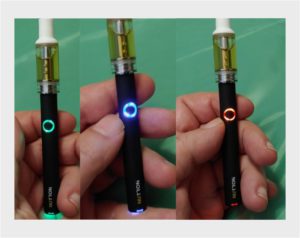 The Nutron is super simple!
We have the standard one-button design. Click 5x on/off. Click and hold to draw. Double-click to cycle between three preset temperatures, green – 2.6V; blue – 3.3V; red – 4.0V.
That's it! We're done! The airflow and flavor are both great. It heats and draws in seconds, and gets the job done with minimal fuss. I honestly can't find anything to complain about here.
The best part of the thread-on USB adapter is that you can simply thread it back onto the unit when you're done, and now you have all the parts together. No cord to misplace. It's one of those designs that make me ask "Why haven't we been doing it this way from the beginning?"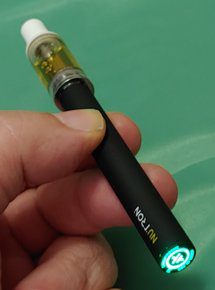 The price is wallet-friendly!
$18.99! Compare (aside from the Doteco offering a very similar MGear4 at about the same price) other batteries such as the feature-poor CCELL Rizo ($30) or the maxed-out deluxe PCKT Two ($80), this is at the bottom end of battery prices. The only one I can find cheaper is the Yocan STIX Plus at $14.99, and it doesn't have a charging indicator.
For all that, this is a solid build that doesn't skimp on materials. It should prove to be a reliable daily-use battery, in a discreet pocket-pen size. We have also reviewed other Tronian products, such as the Tautron and the Pitron, and had good things to say about them too.
Find the Tronian Nutron here. Readers, share your thoughts on battery philosophy here in the comments or in our forum.