In the United States, the MORE Act is the "Marijuana Opportunity Reinvestment and Expungement Act," a proposed piece of legislation which would decriminalize marijuana, remove it from the Controlled Substances Act list, and retroactively expunge the criminal convictions of past marijuana offenders. In addition, it would affirm federal government support for the individual US states' cannabis policies, and set aside a 5% cannabis sales tax to fund reparations for communities previously hit hard by the "War on Drugs."
The MORE Act has been remarkable for being the most sweeping piece of legislation proposed to end cannabis prohibition since the start of marijuana criminalization in the 1930s.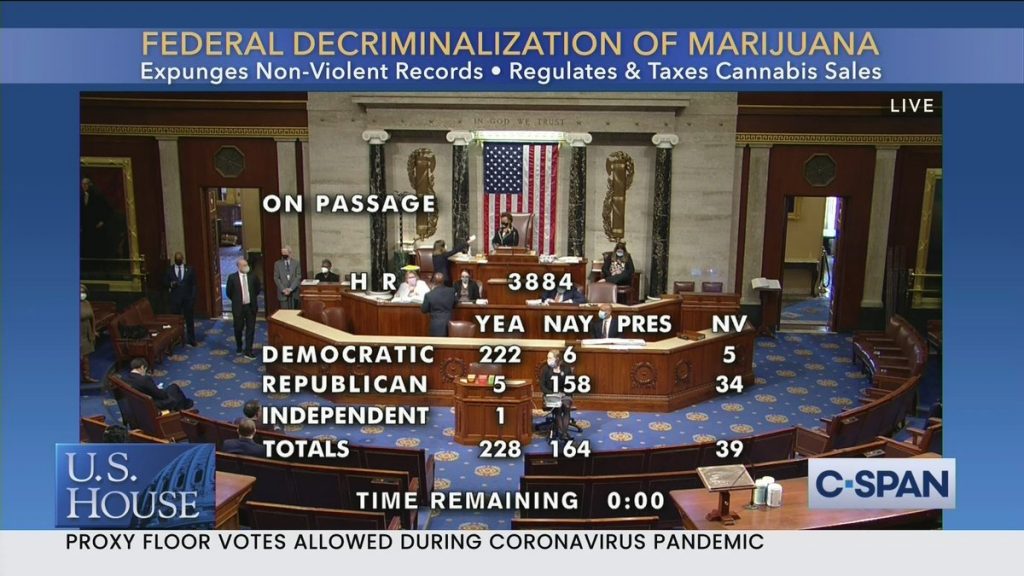 MORE Act progress
So far, the MORE Act has been approved by a congressional committee, and has been passed by the US House of Representatives on December 4, 2020. It had been scheduled for House vote in late September of 2020, but was pushed back due to the ongoing COVID-19 pandemic and the need for more relevant legislation to address it.
At the House level, the bill was introduced by New York congressman Jerry Nadler, and at the Senate level by Senator Kamala Harris, who is currently the US vice president. Civil rights activists have called for the MORE Act to be prioritized.
Senator Mitch McConnell has announced his intention of blocking the MORE Act from Senate vote, should it come to him. He has been vocal in his opposition to marijuana policy reform in the past.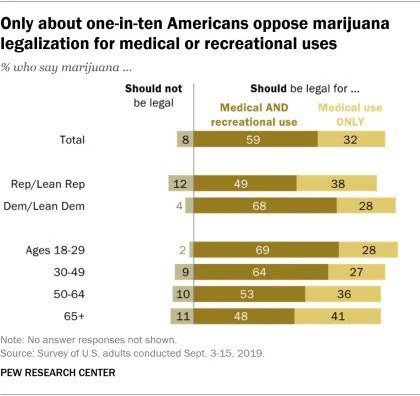 Potential voter support for the MORE Act
Pew Research polling has consistently shown majority American support for the legalization of marijuana since the start of the 2010s. Two-thirds of Americans favor full legalization for recreational and medical use, while 91% support legalization for either use. Only 8% of Americans believe marijuana should not be legalized at all.
A September 2020 poll shows strong MORE Act support, with 59% of all Americans favoring it. In the same poll, respondents consistently disagreed that cannabis should be a criminal issue.
An August 2020 Forbes article notes that Republicans support cannabis reform bills, even though at the time they were associated with Democrat Senator Kamala Harris.
Cannabis reform is an issue with strong bipartisan support that unites across demographics. Yet Republican politicians have been a stone wall against reform, even when their own voters demand change. In the 2020 General Election, two voter-approved measures were stricken from the ballot in the states of Nebraska and Oklahoma, even after petitions successfully collected enough signatures to qualify the measures.