REVIEW OVERVIEW

SUMMARY
Today we will take a deep dive into the Smilyn HHC Disposable Vape, the newest disposable vape from Smilyn Hemp. The flavor is really nice in this Blackberry Kush Disposable HHC Vape, and the device is easy to use and convenient. I think anyone who likes cannabis would like this product, and it's nice that you can order this online, rather than going to the medical dispensary in person and jumping through those hoops. 
Check out our video review of the Smilyn HHC Disposable Vape here.
Pros:
Amazing flavor, convenient, and easy to use for a beginner
The inconspicuous aroma makes this a great "on the go" option.
Cons:
Recommendations: None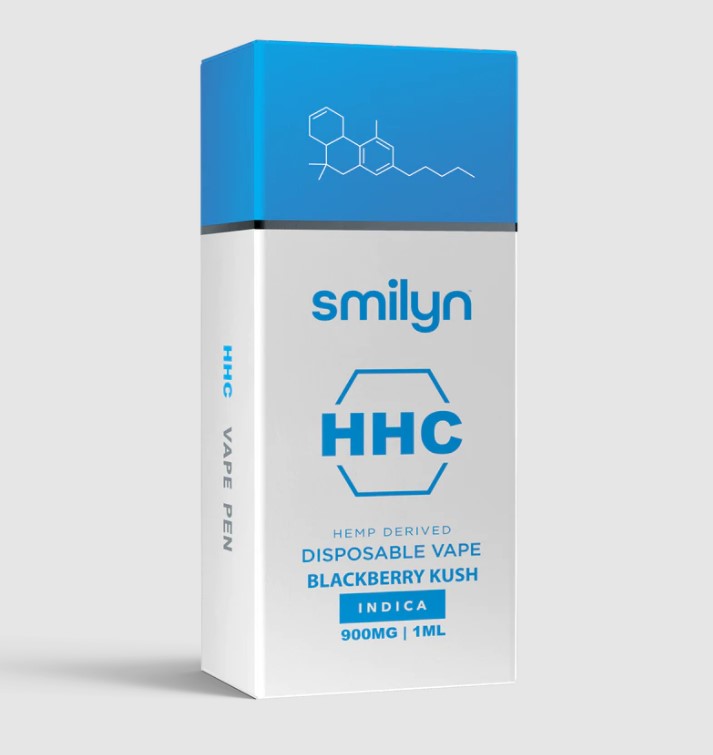 Compliant Hemp-Derived HHC Distillate, Natural Terpenes
I'm reviewing a Smilyn Wellness HHC disposable vape, that is Blackberry Kush strain, and is Indica.  The box says 900 mg and 1 ml, so I'm not sure if that means there is 900 mg of HHC and 100 mg of terpenes, for a total of 1 gram or 1 ml, or what that means. 
I like the packaging; there are fun chemical stick figure diagrams and I like how the boxes are blue and white, and how the box has instructions too.  
Who would enjoy this? Probably everyone!
I think these disposable vape pens are great for anyone looking for a convenient, easy-to-use, inconspicuous medical Cannabis vape here in Ohio.  It has everything you need to start medicating right away and in the case of this Sgt. Pepper strain option, anyone who likes balanced hybrid strains would probably find this to be very beneficial with pain, anxiety, and stress during the day.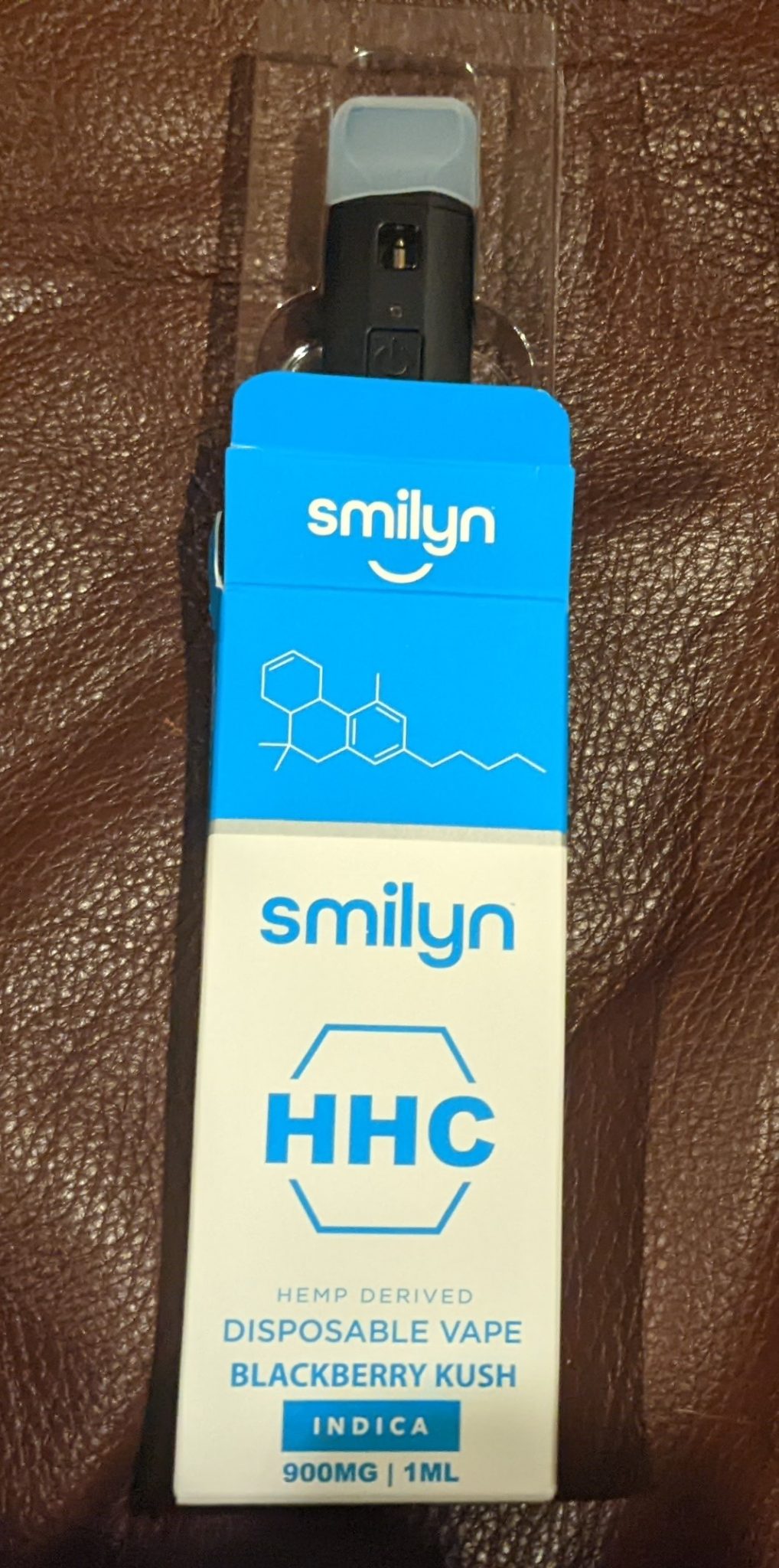 Good flavor and effects!
I really like the flavor of this vape.  The strain that I chose, "Blackberry Kush", is an Indica, so it should be more suitable to use later in the day.  I don't know how much I believe that, and I just use whatever strains I want whenever.  I prefer Indicas overall, for the flavor.
High-quality hardware
The vape pen hardware seems to work really well which is expected since it's made by CCELL. It's easy to use and the battery lasts a long time too.  The oil seems to last a long time, but I have been using this in conjunction with my regular medical marijuana carts and concentrates and stuff.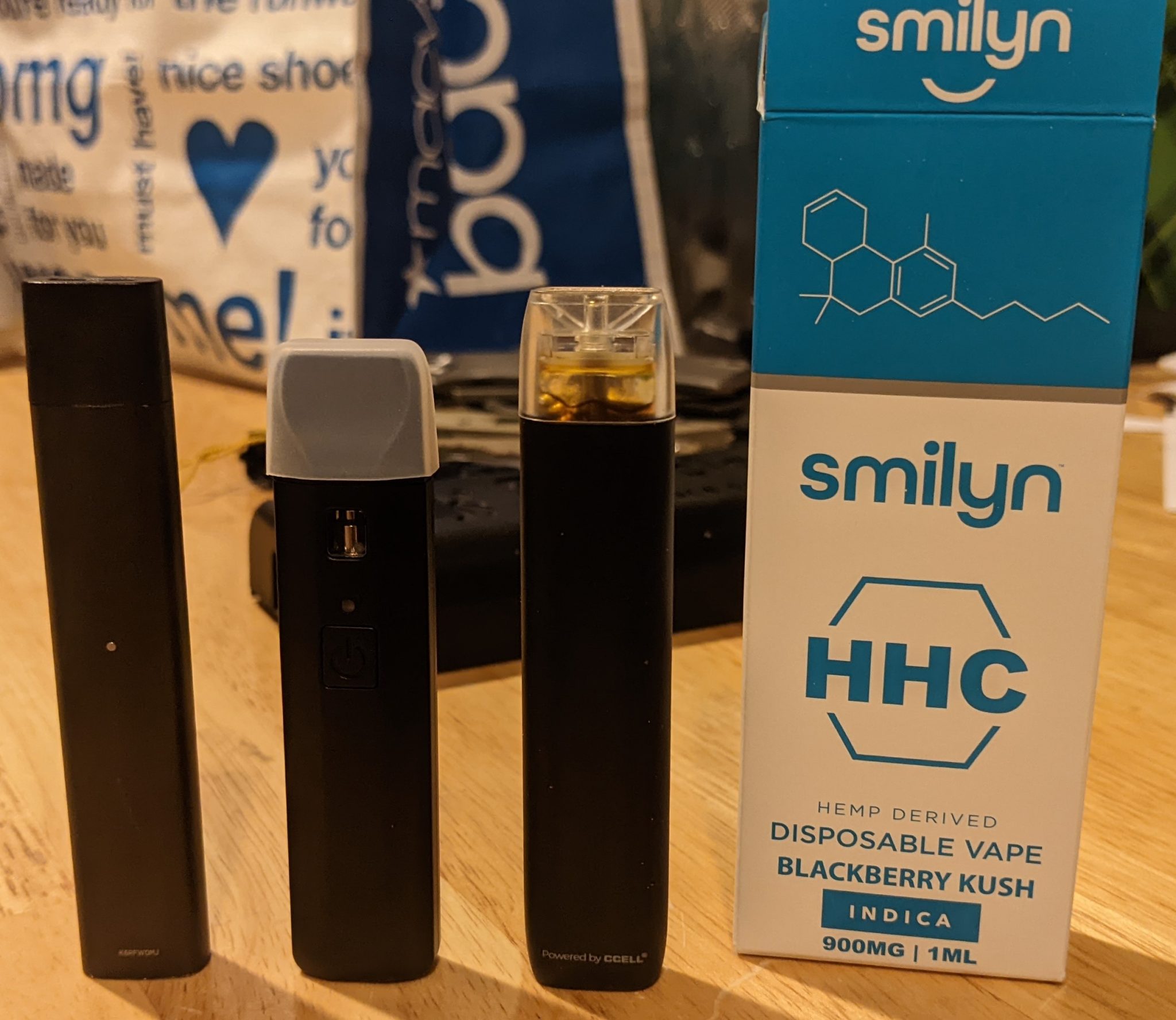 Similar Cannabis products for comparison
I have had a few brands of alternative cannabinoid products, and this is one of the best so far.  I think this and the Fukedup.com vapes are my two favorites so far.  The flavor is really nice, and the effects seem good too.  They both help me conserve my medical marijuana carts.
Concluding this review
This Smilyn Hemp HHC Blackberry Kush vape is really good. It has an amazing flavor and is easy to use for a beginner.  I really like it!
You can find out more about Smilyn products here.
Have you tried the Smilyn Hemp HHC vape? Let us know in the comments or on our forum.