REVIEW OVERVIEW

SUMMARY

The Vivant Ambit vaporizer delivers good and effective hits. Providing you the most out of your dry herbs, this efficient vaporizer overall gives a nice experience.
The Vivant Ambit is a compact, portable dry herb vaporizer that provides very effective and efficient hits. This convenient battery allows you to dial and set your desired temperature settings, giving you the perfect type of hit you want. Simple in design, this vaporizer comes in handy for personal sessions and gives you the most out of your bud.
Pros:
Temperature settings/control
Efficient and effective hits
Discrete and portable
Cons:
Recommendations: Perhaps use different quality material and design,  or provide deals for this product. But otherwise, nothing much.
The Vivant Ambit vaporizer provides a simple design but delivers effective hits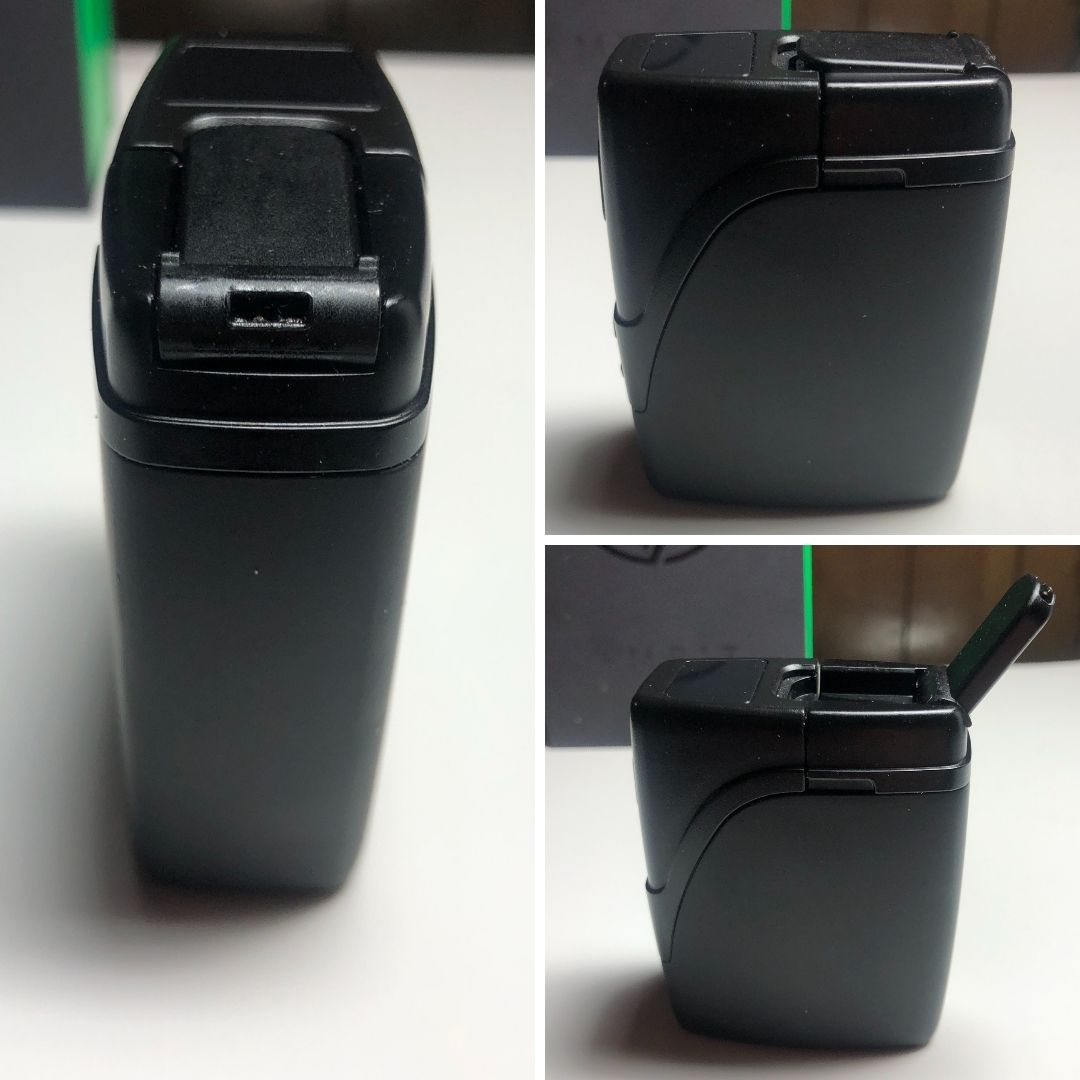 Taking a look at the Ambit, the vaporizer itself is relatively easy to use and the design is simple and straightforward. This compact vaporizer fits comfortably in the palm of your hands and is easily portable. Simply pack, adjust to your desired temperature setting, and start vaping once it heats up.
Trying this vaporizer in different temperature settings, from low temp to high, it delivers some nice hits. The Ambit can give you the experience of either low temp and tasteful hits, or high temp and stronger hits. At a low temp, like most vaporizers, you can taste all the terpenes of your flower. At a high temp, the Ambit does give some thick and fairly strong hits.
Everything inside and how to use: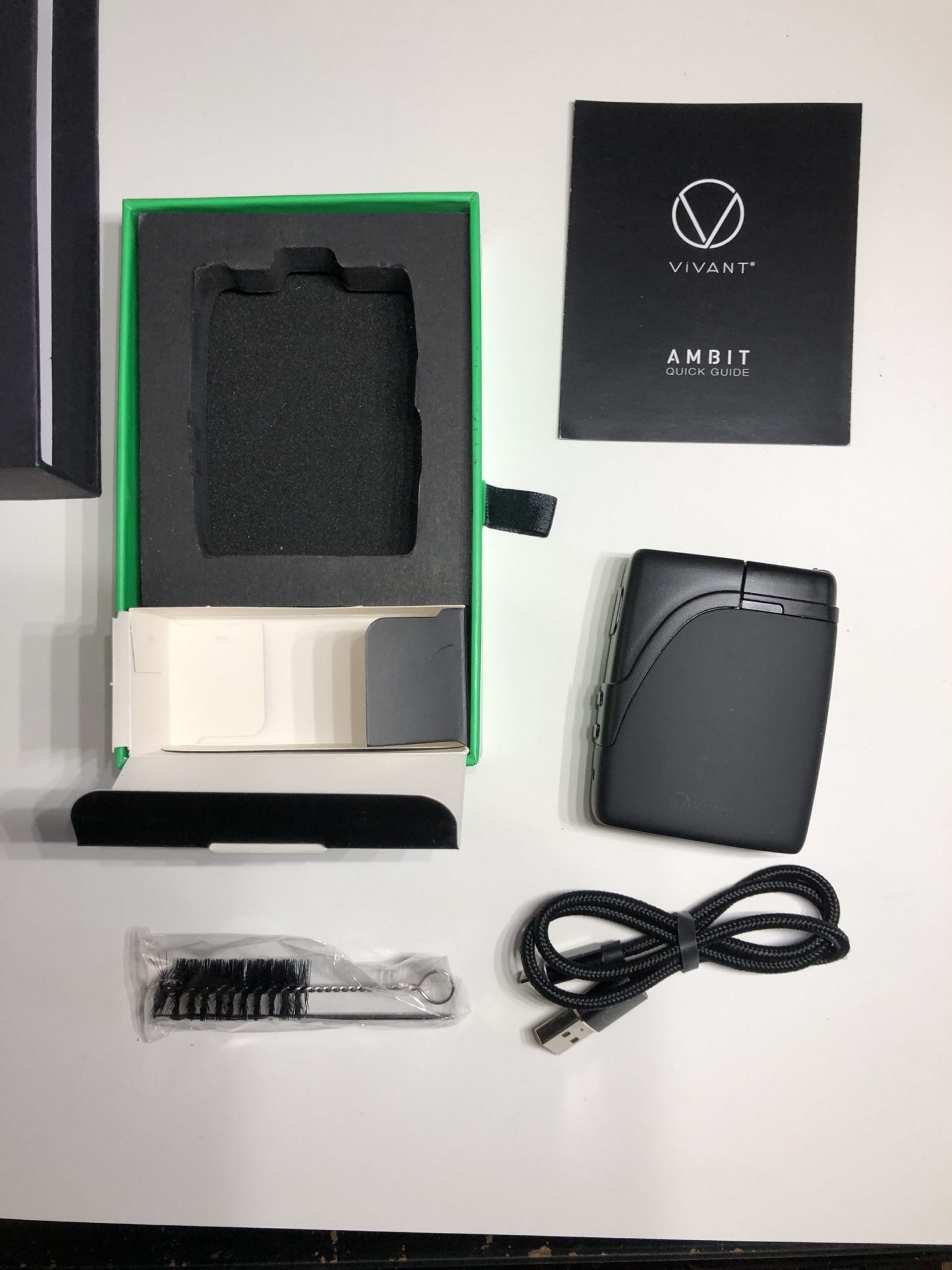 The Vivant Ambit only comes with what's shown in the image above. Using this vaporizer is fairly simple:
Open mouthpiece and pack your dry herbs
Press the button 5 times to turn it on
Set your temperature preference
Press and hold the button for 5 seconds
Flip the mouthpiece/airflow open
Wait to heat up, the battery will vibrate to indicate it's ready to smoke
Enjoy your session
(Optional) Press 3 times to change from Fahrenheit to Celcius
Convenient temperature control allows for the perfect hit
Being my favorite feature, the Vivant Ambit allows you to change the temperature setting from 212°F-446°F (100°C-230°C). This gives you the option of either light and more vaporized hits or stronger hits. As mentioned earlier, at a light temperature you'll get very light hits and little smoke. This is better for those wanting to savor all the taste and terpenes on their bud. Whereas with a higher temperature, you'll get much thicker hits. For a vaporizer, you can get some nice hits and thick smoke with the Ambit.
The Ambit provides decent airflow, lasting sessions and is very efficient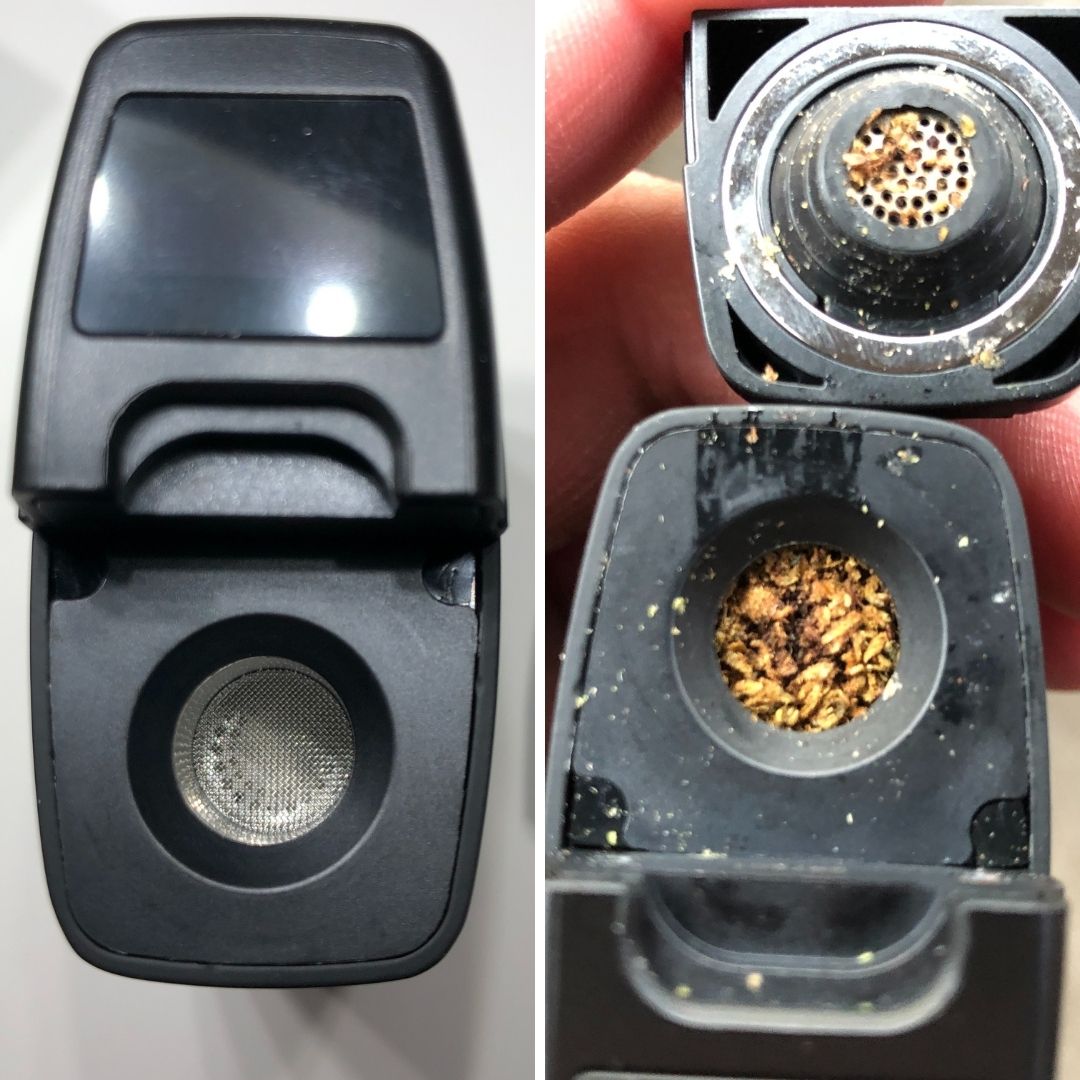 When packed properly, this vaporizer delivers fair airflow and great efficiency. Just like with any dry herb vaporizer, when you over-pack it, you will clog it and not get good hits from it. But the Ambit didn't clog up on me at all, the airflow on it is just right. 
You can pack a fair amount of bud, good for a personal session, but you will get the most out of that single pack. You can pack some high-quality flowers, filled with trichomes, and after smoking, they will turn brown in color. Unlike packing a bowl where your bud will get ashy, this battery makes it much cleaner, easier and efficient to pack and vaporize.
Comparing Vivant Ambit with VLeaf Go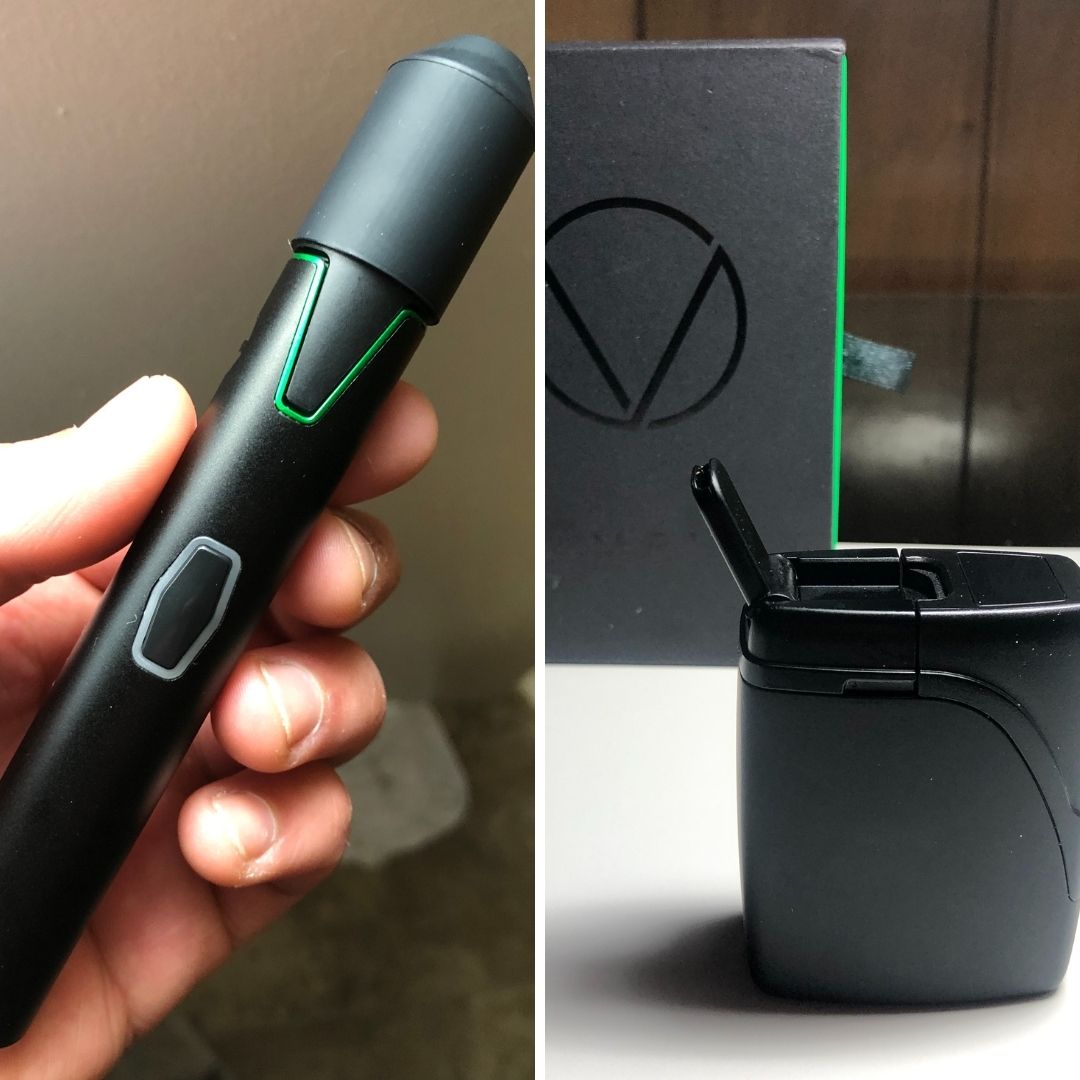 Both from the same company, these two batteries are convenient vaporizers and get the job done. The VLeaf Go is a bit more convenient, more of an on-the-go vaporizer. Providing a shape of a vape pen, the VLeaf Go vaporizes and heats up much faster than the Ambit. It's actually the fastest heating vaporizer I've yet tried, providing an on-demand experience. It is a smaller pack, but is ready to smoke within seconds, and is just as efficient and effective.
The biggest difference, other than the design itself, is with the Ambit you get the option to vaporize your bud at your desired temperature settings. It may take some time to heat up, but the VLeaf go only gives you 3 temperature options. Whereas, the Ambit allows you to dial in your temperature. Both portable devices and around the same price. I like the VLeaf Go for its portability, but I do enjoy the way the Ambit smokes.
For its value, this vaporizer is a fair price and delivers a good experience
The price for this vaporizer is $79, which is around the price range that most decent dry herb vaporizers go for. Anything under this price range, I wouldn't get as good of an experience with dry herb vapes. But at this price range, you can expect this kind of quality with vaporizers. The only thing is that the design doesn't really build-up to its pricing, at least for me. I think it's a little too simple, but the hardware and quality of hits makeup for it.
Concluding the Vivant Ambit vaporizer review
Overall, the Ambit delivers a good and convenient experience, a nice little device to add to any weed connoisseurs' collection. Great for its portability, discreetness, and effectiveness, you will get some good and efficient hits off this vaporizer. If you're willing to spend more money, the Utillian brand provides some great vaporizers. The Utillian 620 is higher in price but delivers some great hits and effects. But for $70, this vaporizer from Vivant is a fair deal. Good if you're just starting with vaporizers or if you're looking for one where you are in control of the temperature. You can learn more about the Vivant Ambit on their official website.
Have any experience with the Vivant, or overall with dry herb vaporizers? Post your experiences in our forum!