REVIEW OVERVIEW

SUMMARY

The Hydrology9 vape has high-end build quality and gives extra smooth hits via water filtration.
Here we review the Hydrology9 vaporizer for dry herbs. It's a cylindrical shape that's between the size of smaller desktop vapes and a handheld. We found it to be a good product for those looking for an extremely smooth hit. Vaping is smoother than smoking and when you add water filtration on top, hits are ultra-smooth.
Pros:
Good temperature ranges
Very smooth hits
Cool light features
Cons:
Recommendations: USB-C would be nice, but the long cable is still great.
Check out our video review below, and keep reading on for the more in-depth review:
Hydrology9 mixes vaping and bongs
The Hydrology9 is a complex device with a simple purpose: it's a vape with bong features. It actually looks like a huge THC cartridge with small holes around the bottom of the water chamber.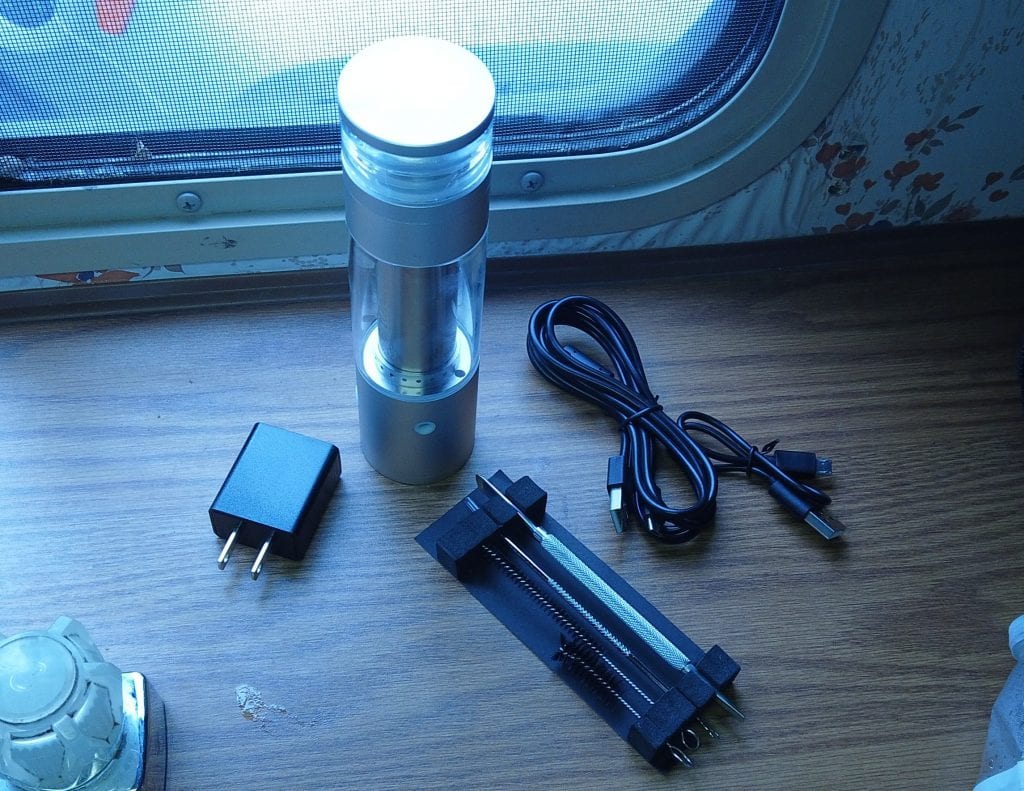 Technical specs
| | |
| --- | --- |
| Primary Body Material | Aluminum |
| Temperature Ranges | 250°F-430°F (5 Temperature Settings) |
| Heating Method | Conduction |
| Heat-up Time | 90 Seconds to 2 Minutes |
| Battery | 2000mAh |
| Charging Time | 2-3 Hours |
| Heating Chamber Material | Ceramic |
| Charging Port | micro USB |
| Dimensions | 6.94 x 1.75 x 1.75 in. |
| Warranty | 2 Years |
Unique design to this vaporizer
Ground flower is loaded from the bottom by unscrewing the cap. Air flows from the bottom to the top, the vapor path going directly through water like it's a bong.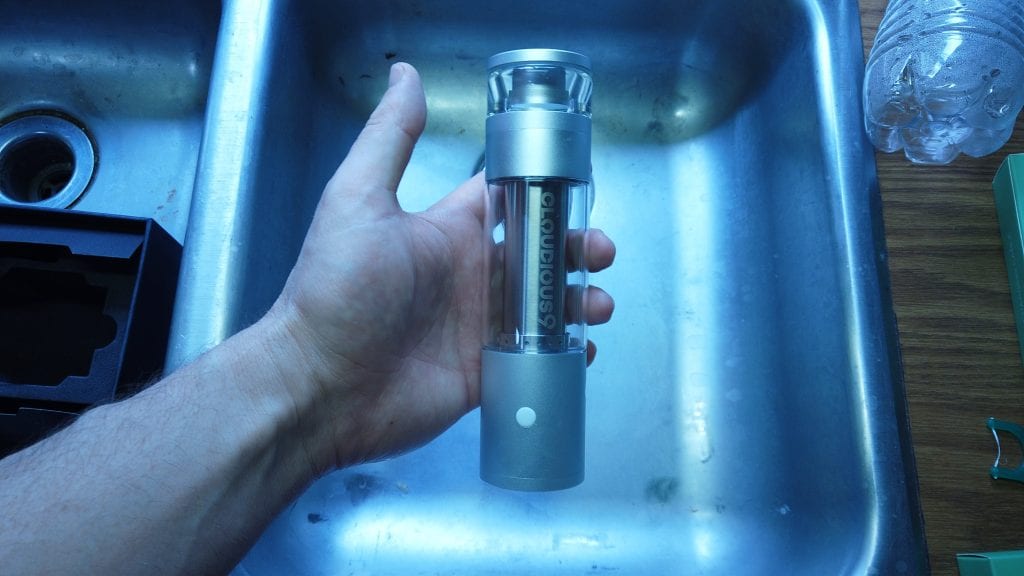 The big difference between this and other water vaporizer setups I have seen is there are less moving parts. The other water setups involve a separate attachment. Here it's completely integrated. If you rather just hit filtered all the time, this is a much easier way to hit.
More compact and accomplishing the same thing.
Twist at the bottom to keep ground buds fresh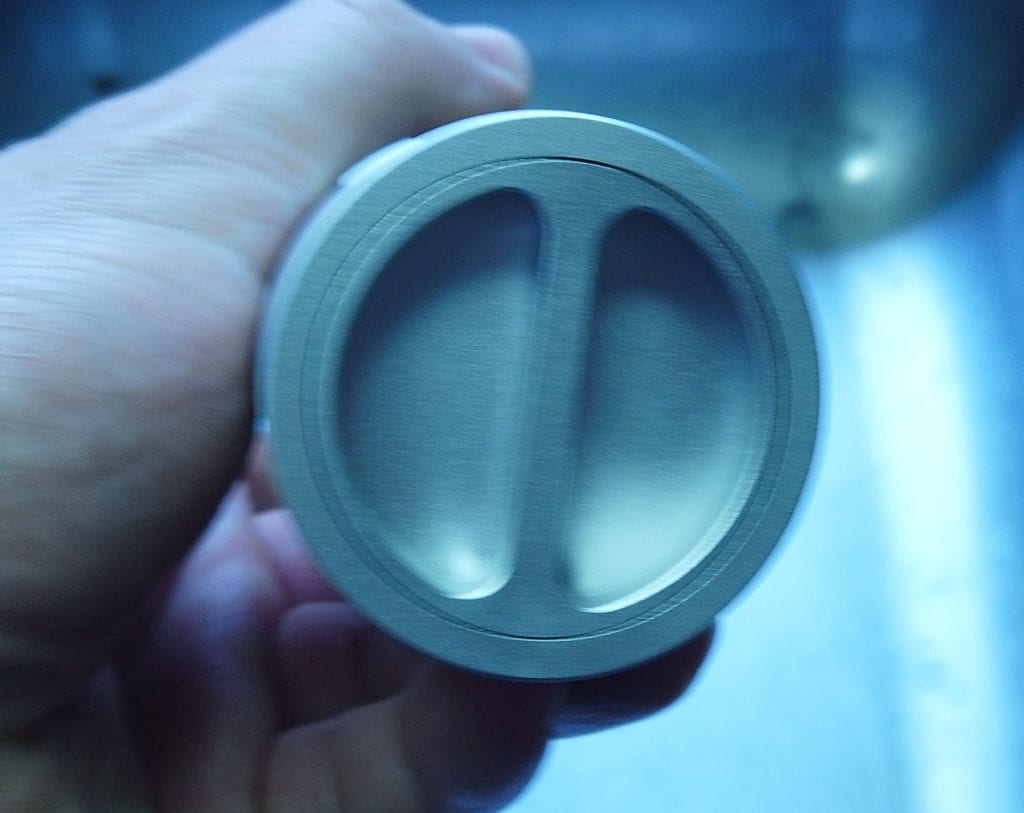 The bottom portion of the vaporizer is where dry herb is loaded. When you load up the chamber a small metal piece sticks up into it that is connected to this turning mechanism. Then you can twist it to make sure the buds are vaping fresh and evenly.
I did not find any use for this as it vaped very evenly as is, but I could see this being useful if your buds were not that dry, like mine are right now.
Hydrology9 has a high-quality build
The body appears to be made of aluminum and there is a thick, heavy feel to it. The glass on the bong portion is also thick and does not seem like something that is going to break or crack easily from regular use. Cloudious9 did not go cheap on the build quality at all.
Hits are geared towards smoother rather than stronger
Even at the highest setting, the Hydrology9 is not a "massive rips" kind of vaporizer. Many people looking for a dry herb vape are not looking for massive rips anyway, they are looking for something smoother.
The Hydrology9 does just that. Super smooth hits, but not the most powerful. In my experience their cheaper, smaller device, the Atomic9 hits a lot harder. There's no water filter on it, but the chamber is similar. The hits from the Atomic9 are denser and stronger, but not nearly as smooth.
Efficiency is as good as it gets
The Hydrology9 vapes everything evenly and thoroughly. It also has a metal piece that sticks up into the bowl that can be twirled around to get every last bit out of it. Given that the heating chamber is similar to the Atomic9, it probably does not need this. The Atomic9 without this feature still vaped evenly throughout the entire thing. That being said, nothing needs to be done to improve efficiency here, it's great where it's at.
Super long USB cable comes in handy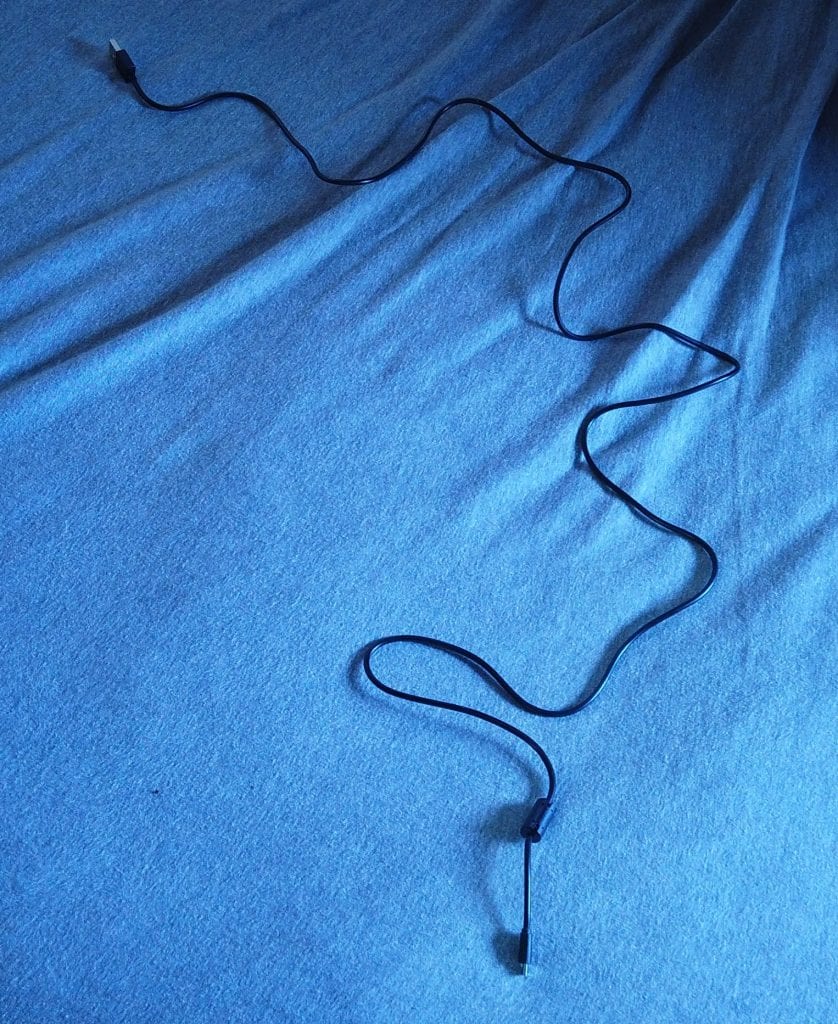 It might seem like a minor detail, but adding the extra-long USB cable makes it way easier to charge this and leave it on the table at the same time.
Portability is impressive for a "desktop" vaporizer
This dry herb vaporizer is more of a desktop than a handheld vaporizer. However, its compact enough to carry in your hand and take around with you. It also doesn't seem to leak any water when it's put in various positions.
Very clean, true to bud taste
There was nothing metallic-like coming out of the taste here like I have experienced on some vaporizers. Basically it tasted like the bud I was smoking, in this case a hybrid by Desert Grown Farms.
I could see taste getting skewed by dirty glass in the long term. So if you get this vape, make sure to keep the glass clean or you might get that old bong taste coming out of it.
Value hard to spot because it's a one of a kind device
There's really nothing directly to compare the Hydrology9 to. Both it's water filtration and being a fairly portable "desktop" vaporizer, it's in a class of it's own. Priced at $199, it's cheaper than the Crafty, but more expensive than some smaller portable vapes. Overall, it's cheaper than most desktop vapes.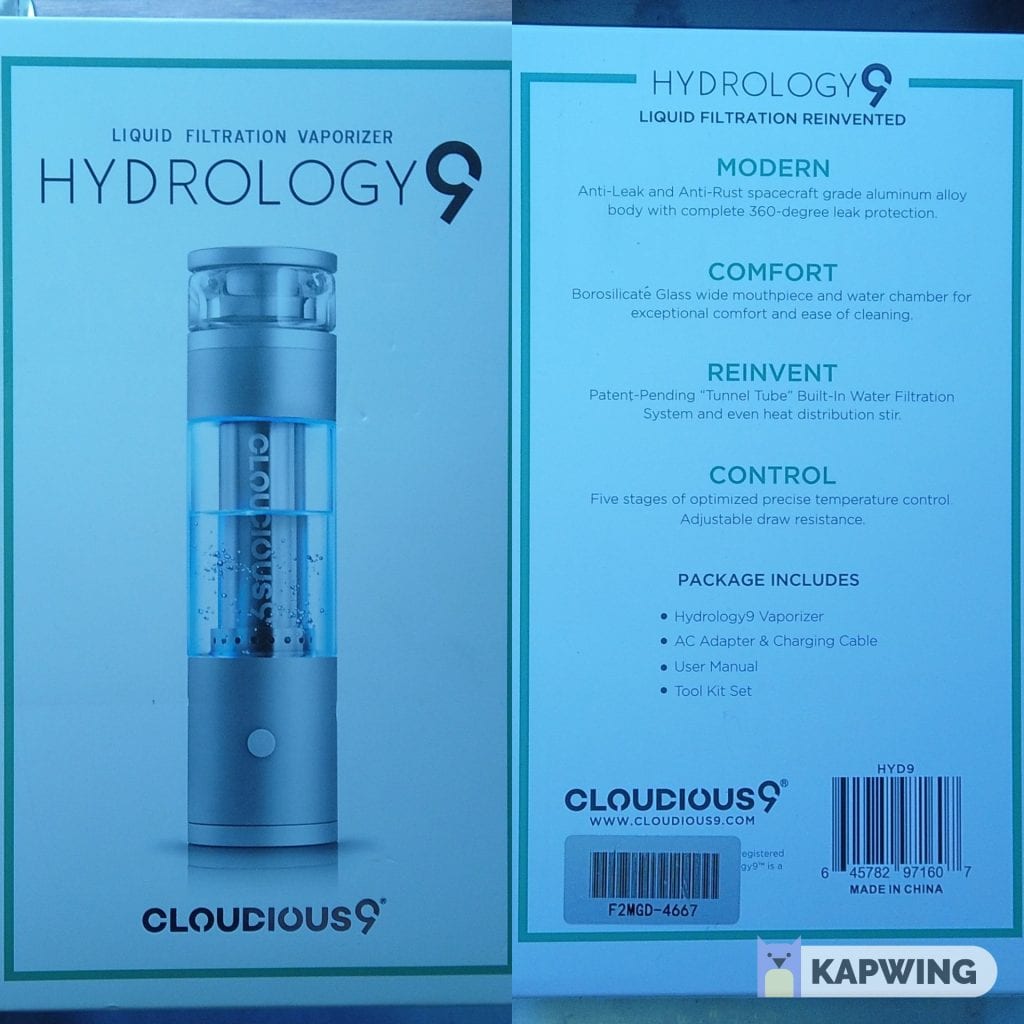 Warranty is for 2 years, longer than most vaporizers
Most vaporizers are only warrantied for a year. Adding that second year on there does add to the value of the Hydrology9.
Concluding our Cloudious9 Hydrology9 review…
Overall, the Hydrology9 vaporizer is a good product. Hits are smooth, build quality is excellent and it evenly vapes all the bud in the chamber. It's also got a nice compact form factor for a desktop vaporizer, adds a nice water filter and there are no leaks.
You can get the Hyrdology9 on Cloudious9's website here.
Have you tried the Hydrology9? Questions or comments? Post below or in our forum!