REVIEW OVERVIEW

SUMMARY

The Atomic9 offers an excellent value at $60. We have yet to see a vape in this price range offer this level of performance.
We here at Dab Connection appreciate that our readers would just as soon get good value for their money. We also still hit dry herb vapes and for people in markets with only illegal goods, they might be better off vaping try herb as opposed to black market carts.
Today we're trying out the Cloudious9 Atomic9 dry herb vape that retails for about $60.
Check out our video review below, then keep reading on for the more in-depth review.
The Cloudious9 Atomic9 dry herb vaporizer hits clean and hard, but it's still economical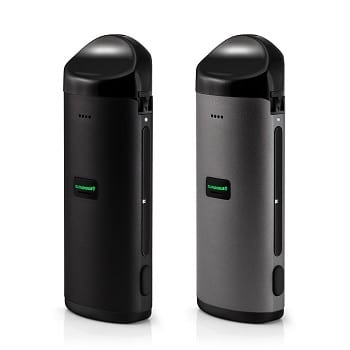 Let's discuss the most attractive aspect of the Cloudious9 Atomic9: the price. At $59.99, this a rock-bottom price on a quality dry herb vape. Most good quality vape rigs we've seen run closer to the $100 range and up. Yet the Atomic9 is a quality rig that really delivers hard hits.
How's it vape dry herb?
The proof is in the puffs, and we try it out here aboard the mighty Dabber Dasher:
The Atomic9 has a one-button control, six temperatures ranged from 356°F (180°C) to 428°F (220°C). The build is a solid fistful, being larger than a lighter but smaller than a phone, able to fit comfortably in palm and pocket. The "herb loading shovel" suggests that you should have a pile of ground flower to scoop into, where we just grind up one lonely bud at a time.
Atomic9 has a dual-core vaping system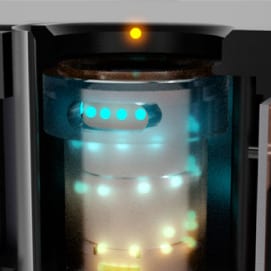 The Cloudious9 Atomic9 boasts a new innovation in vaping technology, with a dual-tier convection and conduction heating method. This hybrid heating process allows for a smaller and more cost-effective vaporizer.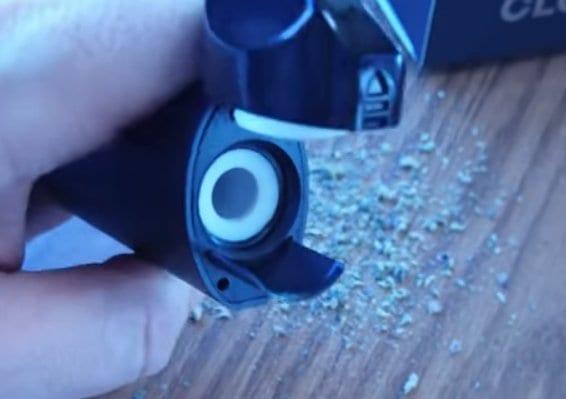 One other notable design feature is the "retractable herb loading shovel." You see us trying that out in the video. It should probably be considered more of a funnel, though if you have a deep enough grind bin you can just scoop and go.
Not a bad feature, but I find myself just scooping flower in the old fashion way.
Comparing the Atomic9 to similar price range dry herb vapes
First off, there are very few that I would even try in this price range. Most dry herb vapes in this range are total junk. Options like the Titan 2 that are cheaper are known to melt and are complete junk.
Until you get to over $100, there is nothing comparable to the Atomic9 we have yet to try, so our closest price range comparisons used here actually close to double the price. So here we'll compare them to two other "low cost" vaporizers that have quality builds: the DaVinci Classic and the Wing by elm&owl.
Cloudious Atomic9 vs DaVinci Classic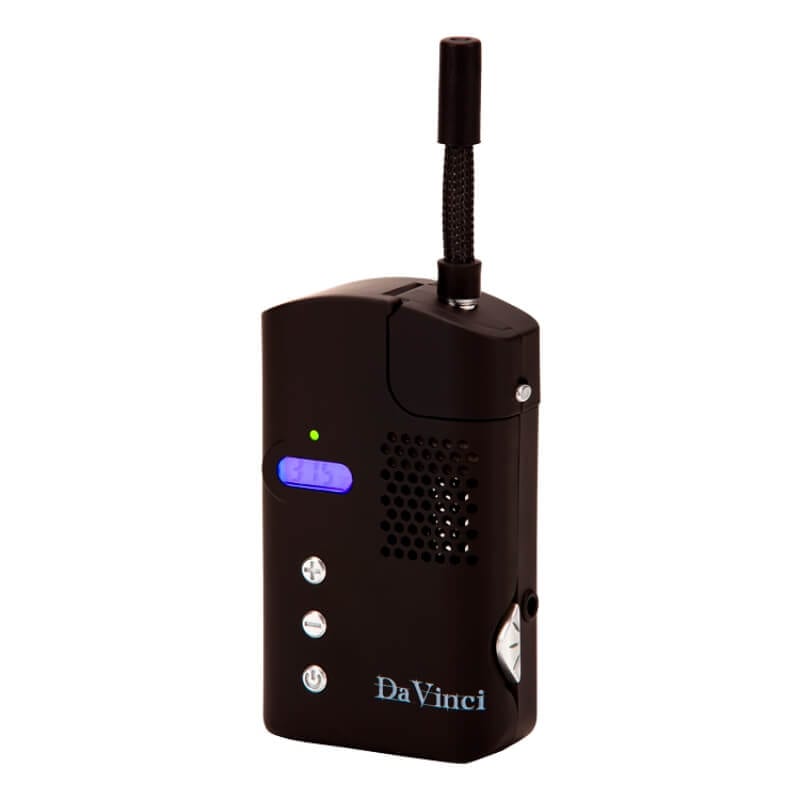 First we should mention that the DaVinci Classic usually sells for $125 to $130 depending on whether or not you can find a coupon. So out the door you are almost at double compared to the price Atomic9.
Cloudious9 Atomic9 hits harder than the DaVinci Classic
Right off the bat, the most important feature for many is hit strength, and the Atomic9 is a clear winner here. The DaVinci does not hit weak by any means and delivers pretty average hit strength, but the Atomic9 hits hard.
Previously most of the hard-hitting vapes in this price range would also get a little melted, but no signs of that on the Atomic9. The quality build holds up through hard hits
Build quality higher-end on the DaVinci Classic
The DaVinci Classic reminds me of an old luxury car. It still has that high-quality $250 vape feel, even if it's not as fast as some of the newer things out there. Originally the DaVinci Classic was a higher-end expensive vaporizer when it first came out, so it is expected to have a higher quality build than the budget-minded Atomic9. The flower chamber on both are ceramic and seem comparable.
However, it must be considered that the DaVinci costs twice as much.
Atomic9 vs Wing Vaporizer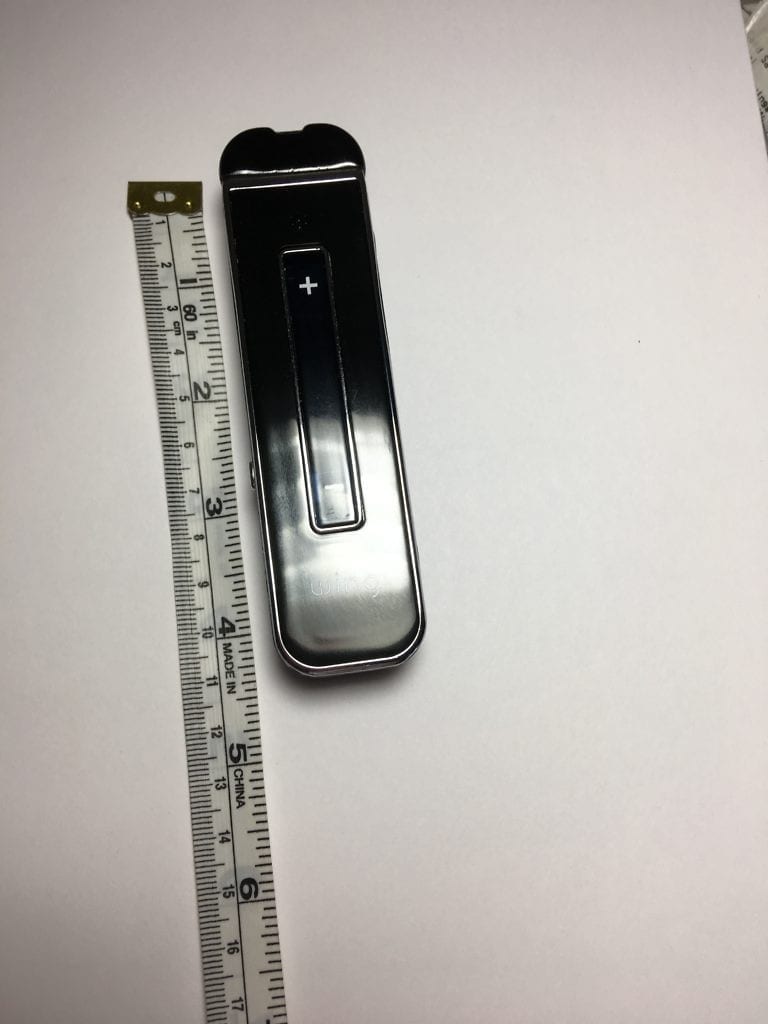 The Wing Vaporizer goes for $129. We previously reviewed it and it hits decent. It's a good but not great vape and a bit on the expensive side for what it is.
On all ends the Atomic9 beats the Wing. Price, build quality and hit strength are all better on the Atomic9.
Excellent true to strain taste
The Atomic9 vapes smooth and clean. You can see where we did over-pack it a tad, and still the herb vaped to a crispy, spent brown without any of the herb in the chamber burning. Three clicks turns it on, and it heats in under a minute with a light cue going from red to green.
Overall, this vape outperforms more expensive dry herb vapes we've tried in the past. It kept the flavor clear and the hits heavy throughout. We use the highest setting and can vape a full load in about five minutes.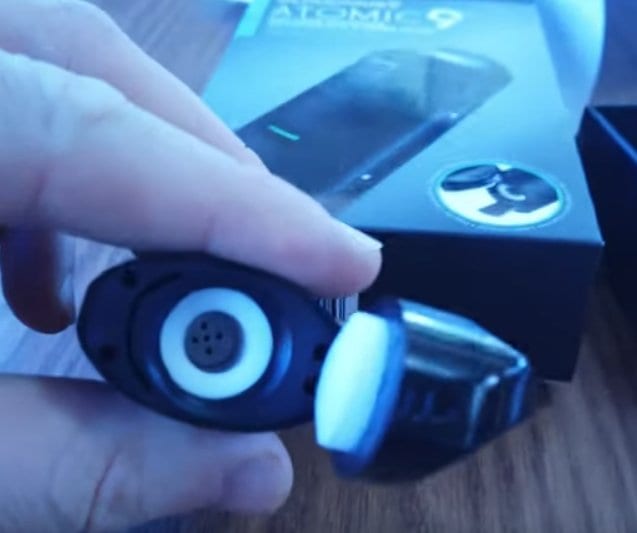 The chamber vaped evenly and efficiently, with no waste
Efficiency was excellent and on par with the best out there. Completely vaped evenly across the entire bowl. I hit this at the highest setting and then popped out the herb at the end of the video above. You can see it's even and fully used throughout.
Concluding our review of the Atomic9 by Cloudious9…
The Cloudious9 Atomic9 gives solid performance with a decent build quality and so far we haven't tried anything that comes close in this price range. The next comparable vapes are twice as much, and even then it hits stronger.
It's not going to be a Mighty or Crafty, but it also costs a fraction of the price. Overall, you can't go wrong with this vape at $60. Plus add a one year warranty and you know you will get some good use out of it. You can get the Atomic9 here.
Readers, what's your dry herb vaping experience?
Have you tried the Cloudious9 Atomic9? How does it compare to other dry herb vapes within its price range? How about dry herb vapes outside its price range? Share your experience in the comments or in our forum.