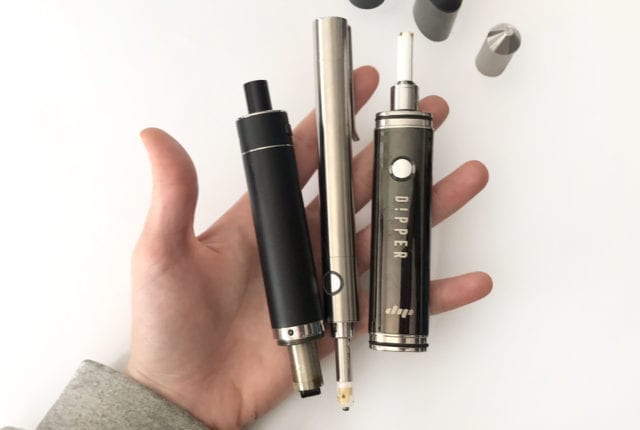 After reviewing three popular electronic nectar collectors, it's clear that each one has pros and cons. Though they all do the same thing, the price, function and experience of each electronic nectar collector are all different. We individually reviewed the Boundless CF 710, the Dipstick Dipper, and the Linx Ares, now let's compare them against each other!
Full individual reviews available here:
What is an Electronic Nectar Collector?
The electronic nectar collector (some call it a honey straw) is a new alternative to vape concentrates with. This type of product is different to a dab rig or vape pen and has been gaining interest over the last year or so. Nectar collectors are unique in the way that they vaporize, because you do not load the pen with wax. Nectar collectors work by dragging the heating element directly over your concentrates. More portable than a dab rig, they are small enough to take on the go – just don't forget your glass dish!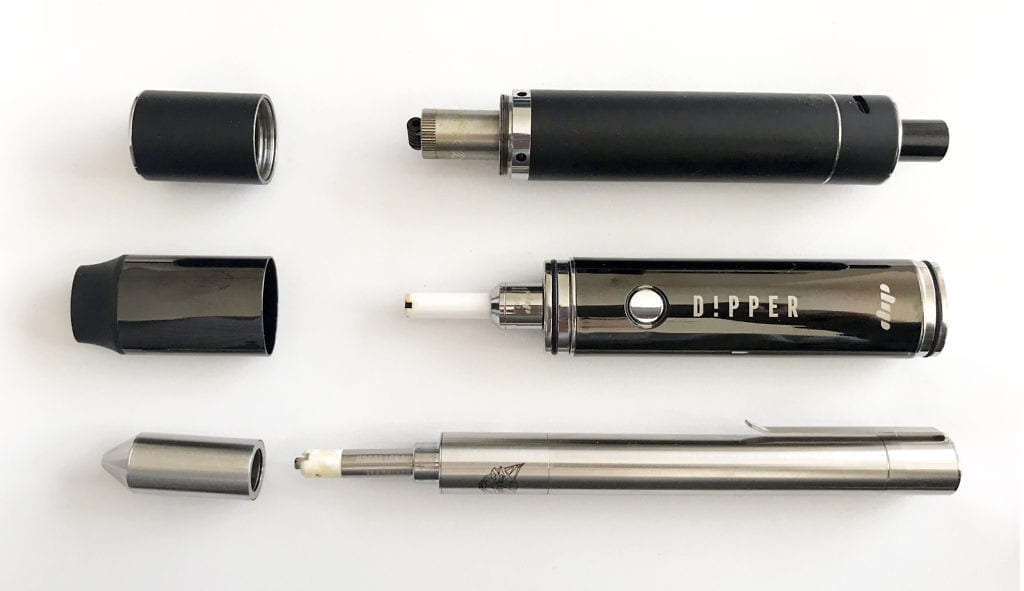 See below for each set of scores or read on for more info:
| | | | |
| --- | --- | --- | --- |
| Name of Product | Boundless CF 710 | Dipstick Dipper | Linx Ares |
| Design & Quality | 8 | 6 | 8 |
| Ease of Use | 7 | 7 | 7 |
| Strength | 10 | 7 | 5 |
| Efficiency | 6 | 7 | 7 |
| Versatility / Atomizer Options | 2 | 5 | 1 |
| Portability | 6 | 6 | 7 |
| Discretion | 5 | 7 | 5 |
| Taste | 5 | 6 | 7 |
| Value | 5 | 5 | 5 |
| Replacement Costs | 9 | 10 | 3 |
| Total % | 6.3 | 6.6 | 5.5 |
How Much Do These Electronic Nectar Collectors Cost & What Do They Include?
The Boundless CF 710 – Delivers The Strongest Hits
The CF 710 costs $129.99, which is high-end pricing. However, this model comes with a very generous 3 yr warranty, as opposed to the standard 1 yr. The CF 710 includes: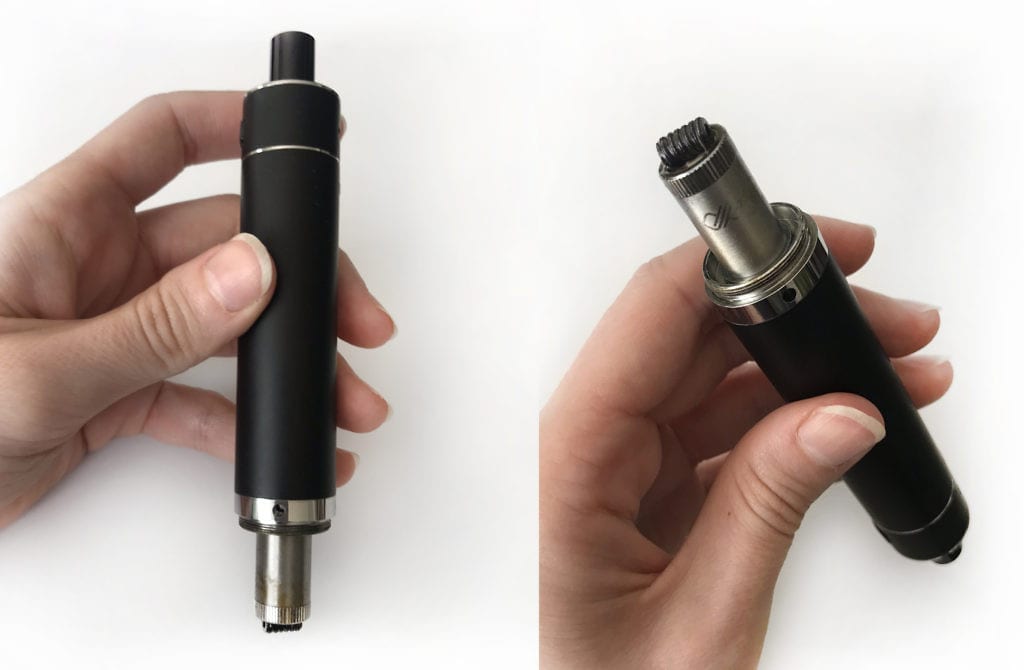 CF 710 device: 900mAh battery w/ 1 Power Setting
1 x Single Coil Ceramic Rod Tip (NiChrome Coil)
1 x Single Coil Quartz Rod Tip (NiChrome Coil)
Loading Tool
Glass Container
Micro USB Cable
The Dipstick Dipper – Worst As An Electronic Nectar Collector, Better As A Vape Pen
The Dipper is the most expensive nectar collector-style vape pen at $149.99. But, it's also the only style which also works as vape pen! And works better as a vape pen, quite frankly. Sadly, a glass container, which is necessary for use as nectar collector was not included! The Dipper includes: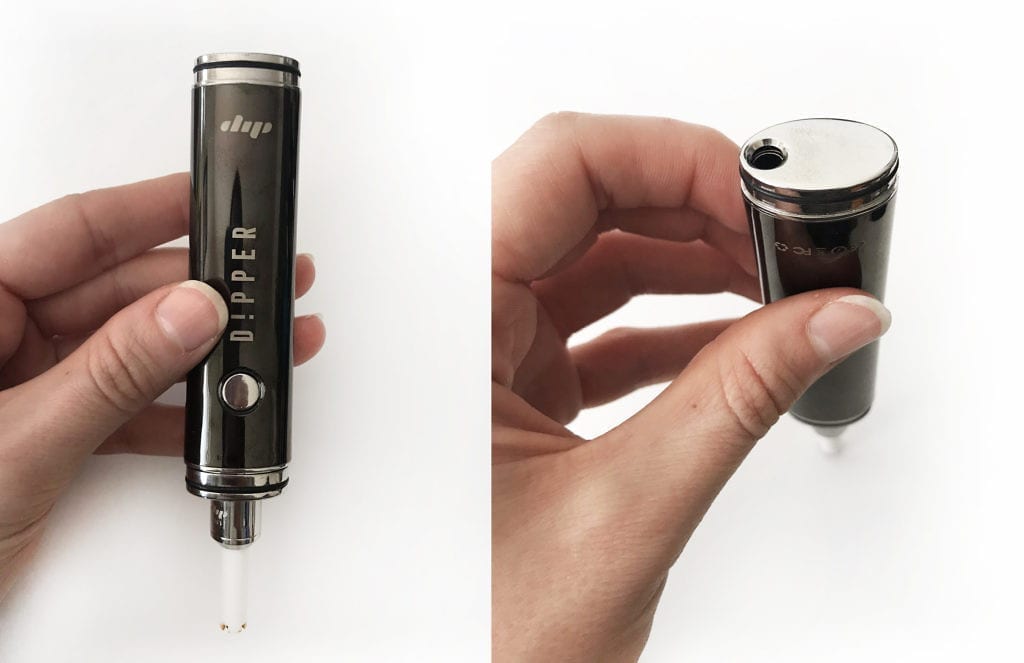 Dipper Device (no details)
2 x Ceramic Atomizer Tips
1 x Quartz Double Coil Atomizer (for use as vape pen)
Loading Tool
Cleaning Swabs
Micro USB Cable
The Linx Ares – Tastes Better Than The Rest, But Clouds Are On The Small Side
The Ares is only $109.95, which is the cheapest model in comparison to the CF 710 or Dipper. It does only include one atomizer, but at least it comes with a glass dish, unlike the Dipper. The Ares includes: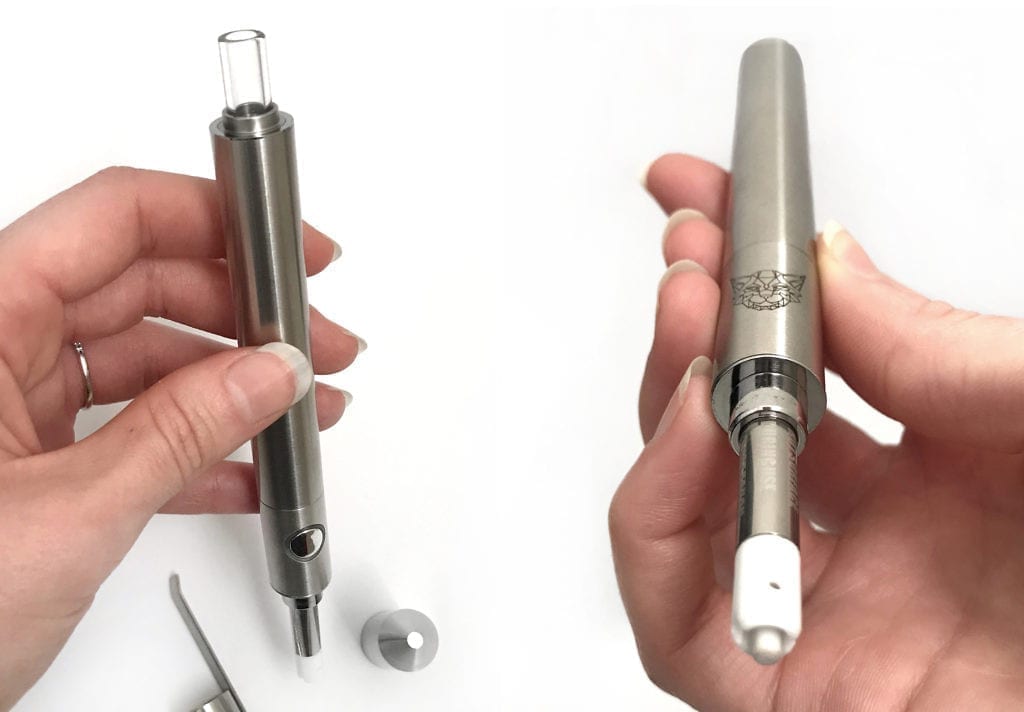 Ares device: 750mAh Battery
1 x Coil-less Ceramic Rod Atomizer
Magnetic Pen Cap
Glass Mouthpiece
Glass Container
USB Charger
Cleaning Brush
Atomizer Versatility & Replacement Prices for Each Electronic Nectar Collector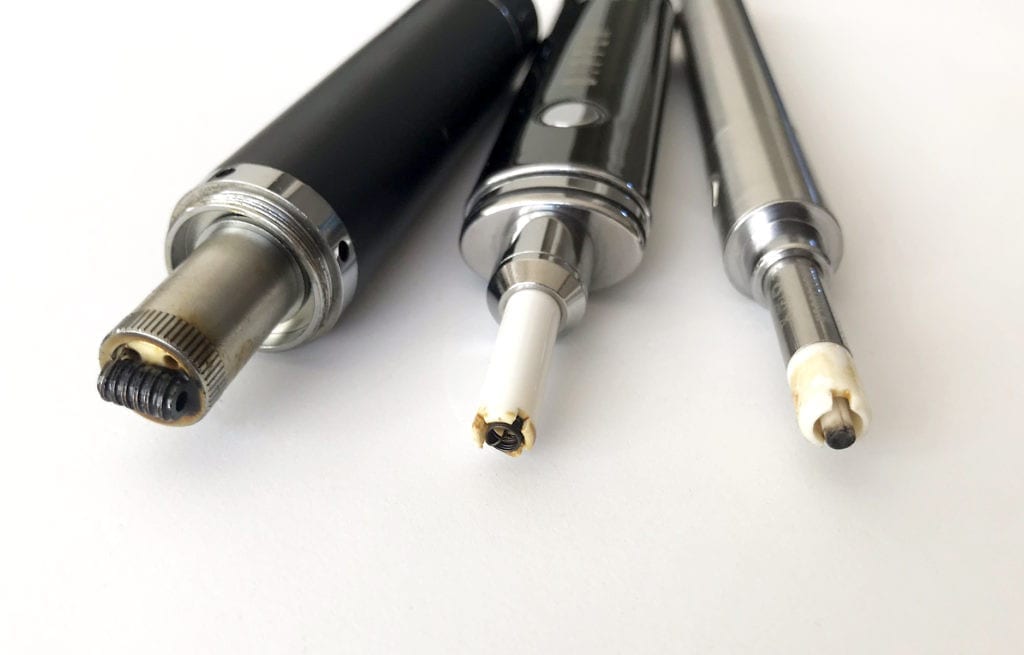 Boundless CF 710 replacement atomizer tips are only $9.99 each, which is pretty cheap.  The choice is between a quartz or ceramic tube, wrapped with a NiChrome coil.
The Dipstick Dipper can be used as both a vape pen and a nectar collector. For use as a vape pen, replacements for the quartz double coil atomizers are $9.99 each. For use as a nectar collector, replacements for the ceramic rod vapor tip comes in a pair for $14.99 or a pack of 5 for $29.99.
Linx Ares replacement atomizers cost $27 each! Yes, that's $27 for one coil-less ceramic rod tip.
Replacement prices for both the Boundless CF 710 and the Dipstick Dipper are fantastic. The Linx Ares really dropped the ball there.
Electronic Nectar Collectors and Discretion Issues
The overall problem with this nectar collector style design, is the sheer inability to be discreet. It's all well and good when you're at home with your friends, but what about when you want to take it on the go? It is impossible to take a hit on the move, or in a public space, due to these being a two handed operation. One hand holds the device as you dab, and the other holds the glass container with the dab inside. Good luck trying to explain your way out of the situation if somebody disapproving was to see you. It's certainly less discreet than a vape pen of any sort, simply due to the process of consumption.
Final Thoughts – Rather Hit a Vape Pen or a Real Nectar Collector
Though the Dipstick Dipper got the highest score out of the three, it's actually the 'worst' in terms of being used as a nectar collector. The fact that it also functions as a vape pen saved its tally, but as this is a nectar collector comparison, take that into consideration.. When using the Dipper as a nectar collector, it can be tricky to hit a dab at the right angle without losing wax as the coils are on the inside of the ceramic rod. Strong as a vape pen, not a fantastic nectar collector. But, replacement costs are great!
The Boundless CF 710 is the strongest overall. Amazing airflow and huge strong hits come from this one because it uses a coiled atomizer. However, as the coil creates big clouds, most flavor is killed by intense heat. The body of the device slightly blocks your view as you dab, which can hinder the ability to dose. Atomizer replacement options are limited to two types, ceramic and quartz, but replacement costs are great too!
The Linx Ares is awesome for flavor but delivers minimal clouds. It's slightly more portable than the others because it's the slimmest and has the best taste overall! Atomizer versatility is literally nonexistent though, which is a downfall. If you're looking for something that will deliver a huge hit, this one isn't for you.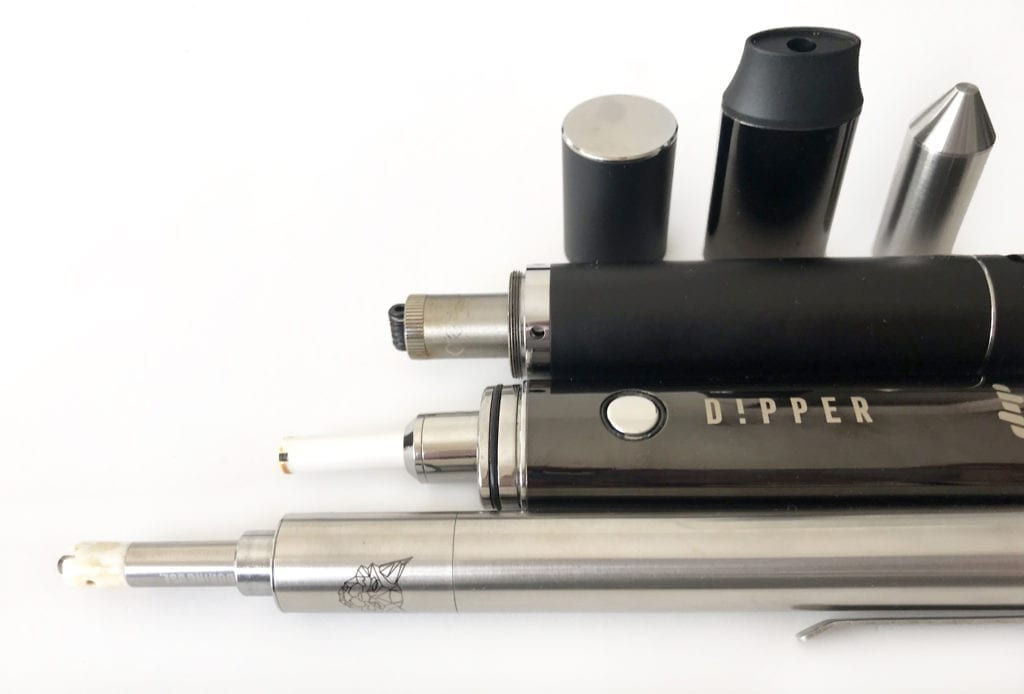 As we can see, each one of these three nectar collector  devices has high point and low points. Deciding on your vaping priorities should help you find your perfect match, because every element of every vape pen or nectar collector is different. Do you prefer big clouds or better flavor? Ease of use or quality of equipment? Cool design or cheap replacement costs?
Considering the necessity of the glass container, the higher likelihood of burning something or somebody, and the lack of options in atomizer tips – we're still not convinced that this type of design is any easier or better than a vape pen or a standard nectar collector for home use. However, if I have to choose winners in this comparison of the three most popular electronic nectar collectors, I would choose the Linx Ares for its superior flavor. It can be found here.