REVIEW OVERVIEW

SUMMARY
I don't fall in love easily but Botany Farms captured my heart on the first date. The package of Botany Farms HHC flower I was expecting showed up in a very timely manner. Nice! I'm one of those instant gratifications kinda folks.
Pros:
Lovely smell
Looks very good
Cons:
Recommendations: None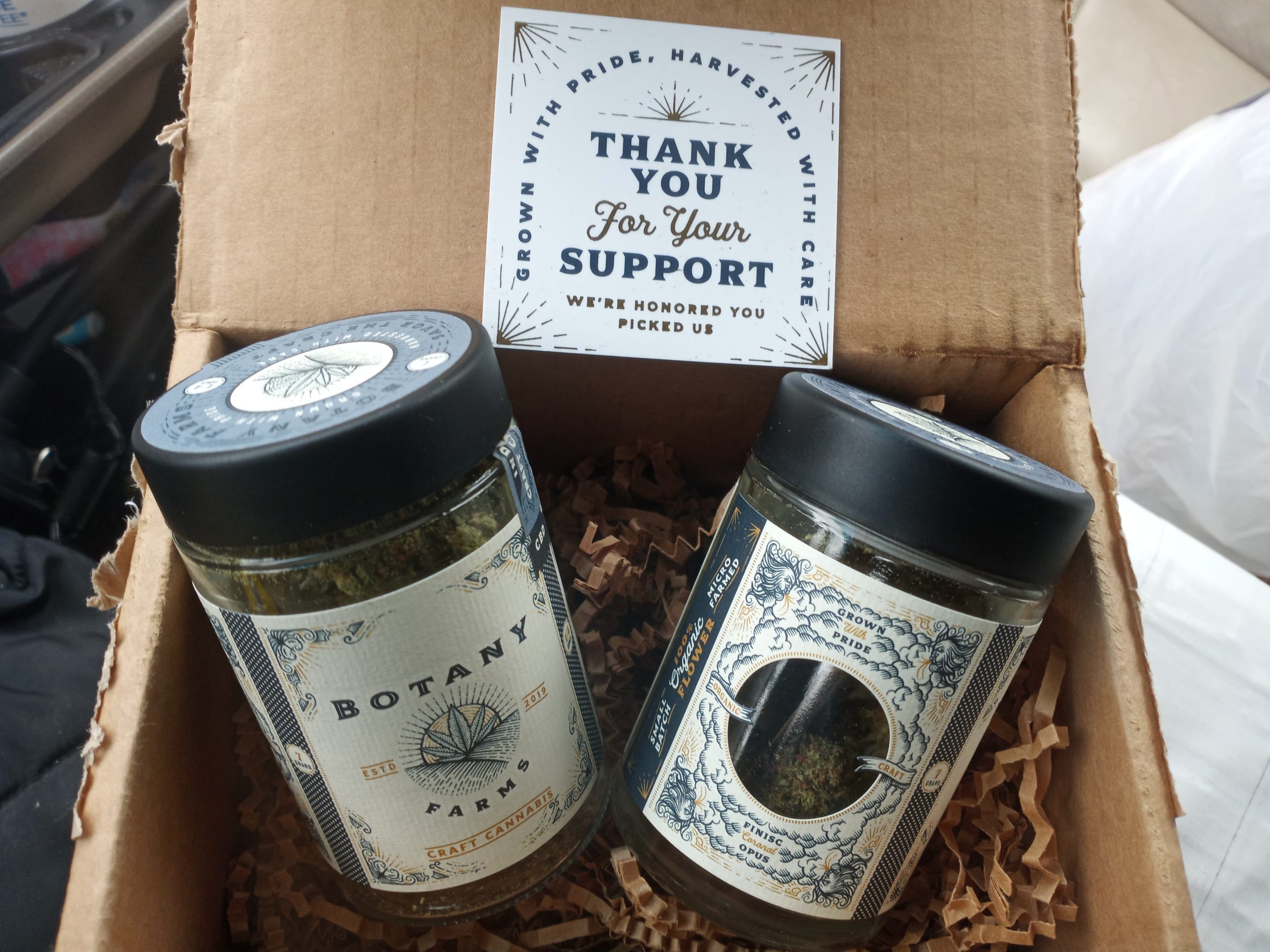 Great artwork and packaging
I really like the packaging – simple, earth-friendly – not full of laminated, multi-colored materials, yet their Earthy style caught my eye. I loved the intricate artwork and the artistry of the labels. And how refreshing that the bottle was the appropriate size for the amount of product – not a bunch of expensive air. Speaking of expense, I thought the flower I received was very reasonably priced.
The website notes:
We grow cannabis with reverence for all its complex capabilities.
For those who want to enjoy its benefits while remaining clear-headed and present.
That begins with a commitment to the time and attention it takes to produce a quality flower free of pesticides, fungicides, and heavy metals.
Add bright sunshine, fresh water, and some well-deserved love and respect and you have Botany Farms Craft Cannabis.
Our methods might take more effort, but we believe it's the only way to roll, and we think you'll agree.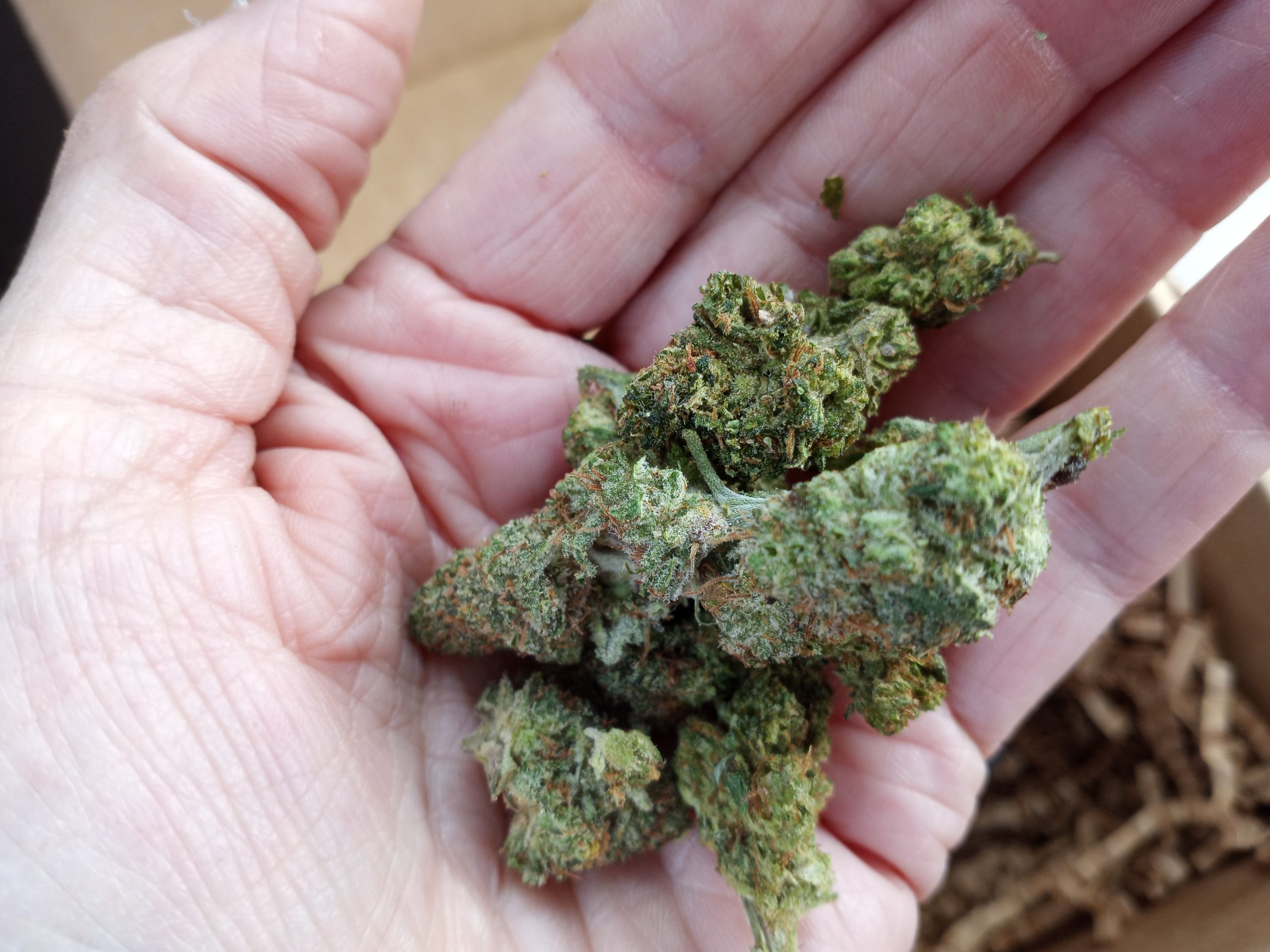 Lovely smell
That is exactly the experience I had with the Blueberry Kush. It was just what I was looking for – the ability to smoke and shift my mood without being too high to function. I've got some rough circumstances these days and it perfectly took the edge off and brightened my mood without wiping out my brain power. And the olfactory factor is a ten for me. Boy does it have a lovely smell. The label says blueberry, grape, and pine. It doesn't register like any of those scents to me – just rich, cannabis sweet.
Botany Farms HHC Flower is organically grown
The label contained the phrases: small batch * 100% Organic Grown * Micro farmed. Those five words tell me that I am not smoking off a giant, industrial complex. As a former organic grower, I much appreciate how important "small" and "micro" are to quality farming and the environment.
Lately, I have been reviewing a lot of vape products. The buzz is good but I feel some kind of icky, chemically, after-taste/feeling that doesn't scream natural or healthy. So it was nice to get that smooth, naturally-farmed high without the perhaps unhealthy kick.
I like the Godfather OG even better
The aroma is even sexier than the Blueberry Kush, and the buds are bigger and darker. Similarly, the high is more intense. I smoked it with a simple silicon pipe and I smoked it in the new vaporizer I am reviewing. Either way, it was a fabulous high and easy on the throat. Love it!
My blueberry Kush review talked about my applause for Botany Farm's philosophy of small batches, micro-farming, and 100% organic. So I set out to peruse their site again to see what else I might like about this company. I found my way to their blog section and found lots of expert information that a consumer would benefit from. Then the diamonds caught my eye. I fell into the article about weed diamonds. I gotta try those!!! Check it out.  The Botany Farms prerolls are a great value as are the 7oz containers of buds.
Price per buzz – the numbers work for me
Finally, I was impressed by the map they supplied that shows all the cities and locations that stock Botany Farms products. That tells me that they have been successful for a while and that when I fall in love with a product I will be able to find it.
In short. I loved the Blueberry Kush. I really love the Godfather OG. I have found plenty of other interesting products on their site I want to try, and I love their farming philosophy. I have nothing but good vibes for Botany Farms. Bongs away. Gonna go enjoy my Godfather OG.
Concluding this Botany Farms HHC flower review
All in all, I truly love this product, the packaging, the company, and their philosophy towards the environment and producing healthy products. Looking forward to completing this review and sitting down to enjoy another bowl of Blueberry Kush. I give it two bongs way up!
You can find out more about Botany Farms products here. Currently 3.5 grams runs $30, with comparable prices for other quantities.
Have you tried Botany Farms HHC flower? Let us know in the comments or on our forum.