REVIEW OVERVIEW

SUMMARY
Today I will take a look at a couple of concentrates from PFFN Farms. The packaging stuck out to me because it looked unique and had square jars as I've seen like the concentrate jars from 101 Cannabis Co. PFFN is a relatively new company based in Adelanto, CA. As of now, they currently offer flowers and concentrates. I picked up their OG Chem Badder and WiFi Cookies Sugar, both of which were very affordable if you're an everyday dabber.
Pros: 
Very good taste
Great quality and appearance
Amazing potency
Affordable price
Strong immediate effects
Nice packaging
Cons:
Only a few strains available
Recommendation: More strains would be welcome.
License: Circle of Hope CDPH-10003328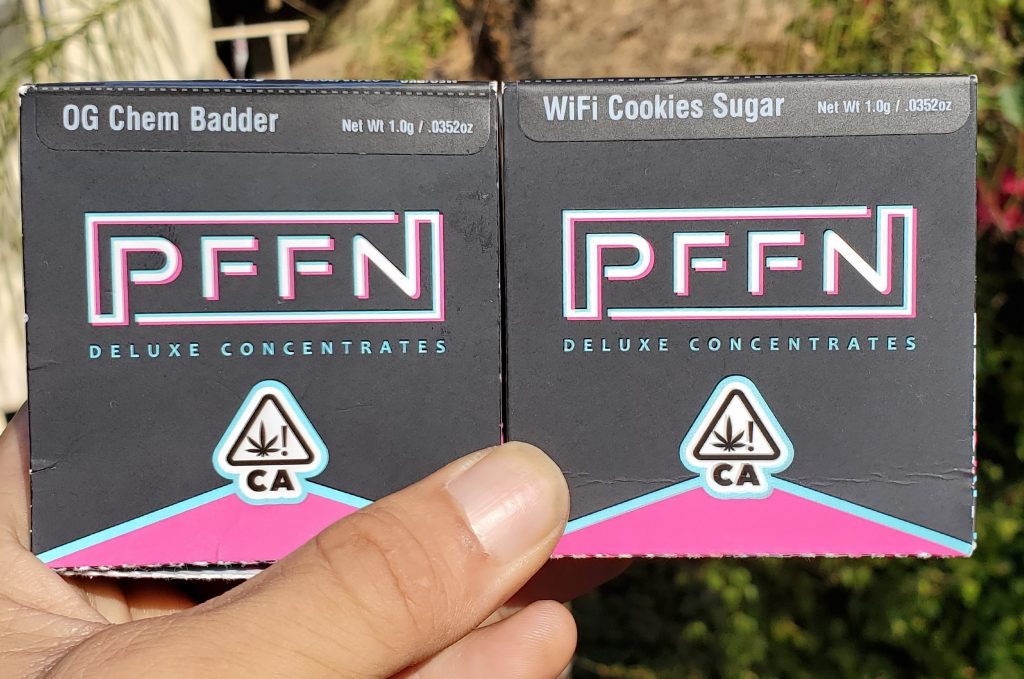 PFFN Concentrates are amazing quality, very good taste, and strong effects
For this review, I picked up their OG Chem Badder, which is a cross between OG Kush and ChemDawg, two very popular strains in the medical marijuana market. Upon opening the OG Chem Badder from PFFN concentrates, there's a sweet, pungent, gassy, and skunky aroma that tastes similar, with notes of citrus, diesel, pine, and cheese. The effects of OG Chem Badder were uplifting, euphoric, creative, slightly energetic yet somewhat relaxing.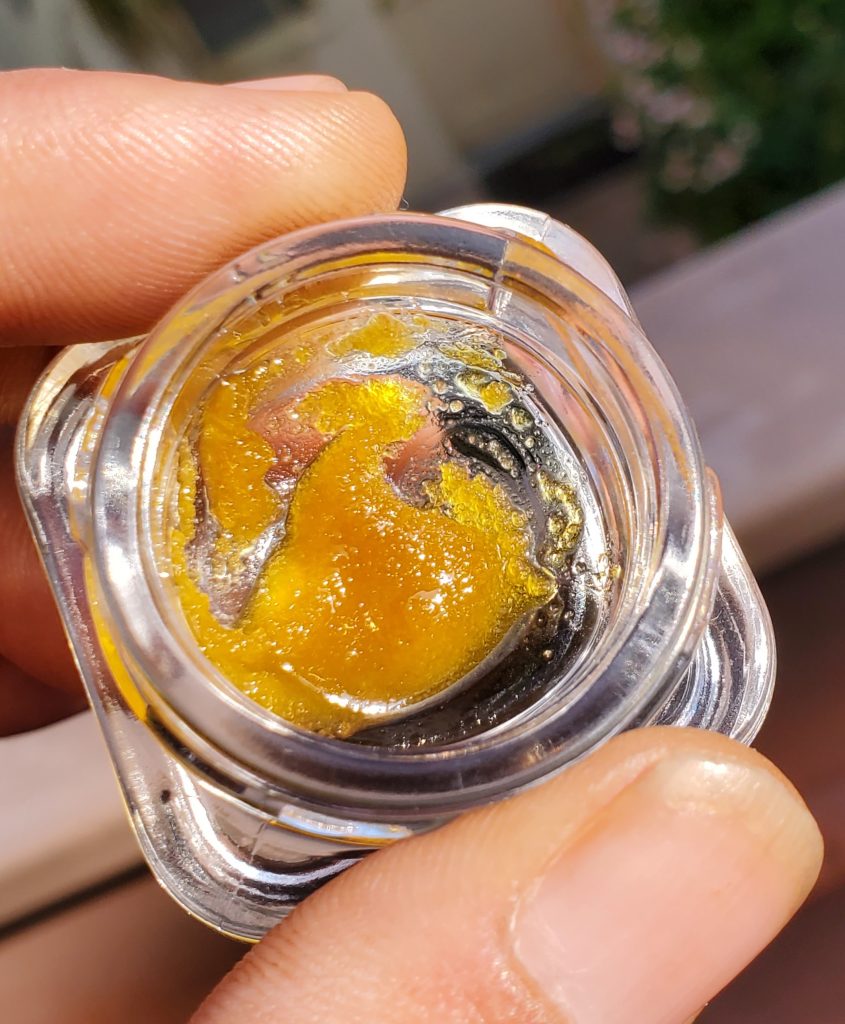 PFFN Concentrates has some of the strongest concentrates in LA
Recently, I also picked up their WIFI Cookies Sugar, which is a cross between WiFi 43 and Thin Mint Girl Scout Cookies, another couple of frequently crossed strains in the cannabis marketplace. The dank aromas coming off of this WIFI Cookies Sugar smells and tastes sweet, earthy, floral, and spicy with strong, pungent notes of diesel, mint, citrus, chocolate, and baked pastries. The effects of WIFI Cookies Sugar were uplifting, calming, relaxing, almost sedative after some initially strong cerebral euphoria.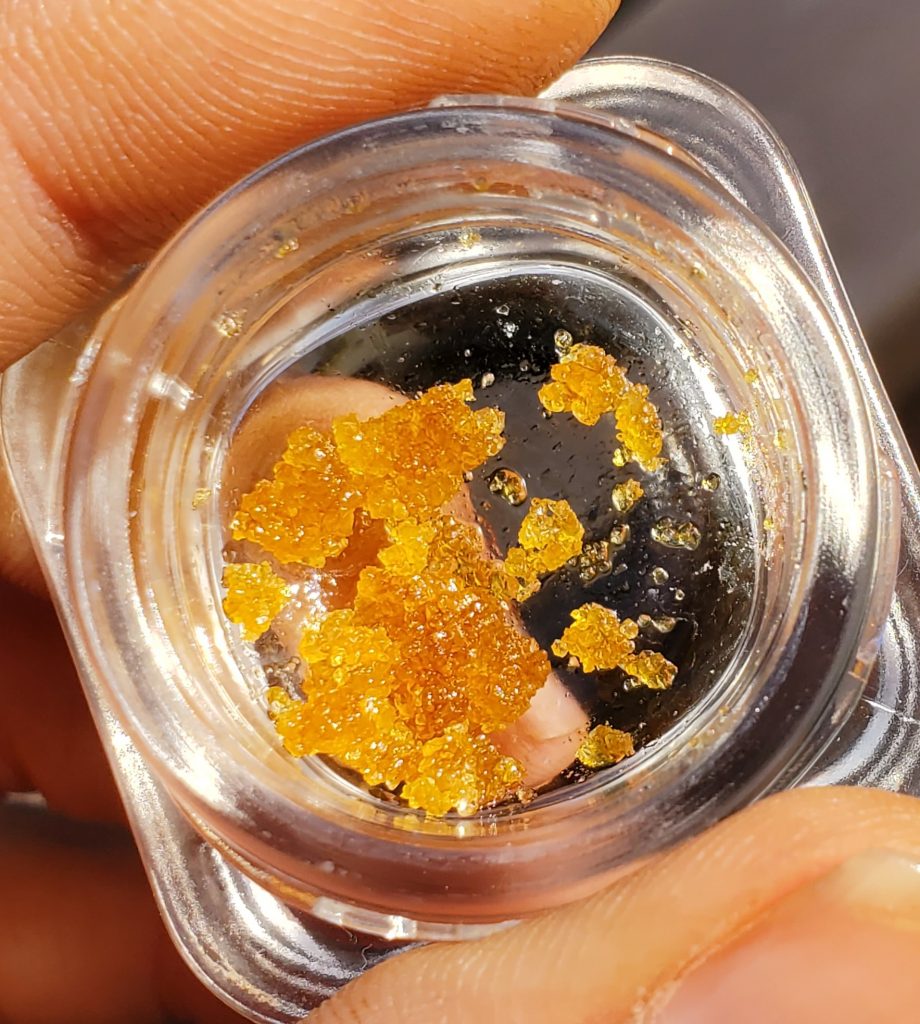 PFFN Concentrates got better with use over time
At first, the OG Chem Badder looked thick, amber, and darker than Terp Hogz Geneticz, ABX Live and Heavy Hitters Live. As I enjoyed this OG Chem Badder, it became golden amber and looked smoother as it reached room temp. I really enjoyed this on a low to medium temp on the Vista Mini 2 dab rig, which is perfect for this kind of concentrate. I highly recommended this OG Chem badder for the daytime or early afternoon.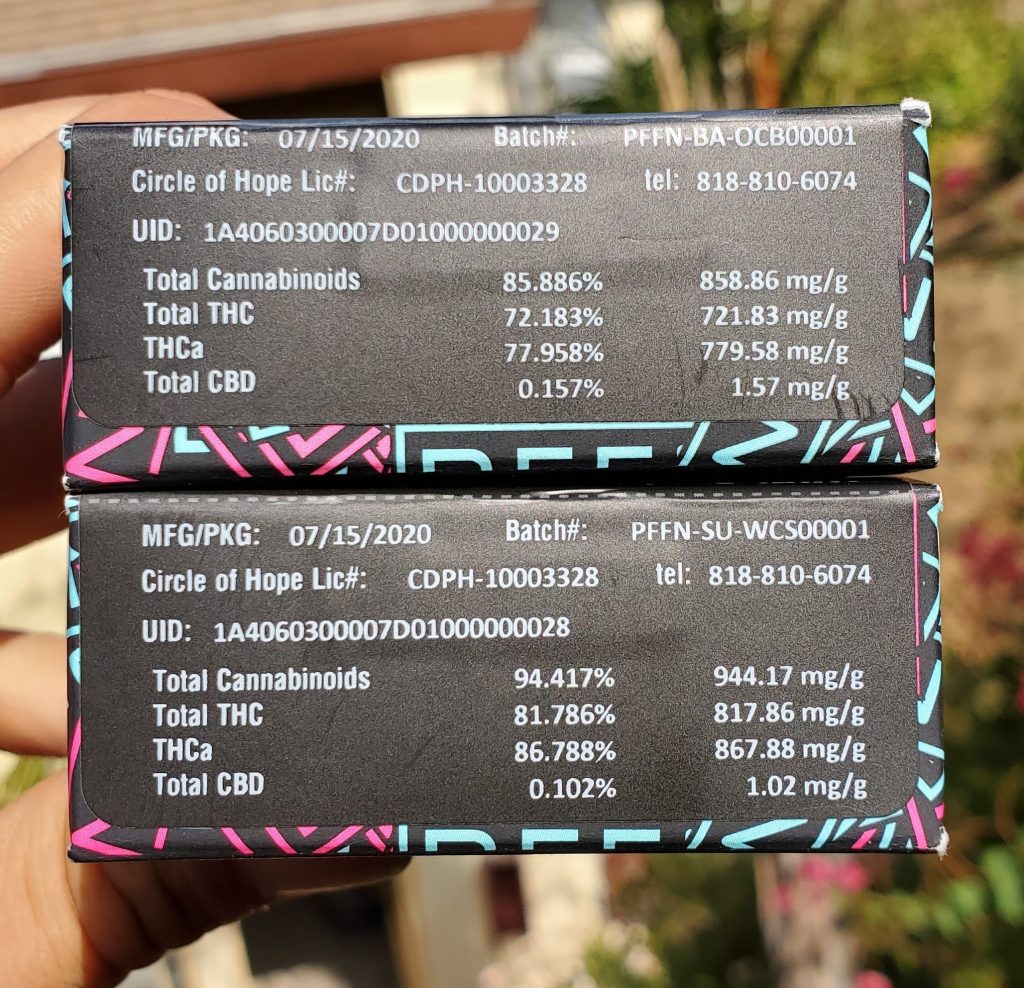 PFFN vs other recent brands
Compared to other recent brands like Terp Hogz Geneticz, ABX Live and Heavy Hitters Live, I highly recommend PFFN Concentrates for their quality and price. During this review, I thoroughly enjoyed the OG Chem Badder and WIFI Cookies Sugar, which was just as good or slightly better than recent concentrates from Terp Hogz Geneticz, ABX Live and Heavy Hitters Live concentrates, but not up to 710 Labs.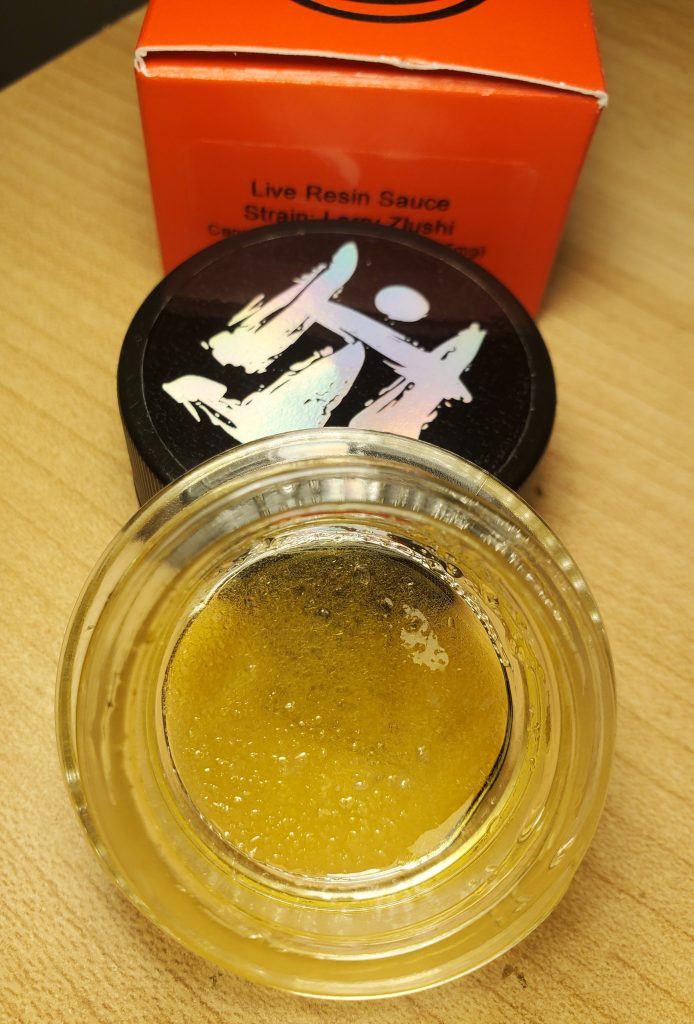 PFFN is just as potent as Maven Extracts and Grandiflora Genetics
This WIFI Cookies Sugar is easily the best of the two concentrates. PFFN Concentrates was as potent as the sugar diamonds from Maven Extracts and diamonds from Grandiflora Genetics as well as the quality and clarity of the diamonds, which were slightly more amber than the most recent live resin concentrates I've had.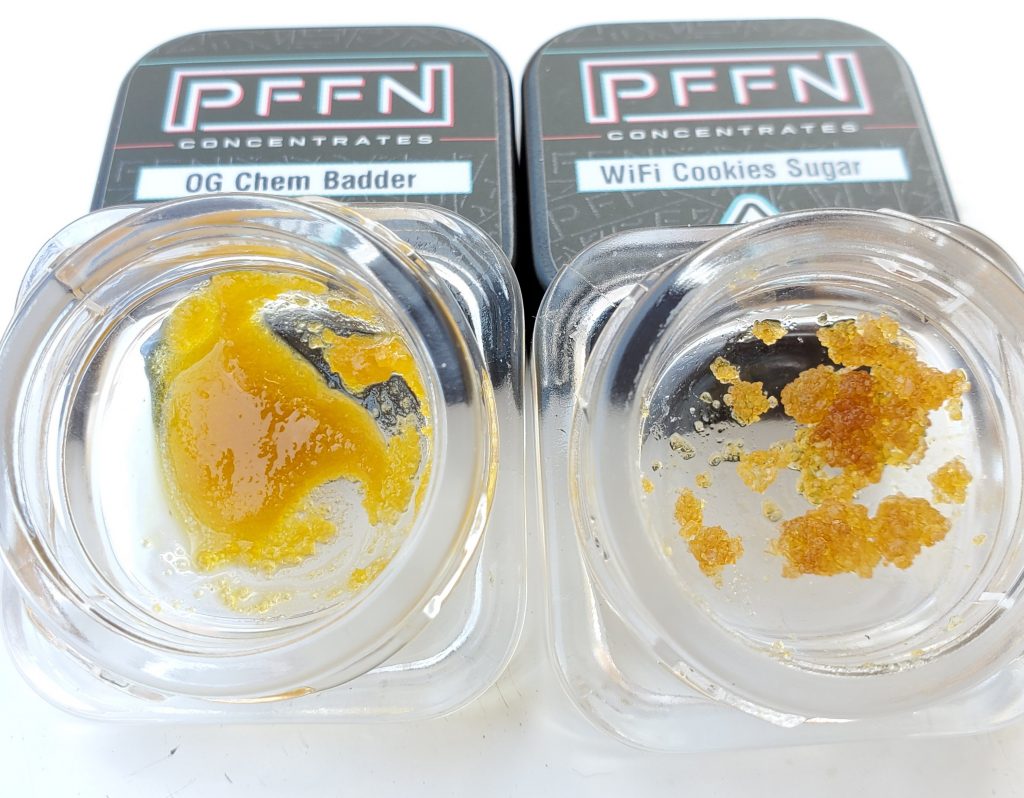 PFFN Concentrates priced for the everyday cannabis dabber
I highly enjoyed the OG Chem badder and WiFi Cookies sugar from PFFN concentrates. I would definitely recommend the quality, taste, strength, and smoothness of both strains. PFFN flower and concentrates is priced for the everyday cannabis dabber. The THC % of OG Chem Badder is 72.183% and the total cannabinoids of OG Chem Badder are 85.886% The THC % of WIFI Cookies Sugar is 86.788% and the total cannabinoids are 94.417%. 
PFFN Concentrates is a solid choice for those with a higher tolerance 
In conclusion, both of the concentrates from PFFN score very high in the potency department. The OG Chem badder was great for pain relief during the day and early afternoon. The WiFi Cookies sugar was great for evenings before going to sleep. I also really enjoyed the chunkier diamonds of the WIFI Cookies sugar. I look forward to trying their flower eighths and their other types of concentrates in the near future.
You can find more information on and buy the strains here.
What are your thoughts on the OG Chem Badder and WiFi Cookies Sugar? Have you tried it or have a question? Post a comment below or in our forum!