We here at DabConnection do our best to stay on top of the dynamic cannabis market, during this exciting time in the industry. We've covered enough hardware that we can pick the top rigs that we've reviewed "so far."
That is to say, we haven't had the chance to review everything on the market up to this second – we're all smoking and vaping and dabbing as fast as our lungs can puff over here. But we've managed to get a pretty comprehensive overview of the competitive dabbing hardware market. The cannabis hardware market is still in its infancy at the end of the weed prohibition era, so we've also seen the technology make some progress while ironing out some early design kinks. As you'll see, there's different approaches to eRig design, with a lot of creative ideas to explore.
Special shout-out to our staff reviewer Ben Chu, a peerless dabbing hardware and extract expert who is also a Hollywood-class photographer!
Reminder: As of this posting date, it is TEN days until 7/10, Dabber's Day.
Without further ado (we stoners tend to ado a lot), here are the top five eRigs we've found for dabbing cannabis extracts and concentrates.
#1: DabX Rocket Mk. 1 – Efficient and User-Friendly

The Rocket Mk. 1 is the flagship eRig of DabX. It was designed by professional racecar driver Chris Rado, who was motivated by his father, a medical cannabis patient. We found that the Rocket Mk. 1 improved upon the best ideas from eRigs we'd reviewed before.
The Rocket Mk. 1 is efficient and versatile, able to work with any concentrate with its innovative temperature control system. At the same time, it is intuitive and user-friendly. The Rocket Mk. 1 is also portable and easy to clean, with a robust battery life.
The sole downside of the Mk. 1 is that it needs an external glass rig to operate. However, that's a trivial matter and we see this as the wave of the future. eRigs may just prove out to do better as stand-alone components, without the need to clutter the package with glass too. Our full review of the DabX Rocket Mk. 1 here.
#2: VapeDynamics "The Dip" – Affordable and Compact


One of the biggest attractive features of VapeDynamics' The Dip is the price; eRigs are not cheap, but this is one of the most affordable of the lot. Yet the low price tag covers a fantastically designed eRig that packs in the quality.
The Dip is one of the most compact designs you can find on the market, all zipped into a discreet carrying case. Sleek and ergonomic, The Dip is intuitive to operate and has adjustable temperature settings. Notably, it also has add-ons (sold separately) which allow it to vape dry herb or get better flavor out of wet extracts. Even the standard dab tool was impressively designed.
You can tell that The Dip was built by people who love to dab as much as we do! We compared it favorably to most other eRigs on the market, while finding few peers in its rank. Our full review of the VapeDynamics The Dip here.
#3: Freeze Pipe E-Nail – Lightweight and Ultra-Portable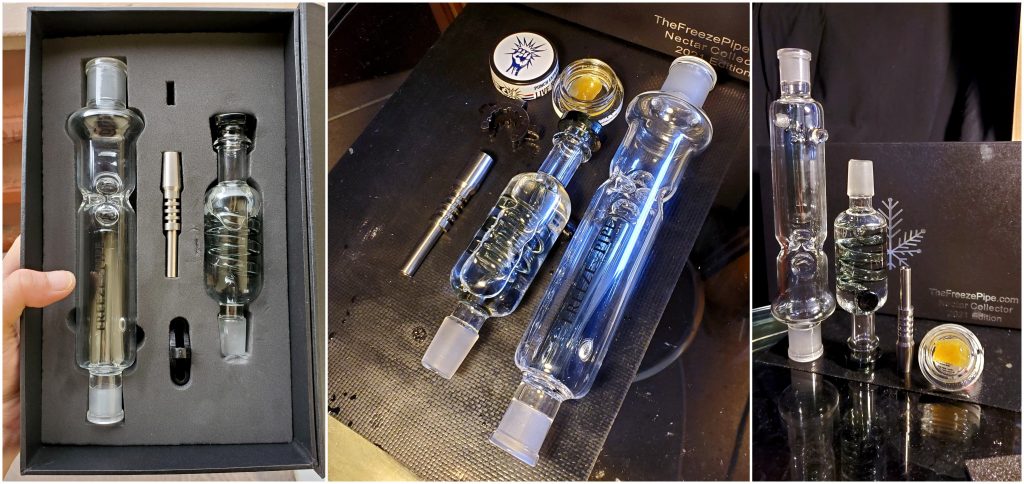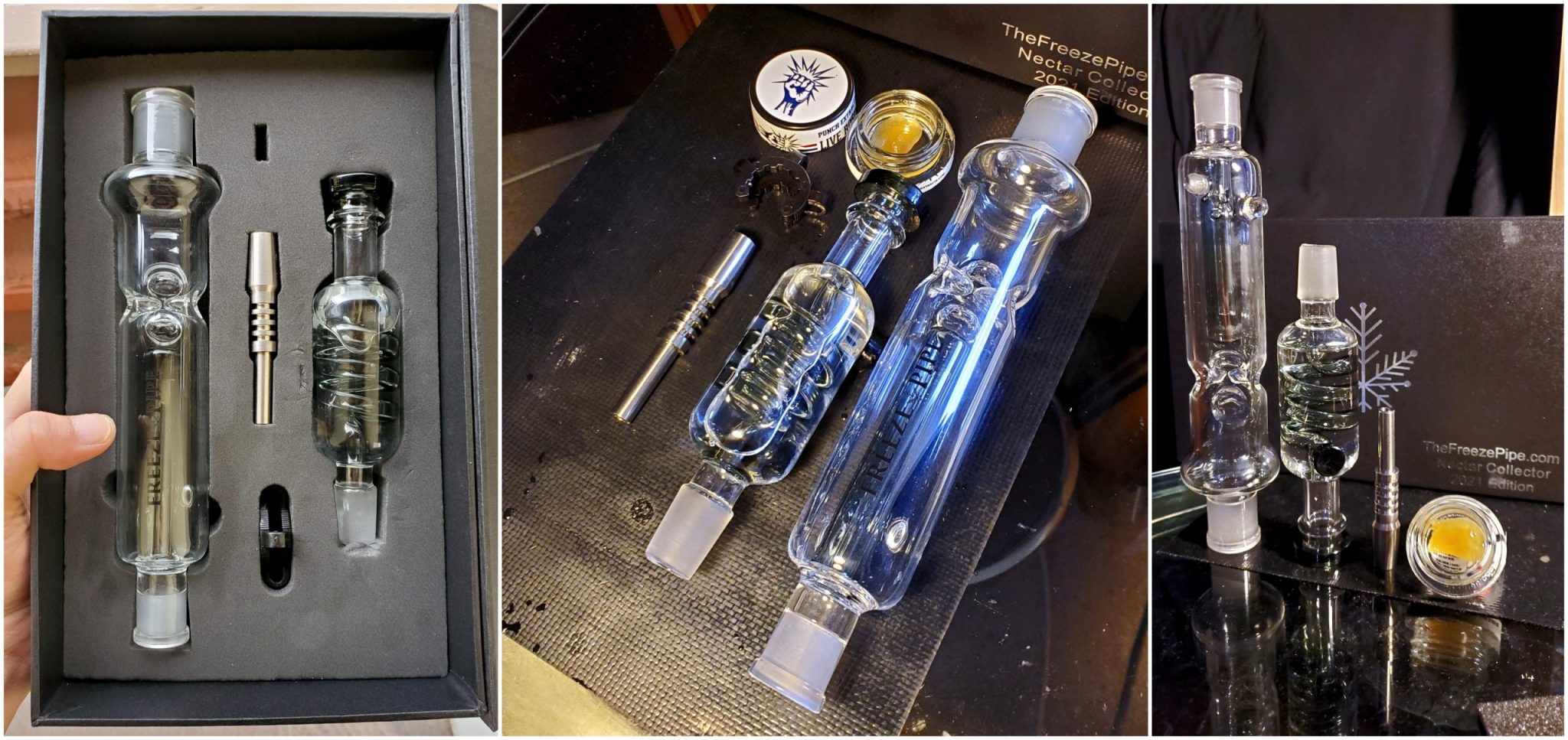 When it comes to "discreet dabbing on the go," you don't get much better than a palm-sized design. The Freeze Pipe E-Nail comes as a stand-along rig which you accessorize, or as part of the full Recycler & E-Nail Dab Kit, if you want the whole hardware set in one stop.
The most prominent feature of the Freeze Pipe E-Nail is its roomy digital readout screen, and fully adjustable range of temperature control. For such a small unit, you get an impressive cloud and a fast start time. Operation is simple and convenient, while the read-out screen gives you feedback on battery life, cool-down time, and current temperature.
Like the DabX Rocket Mk. 1, the bare Freeze Pipe E-Nail unit requires external glass. But as we mentioned, eRigs seem to be doing better if they focus on the digital unit while leaving the glass as a separate matter. You can get the complete kit and be ready to go. Our full review of the Freeze Pipe E-Nail here.
#4: Shenzhen Crossing The Core E-Rig – Unique and Versatile Design

Shenzhen Crossing's The Core takes the all-in-one approach, coming up with the sweet spot at the best of all possible features built-in. It is a complete bubbler eRig at a reasonable price, in the same ranks as similar rigs such as the Puffco Peak or the Focus V Carta.
The Core comes with interchangeable atomizer units, one each of ceramic bucket, titanium bucket, and triple titanium coil. Its battery is strong and long-lasting off a fast-charging USB-C cable, while the one-button control is basic to figure out. It also packs in a haptic feedback system, and has four preset temperatures for use with different buckets.
For an all-in-one eRig, The Core is a bulky unit more suited to the coffee table than your coat pocket. However, it is designed with top quality standards, trying hard to be the only eRig you will ever need for every extract. Our full review of the Shenzhen Crossing The Core here.
#5: High Five Duo – A Beginner-Friendly eRig Worth the Price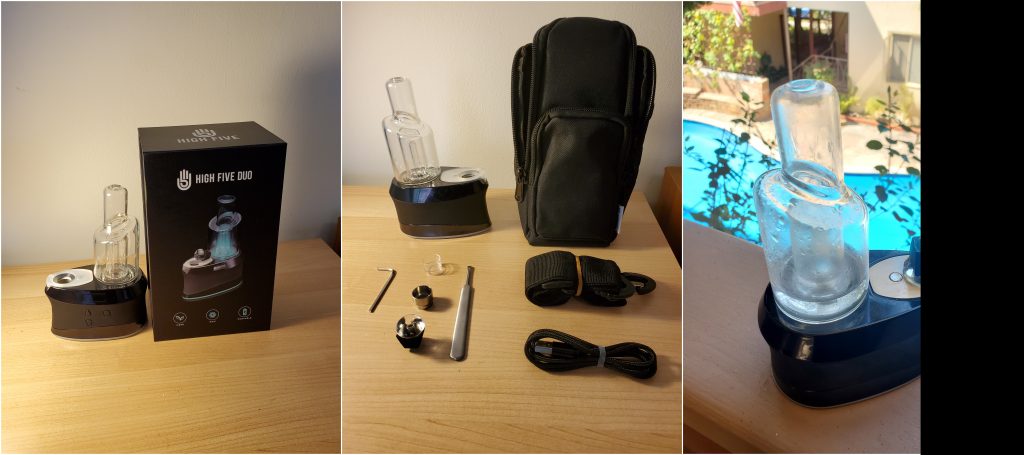 While the High Five Duo is at the middle price range for an all-in-one eRig, it's still more affordable than comparable rigs such as the Kandypens Oura. With that out of the way, this eRig has a simple design that can accommodate both dry herb and extracts.
With simple button controls, haptic feedback, top-notch airflow, and highly adjustable temperatures, the High Five Duo is suited to the hardest-hitting user while still being suited to the beginner as well. The swappable bowls come in titanium and quartz, and the whole unit is easy to clean. Billed as "the smartest eRig in the world," the unit is bulky, but comes with a pretty roomy traveling bag.
There is a downside in that the glass piece doesn't quite seat securely onto the rig, but the base is very solid and stable to make up for it. It may not be the perfect eRig, but it does the job close enough. Our full High Five Duo review here.
#6 Honorable mention: HAMR Cold Start Rig – Glass for Old-School Torch Fans


The HAMR Cold Start Rig is not an eRig, since there is no digital component. That is because the HAMR philosophy is that using a torch is the best way to go; to quote their website, "No Battery, No Coil, No Problem." If you'd rather dab your extract with the majesty of propane-fueled fire, then this alternative rig is for you.
For a very reasonable price, you get an all-in-one kit sporting a SABR torch and glass bubbler rig with quartz bucket, all mounted on a handsome silicon base. Manual controls on the torch allow you to set the temperature. It is far easier to clean and maintain than digital eRigs, while also having fewer points of failure due to not being digital.
With that said: Butane ain't exactly cheap. You have to know what you're doing temperature-wise, depending on the extract you're dabbing. There's also lots of delicate glass components to handle. And of course, it's not an eRig. But in our eRig list, we had to include this maverick innovator as an alternative, because sometimes the best temperature controller is you. Our full HAMR Cold Start Rig review here.
Readers, what are your recommendations?
Do you have any eRigs that we haven't reviewed which you think might be candidates for this slim list? Are the top innovations in eRig technology still on the horizon? What improvements would you like to see in this market? Cluck at us here in the comments, or head for our forum to share your feedback.