REVIEW OVERVIEW

SUMMARY
I could swear that we would have gotten around to reviewing a product from The Trusted Lab before. I have heard of them kicking around the cannabis industry here and there. In any case, better late than never: We're catching up on three products in their line.
Maximum Strength D9 Gummies (450mg) (onsite here)
Maximum Strength D8 Gummies (1,500mg) (onsite here)
Extra Strength CBD Gummies with Vitamin C (1,500mg) (onsite here)
Check out our full video review of The Trusted Labs gummies here.
Pros:
Potent
Pharmaceutical grade
Informative packaging
Fine taste with no aftertaste
Excellent quality standards
Cons:
A bit pricier than average (but they do put products on sale)
Not full spectrum
Recommendations: N/A
The Trusted Lab Uses Packaging For Adults
For once, I had edible gummies that weren't packaged like candy. The Trusted Lab omits all cartoon mascots and "trippy" psychedelic lettering for informative, sensible packaging. Everything is clearly marked, dosage spelled out, and ingredients listed.
The Trusted Lab makes a whole line of a hundred some products, venturing well beyond cannabis into just plain vitamins and supplements. So they understand something about shelf-ready product packaging. When the day comes (and oh what a day 'twill be!) when legalization has advanced to the point that they offer D9 in the vitamin section at Target, The Trusted Lab is ready.
These samples also came with a detailed info card about CBD and its uses. On the whole, I would definitely rate The Trusted Lab to be geared towards medical and therapeutic users.
Dosage and Potency on the nose!
So once again, I had the daunting challenge of a 3-bottle line-up of cannabis edibles. You have to remember, I have to space these out so they isolate the effects, plus not get too baked to work. All tests below are geared to my tolerance.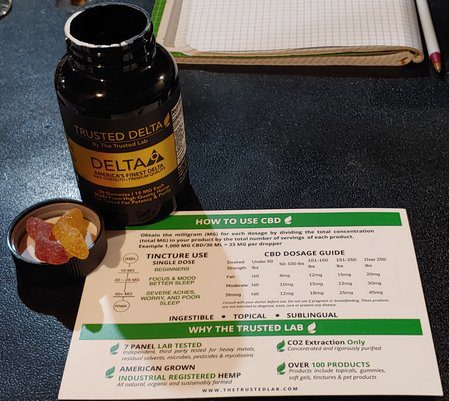 Starting with the D9: These are gummy worm shapes, 30 count per bottle, 15 MG D9 THC per piece, 450MG D9 THC per bottle. I've been managing my tolerance a bit lower, so I took three in the AM and they gave me just enough stony buzz to get me through to afternoon. These are also marked "limited edition."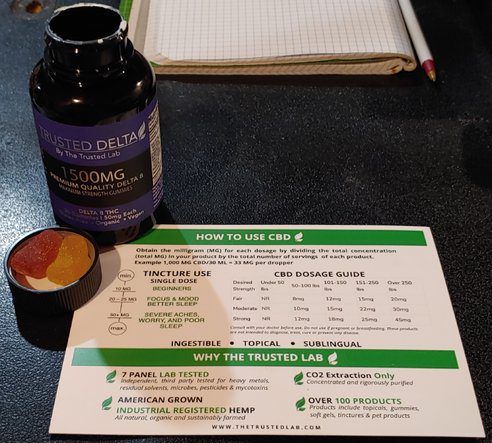 Next the D8: These are gummy fruit slice shapes, 30 count per bottle, 50MG D8 per piece, 1500MG D8 per bottle. Mind that dosage! While D8 is weaker in effect than its isomer counterpart, 50MG is a more awkward serving size – taking them in multiples adds up fast. I took one and it was enough to grant me a limited D8 aura for a couple hours.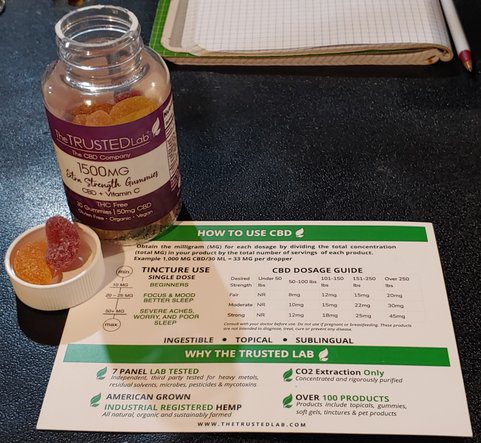 Finally the CBD + vitamin C: These are gummy fruit slice shapes, 30 count per bottle, 50MG CBD per piece (+ 500MG vitamin C), 1500MG CBD per bottle. I appreciate that we're seeing CBD combined with vitamins now. Of course the effects of these are hard to detect, CBD having no psychoactive effects to speak of, but they do have some effects relieving tension and aches.
All three were a bit less fresh than I'd prefer, but given the pharmaceutical nature, they were just about like any vitamin gummies you'd get off the shelf at the store.
Higher Price, But Higher Quantity and Quality Standard
Going by the prices on The trusted Lab site…
The D9s are $52.50.
The D8s are $82.50.
The CBD+vitamin C is $70.00.
Now, those prices come with a couple caveats. The first is that The Trusted Lab's site appears to have sporadic sales on items, so these prices might fluctuate. The second is that these are substantial products. $50+ is nearly a bargain for 450MG of THC, just considering raw dosage. The D8s at $80+ are the biggest case for sticker shock, but we are still talking 1500MG of D8 per bottle. The CBD with vitamin C also raises an eyebrow, but I have seen comparably expensive CBD out there.
On the whole, I'd recommend these for the serious cannabis consumer taking it for medical or therapeutic reasons. But don't let that stop you from popping a few of the D9s or D8s to catch a buzz, because they do what they say on the label.
That product's site again is The Trusted Lab.
Readers, tell us if we will ever run out of gummy companies to review! Here in the comments or in our chewy, gummy forum.