REVIEW OVERVIEW

SUMMARY
While other reviewers for DabConnection (we have a ton!) reside in those lucky states where cannabis and its derivatives are 100% recreation-legal, your humble penguin has been stuck oop north in Iowa. Where actual dabs, as in concentrate and extracts, are hard to come by. So my reviews of dabbables have been few and far between, mostly in the altcan department.
Consequently, the dabs I can get shipped to me so far have been things like CBN crumble, and sad little rattling jars of dried-out chalky kibble, which offer all the aesthetic pleasure of a colonoscopy. (Pity me. OK, that's enough pity.)
But today, that has changed. I got some dabs, real actual dabs, glistening honey mounds of waxy pleasure. Courtesy of Wellicy, these are delta-8 "Duo Dabs," so named because they pack CBD and delta-8, plus a delicious serving of naturally-derived terpenes.
We got all three varieties, the Blue Summer (Sativa), Fiesta Fruit (hybrid), and Agent's Wife (Indica). Don't bother looking these up, as the company makes its own in-house strains. Each go for $29.99 for 2 grams.
See our video review of Wellicy Duo Dabs here.
Pros:
Looks great!
Tastes great!
The effects are great!
Best D8 dabs ever!
Cons:
Terpene mixtures are a wee bit harsh.
Lab results for terpenes would be nice.
Recommendations: Check that potency, I could swear it's off the charts for delta 8.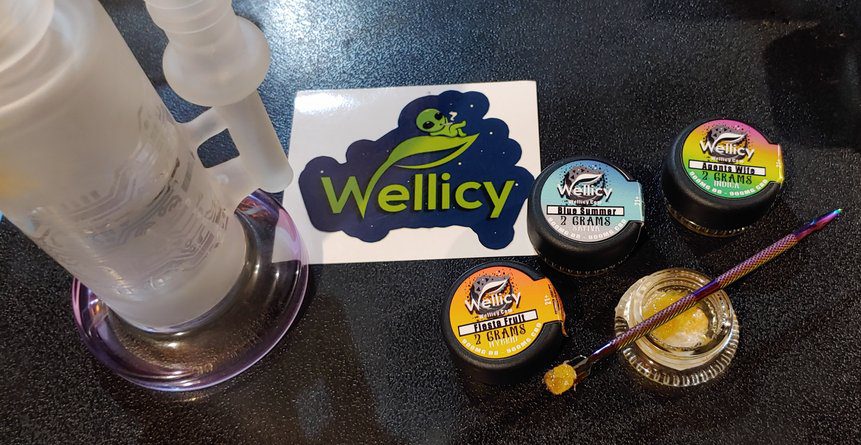 Finally, a Good Delta 8 Extract!
In the first place, Wellicy has broken my bad luck streak with products from Colorado. This time, it's much better than I expected for delta 8. Across all three varieties, I had a "full dab" experience from start to finish. The extract is the golden, glistening color of a well-extracted dab, the aroma is heady and full of cannabis terpenes, the taste is exquisite, the hits satisfying, and the potency entirely off the charts.
Make no mistake, this is still delta 8, which hits roughly half what THCD9 would. But this difference is sharply diminished once we get into dab territory. It feels much closer to full D9THC. The lab sheets for Wellicy delta 8 Duo Dabs show roughly a 50/50 split between delta 8 and CBD, so once again you get CBD on the side of whatever else you ordered.
Three Distinct Tastes, Similar Effects
Despite the standard Sativa/hybrid/indica spectrum, these didn't hit me with a huge difference in effects in the entourage department.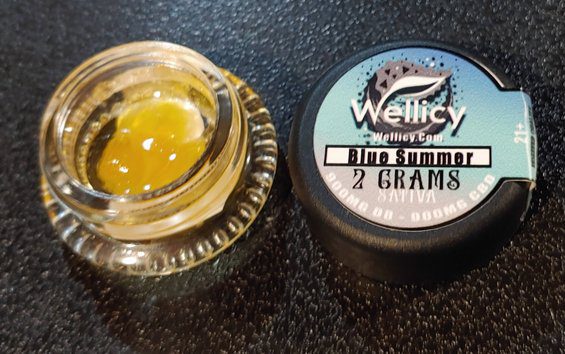 Blue Summer has a sweet, perfume aroma and a taste that is a strange note between floral and tea. While it did feel a tad more spiky than the average extract, it wasn't noticeably energizing.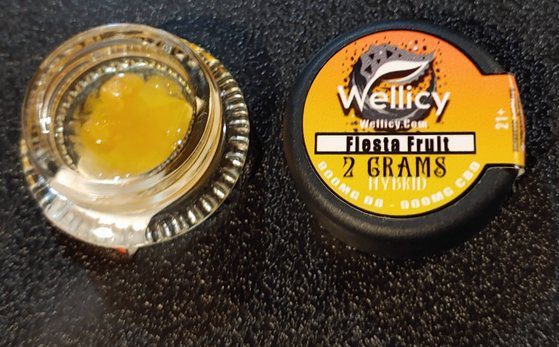 Fiesta Fruit has a mild, tangy aroma and a taste strong with mango, definitely adding some myrcene to the mix. Myrcene enhances delta 8 as much as it does D9THC, so this one felt a bit more euphoric.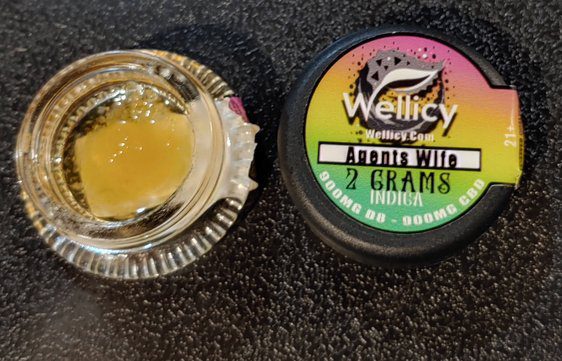 Agent's Wife has a sharp, orange scent and a taste very strong with fruity terpenes, at least limonene and maybe nerolidol too. It is good and stony, maybe relaxing a little bit, but not a couch-locker.
All three varieties have a knock-out punch, so much so that I suspect they might have shipped an extra-heavy batch. Or maybe this is how delta 8 dabs should hit every time, and I've had nothing but weak-sauce D8 extracts up until now. The three varieties all hit me as hybrids, not particularly specialized as much as they are similar in effect, while all having different aesthetics.
Handling is perfect; the consistency is a good sticky wax which still handles easily with the dab tool. All are expertly purged and taste clean and clear.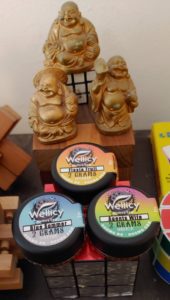 Wellicy Duo Dabs Are the Finest Delta 8 Wax I've Had Yet!
These won't impress you lucky devils from fully-legalized states where you're used to live rosin and such. But for delta 8 fans, or altcan fans in general who like a clear-headed high without jacking up their tolerance, Wellicy Duo Dabs make delta 8 feel much closer to D9THC than you would expect. The hefty dose of CBD doesn't hurt.
That puts Wellicy in range for a Golden Buddha!
Find Wellicy products here, with a vast boutique of choices. Readers, share your vibes about delta 8 dabbing, and whether it measures up to THCD9 dabbing in your assessment – in the comments below or in our hopefully-working forum.