Back around Memorial Day weekend 2022, your humble Penguin ventured out in the real world to explore the downtown Des Moines Iowa cannabis scene – what's left of it in between the pointless restrictive regulation laws of the state.
I call it "pointless" because Iowa is currently neighbor to five states which have legalized in some form: Illinois (rec-legal), Minnesota, Missouri, and South Dakota (med-legal), and Nebraska, which is at least decriminalized and has been fighting a mighty voter battle to flip fully green. Iowa is an island of prohibition in the Midwest, and yet anybody in the state is a maximum of four hours driving time from a legal cannabis market. This has the effect of just exporting money, jobs, and tourist dollars to other states. And then we have people who live here quietly getting stoned *ANYWAY*! We end up with all of the downsides and none of the upsides to cannabis policy.
OK, so what can you do? Find legal alternative routes, and yes, Virginia, they do exist in Iowa. I did a little tour of the Despensary in downtown Des Moines, where I picked up some Hometown Hero delta-9 THC gummies. For good measure, I also crawled our sketchier head shop scene to discover some delta 9 THC gummies that are Mystic labs brand. While we normally preach loudly about the dangers of under-regulated vape carts, there is less that can go wrong with edibles, so I opted to be the lab rat for this one.
I also covered these in a video review on our channel for Munchies Week.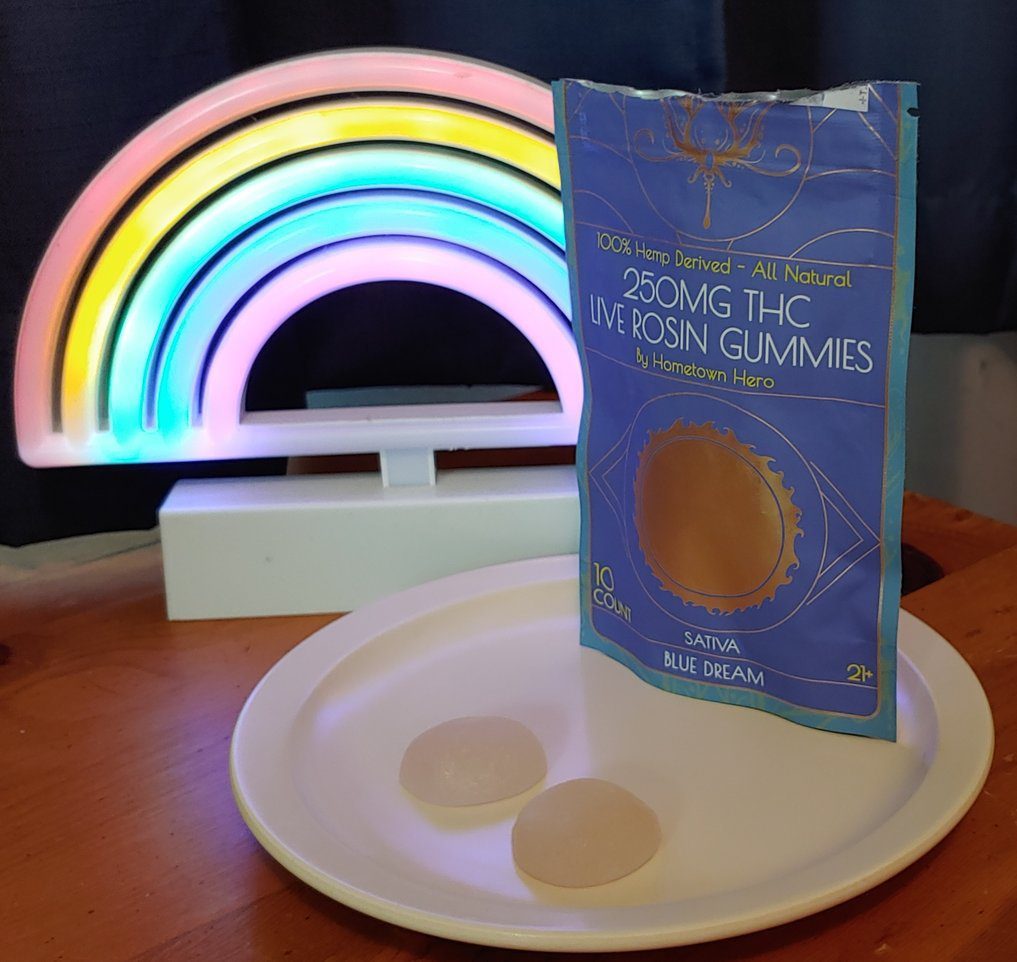 Hometown Hero Live Rosin D9 Gummies – Top pick!
These Hometown Hero gummies are delta 9 THC and live rosin. For a pack of ten at 25MG of THC each, this bag is $50. That is a pretty decent price anywhere. We have reviewed Hometown Hero delta 8 products before and had good things to say about them.
These gummies are my top pick, for being live rosin. This gets the full spectrum effect of cannabis, as close as you can get to packing a bong rip into edible form. The gummies are fresh, tasty, and moist, with a tendency to stick together. Two of them adds up to 50MG, where you can definitely feel the effects! More veteran users might venture to try three or even four at a time, although 100MG + full live rosin effects is definitely a heavy dose for edibles.
For me, Hometown Hero Live Rosin gummies win hands-down for best gummy, in strictly party terms. I cannot tell the effects from smoking straight weed, except that it's an edible so it sticks around longer, which is even better. If you want to get good and ripped, these are your ticket.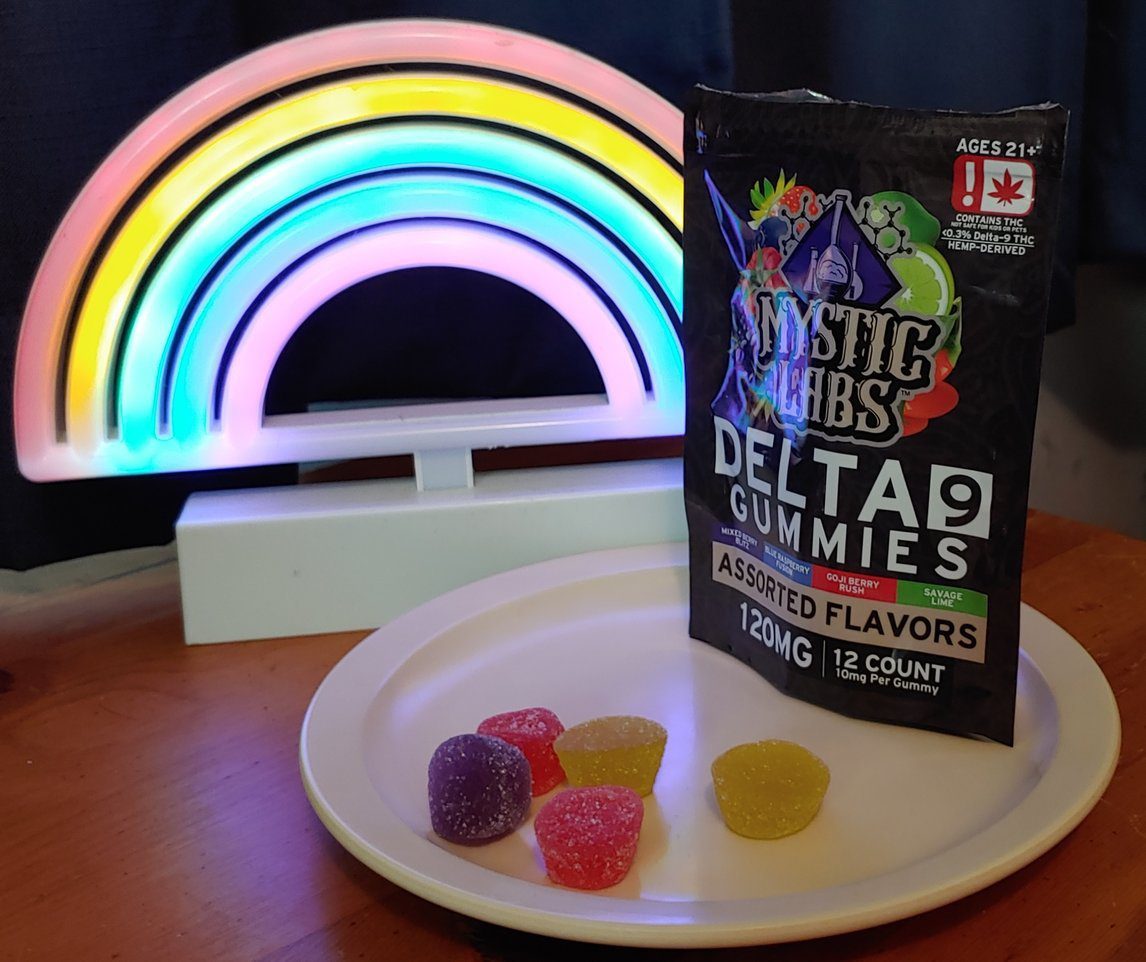 Mystic Labs Delta 9 Gummies – Decent Second Choice
I did not obtain these at the Despensary, but at a local smoke shop which caters more to tobacco smokers – complete with a cigar humidor. They had several odds and ends related to vaping and cannabis, and I chanced on these. Nothing says "sketchy purchase" like this gas-station packaging and being sold in a place not at all noted for cannabis products – but the company is actually on the up-and-up. They are Mystic Labs out of Tampa, Florida, and appear to have started out in delta-8 products but have now branched out to delta-9 plus other stuff… like kratom. Their site boasts about a 10K sq. ft. cultivation and extraction facility in Tampa.
The gummies have a texture more like sugared gumdrops, a bit smaller and less moist than the Hometown Hero. These gummies are NOT full spectrum live rosin, but merely delta 9 THC pumped into assorted fruit flavor gummies of 10MG. For a pack of 12, they were just short of $30.
Needless to say, these did not have a kick close to the live rosin gummies, but still get the job done. Since they're ten MG each, they are easier to group into customized doses. Taking four gets you 40MG, enough to feel the effects. Simply put, if you just want a THC buzz, these will suffice.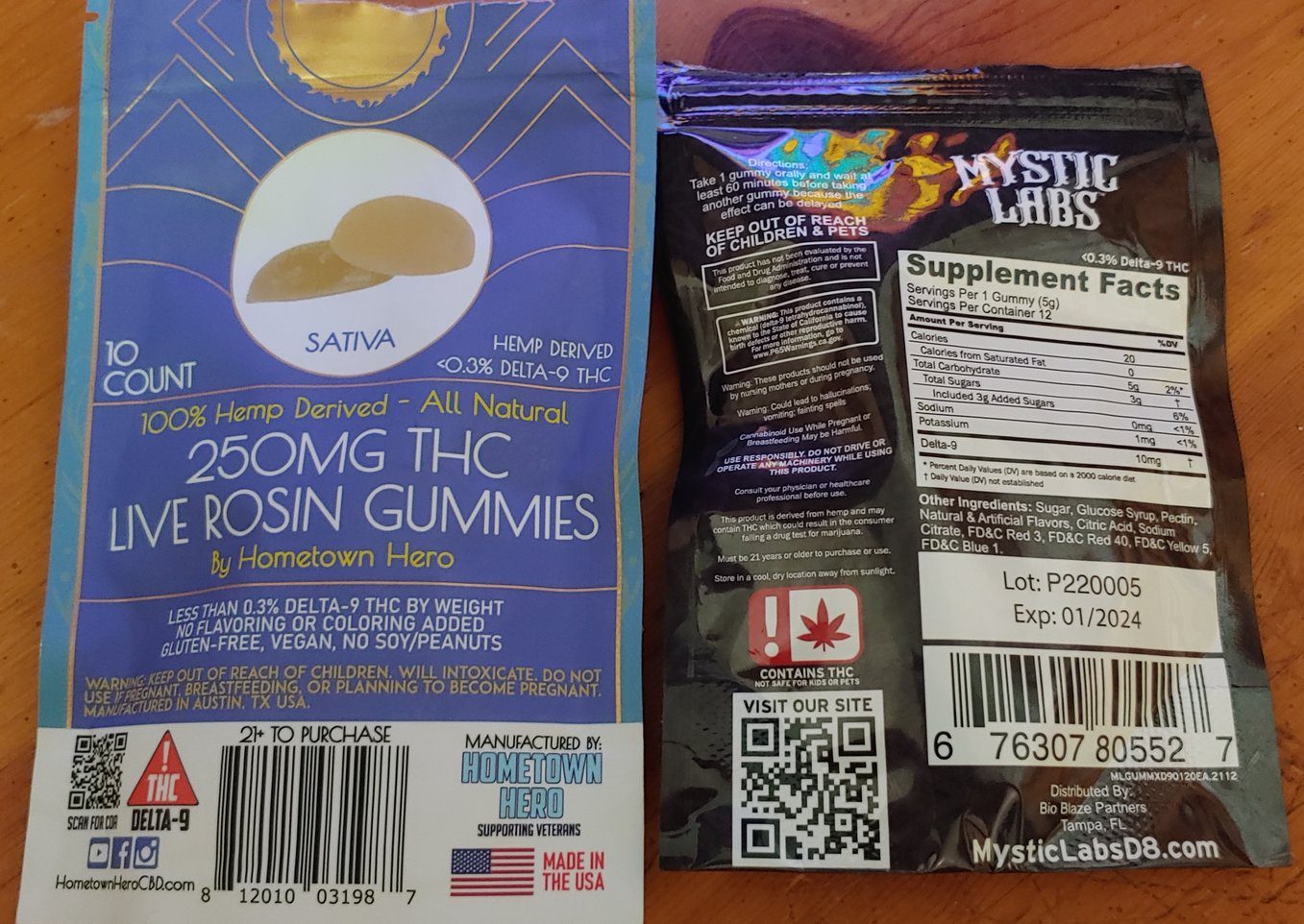 Even in Iowa, you have D9 THC options!
As the few opportunities have trickled by, I have been grateful to get my hands on anything in the cannabis category locally every time. Perhaps someday when we no longer have obstructive bureaucrats blocking the democratic will of Iowa's voters, we will enjoy the same cannabis market as other states. In the meantime, these are probably the best option for a full, legally-obtainable cannabis experience.
Readers, share your sympathy with Iowa residents, or your thoughts on D-9 gummies. How many MG do *you* take at once? Sound off in the comments or in our humble little hamlet of a forum.