REVIEW OVERVIEW

SUMMARY
This week we will take a closer look and review the Octave Terp Timer from Myster, a new user-friendly temperature reader for your dab rig. The Octave Terp Timer has the ability that allows you to dial in the precise desired temperature for your dabs. We'll detail our experience objectively as always in our non-affiliate reviews.  For this review of the Octave Terp Timer, we will discuss its pros and cons.
Pros:
Solid and sturdy design
User-friendly interface
Will work with most rigs
Cons:
Bulkier than other temperature readers
Recommendations: It would be even easier to use and travel with if the unit was smaller in size and/or lighter in weight.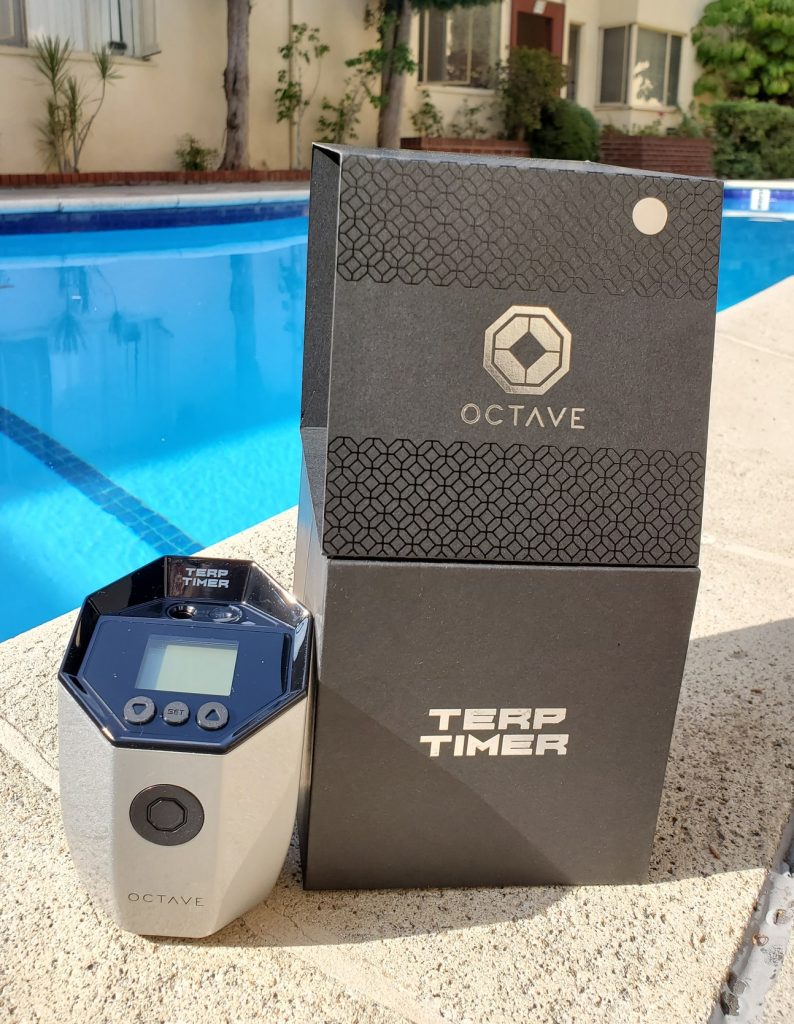 The timer is a user-friendly desktop temperature gauge for your dab rig
The Octave Terp Timer is a desktop temperature gauge for your dab rig that allows the consumer to dial in the specific temperature for dabbing concentrates. I have been using this effectively for a month on various concentrates, including live resin, diamonds, hash rosin, fresh press live rosin, and different kinds of badder. This temperature gauge has user-friendly features that are easy to use whether you're a beginner or an experienced dabber.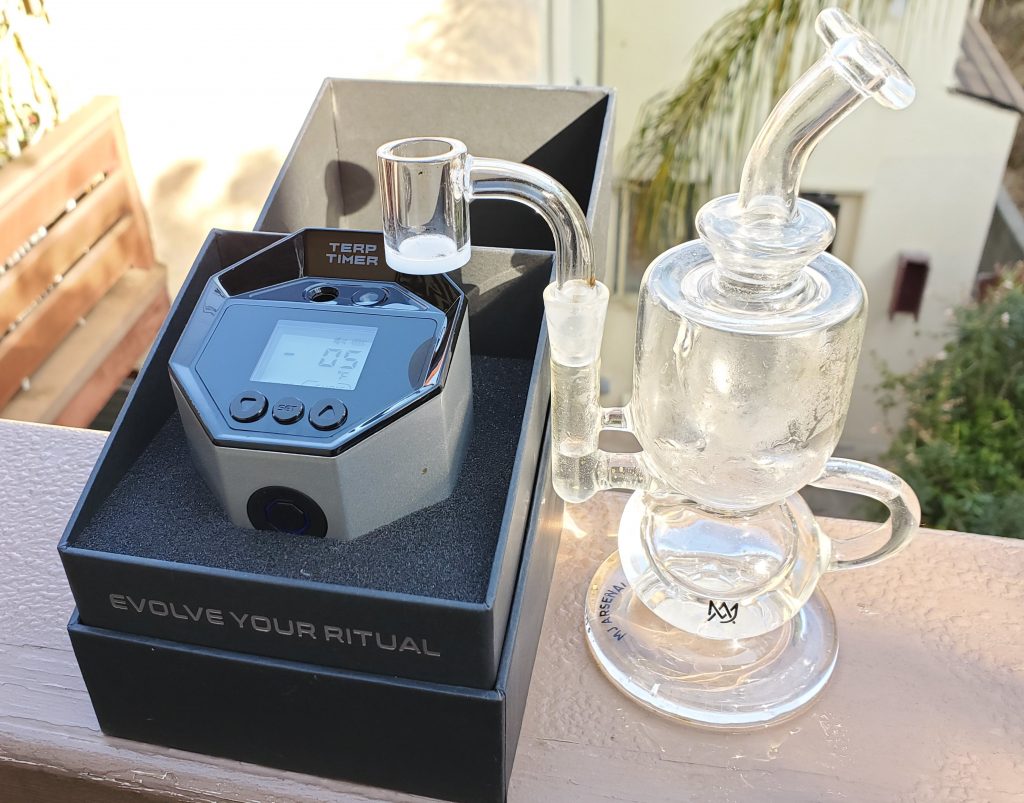 The only drawback is that the Timer is bulkier than most other temperature readers
  The only drawback is that the Octave Terp Timer is bulkier than most other temperature readers like the Thermometer. However, the build quality is strong and sturdy with a 1000mAh lithium-ion battery and a magnetic base. In order to set your temperature, you need to toggle the menu with the set button and the arrows below the menu screen. The Octave Terp Timer has to be placed directly underneath the banger properly to read the temperature of your banger. When properly aligned, the Octave Terp Timer uses a laser target sight infrared thermal sensor that reads the precise temperature, which is also helpful to know how fast your banger heats up or cools down.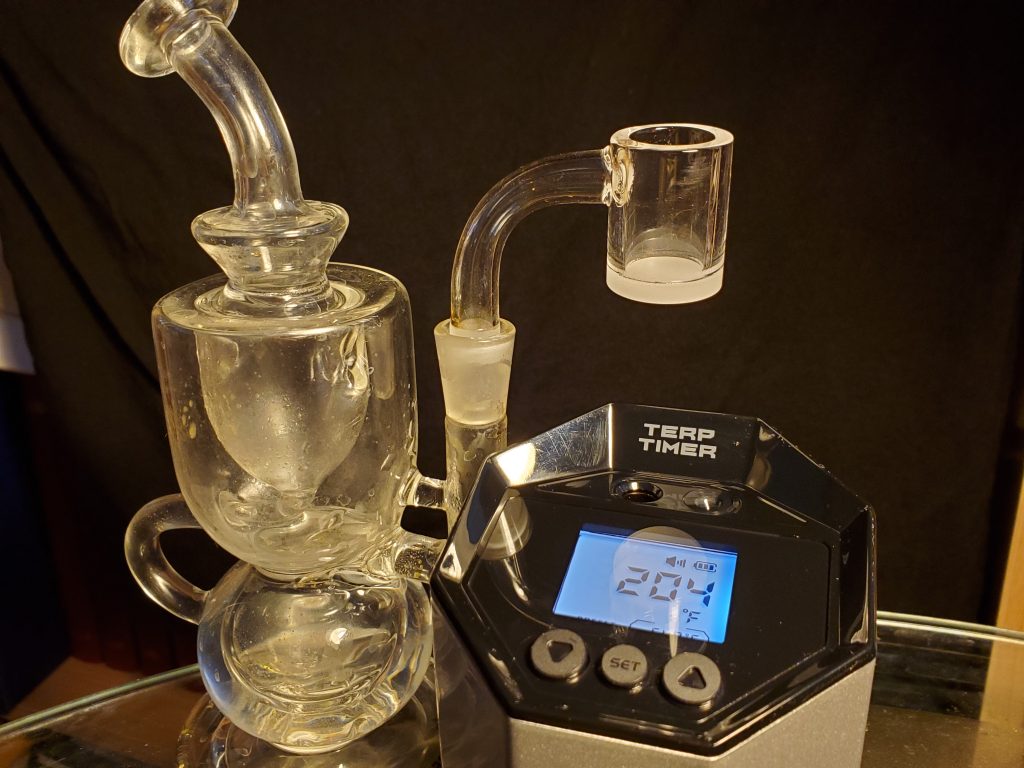 The timer is easy to use with its user-friendly interface
Another great feature is its ease of use with its user-friendly interface. It allows the consumer to get the precise temperature for the best taste and/or potency of their concentrates. To turn it on, you press down on the button in the front of the unit until the menu screen lights up. The set button allows you toggle through the menu to set your preset temperature, turning on/off the red sensor light and the volume of the alarm that sets off when it reaches your desired temperature. For example, I like to set my Octave to a lower temperature for hash rosin and a higher temperature for live resin diamonds.
The fine art of temperature settings for terpenes
Not many users appreciate this, but different terpenes are ideally consumed at different temperatures. Most extracts will have a mixture of different terpenes, so it's tough to peg the ideal temperature for a spread between them. But if you're dabbing something with a dominant terpene, the boiling points of common terpenes are handy to know:
However, you want to first keep the minimum temperature to effectively dab your concentrate:
Live resin – 315/400°F (157/204°C)
Budder, terp sauce, diamonds – 350/400°F (176/204°C)
Wax, shatter – 600/700°F (315/371°C)
So the terpenes come into play only on the lower-temp concentrates. At wax and shatter temperatures, you'd basically be incinerating the terpenes anyway.
Of course, everybody has their own preferences, and your rig might even behave differently. Use what works best for you!
View this post on Instagram
Concluding our review of the Octave Terp Timer…
Overall, the Octave Terp Timer is a great temperature reader for your rigs at home. Its bulkiness can be an issue when compared to other, more convenient devices such as the Terpometer and other E-rigs. I would recommend this device if you need an accurate temperature gauge at home, this would be the best option. However, for travel purposes, the Terpometer and other smaller E-rigs would be better and more convenient. The Octave Terp Timer is currently available online at Myster for $149.