Those who follow my reviews know that I have deep challenges with my skin.
I have suffered from acne, skin cancer, and now plaque psoriasis, so I have a lot of experience working with my skin. Psoriasis and eczema have similar traits and the key for both is getting moisture back in the skin.
I was excited to receive the Skin Care bundle from CBDMedic that included a tube for eczema, a tube for acne, an anti-itch cream, and a foaming facial cleanser.
In a nutshell, the company and the products are amazing. Not a big fan of the packaging.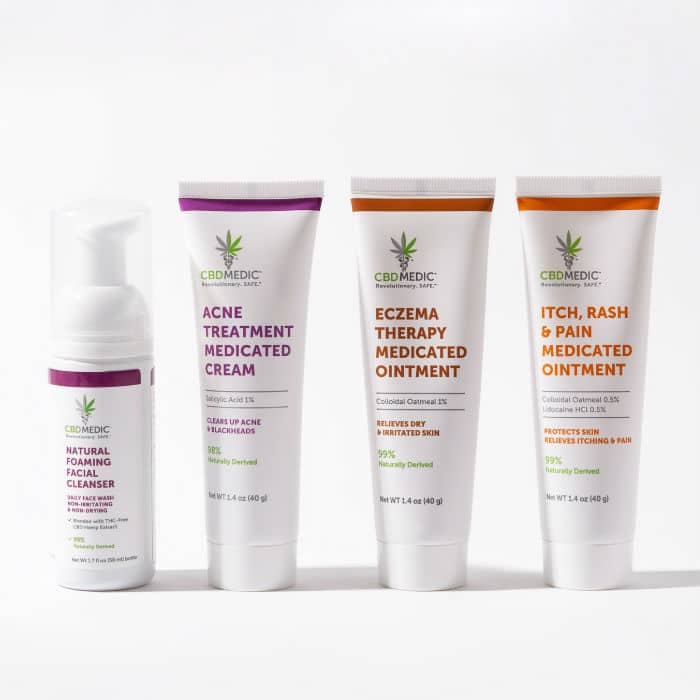 CBDMedic far exceeded expectations
CBDMedic far exceeds my expectations on quality control with vigorous third party testing. They are hysterical about following FDA guidelines for CBD use and their ingredients are top shelf.
What I really appreciated was the diet and lifestyle advice on their websites that accompanies the product explanations. Thank you CBDMedic. Nicely done.
I am having positive results with all the products. The foam cleanser has a nice silky texture and is soothing on my irritated skin.
I reach for the eczema cream continually all day. Keeping the psoriasis moist is a battle. CBDMedic has helped tremendously on that front.
I use the acne cream as a general lubricant for the areas of my face that aren't affected by the psoriasis. I don't have acne but I do have softer, healthier looking skin from the collection of healing oils in the products.
Itch & Rash Medicated Ointment : Wow!
The anti-itch cream is off the charts. Most psoriasis suffers have their worst break outs on the back of the neck or back. For me, it is the area of my back that is hardest to reach. I've never had noticeable breakouts on my back, just really annoying itching. Maddening itching.
As an afterthought one day I got out the anti-itch cream and applied it to what I could reach of my back. Not only was the relief instant, the itch has never returned in that spot. I am stunned. It can't be that easy. But I don't have an alternative explanation so I will give CBDMedic the credit. Wow!
Minor packaging gripe
These products are superior quality, a generous portion for the price and highly effective. My only criticism is I don't like the packaging.
The tubes are hard plastic. Unless you store them in a hot place or heat the tubes, it is hard to get the product out and waste is inevitable. But heating the tubes does work. Just place them in a cup of very hot water for a minute.
All and all I give the CBDMedic skincare collection a two thumbs way up. I will treasure my set to the last squeeze.
Author:
Denise Martin is a personal wellness coach and anti-suger crusader who has published a book on her journey to wellness – including beating cancer. Read all about her adventures at her site.
Comments on CBDMedic?
Readers may learn more about CBDMedic at their site. They do have quite a wellness blog going on! Readers who have tried CBDMedic or other therapeutic CBD products, feel free to join us in our forum.