REVIEW OVERVIEW

SUMMARY
This is the first Standard Wellness live resin cart that I have ever tried and only the second kind of live resin cart I've ever had.  When I first got my medical card in Ohio in July, I did buy a few Standard Wellness distillate carts. I liked those, but I hadn't bought a cart from them in months before this one.  I really like Standard Wellness, especially its concentrates and edibles.
Pros:
100% Cannabis derived cannabinoids and terpenes

The gold standard for high-quality vape carts

CCELL cart hardware

Amazing flavor, convenient, and easy to use for a beginner

Live resin sauce means the flavor is AMAZING

State maximum allowed THC percentage (70%)
Cons:
Kind of expensive

Terpene content is not given
Recommendations: I would recommend anyone who likes Cannabis vape carts to try these Standard Wellness Live Resin Sauce vape carts.  I really like live resin and live rosin carts, and they are my favorite kind.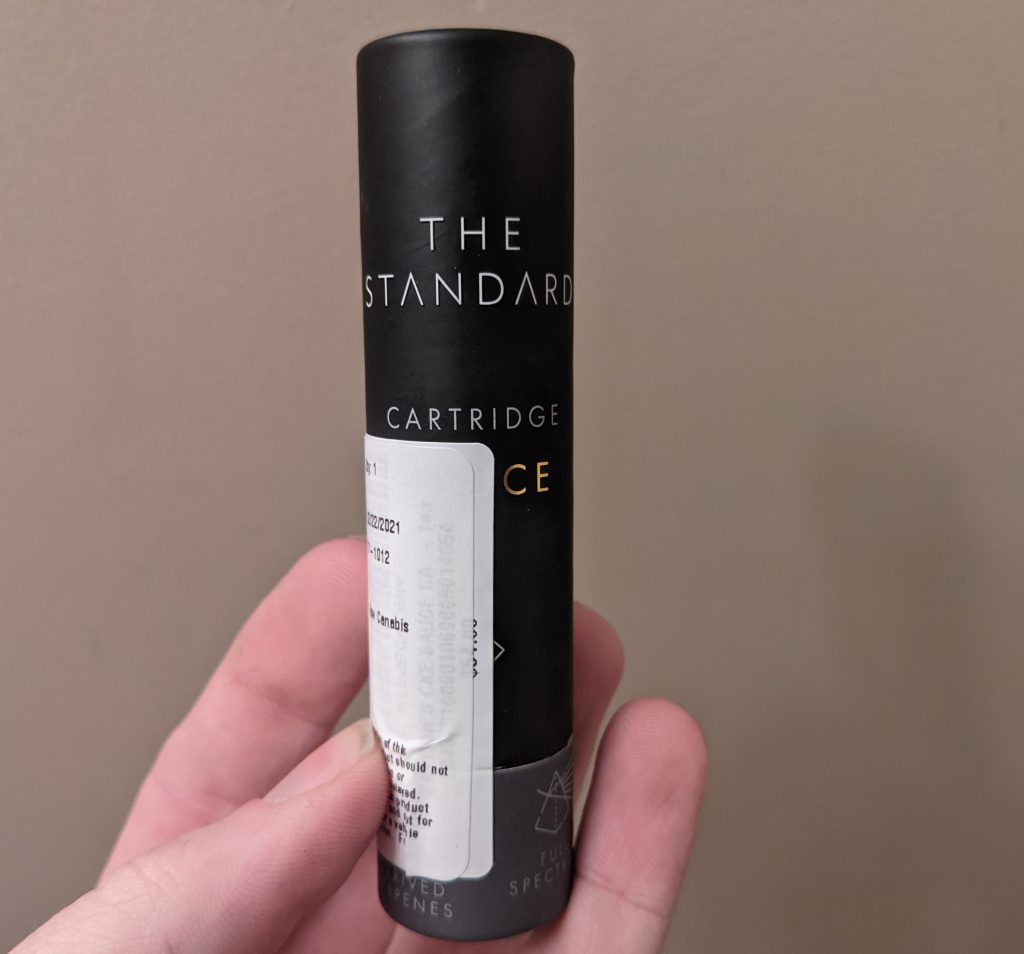 Captain's Cake Live Resin Sauce
I think the Entourage Effect is a big deal, and so having the full spectrum fresh frozen live resin sauce is one of the best options in my opinion.  I know that when I first got my medical card here, that I was not happy about the 70% maximum THC limit for concentrates and vapes, but since I learned about the Entourage Effect, I definitely appreciate our options more. 
Also, I have learned that even in states that have no rules about THC limits, that things like live resin and live rosin carts and concentrates usually have about the same THC percentage as we have here, and that the more important aspect is the combination of all of the cannabinoids and terpenes.
Day's allowance
Another quirk of note in our medical Cannabis system here is our "days allowance".  I won't go into too many details, but basically, one day's worth of THC in a concentrate or vape cart is 590 mg.  This means that you will often see carts and concentrates that have 0.85 grams, or 850 mg of oil because 70% of that is right at the one-day maximum.  There are also full-gram carts here, but they have lower THC content. They do not have too much over the 590 mg limit, and they just have more CBD or terpenes than the other 0.85 gram options. 
I think a lot of people don't realize that, and they think the full gram options must be better, but I don't think that's the case.  Actually now we also have full gram vape carts, with the maximum 70% THC, BUT they count as two allowance days!  They only have about 700 mg of THC, but the 1.18 days rounds up to two.  I haven't bought any of those full gram carts yet.  I haven't worried about my allowance days in a few months.
Who would enjoy this?
I think anyone who enjoys cannabis would love this live resin sauce cart.  The flavor is AMAZING, and the effects are really great too!  I'm not sure about other strain options, but I think anyone who likes balanced hybrid strains would probably find this to be very beneficial with pain, anxiety, and stress during the day.  It is a bit Indica leaning, so maybe save it for later in the day, especially if you are more sensitive to those effects.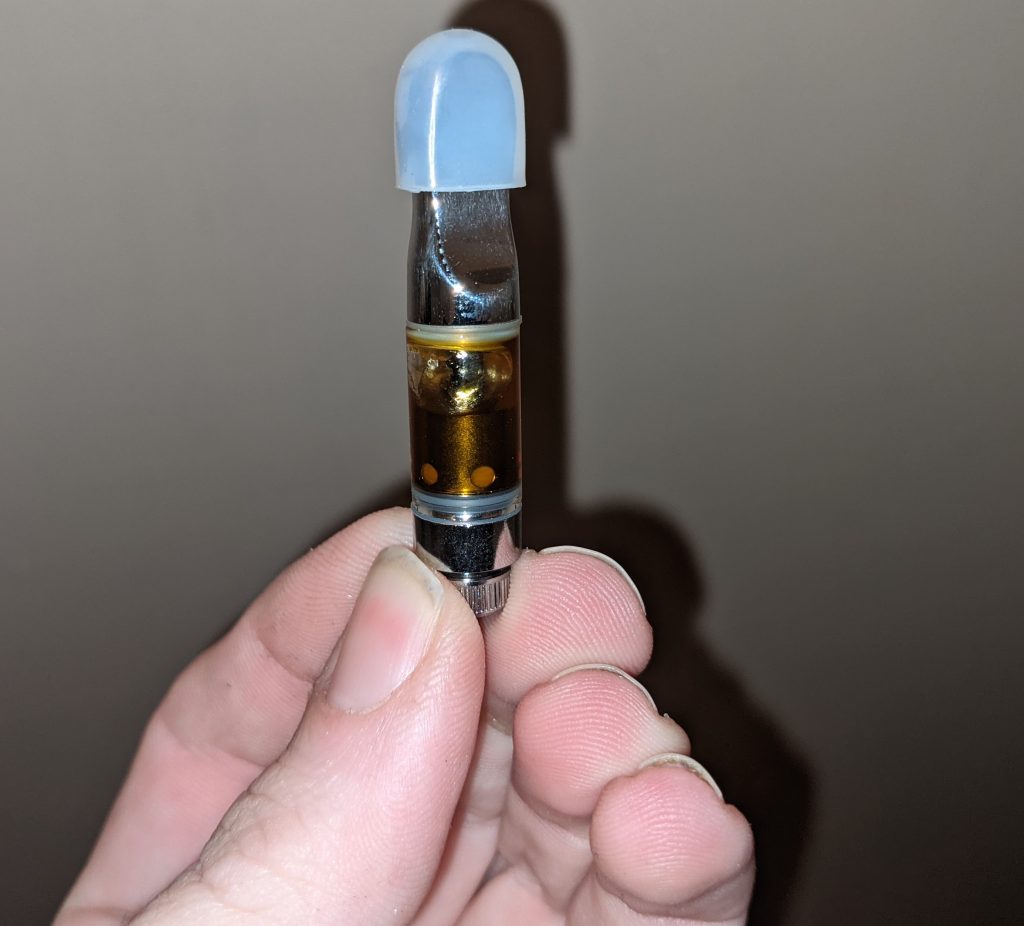 Amazing flavor and effects!
The strain that I chose, which was the only Standard Wellness live resin cart, is Captain's Cake, or as they put on the cart label, "Captains Cake Sauce".  I have been noticing this a lot lately, how concentrates and vape carts will have different names than the flower.  I think the reason for this is that they aren't allowed to put words like "cake" or "candy" or anything like that on the carts and concentrates.
The strain lineage of Captain's Cake is Girlscout Cookies and White Fire Alien OG, or I would guess people call that "Wifi Alien OG".  This is an Indica dominant hybrid, and I consider this to be an authentic representation of the strain.  I don't usually count distillate carts, but I'm not sure if that's just me or if other people do.  For example, I have tried a bunch of these Firelands Scientific live rosin carts and concentrates, 16 different strains.  I've also tried a few strains as only distillate carts.  I only consider myself to have really sampled the live rosin ones and flower, but not the distillate carts.  Don't get me wrong, I love distillate carts, but I usually prefer something like live rosin or live resin.
Gassy funk
I really like the flavor from this cart.  I'm not very good at describing flavors and scents. But this definitely has a nice, sweet undertone, and of course that gassy funk that I expect from live resin.   Unfortunately, the terpene content is not listed, but I recognize Limonene from its citrus flavor and smell; I would guess that there is a lot of Limonene in this cart, and maybe Caryophyllene, because of a slightly spicy flavor.  Caryophyllene is the compound found in black pepper, basil, and oregano, with a funky warmth similar to cinnamon and cloves.
This live resin sauce cart is awesome, and it reminds me a lot of the Firelands Scientific live rosin SHO vape cart.  Those are my favorite vape carts so far!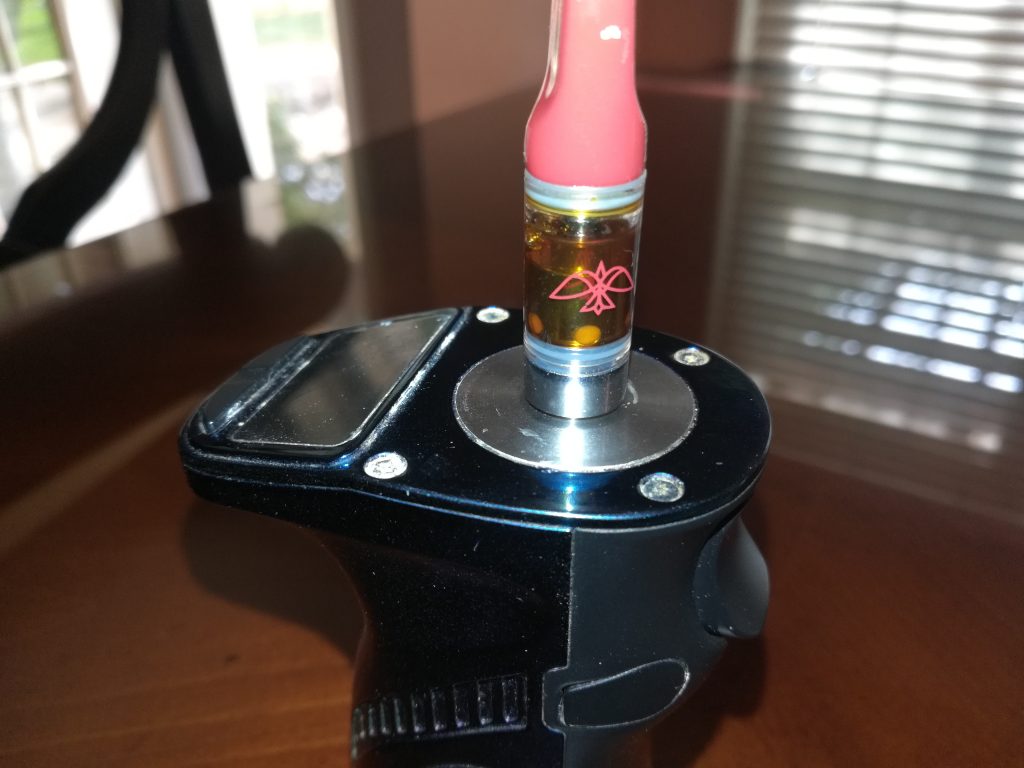 High-quality cartridge hardware, specifically designed for Cannabis oils
The vape cart hardware is made by Jupiter CCELL and they are the gold standard.  These CCELL cartridges contain a CCELL Ceramic Core and are made from non-toxic, inert, lead-free materials, including durable, borosilicate glass.
Similar Cannabis products for comparison:
This is only the second brand of live resin cart that I have ever tried, and maybe the 4th brand of concentrates that I've tried, but I'm not sure.  I'm a big fan of the Standard Wellness live concentrates and also the Buckeye Relief live resin AiroPro carts and also the Firelands Scientific live hash rosin carts.  When I bought this live resin sauce cart yesterday, the budtender suggested a Firelands Tally Mon live hash rosin cart, that was on sale.  Normally I would have bought that because it's pretty much my favorite cart that I've tried so far, but I am pleased with this one!  The Airo Pods are my favorite Cannabis vape option so far.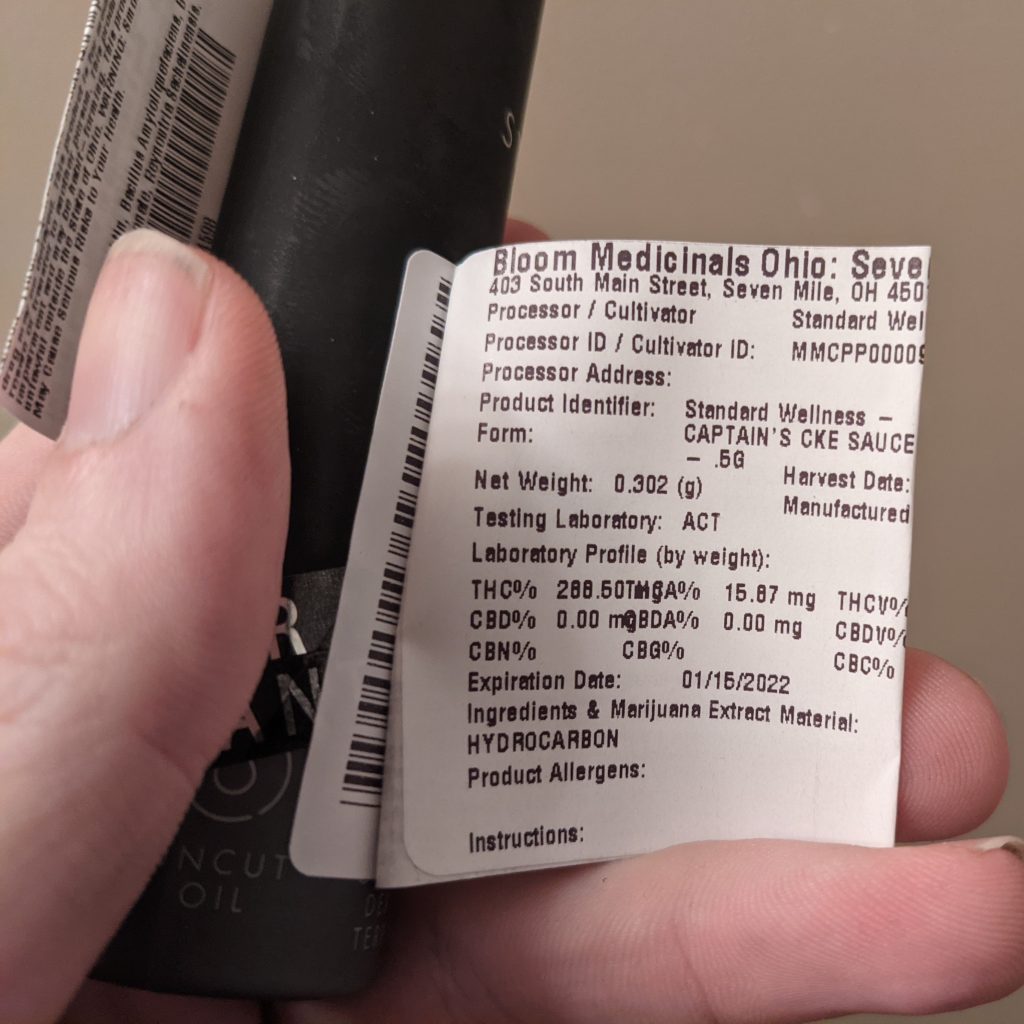 Conclusion
I am glad that I tried this Standard Wellness vape cart.   The flavor is strong, and this kind of vape cart is convenient for someone new to medical Cannabis or new to vaping.  So far, I really like this Standard Wellness live resin cart, and plan on buying it again!
You can find out more about Standard Wellness products here.
Have you tried Standard Wellness vape carts? Let us know what you think in the comments or on our forum.