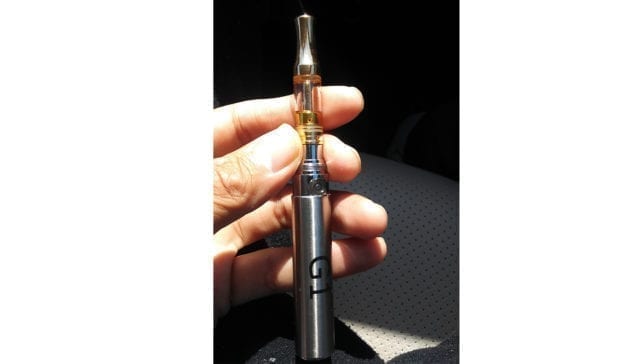 REVIEW OVERVIEW

Design and Build Quality

7.5

SUMMARY
Lucky Vape Cartridge Review: Some of the best on the market
Getting a Lucky Vapes cartridge is tough. I was lucky to get one through a friend of mine. The taste of the vapor is incredible! I tried the bubblegum flavor cart and it tasted and smelled exactly like bubble gum! I could smoke this in almost any public area and no suspected I was vaping cannabis oil out of Lucky Vape cartridges.
Design Quality: Two ceramic discs inside each Lucky Vapes cartridge which allows for huge vape clouds.
I like the design, it focuses on the most important aspect and that's taking hits. Big smooth vape clouds can be achieved with this prefilled vape cartridge. Its gold color makes it look great and feels high quality. Lucky Vape cartridges are very smooth which makes vaping a pleasurable experience. I really enjoyed taking huge rips with this cart.
Ease of Use: Simple to attach to any low voltage 510 threaded battery
This cart screws onto a 510 threaded battery with low watts. I recommend for optimal results vape at 3-4 volts.
Lucky Vapes Cartridges Strength: Very potent and up there with some of the highest I've tried
You can get to where you want to be fast with only a few hits from this wax cartridge. Very potent stuff here that I can compare the Lucky Vapes cartridge strength to to the vape by Brass Knuckles vape or the Amber Industries cartridges. In as little as two to three puffs you will find yourself very baked.
Portability: Small standard size of your typical 510 cartridge
This cartridge fits your standard 510 threaded battery. Its great for taking to festivals and other events and discreetly vape. Be careful not to lose these because of how small they are its very easy it can slip out of your pocket without you noticing, especially if you're really baked. I already managed to lose 3 of these pens this year with these size carts.
Taste: Some of the best tasting cannabis extract oil
The brand name of this cartridge lucky vapes is appropriate because I felt lucky reviewing this cart. The taste was outstanding. The vape from this cart tastes very clean. You can taste pure bubble gum and the vape also smells like bubble gum. Anyone would be thinking this was a flavor vape pen.
Value: A great price for a great wax cartridge
I paid $30.00 for a half gram and it was worth every cent if not more. I have 0 complains about this cart. Lucky vapes has created a near perfect product for vaping at an affordable price. This company has created this cart with love and it shows in the carts performance.
Efficiency: Lucky Vapes cartridges are built great
This cartridge hits really good. You can accomplish some major clouds and each one extremely potent with THC. You can vape everything in the cart without wasting any cannabis extracted oil.
Overall: I will buy again if I am lucky enough to find Lucky Vapes Cartridges
You really do have to get lucky because I couldn't find Lucky Vapes cartridges anywhere in the bay area on Weedmaps. I had to get one of these from a friend which is why I got lucky on being able to review this cart. I really am not 100% sure if this cart is associated with luckyproducts.com but it was the closest website I could find that matched with this cartridges brand name. The website has other cartridges it shows but none that match this cartridge design. I wonder if its another brand infringing on Lucky Vapes brand name or perhaps lucky vapes need to update their website.