As we have mentioned on here repeatedly, researching black market THC vape cartridges is a special kind of rabbit hole. We have to chase down rumors, false leads, misinformation, lies, and urban legends. None of this is helped by the fact that plenty of legit brands hide from the public even when they have nothing to hide.
We don't know where to begin with DripTHC, AKA Drip Live Resin. We'll just shovel facts onto this post as we dig them up.
There are DripTHC counterfeits
This is a fact acknowledged by an Instagram account with "DripTHC" in its name. We can't be certain they're the original DripTHC, because there's no end of Instagram accounts with "DripTHC" in their name. They post this: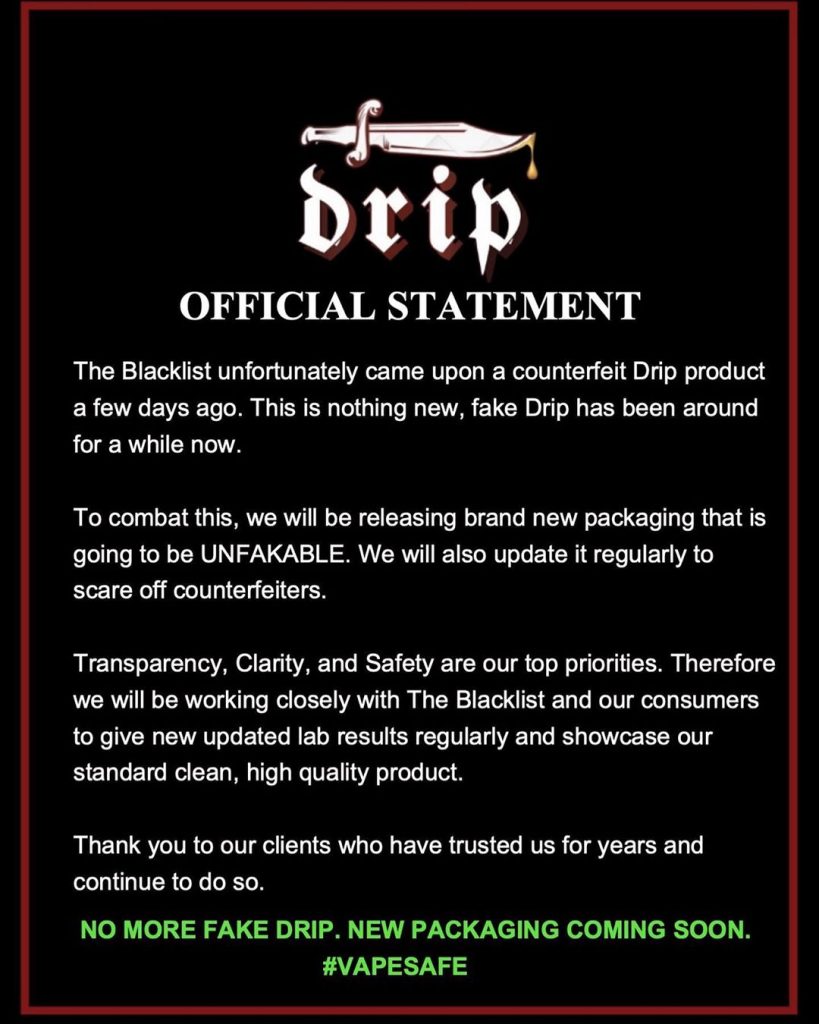 They respond to reports of counterfeits of the Drip THC brand. They promise to come up with new packaging that is going to be "UNFAKABLE"! Many a cartridge brand has made such a vow before, to say the least. Let's all make everything UNFAKABLE, we're right there with you.
That was posted two days ago as of this writing. The Blacklist report they refer to is this one, which calls DripTHC the "new boof cartridge brand." The Blacklist.xyz seems to mostly have reposted content from other sources, but this one story is an original post on their own.
The original DripTHC doesn't seem to be licensed either
Here is the closest thing we can find to an official website for DripTHC. However, that site links to a different Instagram account, which makes no mention of the counterfeit carts. That account does link to the GetDrip.live site, which the other account does not.
The Drip website posts a phone number whose area code and prefix tells us Downey, California. Off to the California licensing search fields we go, to find no license issued for this company.
DripTHC is not to be confused with the other Drip
Caveat: There IS another vape cartridge company called "Drip." They work out of DripOils.com in Arizona, and produce a full line of cannabis products in addition to a vape cart.
The Drip THC Instagrams are loaded with garage operations
Let's explain something very clearly: Legit cart companies do not have thousands of cartridges bundled together with rubber bands on shelving in somebody's basement.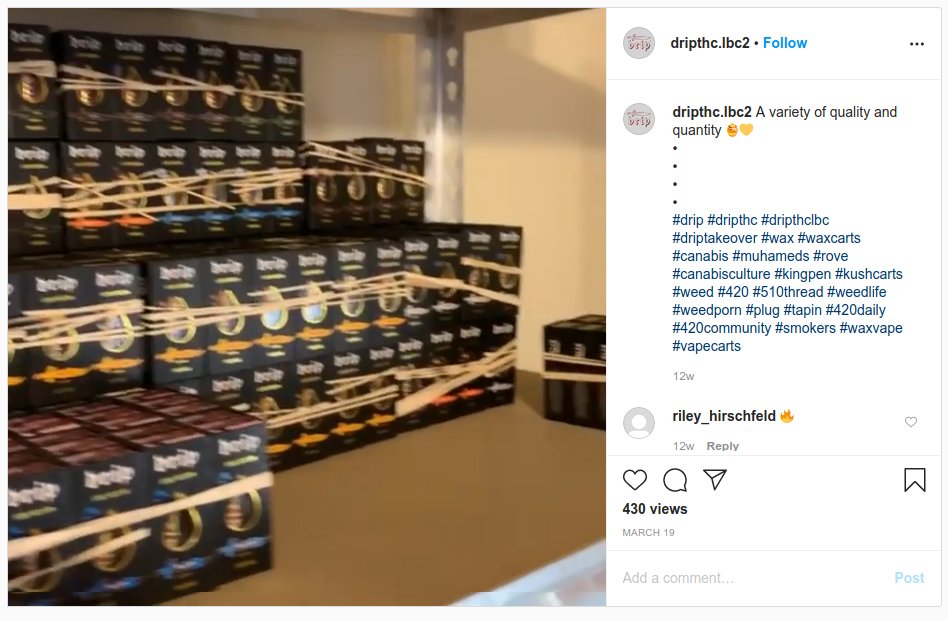 Oddly enough, the same motif appears at the Instagram account @roccyowrld, with literally this same video.
Not to mention this surreal bit:
That's a smoke alarm with a failing battery chirping in the background. The person making the video is apparently too sketched out to notice.
The same notice about the counterfeits does show up at @dripthc.oc, ANOTHER Instagram account declaring itself "verified." And just look how many rubber-band boxes they show: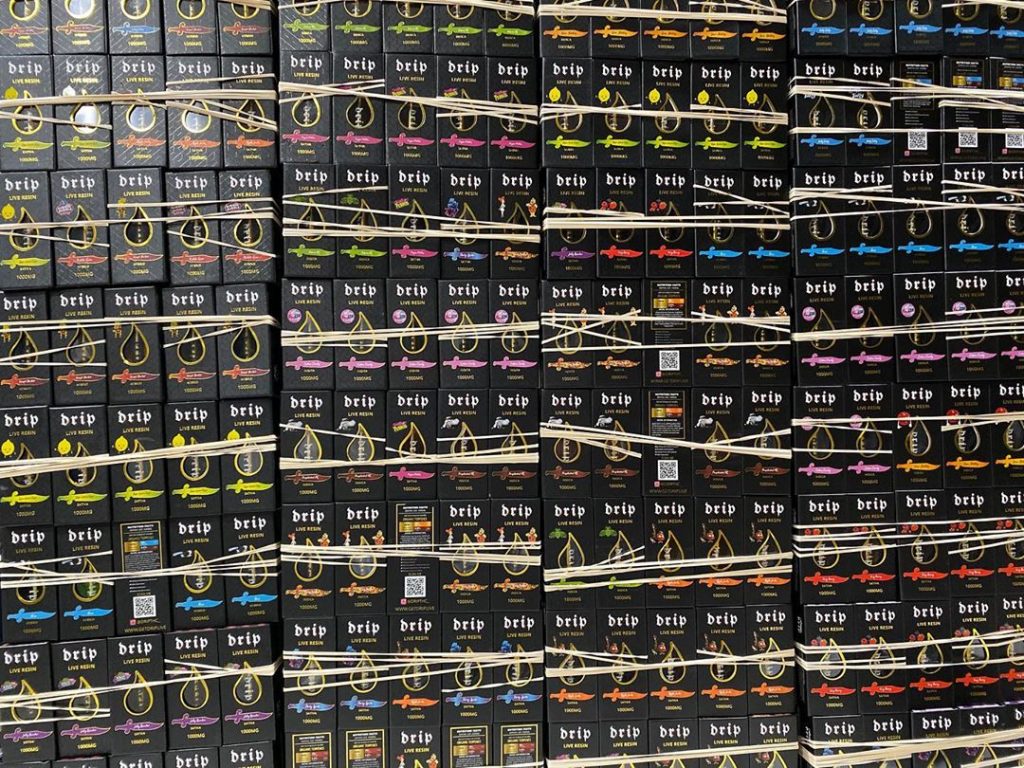 Well, what about this wall of rubber-banded carts, is this from the same account?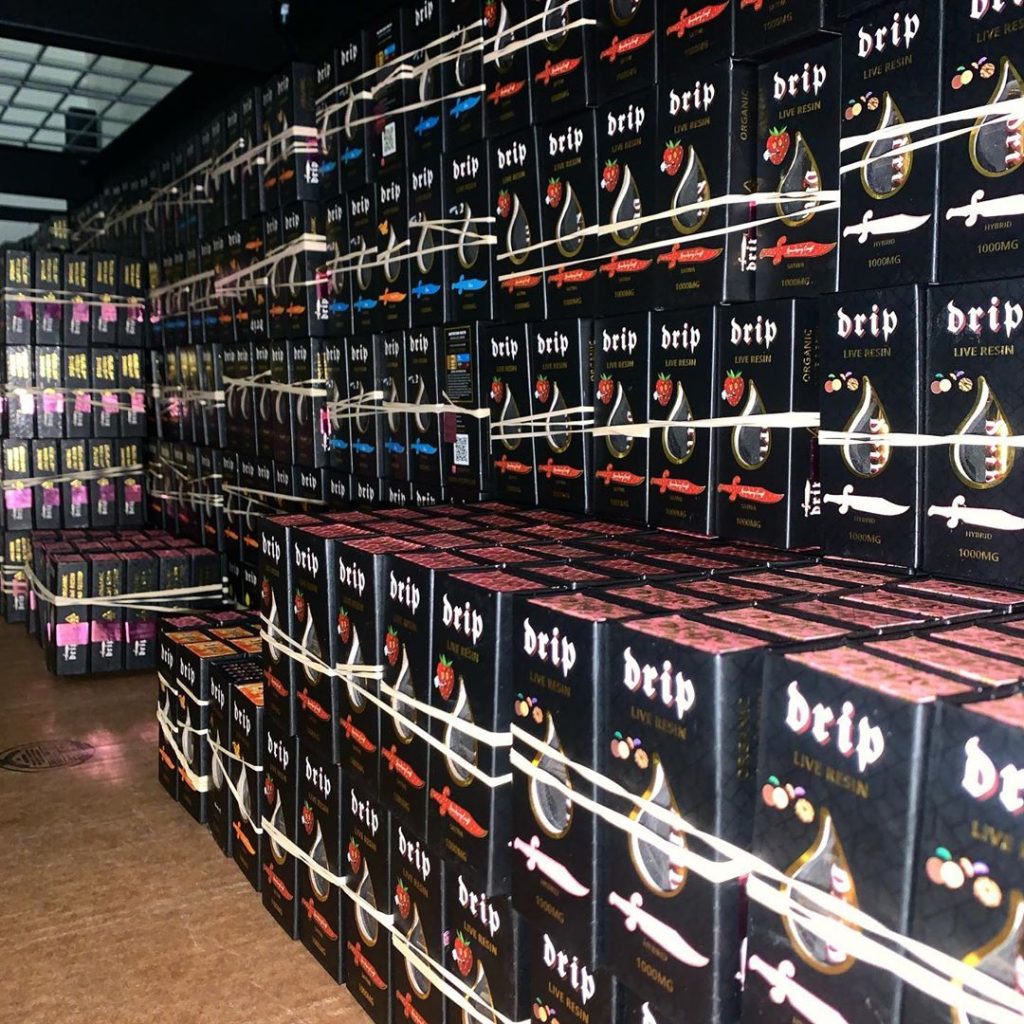 No, it's from @dripthc.missionviejo, and that is the only, sole post at that account. How about this wall of rubber-banded carts with a soundtrack?
That's from the Instagram account @dripthc.exclusive – the EXCLUSIVE one, you hear that?
This is all just the tip of the iceberg. The Instagrammers boasting DripTHC affiliation go on forever. We're guessing they all work together because that is all clearly the same kind of shelving and same kind of rubber bands.
DripTHC's lab results are blatantly fraudulent
The website has a tab for "lab results." Two links, one leads to a CannaSafe page for R&D testing of terpenes from the Terpene Store performed for "Synergy Research Group" and not hosted at the CannaSafe website. This is fraud on several levels:
R&D testing is not California compliance testing
This is for a series of bottle of terpenes, not carts
The test was ordered by Synergy Research Group, which has nothing to do with these people
The results aren't hosted at the CannaSafe website
The other link goes to a Bel Costa lab results page, again this is a QA page marked "For quality assurance purposes. Not a California compliance certificate." The test was performed for "City Compassionate Caregivers" and tests a completely unrelated prescription vial. And again, is also not hosted at the Bel Costa website.
We see websites for black market cartridges do this kind of stunt all the time. It's aggravating, especially when right after we post about it, somebody runs to take down the offending deception and then horns into our comments denying it. So this time, we figured we'd catch them in the act with a video!
Has anyone ever even
vaped

a DripTHC?

Here's the unusual part: We find very few reports of users encountering DripTHC in the wild. We find one, two, and maybe a couple other passing mentions on Reddit.

We also find no packaging for sale at any of the usual stops for fake and counterfeit cart ripoffs.

We do find several online dealer websites with DripTHC or Drip Live Resin, the exact kind of sites we always warn are scams that don't deliver.

Outside of that we find a couple YouTube reviews, but nothing like the scale of the average black market cartridge deployment.

We of course find no evidence of licensing for this brand, no way to determine who's in charge, and no guarantee of the contents of these cartridges. It may be possible that the website www.getdrip.live is not run by the originators behind this brand. WHOIS domain info says the site was created September 8, 2019, with GoDaddy, for what that's worth. We do find mentions of DripTHC that predate that website creation, such as this Instagram account whose posts go back to 2018.
We've seen enough, so we'll stop here!
One thing is for sure, somebody has to sell all those fake carts, and this post on our site is about to cost them a lot of money as soon as we publish it. Watch the comments, they will show up and perform the usual fuming and threatening. Bring your popcorn!
Readers, join us in laughing at this fiasco in our forums.