REVIEW OVERVIEW

SUMMARY

Overall the Kandypens Crystal is a decent dab pen that delivers smooth and more vaporized hits. The main downside is that it is pricey.
In this review, we look at Kandypens Crystal essential oil vaporizer. The Crystal does deliver very flavorful and smooth hits but doesn't hit that strong and could use some improvements. Also currently, this vaporizer is priced at $135, which is pricey compared to most dab pens.
First off, DabConnetion does not receive compensation for reviews and has no affiliate links. We only tell you what we think of the product, good or bad. Here we'll go over the pros and cons of Kandypens Crystal vape pen, and will let you determine if this product is worth the price for you.
Pros:
Cons:
Expensive
Not that strong of hits
Only comes with one atomizer
Metal screen clogs frequently
Battery overheats quickly
Recommendations: Provide an extra atomizer, and possibly lower cost. 
Kandypens Crystal has a nice design and decent build quality, but hits aren't as strong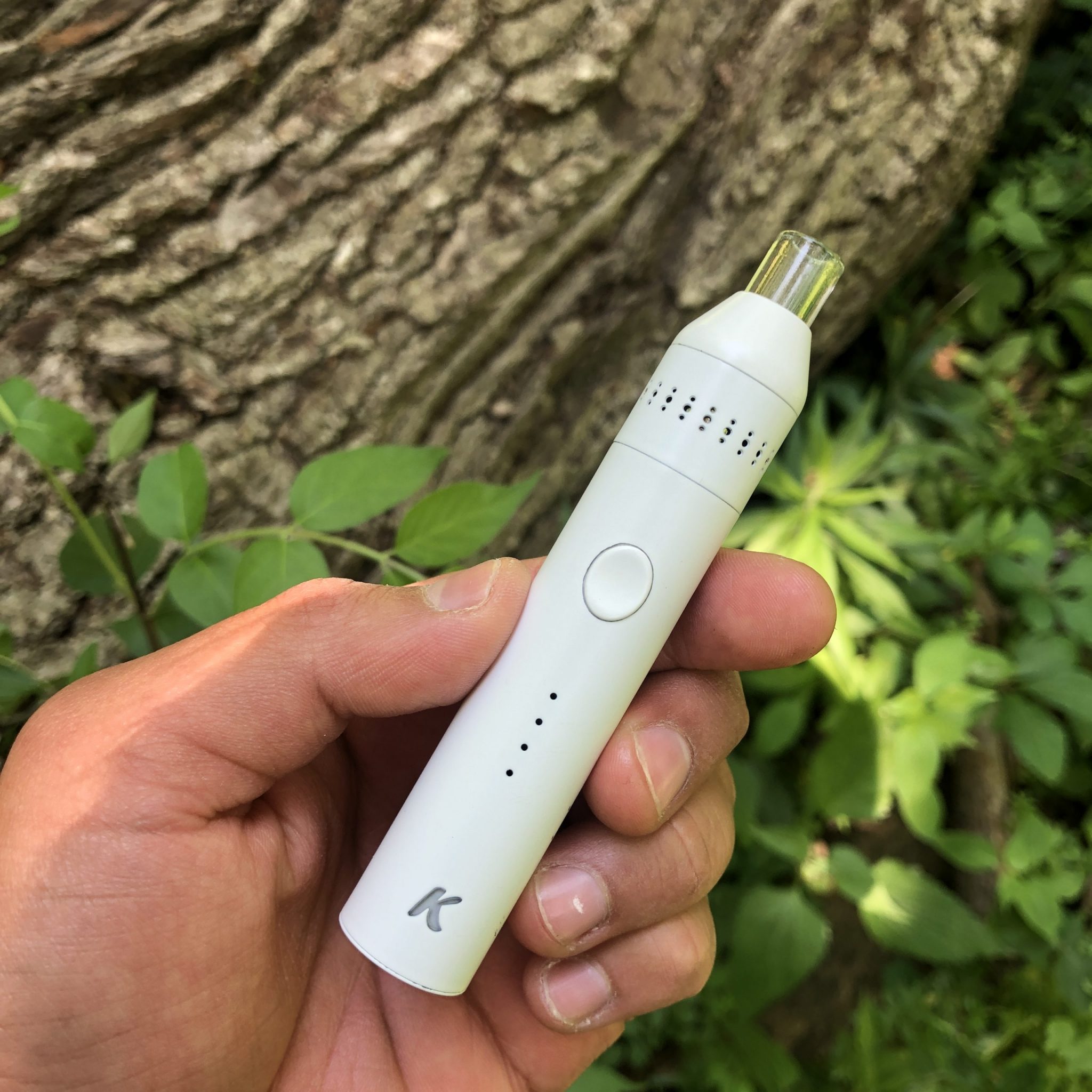 The Crystal has a very nice design with a very comfortable and smooth grip. The mouthpiece is a simple twist on, made with glass, and containing a metal screen underneath. Although it does look thick and a bit bulky, it's actually a lot lighter and comfortable than it seems.
But unfortunately, the Crystal didn't give as strong of hits. It delivers smoother and more vaporized hits, which is what it seems like they're going for.
Everything included with Kandypens Crystal vaporizer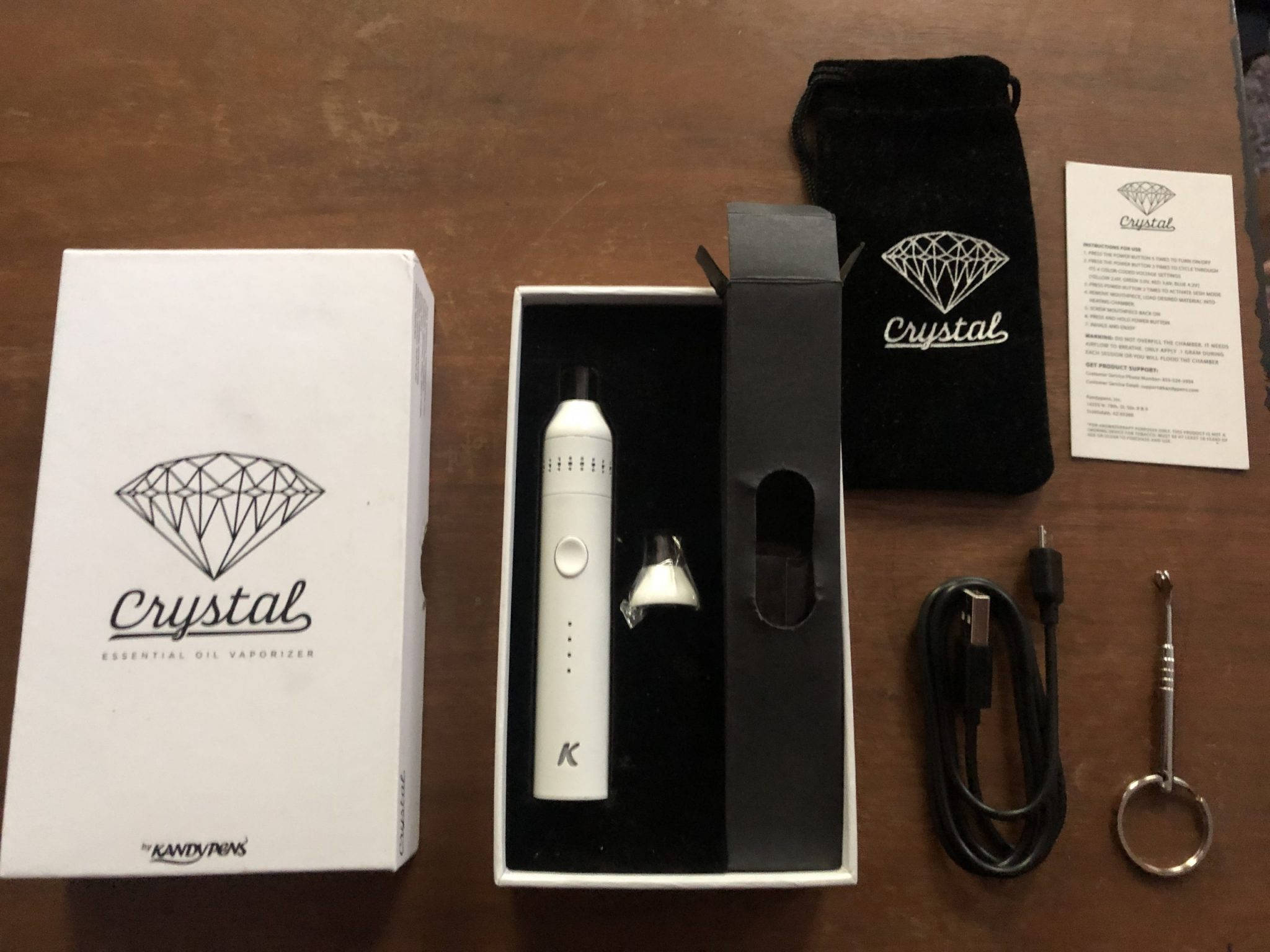 900 mAH battery – Kandypens Crystal Pen

Dab tool keychain

An extra mouthpiece

Micro USB charging cable

Black velvet pouch

Manual
Operations and Instructions
Operating the Crystal is a lot simpler than it seems, similar to most traditional dab pens:
Uncap mouthpiece and coil cap

Pack your concentrate with the dab tool

Re-assemble cap and mouthpiece

Press 5 times to turn on/off

3 times for desired voltage settings

2 times to activate the 10-second pre-heat option
The voltage settings are described below:
2.6V (Yellow)

3.0V (Green)

3.6V (Red)

4.2V (Blue)
Quartz, crystal glass atomizer provides very smooth, vaporized, and tasteful hits but not as strong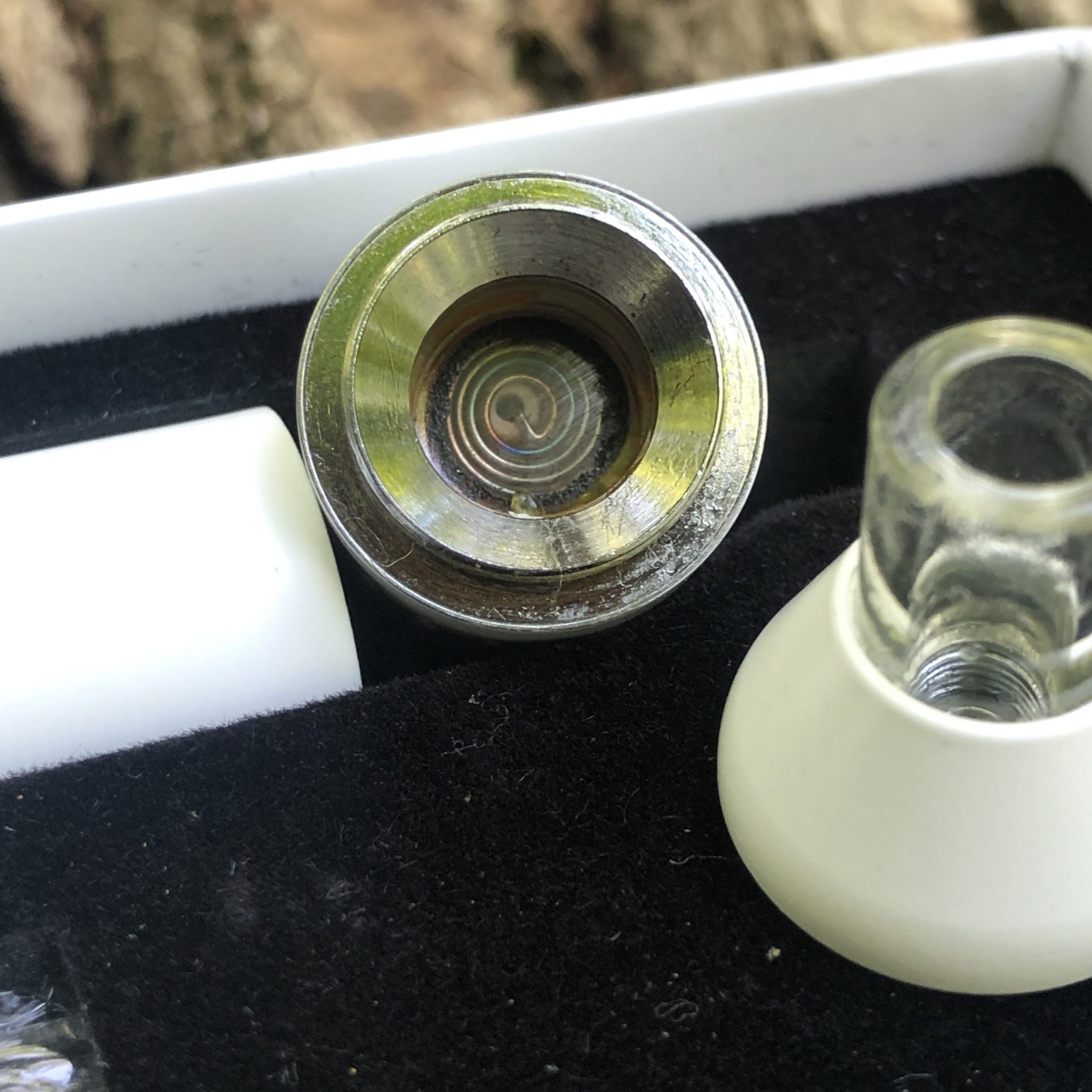 What makes Kandypens Crystal different from traditional dab pens is the all quartz crystal glass atomizer they use. This atomizer heats up through a coil-less, spiral-shaped heating chamber underneath a quartz glass bucket. This heating method prevents your concentrate from ever touching the heating chamber, giving more vaporized hits.
With that being said, this atomizer gives very smooth and tasteful hits, regardless of what temperature setting it's on. But since each session provides more vapor hits, it doesn't hit as strong. It still delivers decent hits, but it does lack strong hits. From what it seems, Kandypens Crystal isn't really going for strong hits either way, they're going for smoother and more vaporized hits.
Metal screen seems like a nice feature but clogs frequently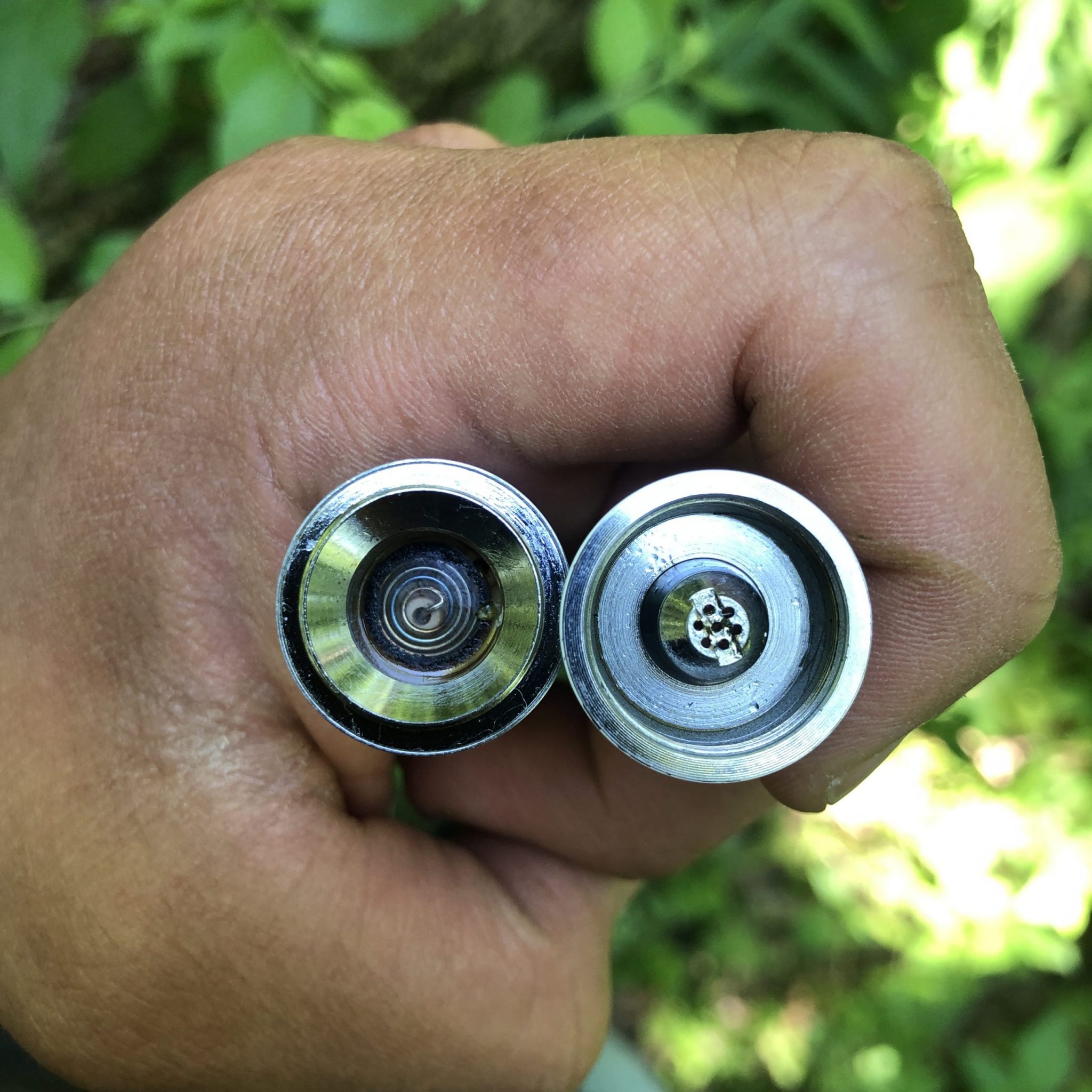 Located underneath the mouthpiece, Kandypens Crystal carries a metal screen to help prevent dabs from getting on your lips. Although it does prevent that, in my experience, it kept getting clogged frequently. Wax would somehow stick onto the screen, covering the airflow and making it difficult to hit. You can easily clean it by unscrewing the screen, but even unscrewing it can sometimes be difficult when clogged. I unfortunately kept having to unscrew and clean the screen consistently due to clogging, which can get annoying after a while.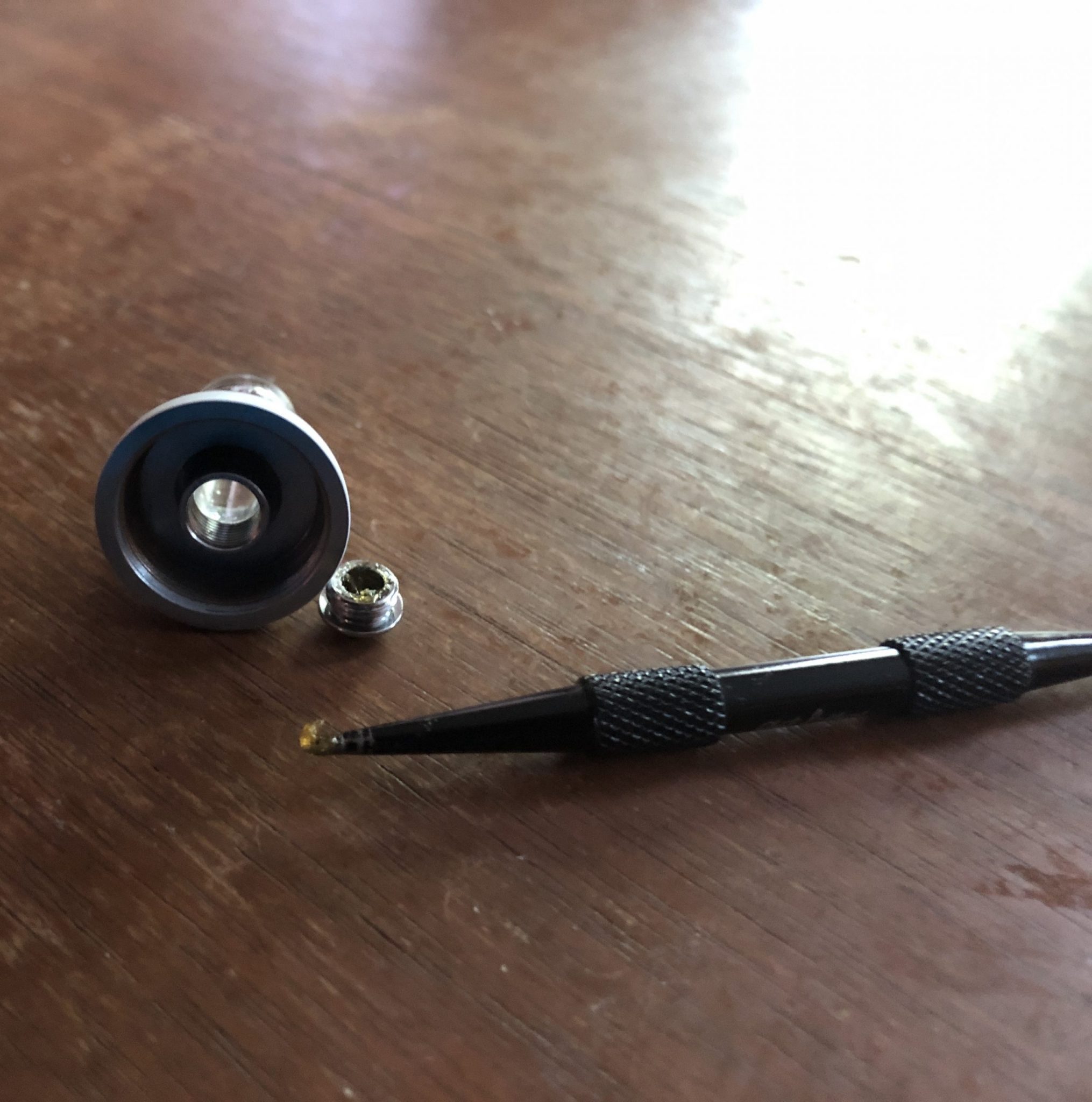 Kandypens Crystal gives flavorful hits and clean taste
The taste the Crystal provides is very nice and smooth, probably my favorite thing about this dab pen. Because of the way the quartz atomizer heats up, this vaporizer gives the most when it comes to flavor. Since wax only touches the glass bucket, you'll get great tasting hits regardless of what the temperature settings it's on. Furthermore, because wax doesn't come in contact with the coil, it doesn't give any metallic taste whatsoever.
Decent sessions within a single pack but not always efficient
Kandypens Crystal recommends packing .1 grams per session for best use. And within each session, you can get a few hits and very nice, vaporized hits. But with that being said, it can be easy to overpack if you're not used to it. In my experience, when I overpacked it, dabs got all around the atomizer and I wouldn't get good hits from it when this happened. Having to clean it consistently with a q-tip, I'd end up wasting a little bit of dabs. It wasn't as much, but still something to consider.
Kandypens Crystal is a fairly portable, compact device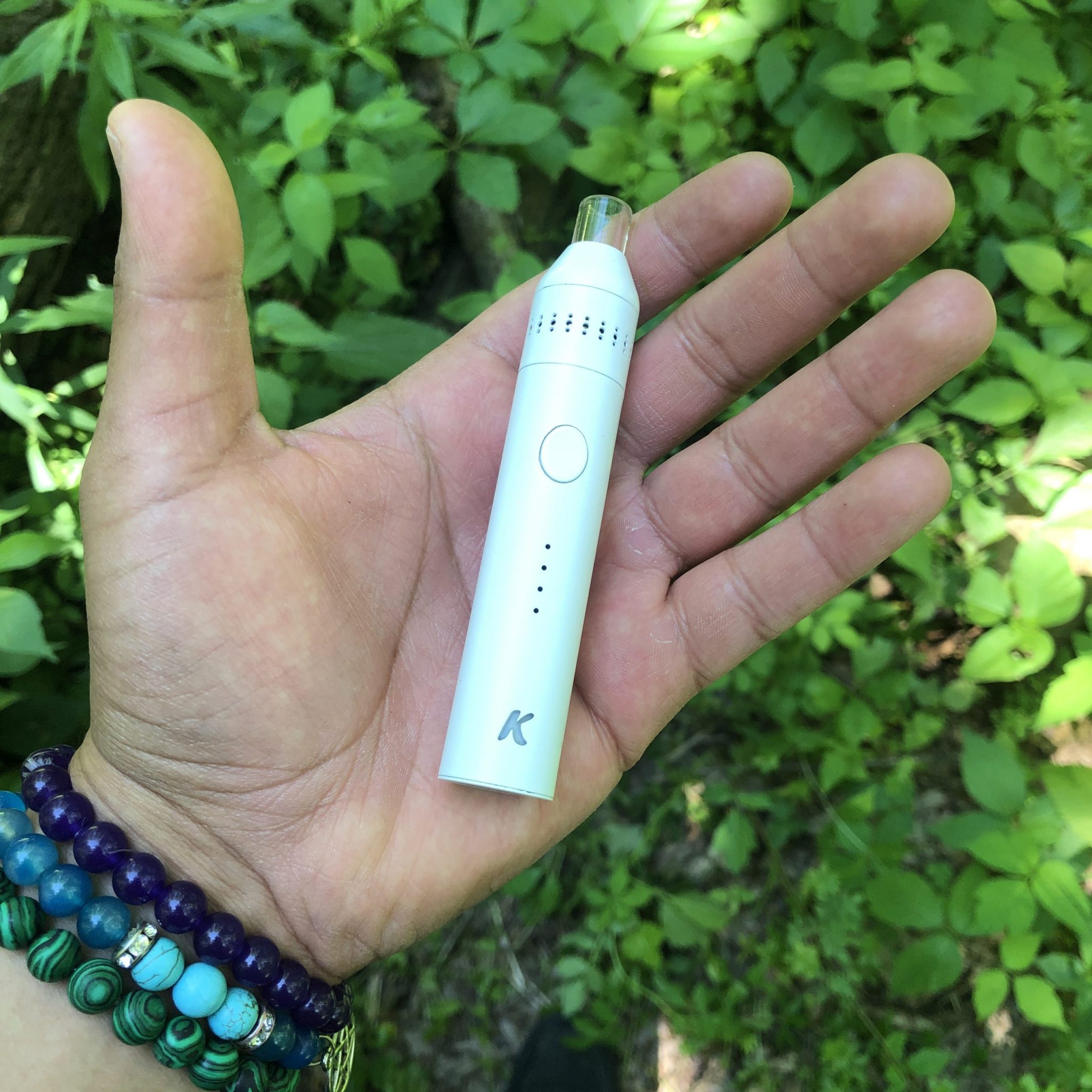 The Crystal fits comfortably in the palm of your hand and fits easily in your pocket. Although it is somewhat thick in length, it is slightly smaller than the average dab pen. Regardless, it's still easy to take this anywhere. 
As for discretion, this vape pen won't really leave a heavy odor since it vaporizes your concentrate. But as with the design, people are starting to catch on the differences between typical vape and dab pens. For me, the glass mouthpiece gives it away and indicates me it's a wax pen. 
Decent battery life, but overheats up too much after frequent uses
Kandypens Crystal is a 900mAH battery, which isn't so bad at all. Charging doesn't take too much time and it can last a good while. Allowing you to use multiple sessions within a day if not more, you can make the battery last. 
But I should mention that when I use this vaporizer multiple times within a single session, the battery does heat up excessively. It'd get so hot that even the glass mouthpiece would be too hot to hit. So if you do use it consistently within a few minutes, you will have to give it a few minutes to cool down. Otherwise, overheating may damage the atomizer.
Pricey dab pen at $135
At $135, the Crystal is at a pretty high price range. It's a bit difficult to give it a great value at this range. And along with that, the device does overheat after consistent uses easily. Also, keep in mind that an extra atomizer costs $35, so depending on your use you'd have to pick one every few months.
Concluding our Kandypens Crystal review
Overall, I did enjoy the taste the Crystal provides. You really do get the most flavor out of your oil with this vaporizer. But it does cost expensive and for the price, I'd expect slightly better performance and stronger hits. If you do consider this device, the good thing is that you have life-time warranty on the battery.
You can buy Kandypens Crystal here.
What are your thoughts on the Kandypens Crystal vaporizer? Comments or questions? Post your review below and comment below or in our forum!