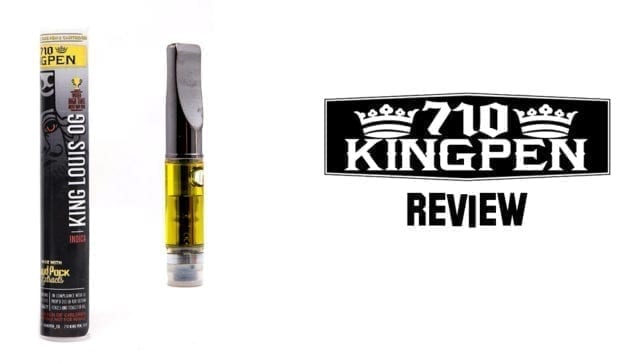 REVIEW OVERVIEW

Design and Build Quality

8

SUMMARY

Outstanding prefilled vape cartridge that has won the cannabis cup before. I had a great time reviewing the 710 kingpen cartridge. It kept me satisfied more than other prefilled cartridges that cost the same price. The price is competitive and fair for the high-quality product 710 kingpen has to offer.
The 710 King Pen company was started in October 2014 and was founded in Los Angeles, California. The 710 King Pen has its positives and negatives like any vape. The quality of this concentrate cartridge is above others in the same price bracket. I can definitely recommend this cartridge for those who want to experience a dab feeling on the go. As most other cartridges I reviewed, this cart has flaws that prevent it from being perfect. Here we go into an in depth 710 King Pen review.
UPDATE 9/11/2019: DISCLAIMER: In light of more recent news, it has become apparent that black market cartridges, counterfeit cartridges, and fake brands of cartridges have become more widespread than we had ever realized. We urge readers to apply their own discretion, and caution that at no point should readers assume that a review of a cartridge on our site is a guarantee of its safety. We advise readers to always verify their cartridges as coming from a legitimate source.
Design and build quality on the 710 King Pen is better than your average pre-fill cart.
The 710 King Pen cartridge was made with a ceramic heating core and it seems to not get hot enough to heat at combustion levels. This pre-filled CO2 oil cartridge was made to provide only a vaping experience. This cart is made out of glass with a steel mouthpiece. This cartridge survived drop after drop impressively.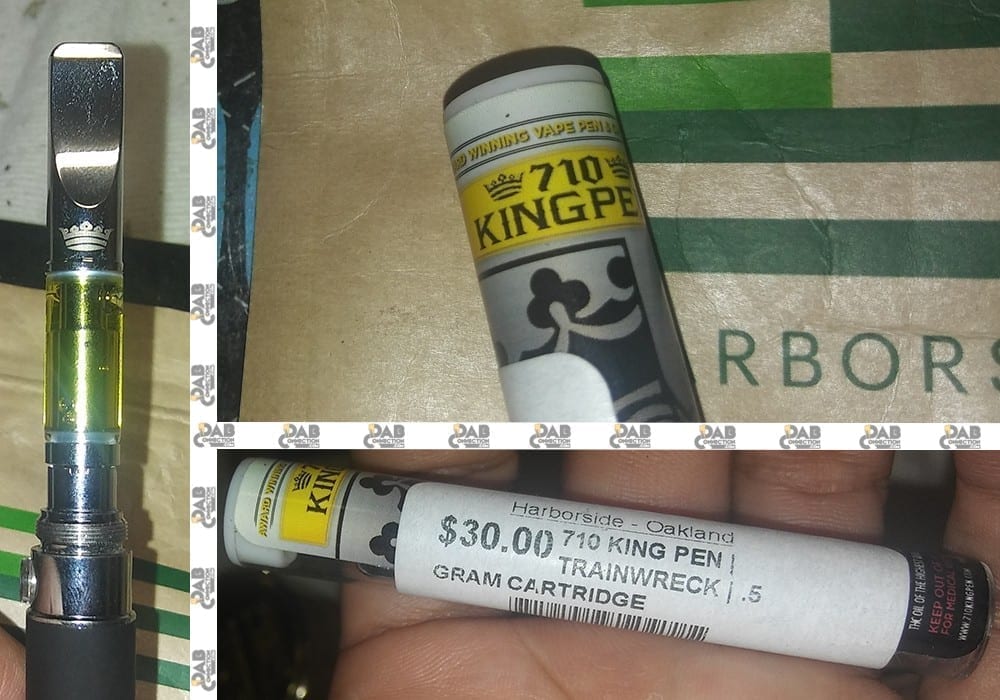 The THC strength is higher than your average pre-fill cartridge.
The strength on this 710 King Pen vape cartridge was not disappointing and I only needed a few hits to find myself completely stoned to satisfaction. The THC strength feels the same as Heavy Hitters cartridges. I did some research online and found a resource that provided lab test results showing 87% THC content.
Flavor is exactly like the cannabis strains. 710 King Pen flavor is on point!
The flavor is the second best thing about this cart that I discovered in this 710 King Pen review. Each hit reminded me of smoking cannabis as it kept its real flavor from the strain. The vape hits smooth and is not harsh at all. The vape smells and it is not recommended to smoke in public areas due to the cannabis smell.
Price is fair for the quality of the product.
The average price for a half gram 710 King Pen cartridge is $30-$40.00 dollars in the Bay Area. The price is acceptable because of the high quality extracted cannabis oil and good cartridge design. I can recommend this vape cartridge for those who don't need a full gram. I purchased a half gram at Harborside in Oakland, California.
Great efficiency at vaping big clouds.
Not all prefilled cartridges hit the same and the 710 King Pen cartridge proves just that! This cartridge can produce clouds. See it in the video below and you can see the clouds are pretty big. In comparison to other cartridges for the same price, the 710 King Pen outperforms most with its cartridge vaping performance. It is ahead of the original Kurvana cartridge by miles. But behind the offerings from Americanna and Brass Knuckles.
Quality control isn't perfect: but many vape carts have this issue
Many prefilled hash oil cartridge companies have been failing to maintain clean products and the 710 King Pen has failed as well. Search online for "710 King Pen pesticides" and the issues come up. The top search result lead me to a lawsuit against King Pen vapes.


The lawsuit originates from San Francisco and can be read here. Myclobutanil is in the King Louis OG strain 710 King Pen vape cart according to testing. I found a link to SC Labs on the front page of Google for the keywords "710 King Pen lab test" and it was removed from the SC Labs website and I found that to be suspicious.
Number of hits are plenty.
This cartridge provides a lot of hits and it felt like this cartridge lasted longer than others. I didn't have to take as many hits to get medicated efficiently. Hits are controlled by pressing a button or inhaling, depending on the battery you are using. The longer you hold the longer and harder the hit gets. Use any 3-volt vape pen battery for the best results. If you are using a mod battery, make sure you have the settings low, probably in the 3.2-3.7 volt range.
In conclusion, the 710 King Pen cartridge review pleasantly identified another great pre-filled vape cartridge. This company needs to focus on quality control. The product could be better. Its strong but it failed lab test for pesticides, but this is the perfect example of why we do need government regulations to protect us the consumer from buying toxic cannabis oil products. It also shows that at this time, Cali is way behind some other states on clean meds.