REVIEW OVERVIEW

SUMMARY

The TOQi 510 is overall a great battery.
The TOQi 510 is made for cartridge users. It's got a slick design, easy charging options and hits very hard. Here we review this cartridge battery in-depth. Finally, we have a direct USB-C charging cart battery, something we have been waiting for for a long time. 
Pros:
Hard hits
USB-C charging
Works great with CCELL carts
Wireless charging option
Cons: 
Not discreet
Battery doesn't protect the cartridge
Shape could bend in pocket
Two cable types required for charging pad/backup battery and battery
Recommendations: An option to cover the cartridge would be nice and having USB-C cables be used for charging across all accessories. 
This product qualifies for a DabConnection instant rebate. Use coupon code DABCONNECTION2020 for 20% off. Thanks for TOQi for giving us this code.  More information available here.
Check out the video review below, then keep reading on for the more in-depth review.
TOQi 510 Hits hard and finally we got a direct USB-C charging battery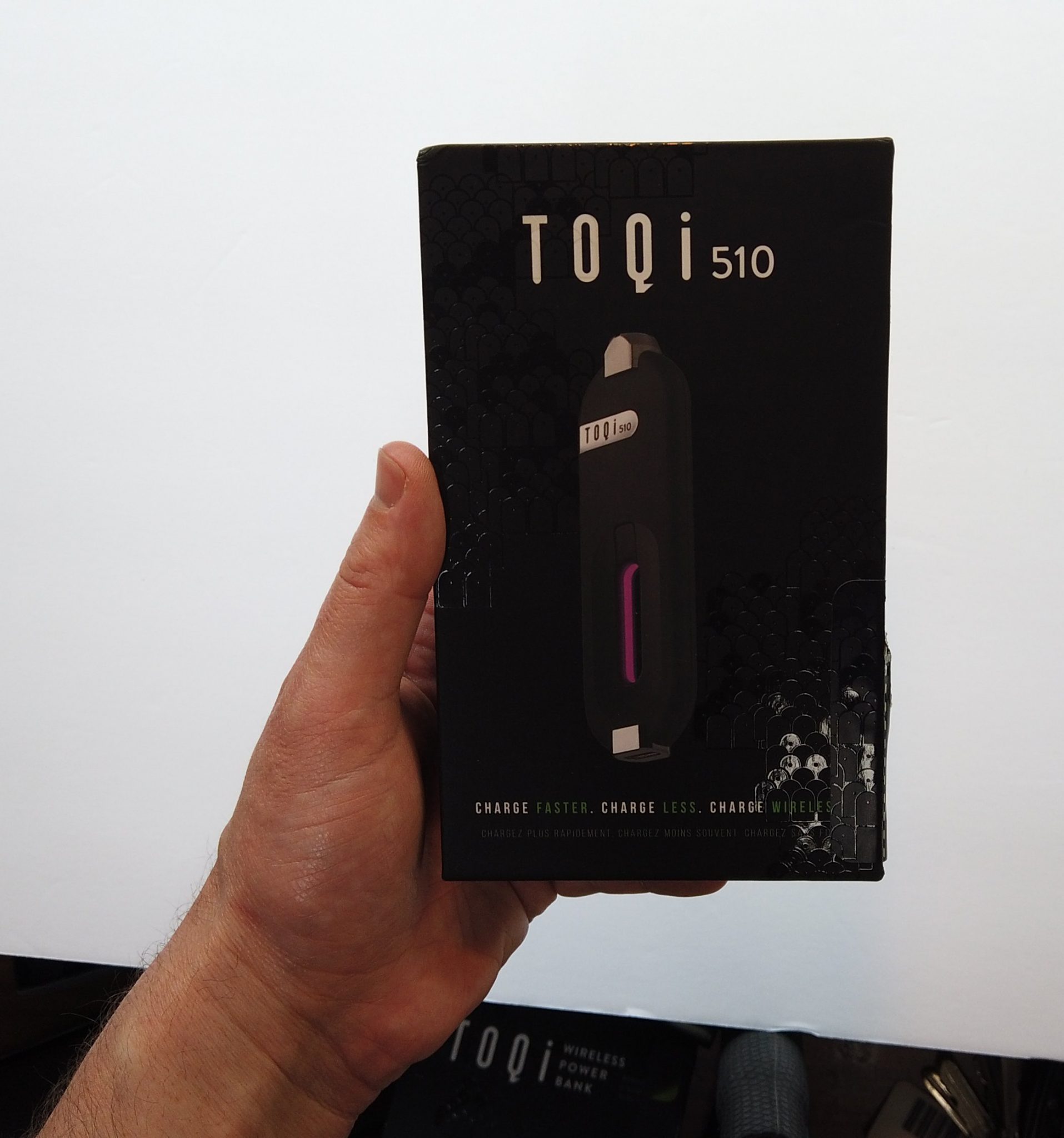 The most glaring advancement on the TOQi 510 is the ability to charge directly via USB-C. This might sound small, but it's a big thing. The reason being, hardly anybody except me using the TCL $25 Family Dollar phone uses Micro-USB anymore as their main phone charging port. Every newer model Android phone and the device I am writing this review on, a Google Pixelbook, use USB-C.
TOQi 510 on top of that hits really hard, has a great feel in your hand and fits nicely in your pocket.
Included items and technical specifications for the TOQi 510
Here's what comes with the TOQi 510 battery:
TOQi 510 Unit

2A USB-A Plug

USB-A to USB-C Cable

TOQi Carry Pouch
Always nice to get an extra USB-C cable. Extra nice to finally have a battery that charges directly with USB-C. It's faster and most modern Android devices use this type of charger, including the Chromebook used to write this review.
Here are the technical specs for the TOQI 510 battery:
Black Color
400mAh Battery Capacity
Qi Standard Wireless Charging
Rapid Charging USB-C port, USB 3.1/PD (up to 5W)
Works with 510 threaded cartridges, including CCELL
Dimensions: 98mm x 30mm x 10.45mm
34.4g Weight
Available power settings: 2.6V (Cyan/Light Blue) Low;  3.6V (Blue) Medium; and 3.8V (Purple) High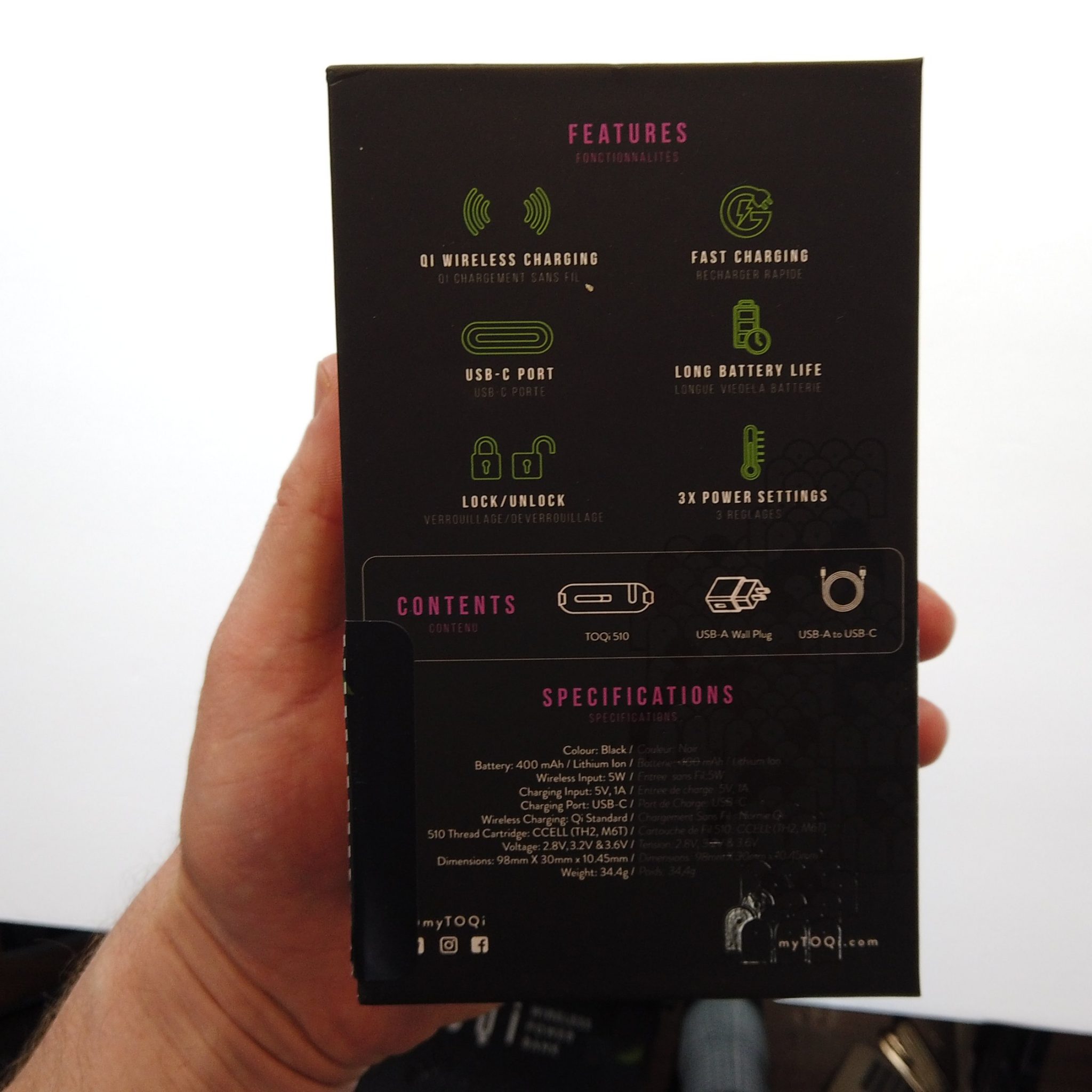 TOQi 510 has decent build quality, top connection a little wobbly
The build quality all around of the TOQi 510 and its comments are good. It's a solid plastic battery with some metal parts on it. 
The cartridge is exposed and not protected
One part of the battery I am a bit concerned about, and we will see through long term use, is if the top section will break off after frequent bending back and forth. The way it's designed it appears to have a little bit of give built into it, so it may survive the test of time. I have had previously batteries with a similar top connection and after sitting on it in my pocket, it eventually broke off. This was then easily repairable with super-glue. This very well may not happen with the TOQi 510, but the way it is built it is worth mentioning.
Unique design for the TOQi 510, nothing else like it
The design on this battery is truly unique. The activation light is an oval shape that contours around the cut out oval in the middle of the battery. Voltage settings have a lower max setting than almost all other vape batteries, but it still hits harder than most others.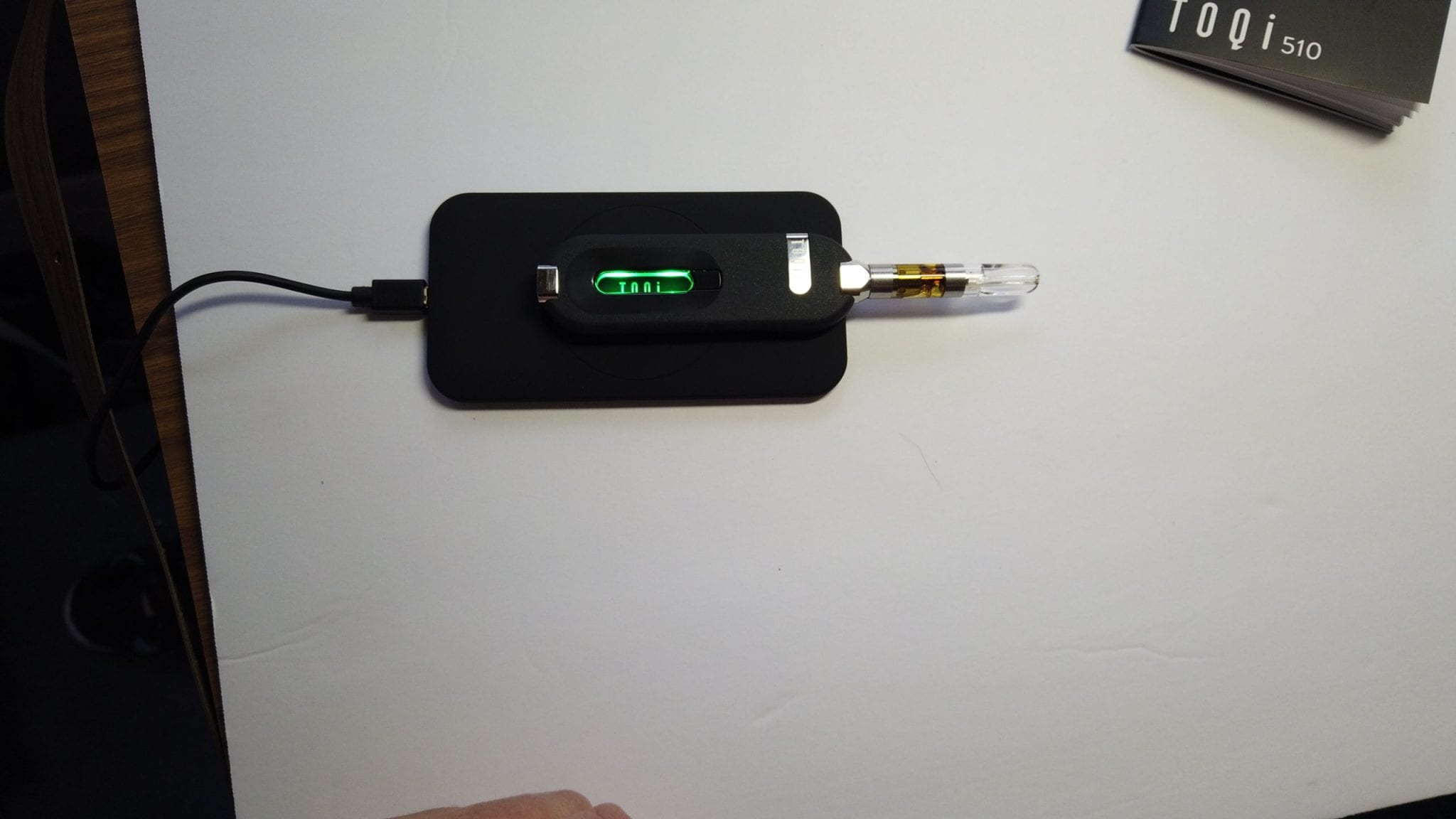 Airflow setup is on point
Just getting the notches right on the airflow path makes a HUGE difference. TOQI 510 knew what they were doing here. When I look into their user manual, it even specifically mentions the CCELL TH2 and M6T, which are by far the most popular cartridge hardware types for THC oil.
Did they use CCELLs when developing this battery? Considering how hard it hits and that it's listed in their guide, makes me think they did. What's also interesting is how it hits differently from some of the other batteries. The Vessel battery's airflow is really smooth, while the TOQi 510 is a bit harder, but both equally awesome.
Nothing from the other brands really compares. It's a different type of hit. The closest comparison would be it's a much better, maxed-out on strength SteamCloud Micro, without the awful warranty from the SteamCloud company behind it.
For our review we used the CCELL M6T on The 55 THC cartridge
We try to use products that most commonly will be used by other dabbers. The M6T is one of the most commonly used pieces of vape hardware out there. The largest selling brand, Select Elite, uses them as do many others. Performance is similar to the TH2 and the heating core is the same. Here we had a distillate cartridge by Aether Gardens called The 55 using the M6T hardware.
Battery life is impressive considering how small it is
500maH has been packed into a small form factor. Battery length of use is a little less than the CCELL Silo and Palm. Longer battery life than the Vessel, which sits at 280maH and a little less than the PCKT One at 660maH.
Charging is finally USB-C for direct
You can directly charge the TOQi 510 using a USB-C cable. That means everyone with a newer android and many types of laptops will be able to charge using multiple cables. It also means you might be stuck somewhere without a battery charger, and you can pick up any old USB-C cable and get your TOQi 510 back to work.
All other batteries we have tried have been screw in 510, magnetic 510, micro-USB or a proprietary charger. 
Charging pad an option
The TOQi 510 is also wireless charging compatible and they sell a wireless charging dock that also works with cell phones. The pad is priced at $17 which is comparable to the prices of other wireless charging pads, not bad at all. 
One thing I did not like about the charging pad is it stores the battery sideways, which is not the optimal position for a sitting cartridge. However, if you store your THC carts in something like the Cartsdom Roullette or CartBudy it makes it a bit easier. 
TOQi probably will add accessories in the future, and an upright charging solution like the Vessel Base charger would be great since it stores it upright. The TOQi does sit upright on it's own when you put it straight up and down, but it cannot charge while sitting straight up and down since in this position you are covering the charging port.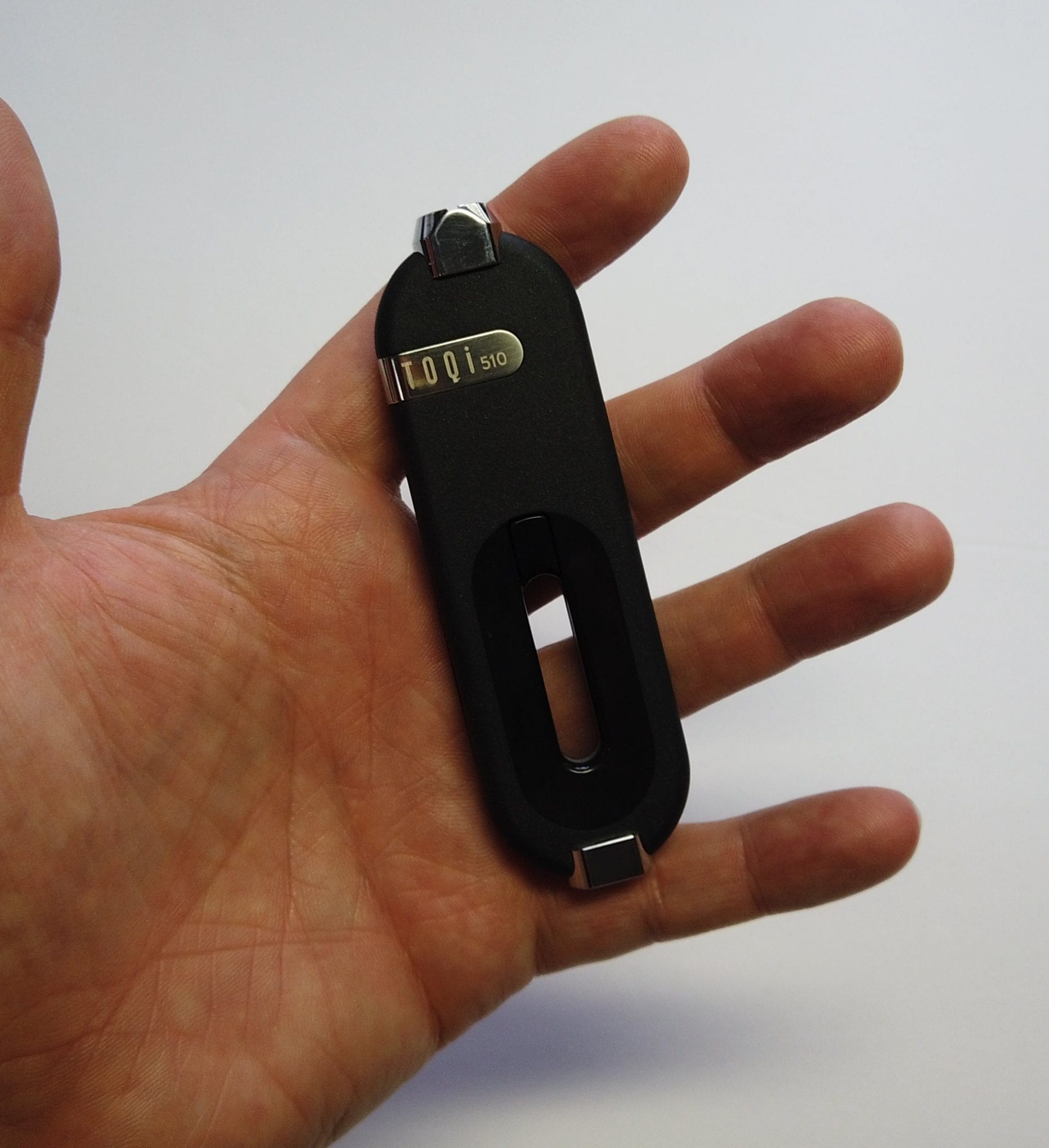 Standardized cables across the line would be preferred
One downside of the TOQi 510 complete package is that the battery itself takes USB-C, but the charging pad and backup battery both use micro-USB to charge. This means you got to have two different types of cables with you. Not a big deal, but USB-C all around would be nice.
The TOQi 510 is a good value considering it's performance and specialties
It's more expensive than most standard batteries and mini mods. The retail price of the TOQi 510 is $59.95, but then there is a 20% off coupon.
Lowest price on the TOQi 510
Currently the lowest price on the TOQi 510 is using the coupon code DABCONNECTION, which gets you 20% off. There are also sometimes codes on the TOQi 510 website for 20% off. That brings the price down to $39.96.
Good value for a one of a kind battery that hits this hard. It's not an affiliate code for us. We just asked TOQi if we could give our readers the full amount off of any affiliate commission that would be attributed to our site and they did!
Concluding our TOQi 510 review…
The TOQi 510 is a hard-hitting, slim, nice form factor battery. It charges by way of USB-C, which I think is even better than using the wireless charging pad. If you like wireless, the charging pad is fairly priced. The downsides of the TOQi 510 are it does not protect the cartridge and it seems the top portion could be damaged if you sit on it too many times wrong. Overall though, it's strong and hits well, which is the most important thing.
You can get the TOQi 510 here.