REVIEW OVERVIEW

SUMMARY
Pharma CBD is a company based out of North Carolina, which is unusual in that North Carolina seems to have no cannabis legalization policies set up beyond decriminalization. Nevertheless, they are a wholesaler primarily along with retail directly from their site.
We're going to examine 3 edible products from PharmaCBD and review them overall.
Triple THC Blended Tincture
Delta 8/9 Peach Ring Gummies
Delta 8 Cherry Sour Gummies
See our video review of PharmaCBD edible products here.
Pros:
Gummies are tasty with no aftertaste
Great potency overall!
Triple THC packs a nice punch
Good quality and value
Cons:
Edible MCT oil flavor hits odd
No full-spectrum effects
Recommendations: N/A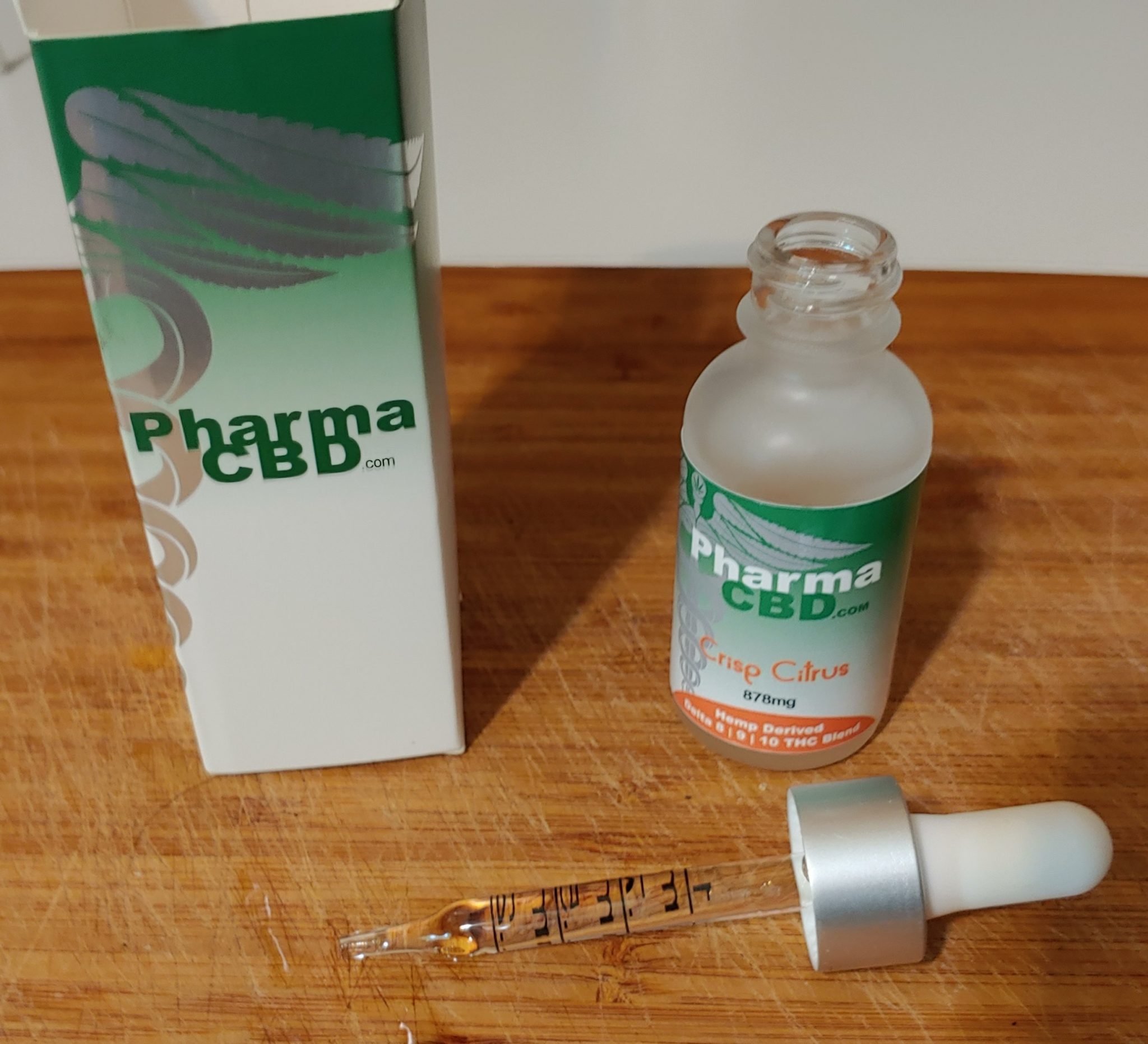 The Triple THC Blended Tincture is Worth Checking Out
First off is our tincture, Triple THC Blended Tincture, which has a total of 29mg of delta 8, delta 9 (classic), and delta 10 THC. That is quite a mouthful from one dropper! In comes in 2 flavors, Zkittlez and Crisp Citrus.
I got the citrus, which does indeed taste like an orange, which hits a bit odd when you're taking coconut MCT oil – psychologically, we're not used to tasting "oil" and "citrus" at the same time. But it's tasty enough anyway. As usual with MCT oil, you can also add it to your morning coffee, mix it with food, sprinkle it over ice cream, etc. Protip: Coconut MCT oil is also a favorite staple of Keto diets, so you can pick up a few recipes from the Keto diet community even if you're not otherwise into that diet.
The effects of the Triple THC Blended Tincture are very enjoyable! You get a comprehensive buzz from the combo, feeling like the spectrum of deltas produces an "entourage effect" of its own. Light users can stop at one dropper; those with a heavy tolerance should find that a 2-dropper dose is sufficient. The effect was a warm, cozy, mellow, and euphoric high. I am definitely sold on the 1-2-3 punch of Triple THC, and look forward to seeing more products in this vein emerging.
I see from the PharmaCBD website that the Triple THC tincture goes for $50. The bottle is listed as having 30 1-dropper doses, so I think that's a very fair value. Considering that edibles leave no smell, the triple THC delivers a great effect, and you can get these shipped anywhere in the lower 48 to my knowledge, this is a solid product all around.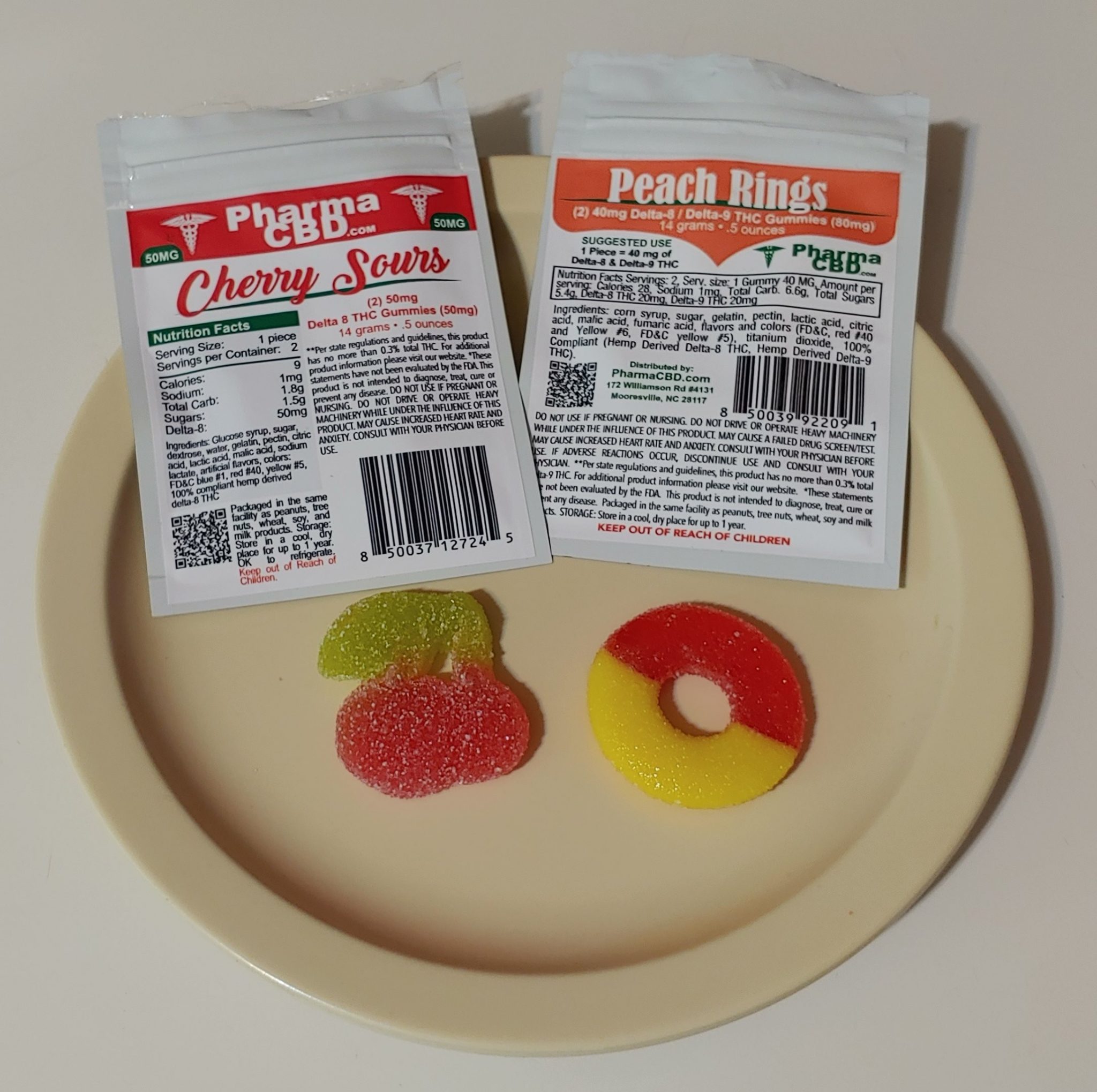 The Gummies Are Also Top Notch
With both the Delta 8 Cherry Sours and the Delta 8/9 Peach Rings, the taste was pleasant and sweet with no aftertaste. We've all been doing cannabis-infused gummies for a while now in the cannabis industry, so we have these down to a science when it comes to producing tasty candy.
The effects were quite potent. I could feel every milligram of that delta 8, at a 50mg dose from the Cherry Sours. The same held true for the delta 8/9 Peach Rings, even more so since there was delta 9 THC present in the effect as well. The Peach Rings were naturally more potent than the Cherry Sours.
On a personal note, after dosing the Peach Rings, I took an Uber (because I never drive under the influence of anything) to go shopping. The edible kicked in right when I entered the store, which made for a very fun, if surreal, shopping experience. When you're on edibles that feel just like you ripped a bong-load, you're conditioned to be apprehensive if others can smell weed on you. I thought that, and then remembered wait, dummy, you're on edibles, there's no smell.
On the PharmaCBD website, I see that the 2-unit sample pack of gummies is $4.95, and the 30-count bag is $36.95. That's a very reasonable price for the potency.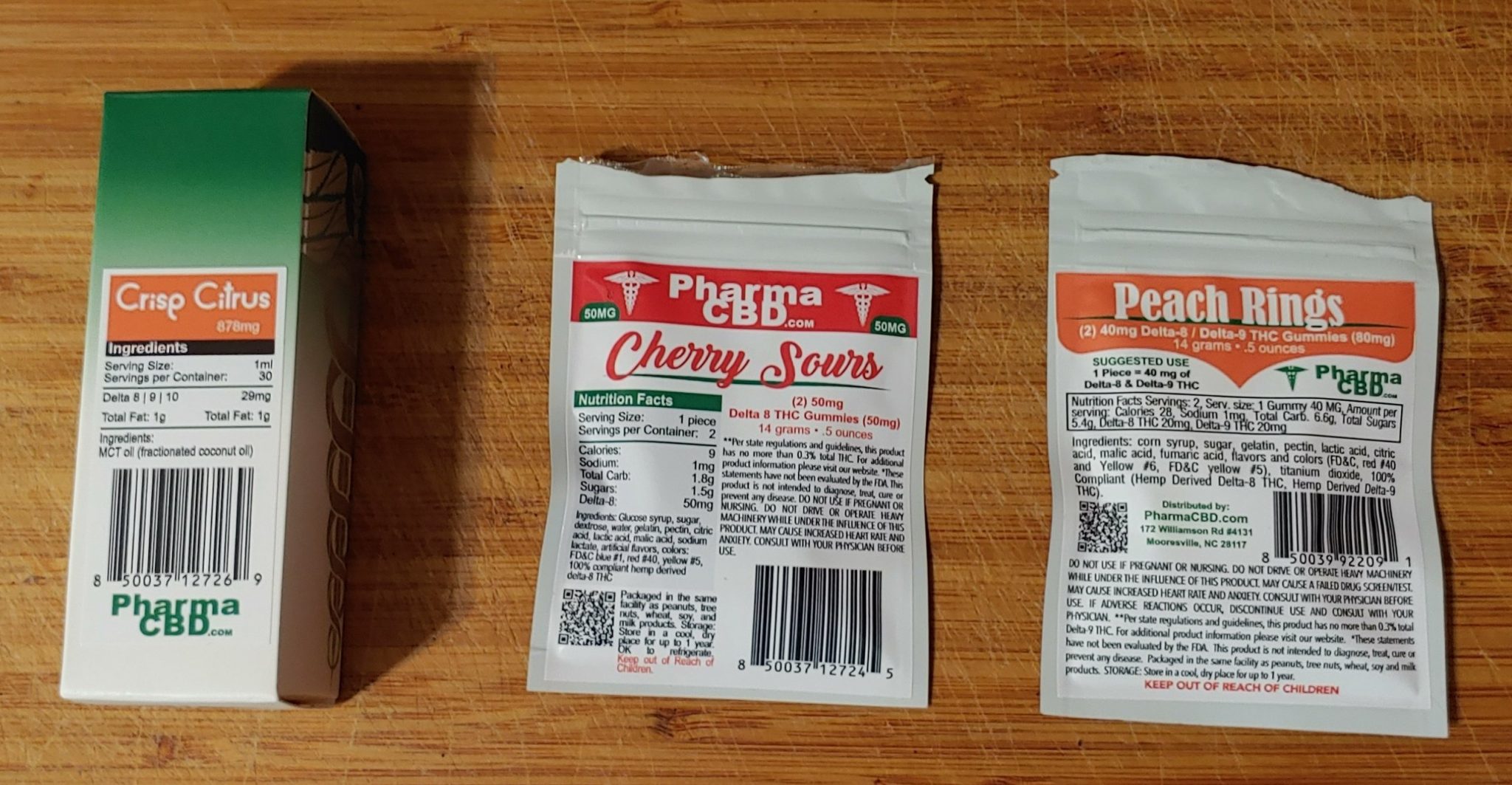 I Give PharmaCBD Edibles My Highest Recommendation
From the taste to the potency to the execution, and even the packaging which clearly spells out the dosage, PharmaCBD edible products left me with nearly nothing to nit-pick. They're a solid company with their act together, and have a wide range of products available. Best of all, they don't skimp on the potency!
Check out PharmaCBD's products here.
Readers, you have the floor. Yap at us about the scene in North Carolina, PharmaCBD, edibles, and your funniest experience shopping while dosed, here in the comments or in our peachy forum.