REVIEW OVERVIEW

SUMMARY
Here, we have the Delta 8 Pharma Grade cartridges. Pharma Grade, affiliated with CBDism, provides a variety of both Delta 8 THC and CBD products. In this review, we'll talk more about their Delta 8 THC cartridge line, its effectiveness, strength, and its worth. Furthermore, these cartridges overall give a nice and interesting experience.
Pros:
Fascinating flavors
Good efficiency
Cons:
Moderate, somewhat light hits 
Delta 8 Pharma Grade cartridges – An overall well and unique experience
Trying a few different D8 strains from Pharma grade, they all give a mellow experience. 
Different Pharma Grade cartridge strains
Zkittles
Pineapple Express
Skywalker
White Widow
Green Crack
Gelato
Wedding Cake
Pink Runtz
Banana Kush
Alien OG

Delta 8 cartridge strains we tried: Pink Runtz, Zkittles, Green Crack
To begin, Pink Runtz gives a very good flavor. Giving a sweet, fruity flavor, this particular strain happens to be my favorite of the three. It gives the most tasteful flavor out of the ones provided, tasting like a rainbow strain. Tastes great, and this strain is a hybrid, highly recommended for those who enjoy fruity flavors.
The strain Zkittles actually gives a more neutral flavor to it. Surprisingly, at least for me, but I expected something of a sweet taste. Zkittles is kind of the opposite, whereas it gives a more piney taste to it. Still tastes decent, but just not as much flavorful terpenes as Pink Runtz.
As for Green Crack, it gives a much more piney, flower taste. Light in terpenes, but you can still taste sweetness. 
Pharma Grade provides good strains, each providing their own experience
Pharma Grade provide a variety of strains, each with their own unique flavor. At least with just trying the three strains mentioned above, each delivers a unique flavor for their hybrid/strain.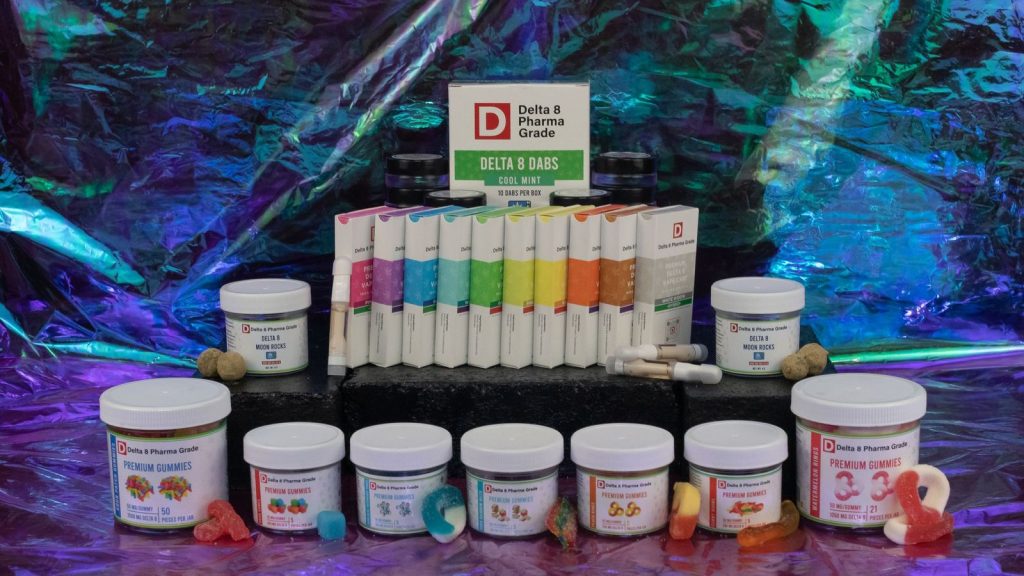 Somewhat smooth, in comparison to other D8 cartridges
If you've read any previous Delta 8 cartridge reviews we've done, I'll always mention how Delta 8 THC is a harsh form of Cannabinoid. At least in my experience, and everyone who has tried these cartridges. But cartridges high in Delta 8 THC are always usually harsher on your throat.
With that being said, Delta 8 Pharma Grade is fairly smooth. Not as harsh as cartridges either high in Delta 8 or infused with BDT(Botanically Derived Terpenes). You may get slightly harsh hits after taking consistent, long hits. But overall, it delivers pretty smooth hits.
Fair hardware, cartridge delivers moderate performance
Overall, the hardware itself delivers fair hits. Doesn't clog up easily, and should work well in just about any 510 threaded battery. Furthermore, at first, I thought that these cartridges were CCELL. Although they seem to be, they don't have the imprints like authentic CCELL carts do. Either way, they still deliver some nice hits. Not the thickest smoke, somewhat light if anything, but still fair. You can buy them here. (15% discount promo code: 15OFF)
Concluding the Delta 8 Pharma Grade cartridges
Readers, have you tried Pharma Grade delta 8 cartridges? Let us know your 2 cents-worth here in the comments or in our swinging stoners' forums.