REVIEW OVERVIEW

SUMMARY
Today we're going to explore the Lokkboxx, a unique cannabis accessory. It is a humidor stash system for herb, holding upwards of 15 grams of herb in a humidity-controlled environment to keep your weed daisy-fresh. We have the maple wood version here, and we'll break it down for you. The Lokkboxx retails from their site at a price of $204.25.
We saw the Lokkboxx originally on another site's list of Father's Day gift recommendations and had to check this out. It does indeed have perfect gift appeal for the stoner on your list – practical, but just a little fussier and fancier than what most people would buy themselves. This impressive system is housed in a beautiful maple wood box weighing a good five pounds. Even without the humidor system, this will be the classiest container you've ever stashed weed in.
UPDATE: Finally got around to putting together a video demo of the Lokkboxx here,
UPDATE: And a follow-up on the Lokkboxx performance here.
Pros:
Beautiful!
Durable, quality materials
Solid instructions
Enhances flower quality
Cons:
Maybe a bit overkill for casual smokers
Recommendations: Perchance, a way to stash prerolls, joints, and blunts in the same system?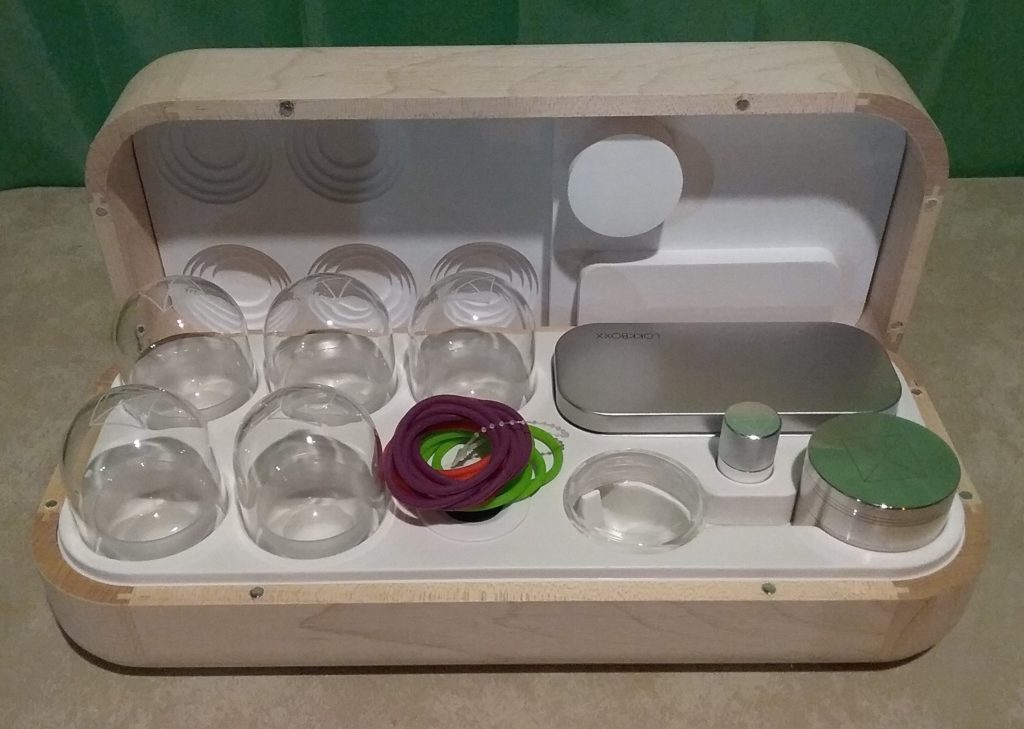 The Lokkboxx is Gorgeous!
The first thing that strikes you about the Lokkboxx is its solid aesthetic build. Hand-crafted maplewood sanded down to smoothness, containing a humidor system with snug glass lids, plus a selection of smoking gear including its own grinder. This stash will elevate your cannabis consumption to a ritual. If you're a super-villain and James Bond comes over for a smoke session at your Mediterranean island base, this is the stash box you haul out to intimidate him with your impeccable taste.
With all that said, this kit is not nearly as intimidating as it looks. Let's break it down: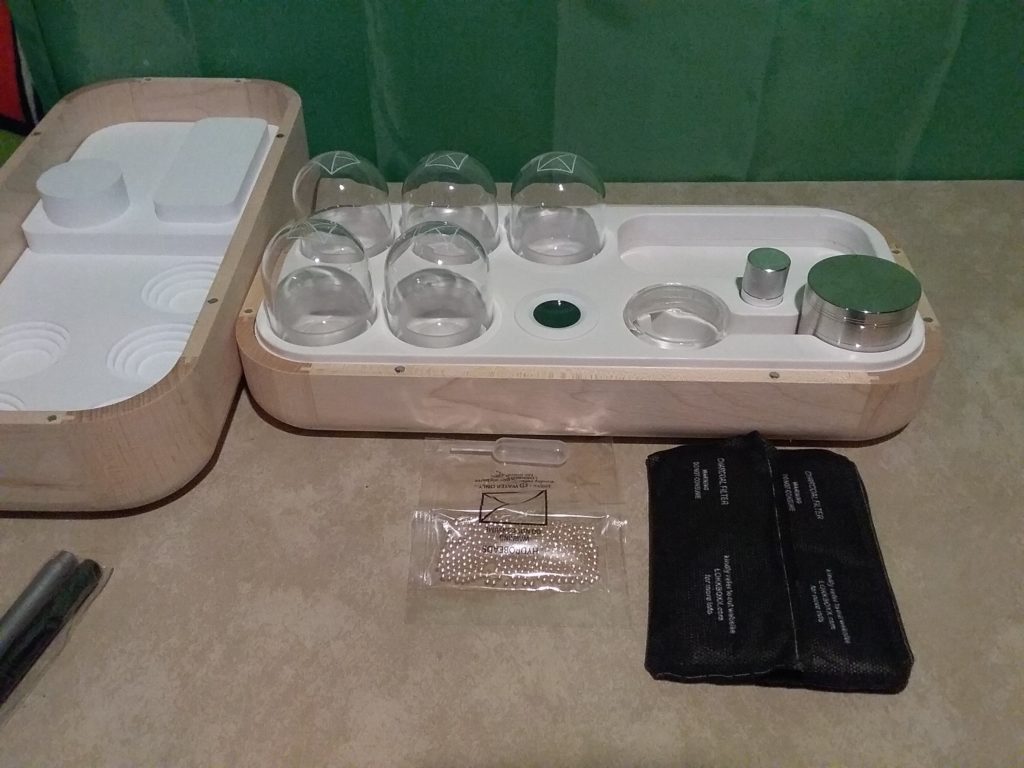 The kit comes with microbeads and charcoal filters. You have to soak the microbeads in distilled water first. Then add them to the humidifier compartment here: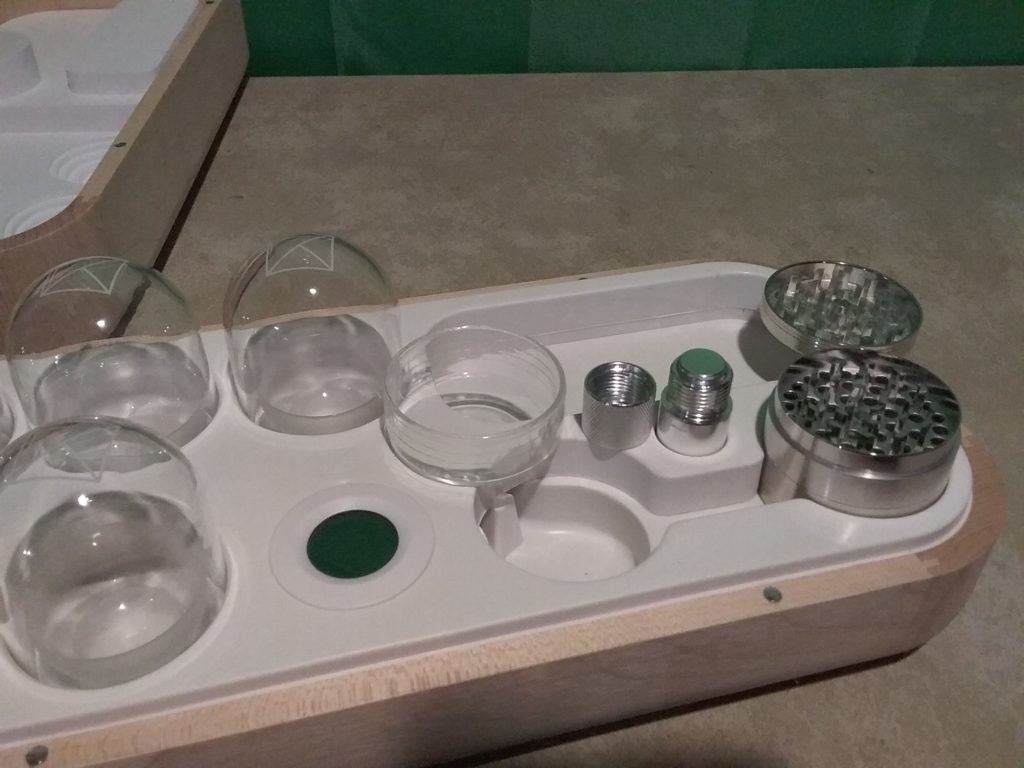 You can see the channels going under the foam surface. That's going to allow the moisture to permeate the five glass domes, where your weed is to be stored. Also shown here is the grinder, and the small metal cylinder is a pollen press, used for compressing kief into little discs. Will people never run out of ways to fiddle with their kief? Here's a tutorial video we found on using a pollen press to make hash coins, which is a pretty cool trick if you just have hash accumulating like landfill.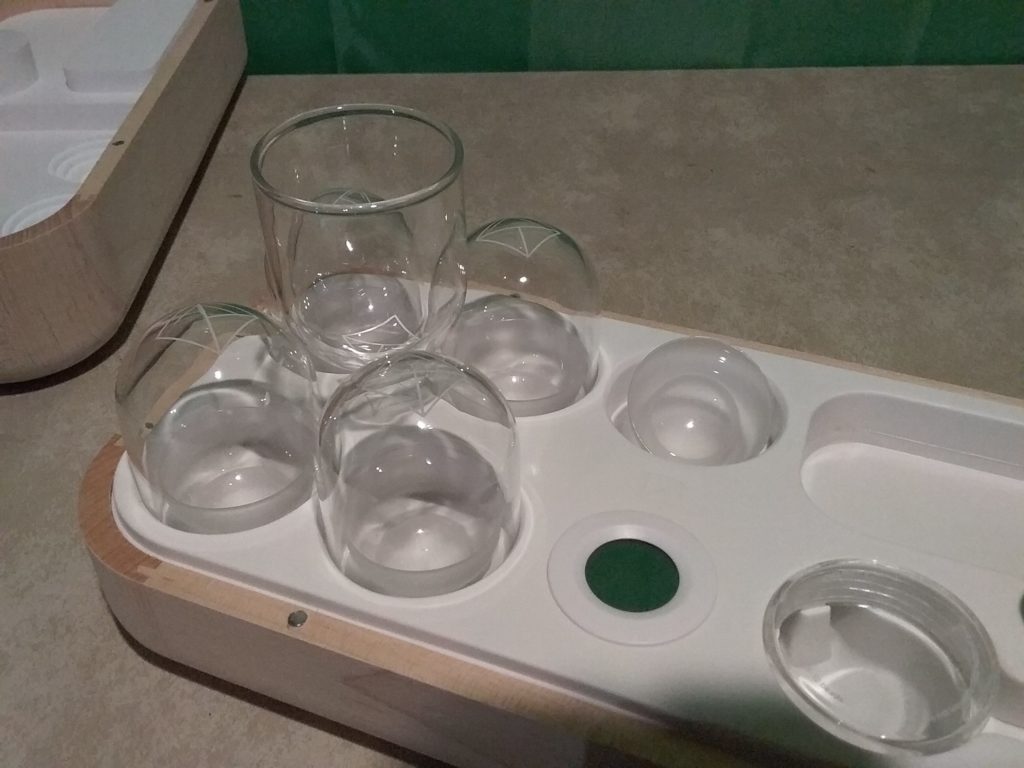 The other end contains the glass domes with little dishes inside, made to hold a pile of nugs. Each dome should hold approximately 3.5 grams of flower, for a grand total of 17.5 grams of storage. While you can store ground flower in the dishes, they likely won't hold 3.5 grams ground.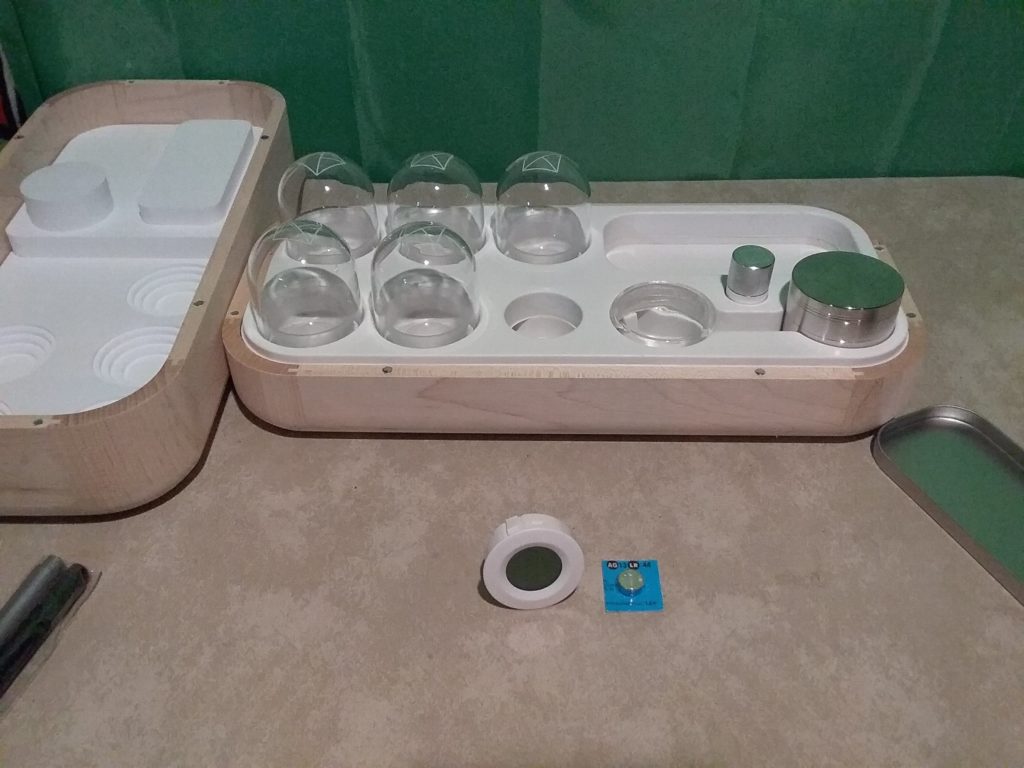 The hygrometer pops out and the kit comes with a battery for it. You use this to measure the humidity in your controlled environment. Last we round up a few accessories: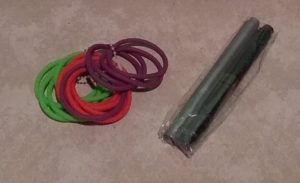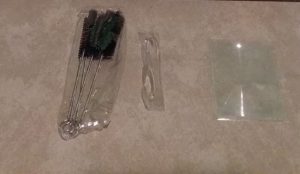 The marker pens and rubber bands are just for marking the glass domes in case you have more than one kind of weed to store. The kit also comes with cleanign brushes, some scraping tools, and a magnifier card for looking at your beautiful, trichrome-rich buds.
Humidity and Your Weed
So, what is this humidor business about? Similar to cigars, cannabis is best enjoyed at the proper humidity. However, cigar humidors won't do since cannabis has different requirements. Cannabis is best kept at a humidity between roughly 55% to 65%, ideally right about 62%. Too little moisture and your weed gets dry and brittle, grinding to powder and smoking like flavorless sawdust. But if it has too much moisture, you run the risk of growing mold or mildew on it. Hence, a humidor to store weed at just the right humidity.
You take a sprinkle of the microbeads and soak them in distilled water for 24 hours. Then place the microbeads in the humidifier chamber and close up the box; it will take a couple of days to arrive at the proper humidity. After that, you store your weed in the domes and check the microbeads once a week to re-water as necessary. This video on the Lokkboxx channel shows the process.
Lokkboxx is Indispensable for the Advanced Stoner
I say again, Lokkboxx is the last word in elegant craftsmanship, and it's still a darn nice stash box and grinding station, even if you don't have much issue with humidity. The maple wood box alone is almost worth the $200 price.
BUT: I can also see where this has a niche use. You would think that I'd be the perfect target market for Lokkboxx, and to be sure I intend to use it sometime. I was going to try to test the humidity environment on some flower buds and make a big video, but that's not in the cards this week. I may follow up. But in my circumstances, I never have 15 grams of weed at once, even if I'm backed up in reviews. That's another thing, is that reviewing flower means that most of my flower at any given time is stuff I got for review, over which I have no quality control. So this system seems like overkill to preserve some chalky, dry baggie of delta 8 nugs. On top of that, I'm not always reviewing weed; sometimes it's a dabs and waxpen week, other times I'm reviewing a parade of gummies, and so on.
Now then, were I retired and living in a prime flower state, this would be much more practical accessory. I see the ideal Lokkboxx customer as someone deeply invested in the cannabis lifestyle, likely using it for a medical condition, who needs a steady supply at a certain quality. I can also see this coming in handy when you find a sale at a dispensary and stock up on flower; now you have a way to store it long term.
For sure, Lokkboxx is bound to be a favorite product for you terpene snob connoisseurs out there. Readers, share your experiences with humidity-controlled weed in the comments below or in our not-so-elegant but serviceable forum.