Last week, our Lion's Breath cartridge post attracted another comment by someone urging us to check back on the company under the assurance that they'd gone legit. We're glad they did that, because we learned quite a bit about how these unlicensed cart companies abuse lab results.
Lion's Breath – new packaging, new deception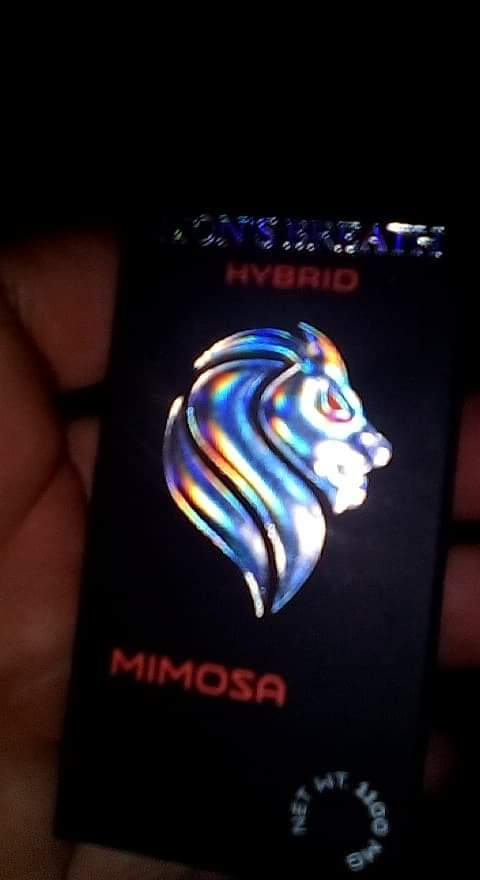 Here is a Reddit poster who begins today's investigation story. They pull a QR code off a Lion's Breath cartridge which leads us to this page. It is hosted at Amazon Web Services. We extracted the pages of the PDF to show here: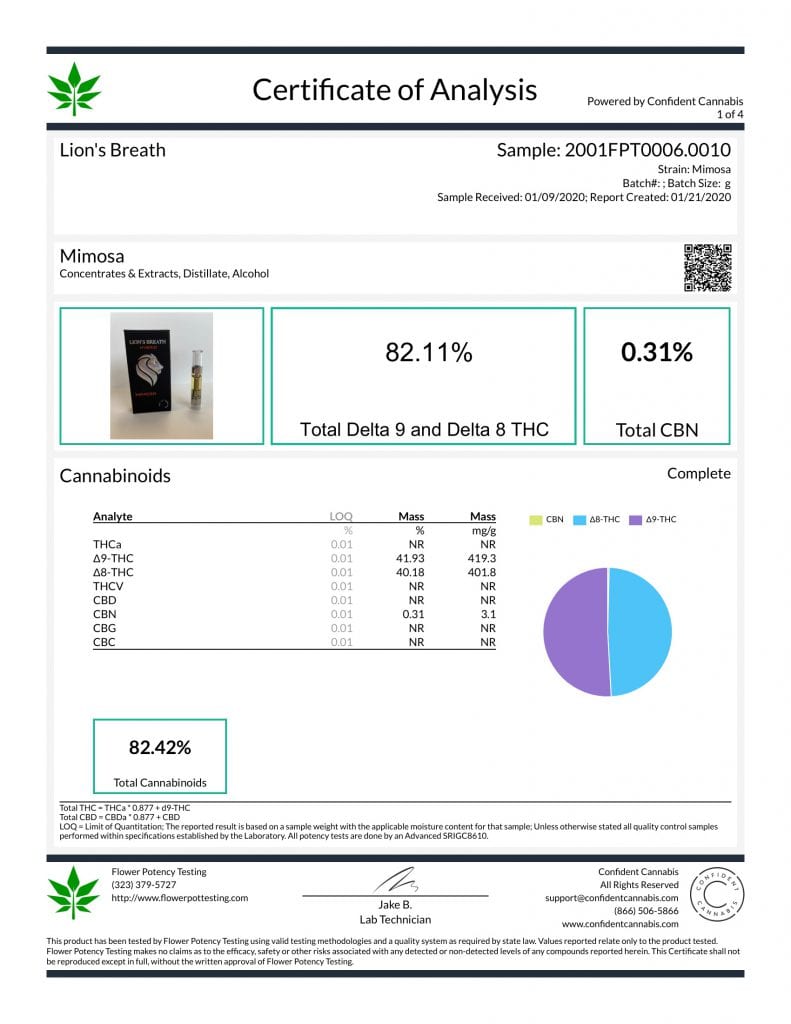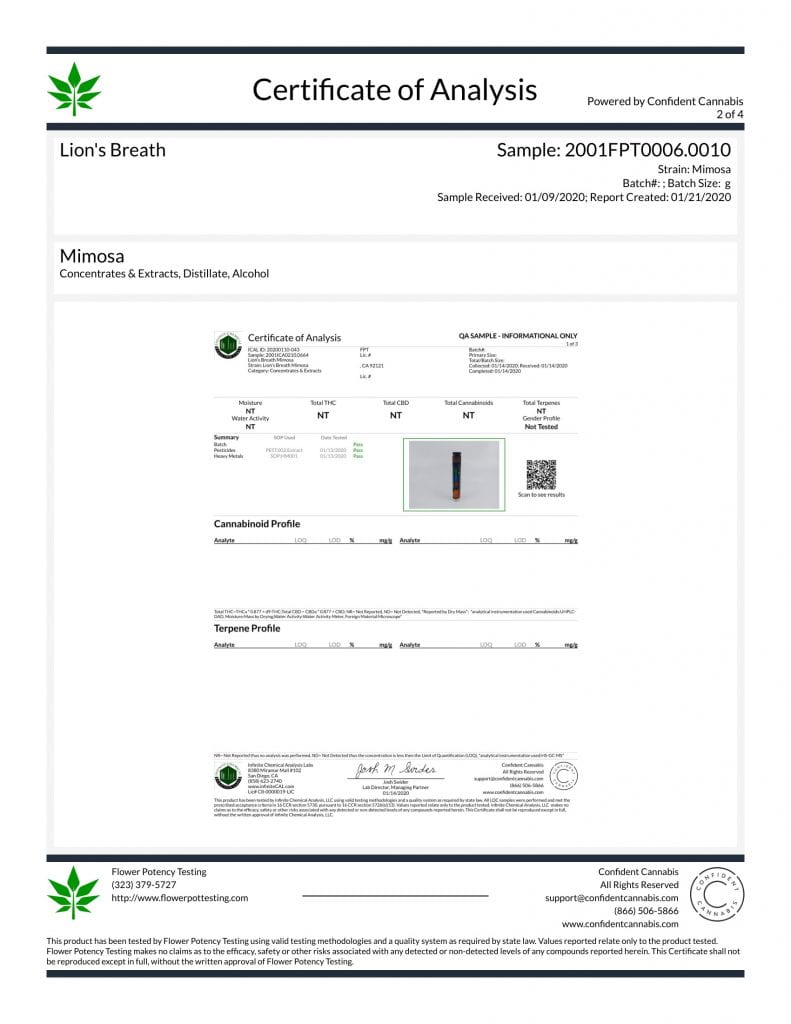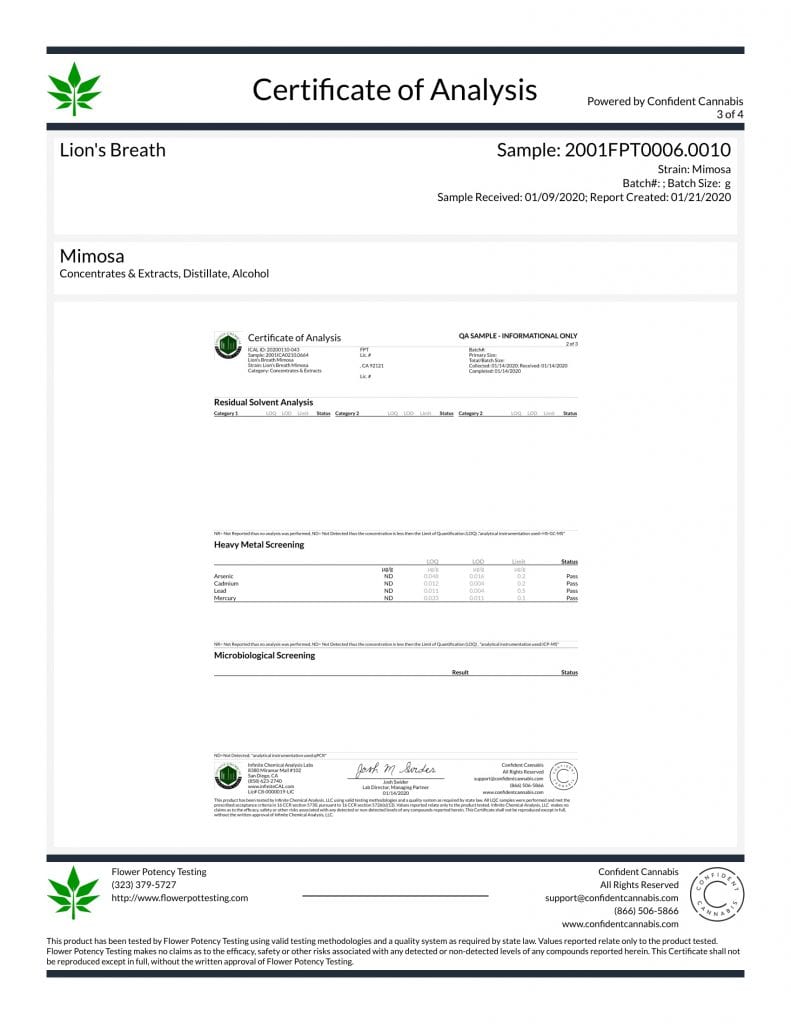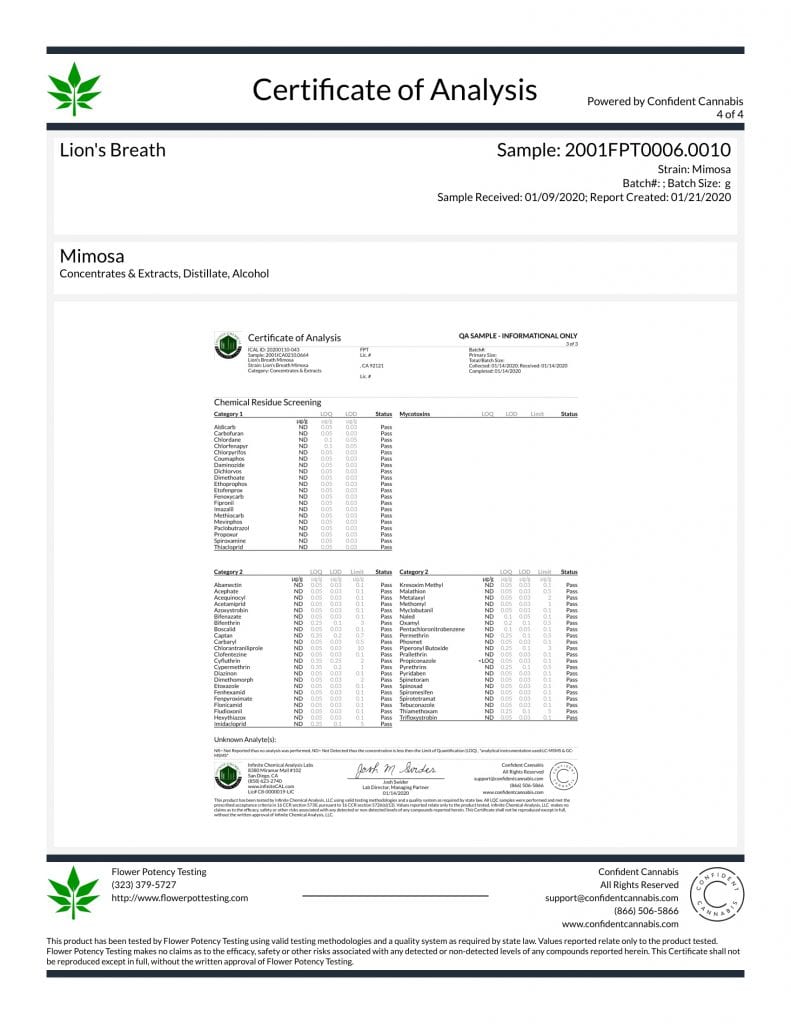 ###
---
Let's take it from the top:
The pages show a company called "Flower Potency Testing." They actually have nothing to do with this test. If you go to the website for Flower Potency Testing, they show that they are an R&D lab only at this time. This means "research and development," which we will explain below. We find no license on file with the California BCC for Flower Potency Testing, but that is fine since they're not for commercial use yet.
Pages 2-4 show an embedded image of lab test results from Infinite Chemical. We reached out to Infinite Chemical who helpfully explained to us that they have no affiliation with Flower Potency Testing. When we showed them this link, they confirmed that this is not an authorized way to display their results.

Note also that – familiar story – the lab test page carries no license number or address given for the testing party. You can do this only in the case of an R&D test! Infinite Chemical confirmed to us that this test is NOT intended for public release, and NOT intended to endorse a product's safety.
What is R&D testing?
R&D testing, also known as Quality Assurance testing, in cannabis labs is meant as an informal, small-batch test. In this case, you can bring in any old vial of oil you want, get it tested, and the results are intended for your own information. R&D is also allowed for private citizens, for examples CBD patients wanting to test a sample for their own safety.
This is not the same thing as compliance testing. In compliance testing, you put up an entire batch of the oil you intend to sell. The lab then selects samples from that batch, tests it, and puts their results out as a public guarantee of results for that batch.
We'll get to revisit the topic even more with the next Lion's Breath cartridge.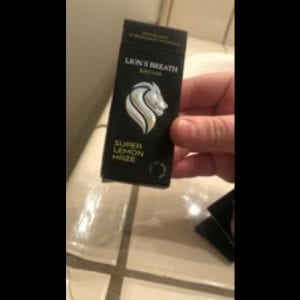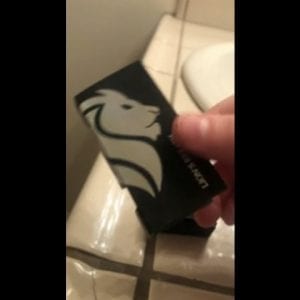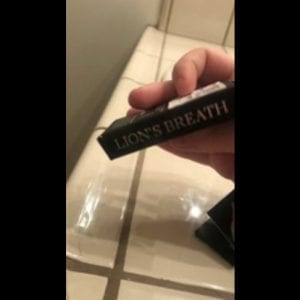 Different QR code, same deception
We then come to this Reddit post, which WAS showing a video of a new Lion's Breath cartridge. This was posted within one day of the other post. Before the video was taken down, we froze a frame of it and managed to get a read off the QR code on the package. Then we got this link.
This time we show Encore Labs' test, and this time it's hosted on Confident Cannabis' domain. Confident Cannabis does not do lab testing on their own, rather they supply software for cannabis testing facilities.
We reached out to Encore Labs as well, who did confirm this was their test, and once again – note the lack of a license number or address for the testing party. If you guessed "another R&D test"? You are correct! Encore Labs, likewise, assures us that this test was not intended for public review.
This time, Encore Labs publishes a full and very helpful guide on the difference between Quality Assurance testing and Compliance testing as required by California law.
Compliance cannabis testing is a heavily rigorous process
To summarize a few excerpts from the Encore labs page, this is what compliance testing is like:
The sampling and transportation process of the tested batch must be fully documented to the Bureau of Cannabis Control.
All information is sent to METRC, a third party track and trace system that locates the sampling process from beginning to end.
The client makes the entire batch of oil available to the laboratory for testing. The laboratory sends out personnel to collect random samples from your entire batch.
A video recording of the sampling process will be required by the distributor personnel. That's right, they film this!
Once obtained, the sample is sealed and tamper-proofed.
This is just some of the formal procedures involved in compliance testing. This is fully secured, fully documented from beginning to end. The lab test results from a compliance test are to be sent to the California BCC, regardless if they pass or fail.
R&D / QA testing is informal
In Research & Development testing or Quality Assurance testing, none of this process occurs. You just bring in any old container of oil you want and say "test this for me." This is for several purposes, including private consumers who want to assure their own safety. Mainly it's so a production cultivation / extraction facility can check their process for their own internal assessment. Naturally, if you harvest a new crop of flower, or you alter your BHO extraction process, whatever, you want to know if there's a problem with it.
Infinite Chemical also conducted a buy-back program to test street vapes
One more shout-out to the San Diego company, who responded to the vape health crisis by obtaining black market cartridges from the street via a trade-in program, in association with Mankind Dispensary. They then tested the black market cartridges and found predictably alarming results:
79% were deemed unfit for consumption
50% tested at less than 50% THC, despite percentages claimed on the packaging
Almost all of the samples tested had trace levels of Vitamin E Acetate
5 cartridges contained levels exceeding 20% vitamin E acetate
One sample contained 87 times the legal limit of lead
There's much, much more to these results! We'd like to thank Infinite Chemical for this heroic and eye-opening effort, and encourage readers to pass these results around. This case study was done in January of 2020. Think of all the media exposure that the vaping health crisis has had. Anybody who handles carts has had every opportunity to be informed of the dangers of dirty carts by now.
If nothing else, we hear a lot of black market customers insist "maybe other carts are unsafe, but I trust my plug! My Cali plug is my homie, he'd never steer me wrong!" We hear this all day every day. The above results show this not to be the case. 79% is a 4 out of 5 chance that you'd be vaping a harmful product. A few of them tested as flat-out deadly poison.
Update: Spammer pushes Lion's Breath carts with false health claims
Two weeks after this post, we noticed a posting coming up in the Reddit r/fakecarts forum (we work closely with that sub), with the following ad: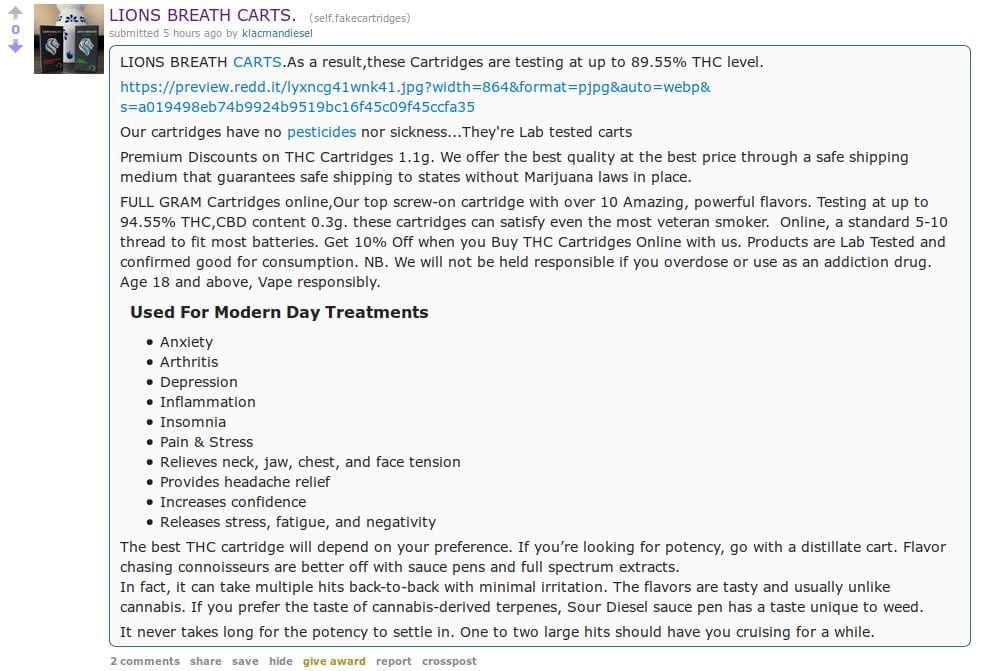 The FTC has already come down hard on medical benefit claims even for CBD vapes, so this Lion's Breath seller is committing even more blatant fraud. The claims on this Reddit post are far and above everything even suggested in medical research. Not to mention being a black market offering, so it's even worse to consider unsafe ingredients being sold as medicine.
UPDATE September 21, 2020 – How about a REAL lab test done by a neutral third party? A lab test result on a street cartridge bought off a plug shows a Lion's Breath cart with less than 3% THC.
Lion's Breath is not the only company we've caught falsifying lab results
We run into these on and off lately for suspected black market brands. Frequently a test will post on Instagram, the favorite platform of fake cart brands. Readers, we'll turn the mike over to you here in the comments or in our forum.