REVIEW OVERVIEW

SUMMARY

Here we review the Kush Herbal Wraps - Berries flavor, and we liked it!
The blunt wrap is a category of cannabis accessories that will have a ring of nostalgia for many. DabConnection kicks it old-school today with a review of Kush Herbal Wraps. We're going with the Berry flavor this time.
What you get in a Kush Herbal Wrap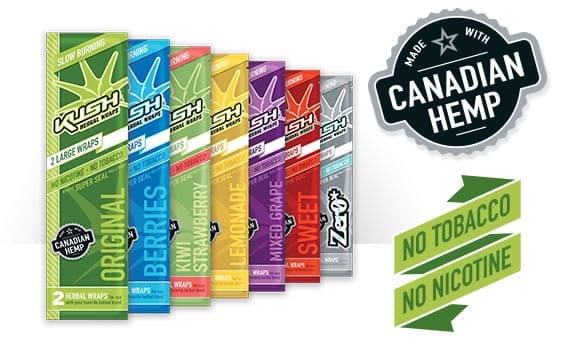 Kush Herbal Wraps come in two to a pouch. They're billed as 100% free of tobacco and nicotine. They have a "Super Seal," which is a glue-free design. And they're sold as "Made with Canadian Hemp." If it makes a difference to you, there you go. Likely the big "Canadian hemp" blurb has something to do with the Canadian Hemp Trade Alliance (CHTA), which since 2003, "promotes Canadian hemp and hemp products globally."
Let's roll one!
Videos speak for so much more when it comes to smoking experiences, so here's our Dab Connection staff expert testing it for us. See how hard we work?
The verdict:
This tastes like berry, and not the artificial candy berry either, but an actual juice berry. It had a pleasant berry aroma too. It was fresh and moist out of the packaging, and easy to roll. And it was slow-burning and burned evenly. These are a step up from the original blunt wraps you used to find at the counter of convenience stores.
Here's a Blunt trivia…
Blunts were originally named after the Phillies Blunt brand of cigars. You'd hollow out the cigar and substitute your own herbal filling. Even after blunt wrappers were originally sold stand-alone, they'd still be made from tobacco leaves because "No, officer, there are for tobacco use only!" But now that cannabis is coming out of the legal closet, we're seeing this new generation of hemp wrappers coming out.
Any Kush Herbal Wrap smokers out there?
What are your experiences with blunt wraps? We'd love to hear all about it in the comments below or check out our own forum.