REVIEW OVERVIEW

SUMMARY

The flower smells great
I received three jars of Delta 8 flower from Ethereal Gold Dispensary: High Hopes Sour Suver, High Hopes Sour Hawaiian, and Hometown Hero Raygun. I sniffed and held and smoked a little of each and there was an instant favorite – by a mile! The Hometown Hero, Raygun has a distinctly sweet aroma and a sugary flavor, smooth and rich. It leans towards a sweet cigar vibe. I loved it. After sharing the three strains with a friend our unanimous, hand-down favorite is Raygun. I love the label too, that is in support of veterans.

The Raygun was my favorite
The Sour Suver and Sour Hawaiian were also sweet-leaning and rich smelling – just milder. They each brought a nice buzz, but I found them both a little harsh on the throat. The Raygun, however, was just a delicious, in-your-face, yet smooth kiss of sweetness, not harsh at all. Yup, that's my jam. I would very much enjoy each of these products on their own. Having all three in the room at once, I'm going straight to the Raygun. There is something special about it. 
Perusing the massive Ethereal Gold Dispensary web store I felt the prices were reasonable. I'm very happy with the high I get from all of these flowers, just love the Raygun.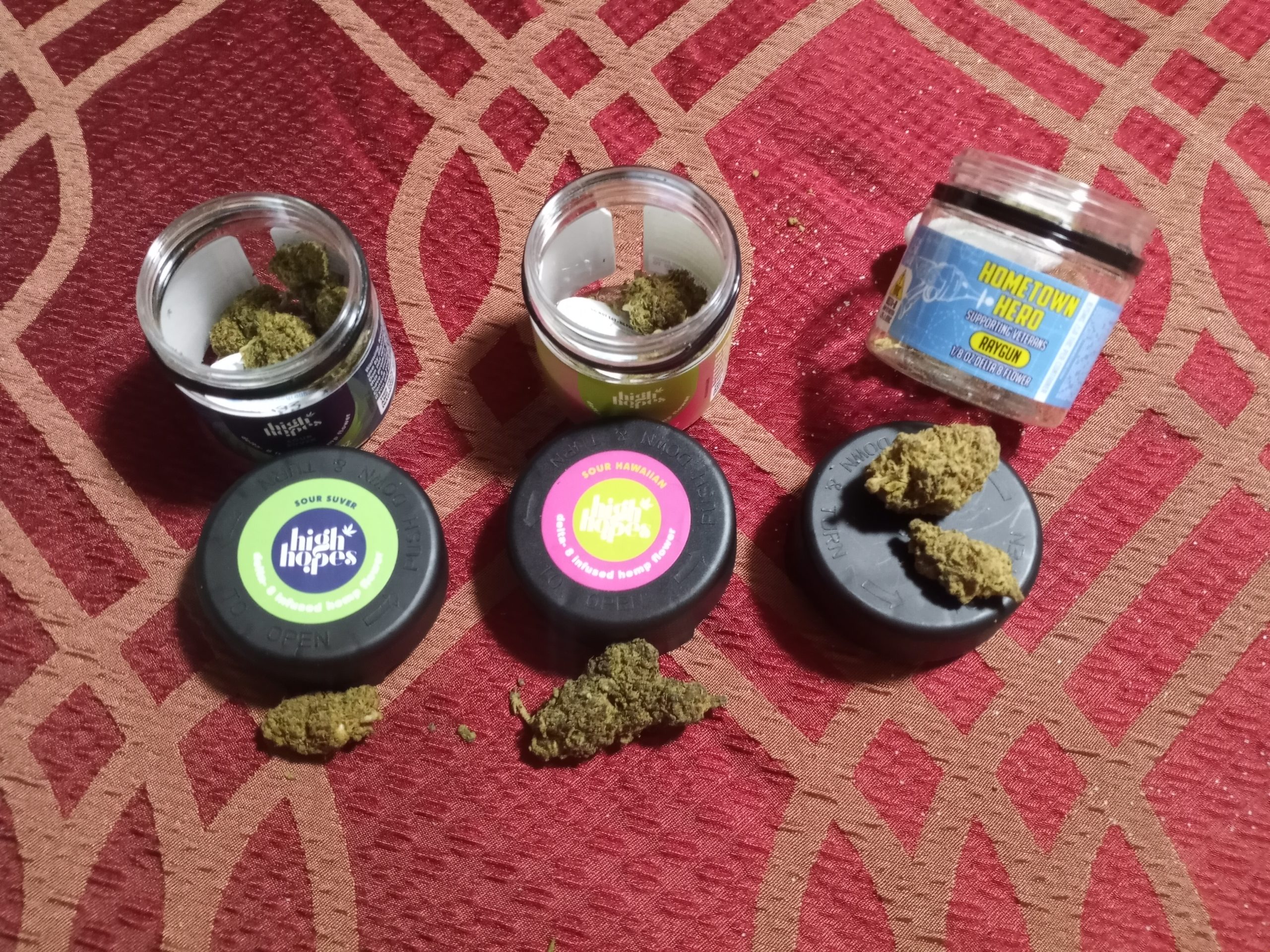 Bottles can be a bit tricky
The Raygun is spendier than the Sour Hawaiian and the Sour Suver but I would pay for it. My only nitpick with these lovely products that I will savor to the last crumbs in the jar – I can't get those damn child-proof lids off! Seriously I really struggled with the lids and I don't get why? I usually have to find a child to get into bottles like that. Kidding, but I truly struggled with the lids. Otherwise, I give these products two bongs up!
You can find out more about Ethereal Gold Dispensary products here. Current prices of the reviewed flower (High Hopes Sour Suver and  Sour Hawaiian 3.5g – $19.99) and (Hometown Hero Raygun 1/4oz -$19.99).
Have you tried High Hopes and Hometown Hero D8 flower from Ethereal Gold Dispensary? Let us know in the comments or on our forum.