REVIEW OVERVIEW

SUMMARY
Today we will take a look at Delta Munchies, a popular new brand that specializes in Delta-8 products. They sent us a few samples of their rechargeable disposable darts and Delta-8 infused hemp pre-rolls. For this review, I will specifically try their rechargeable disposable darts.
Pros:
Solid design
Mild to moderate effects
Very good flavor
Perfect for beginners/low-tolerance users
Cons:
Flavor for Strawberry Haze could be improved
Recommendations: None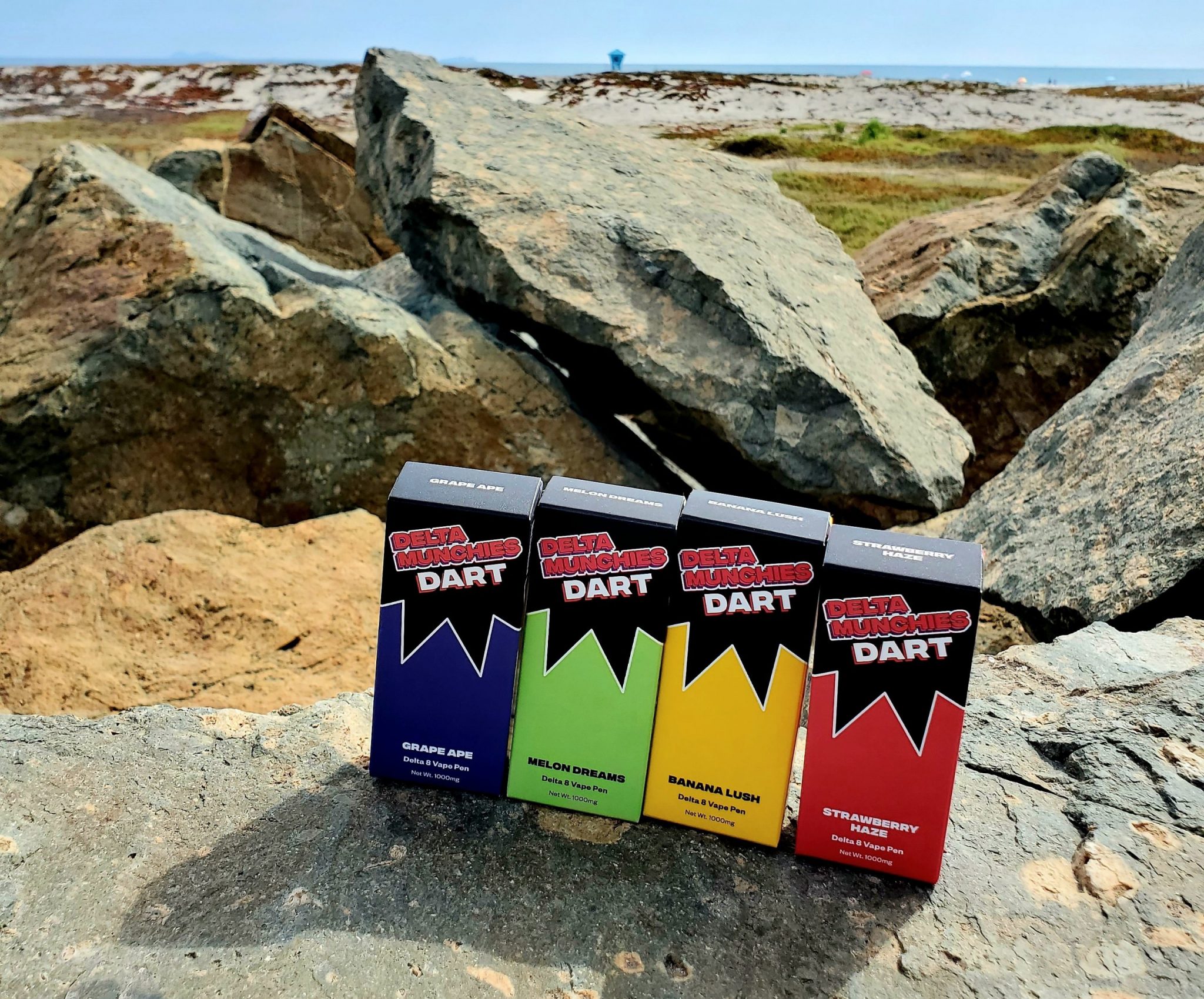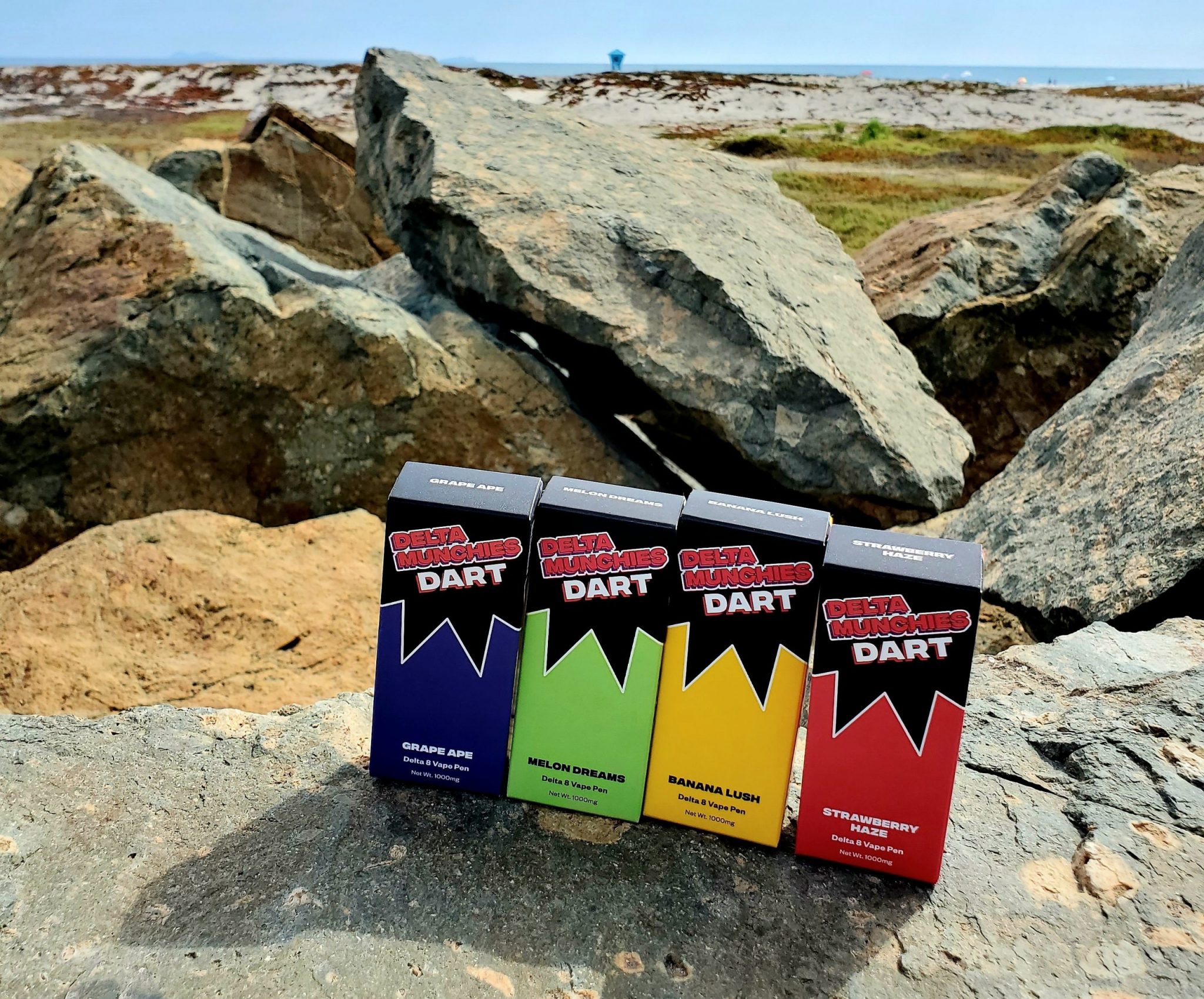 Delta Munchies darts are currently available in four different flavors
Delta Munchies rechargeable disposable darts come in a stylish-looking black pod that is conveniently draw-activated. Each dart contains 100% hemp-derived Delta-8 THC with less than 0.3% of Delta-9 THC. You can find out more about Delta-8 here. The packaging of the darts is color-labeled by flavor. They are currently available in four different flavors, which are Melon Dreams, Strawberry Haze, Banana Lush, and Grape Ape. The darts have a slim ergonomic build that feels comfortable in the palm of your hand. Its compact design makes it easy to use discreetly where cannabis usage may be restricted. To my surprise, there is also an impressive amount of vapor production with these darts, especially if you cover the USB port at the bottom of the dart.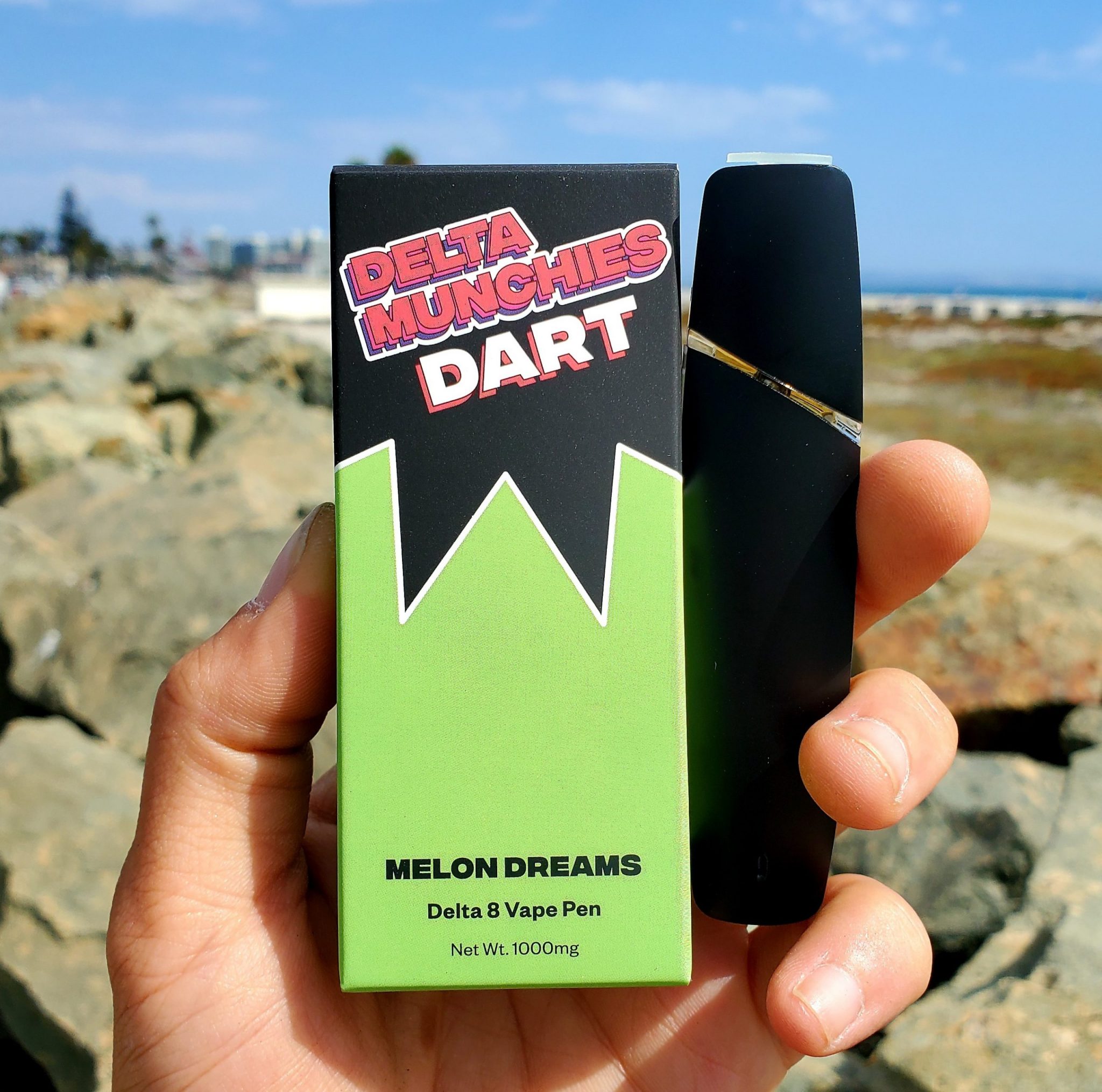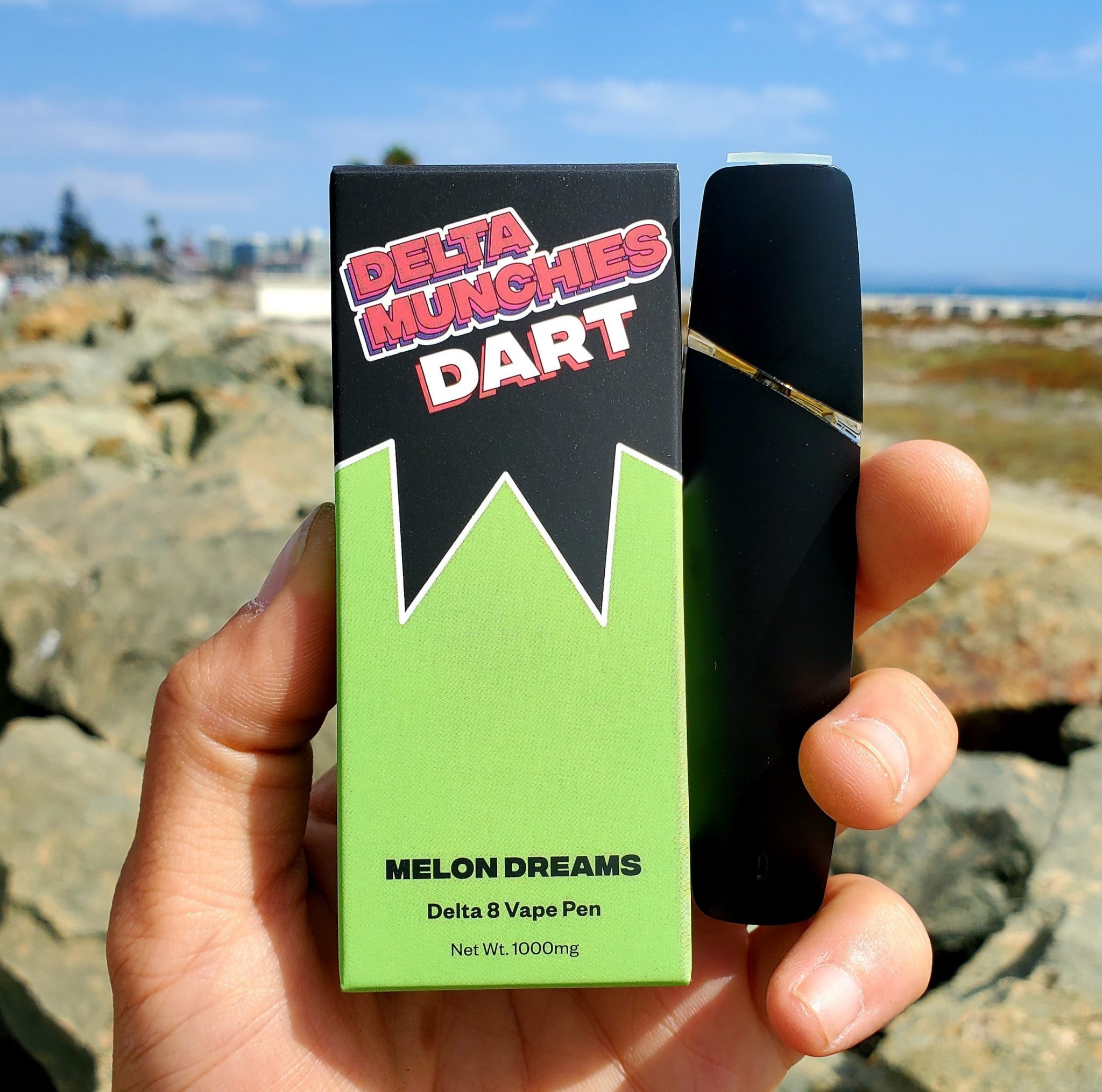 My favorite was Melon Dreams with its refreshingly tart flavor reminiscent of sweet honeydew
First, I tried the Banana Lush, which has a creamy tropical flavor reminiscent of banana taffy. The effects of Banana Lush felt mildly relaxing yet slightly uplifting, which make it perfect any time of day. Then, I tried the Grape Ape, which has a sweet grape flavor with hints of lavender. The effects of Grape Ape felt slightly more relaxing than Banana Lush, which makes it perfect for evenings. The best of the four strains was easily Melon Dreams, which has a refreshingly tart flavor reminiscent of sweet honeydew. The effects of Melon Dreams felt more evenly balanced, landing somewhere between the uplifting Banana Lush and the relaxing Grape Ape.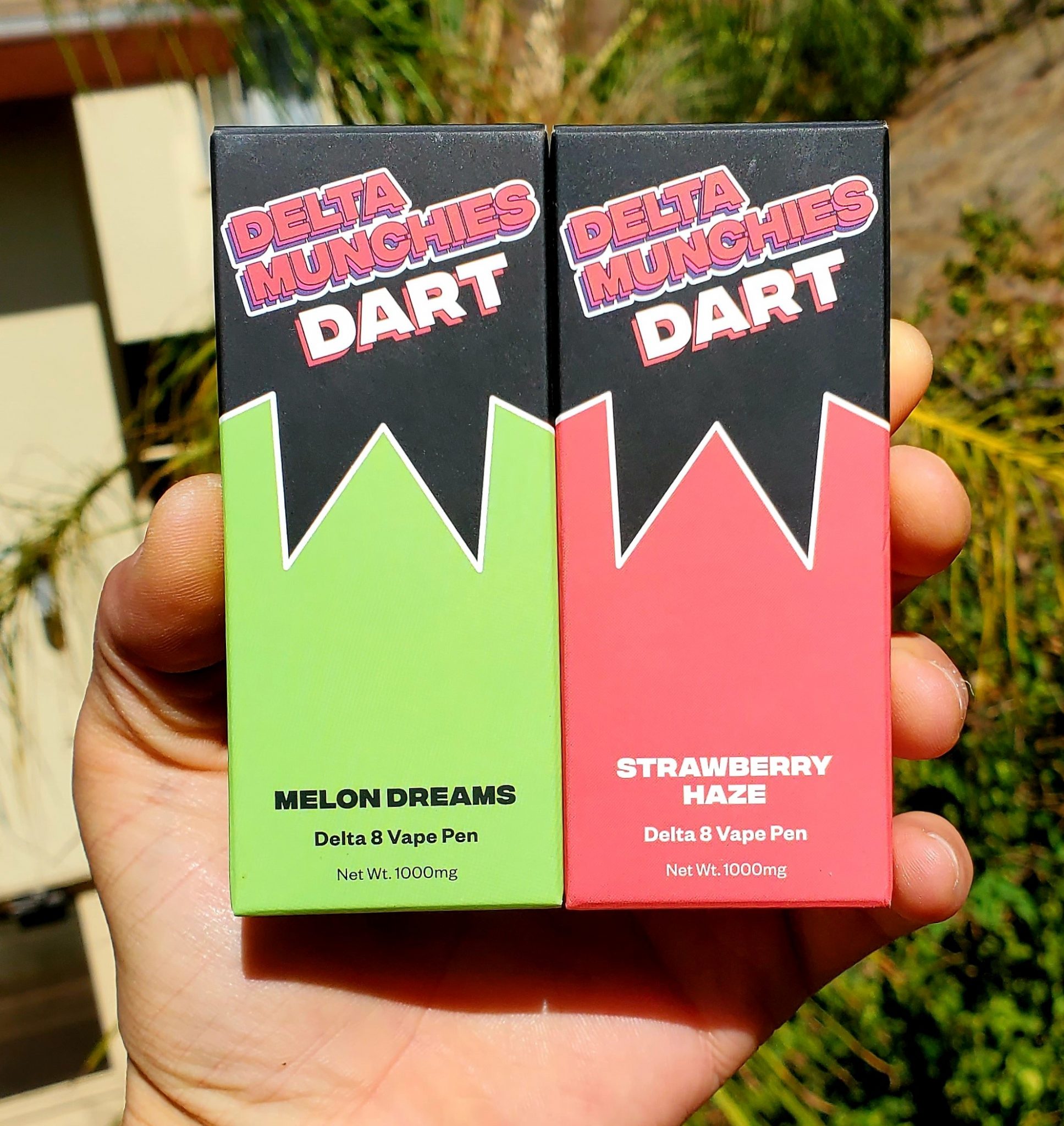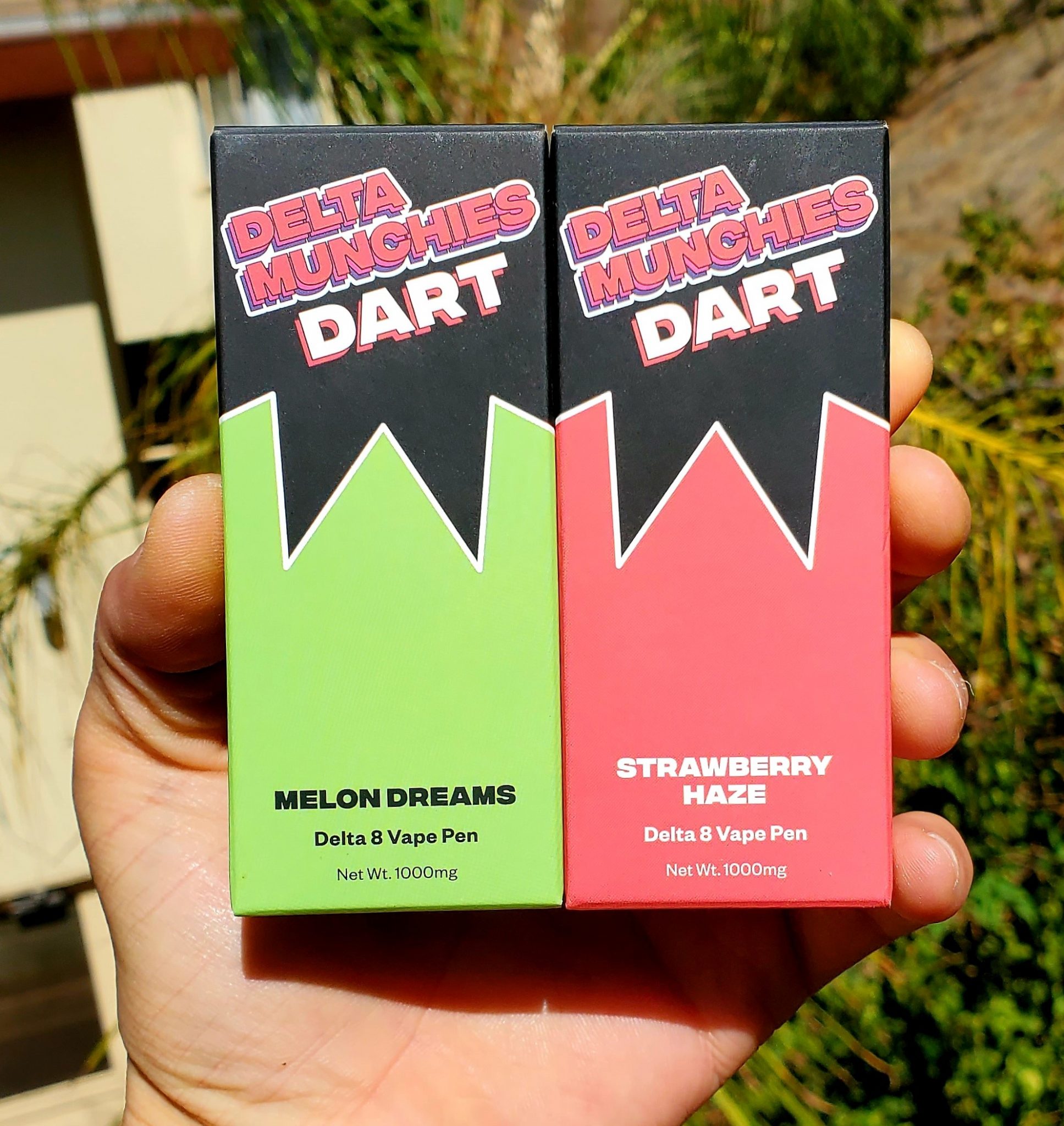 My least favorite was Strawberry Haze with its overpoweringly spicy cinnamon flavor
However, my least favorite was the Strawberry Haze, which didn't taste like strawberries at all. If there's any fruity strawberry flavor, it is overpowered by a spicy cinnamon flavor. It also felt a bit harsher than the other three darts from Delta Munchies. The effects of Strawberry Haze felt similarly uplifting and mildly relaxing as Banana Lush. In fact, I feel like Strawberry Haze should be named Cinnamon Haze after its spicy cinnamon flavor.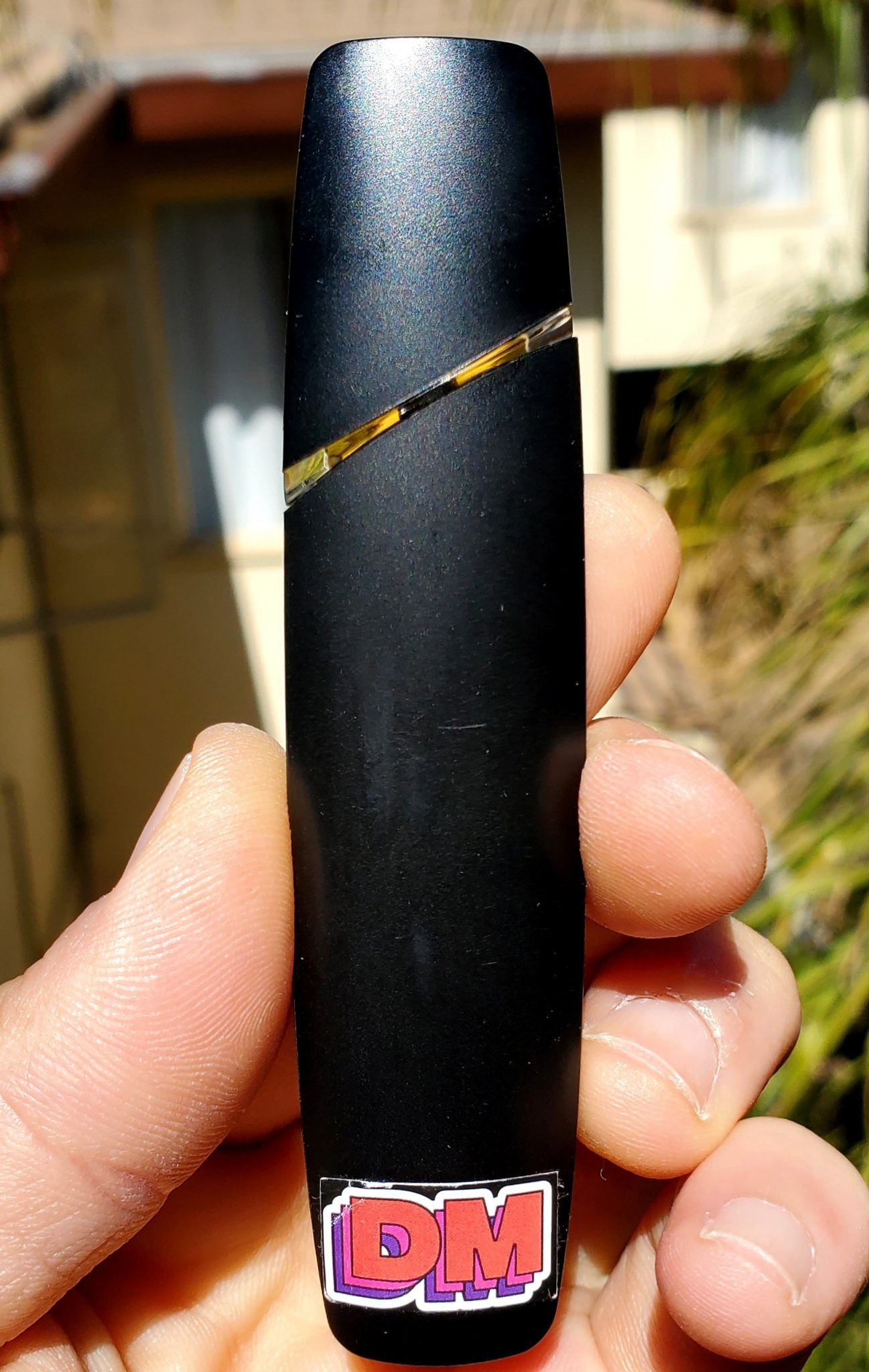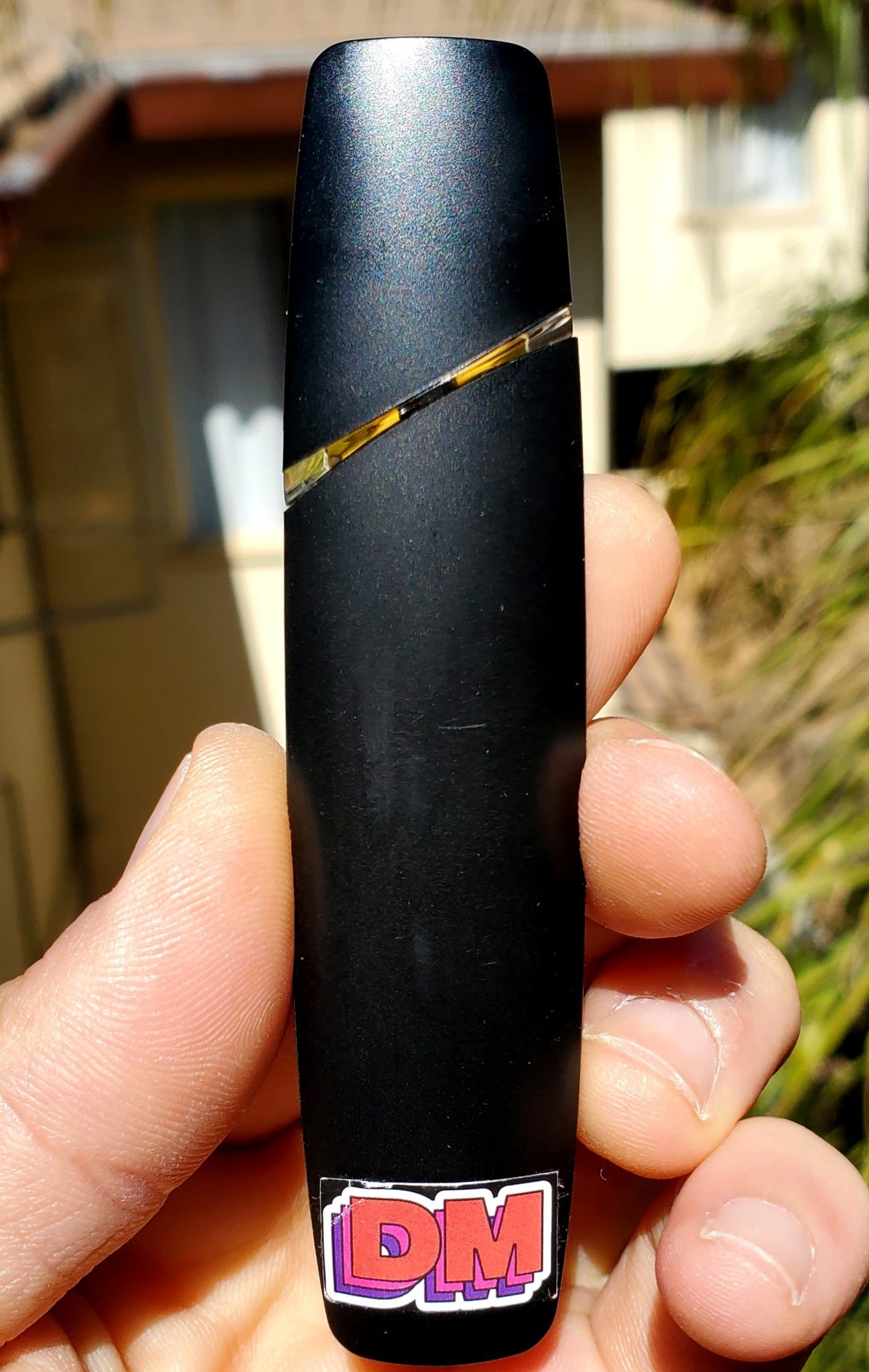 Banana Lush and Strawberry Haze is recommended for daytime while Melon Dreams and Grape Ape is recommended for afternoons and evenings
DM darts are available to purchase on their website for $40 for a gram plus shipping. In my opinion, I'd recommend the Banana Lush, Grape Ape, and Melon Dreams over the Strawberry Haze, which was the only one that was lacking in terms of its intended flavor. Banana Lush and Strawberry Haze felt great during the daytime while Melon Dreams and Grape Ape felt great for late afternoons and evenings. 
Delta Munchies Banana Lush COA     Delta Munchies Grape Ape COA   Delta Munchies Melon Dream COA   Delta Munchies Strawberry Haze COA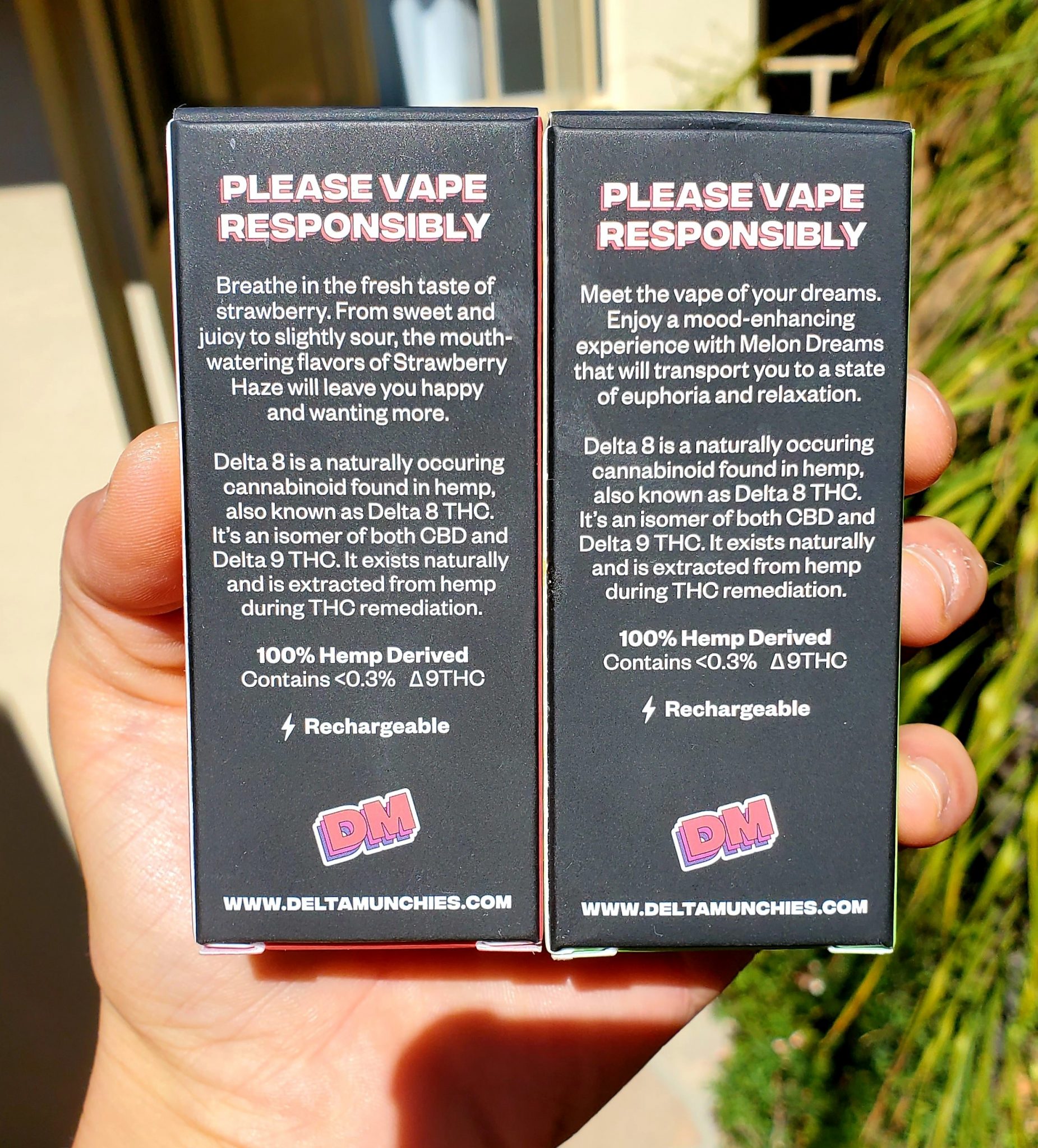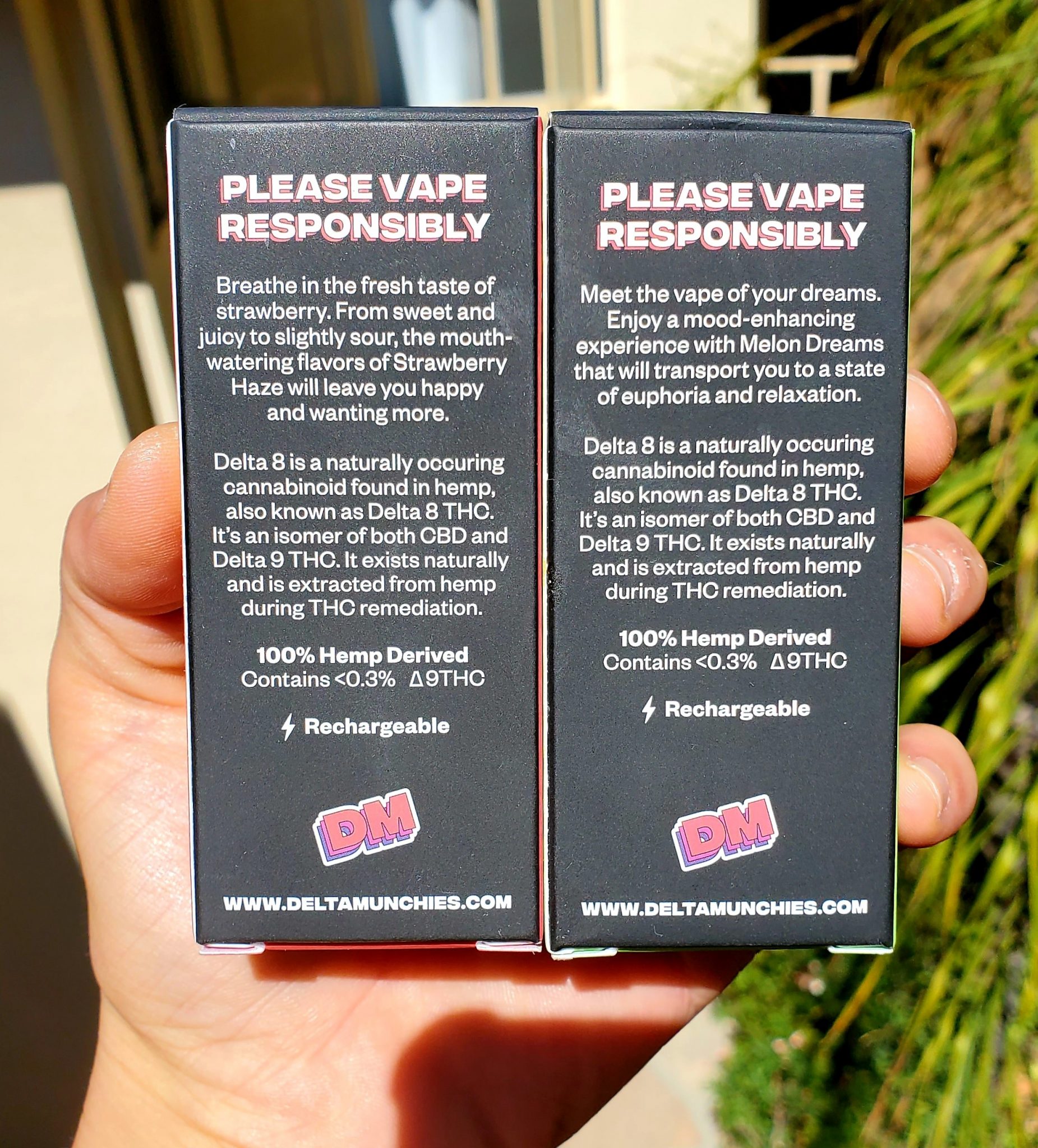 Delta Munchies delivers a satisfying middle ground between CBD and Delta-9
While not quite as potent as delta-9, each dart delivers a mild to moderate yet unmistakable euphoria without feeling incapacitated. Although each Delta Munchies dart is slightly different in terms of effects, they deliver an overall satisfying middle ground between the non-psychoactive effects of CBD and the more euphoric effects of Delta-9. This produces a more functional, less intense, and clear-headed high with some of the same effects as Delta-9. 
View this post on Instagram
Overall, Delta Munchies is recommended for delta-8 fans

To summarize, I would highly recommend Delta Munchies for anyone who might not get as much relief with CBD, but feel that they get overly paranoid and/or too anxious with Delta-9. While Melon Dreams was easily my favorite of the Delta Munchies darts, Strawberry Haze was easily my least favorite flavor. Delta Munchies currently offers their rechargeable disposable darts, Delta-8 infused hemp prerolls, gummies, and tinctures exclusively through their website.
Have you tried Delta Munchies? Let us know in the comments or on our forum.