REVIEW OVERVIEW

SUMMARY
How are all my beautiful cosmic blueberries on Spaceship Earth? We're 48 hours away from 4/20 as we write. And I've chosen this week to honor Botany Farms with a word on some of their products which, I'd say, don't get their share of attention. Specifically, their D9 and D8 gummies, and also a special mystery "we smoked it already" review of their prerolls.
However, we'll dwell mostly on the gummies for ratings here.
See our full video review of Botany Farms Gummies here.
Pros:
Sweet and tasty with no aftertaste
Top-quality
Potent effects
Fair price
Outstanding packaging
Cons:
Recommendations: Keep being awesome!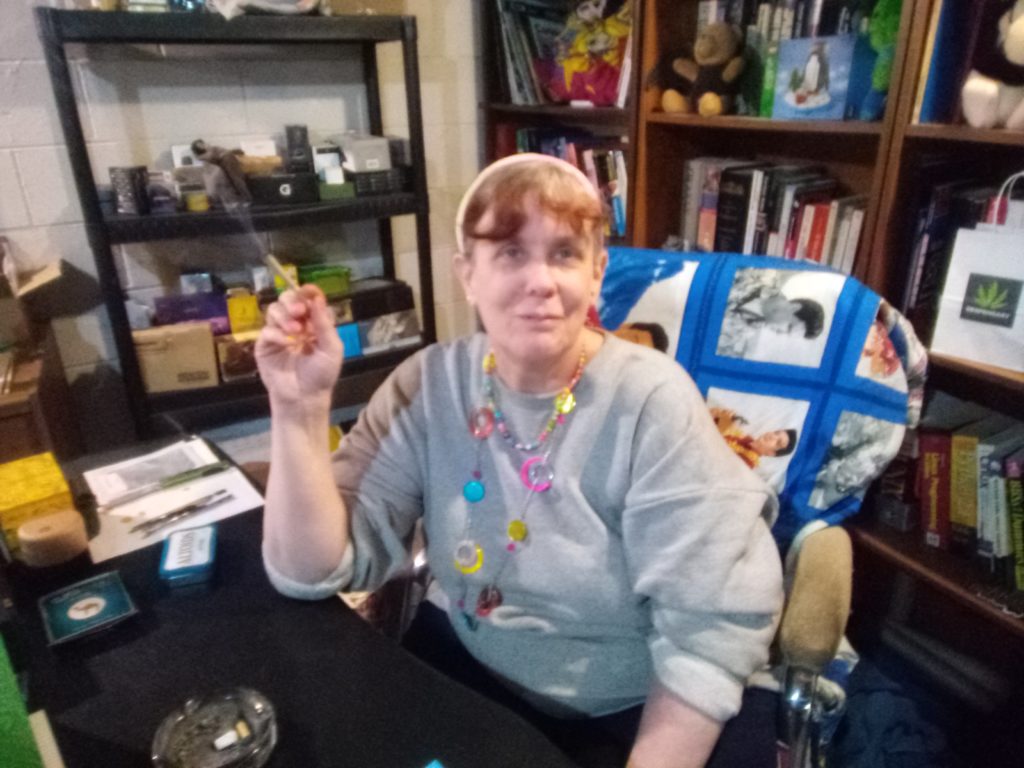 Botany Farms Delta 8 Prerolls never stick around long!
For one thing, there is my partner in life for 30+ years: Mrs. Penguin, shown behind the scenes here helping me test these pre-rolls. Even with 2 pre-rolls per tube, a joint has a snowball's chance around the Penguin household in any case, let alone those made with Botany Farms' artisinal flower and especially around 4/20!
So I didn't get many photos. That said, what does a photo of a pre-roll do for you? You've seen one, you've seen them all. You can get a look at the two tubes, in the ensemble photo: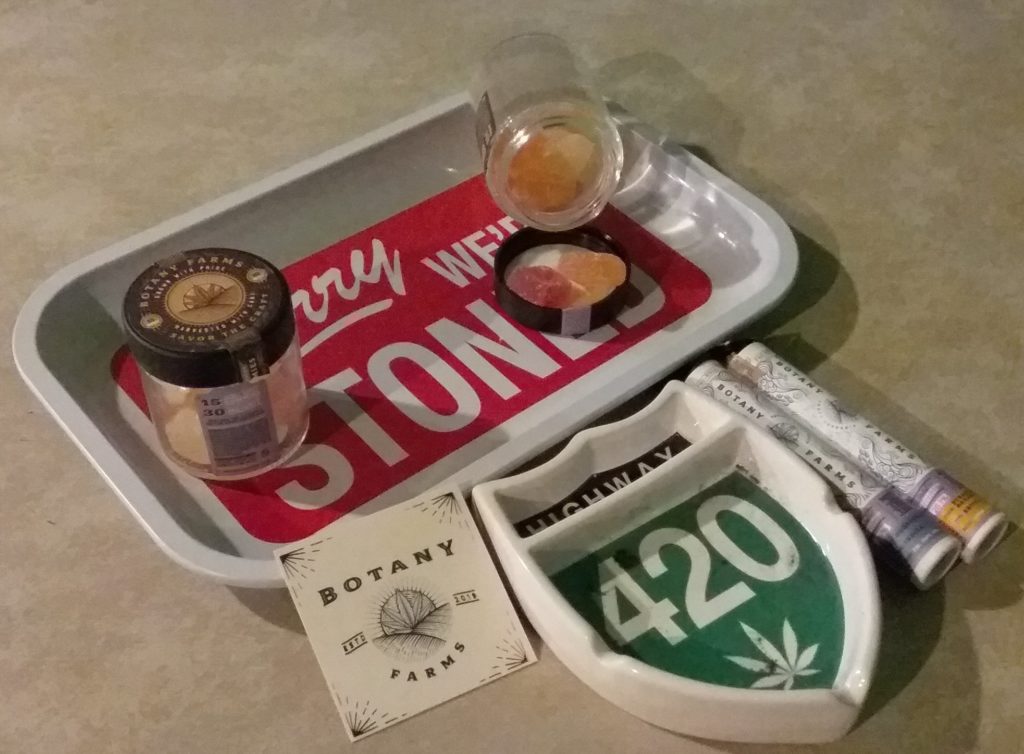 This time we got 2 strains of pre-rolls. I preferred the hearty, bold flavor and effects of Godfather OG, while Mrs. Penguin went for the sweet taste and mellow effects of Strawberry-Banana Kush. Both of these were farm-fresh, smooth, enjoyable smokes from the first puff to the last. Botany Farms' flower is always at the highest quality standard, with a consistency that has made them one of my go-to brands for online ordering.
Also pictured, my new "Sorry,we're Stoned" rolling tray – huge! – and that Highway 4/20 ashtray, both of which were seasonal finds at out local shopping boutique. Here's more merch from the same store: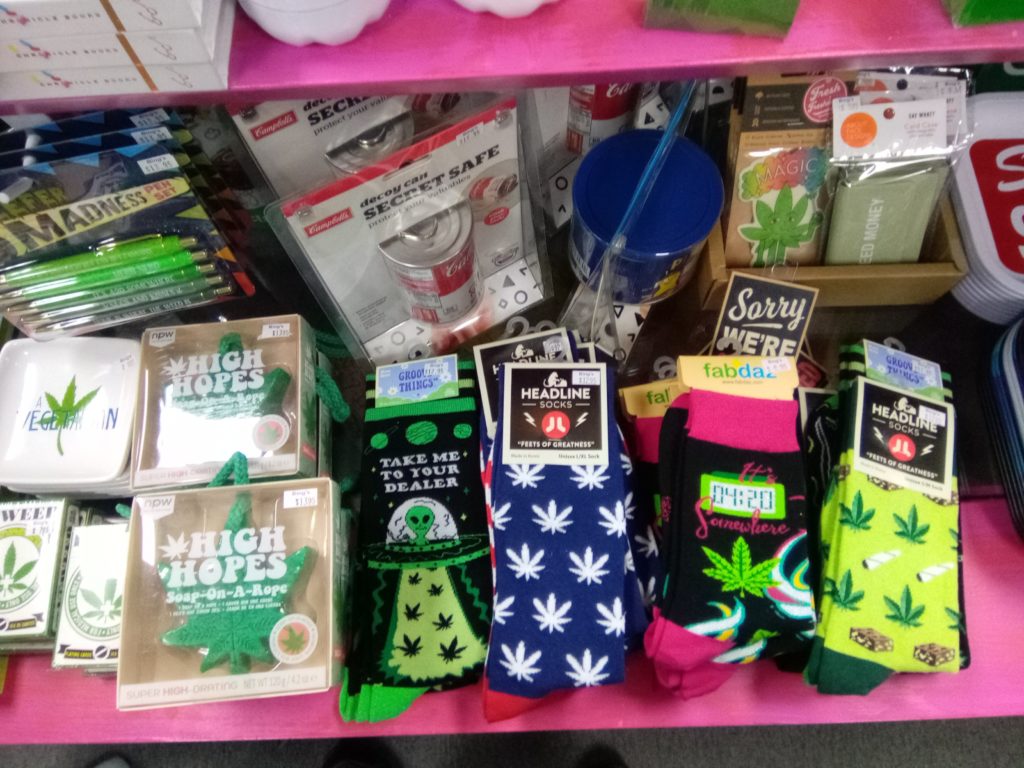 Those alien "Take me to your dealer" socks almost sucked me in. I loved seeing this because it's an important sign of the times. If a mainstream store like Bing's (Historic Valley Junction, Des Moines, Iowa) can openly display stoner gear in the heart of a conservative state like Iowa, maybe we all have hope of eradicating cannabis' stigma.
Onward: Gummy time!
While it's tough to stand out in the gummy market, Botany Farms at least manages to lead the pack. Both jars are an assorted variety. The THC gummies at 10MG and the delta 8 gummies at 30MG are equivalent in dosage, so that three or four of them dosed in the morning does me for the day, whether all one or the other or mix-and-match. Botany Farms' gummies are always safety-sealed, preserved fresh, tasty, and free of any weedy undertaste. The effects are always top-notch potency, albeit without entourage effects from the full spectrum.
So the only thing keeping these from being my *favorite* gummy is because there are live resin / full spectrum gummies out there. That said, Botany Farms gummies are the highest standard for regular cannabinoid gummies, and their price makes them an attractive option for online shipping anywhere.
Botany Farms has continued to impress
Across the other reviews, we have of their products by our handful of reviewers, we've never found anything to complain about from a Botany Farms product. They put more care into their products and it shows, as simple as that. Readers, share your experiences with Botany Farms here in the comments or in our forum.