Questions continue to pop up every day about the THC vape cartridge brand Big Chief Extracts. We've researched this fast-moving brand for months now, and as of now, Big Cheif is a registered brand.
---
UPDATE disclaimer: Big Chief seems to be a pretty controversial brand out there. We here at DabConnection would like to clarify that this post is not an endorsement of the company's legitimacy, quality, or business practices. Our sole mission is to help cannabis consumers find out the truth. We stand by our objective and fair research, which is made to the best of our ability.
SUPER DOOPER Update: We added on a whole other Big Chief Extracts post, where we try some more to verify this company. Turns out we're even more disgusted with Big Chief there than we are here. With the uproar, we raised out there. Maybe that was telling us that Big Chief is too janky a brand even if we do dig up a license.
UPDATE 8/21/2020: Big Cheif's license is reinstated. Big Chief is officially back on the straight 'n' narrow, though the legion of counterfeits out there remains.

---
Get ready for a long, complicated story…
Fact #1: There are black market fake Big Chief carts available
Recently in our forums, your Present Author reported finding a whole batch of empty vape cart distributors online. Previously only sites like DHGate and Alibaba were the known prime conduits for counterfeit cart packaging. But the rising proliferation of the vape cart black market has spawned a half dozen imitators.
One of those retailers is where we find this: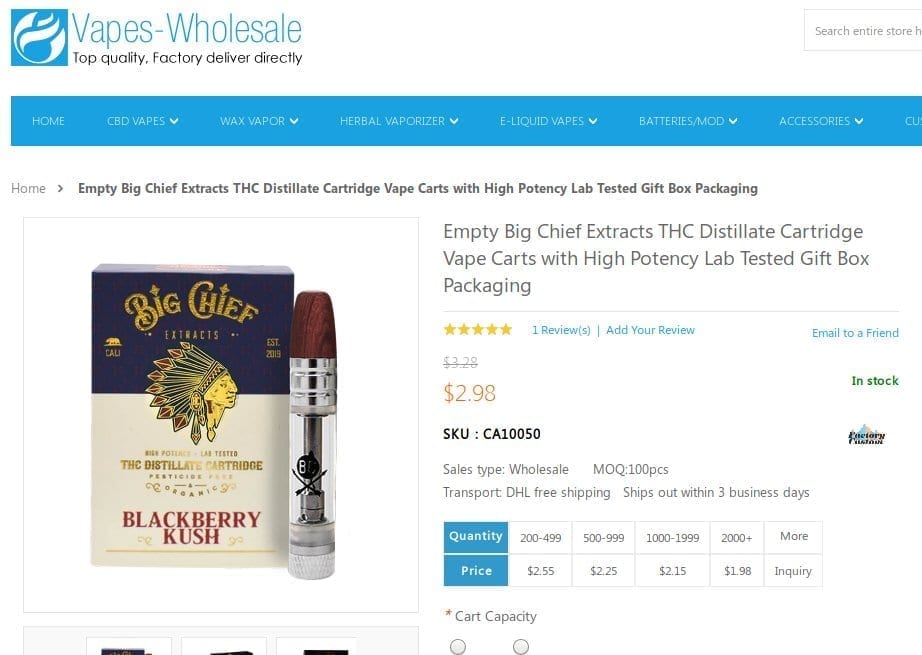 So there, incontrovertible proof that $2.55 will buy you at least 200 empty Big Chief Extracts cart packaging. We also did find a Big Chief packaging offering on DHGate after all: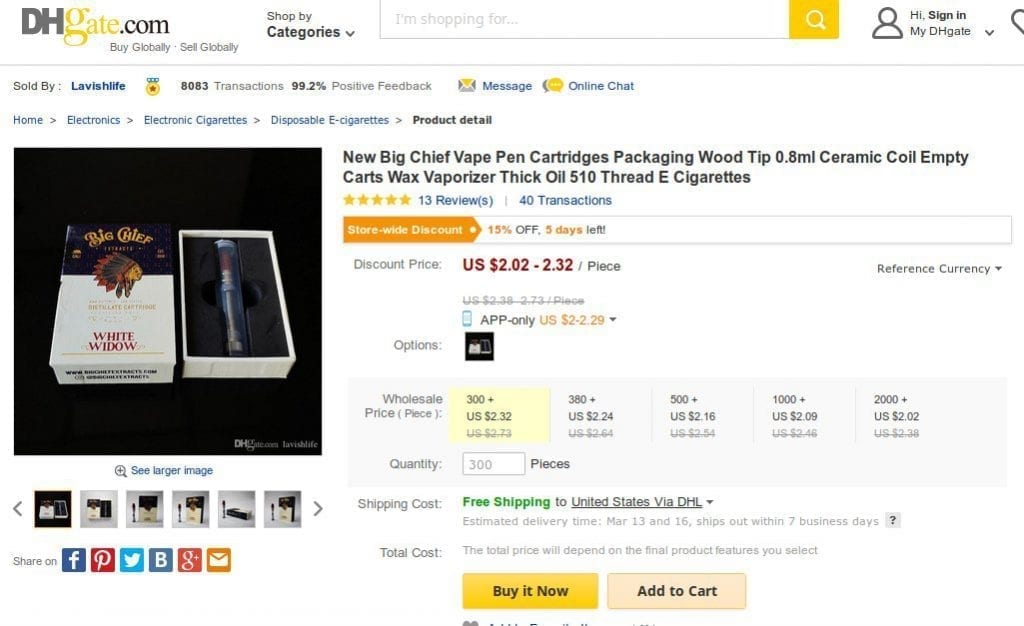 So we have to conclude that regardless of the company's legitimacy. There's a chance that Big Chiefs bought off your local street plug are fake.
Note that the listing on Vapes-Wholesale there says "lab testing" – isn't that a funny thing to put on an EMPTY cart? Let us explore that aspect:
Fact #2: QR Codes on Big Chief packaging is sometimes invalid
Just recently, a Redditor apprehended a Big Chief box. The photo is helpfully a clear shot of a QR code.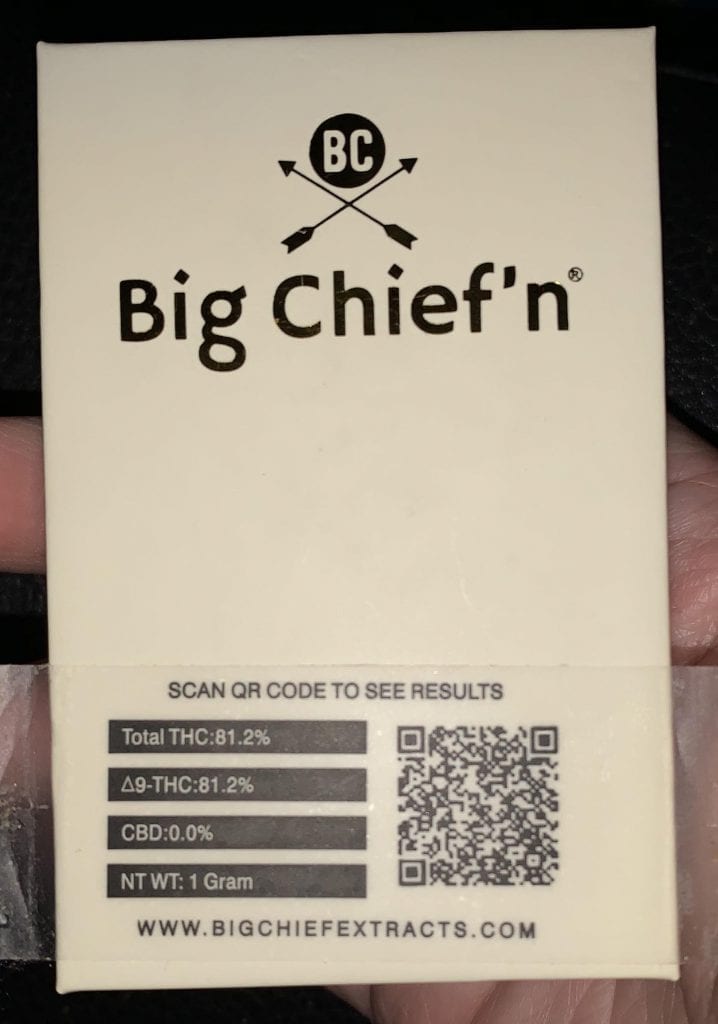 That QR code goes to this link. It's the 404 page for Confident Cannabis, saying the requested sample is not found. Confident Cannabis, as far as we've been able to figure out, is a software / B2B service for cannabis laboratories, but they will also host lab results. If these boxes are being sold on the black market with a QR code printed on the package like this, then they'd naturally all go to this 404 page.
This ties in with a disclaimer made by Confident Cannabis specifically about Big Chief, calling them out for misrepresenting lab results. This was posted by a moderator at Reddit's clean carts forum. Now it's impossible at this point to pin down whether it was a black market package or a package produced by the "company" (we'll get to that part) itself. But the one fact we can nail down is that there are QR codes on some Big Chief boxes which go to bogus lab results.
We just got done raving about these bad-faith lab test result practices back here. Indeed, that other brand also tosses around the name of "Confident Cannabis" on some misrepresented lab results.
Fact #3: We've found Big Chief being sold directly by vendors online, probably which are fakes
A sure sign of at least a counterfeited brand, if not a black market brand, is vendors openly advertising to sell the product directly online.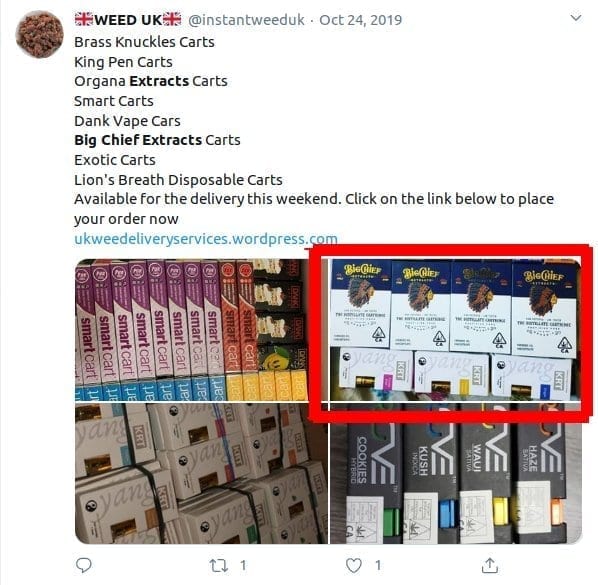 There was also a Twitter user who reported back five months ago doing likewise, but that account has since been vacated.
And we find this report of somebody buying a Big Chief cart through Twitter and ending up on a ventilator.
Speaking of social media, we have found no less than four Instagram accounts claiming to be Big Chief Extracts: Bigchiefextracts2, bigchiefextracts (set to private), bigchief_extracts_mx, and bigchiefsextractsofficial (likewise private).
Big Chief's info has not always been there
At least two of those Instagrams link to an official website. To be sure, a product verification method is posted right on the front page. So, is this an actual, legit company, at least? Well, that part seems to be complicated. According to whois, the site has been registered since February of 2019. And yet this is their "about us" page: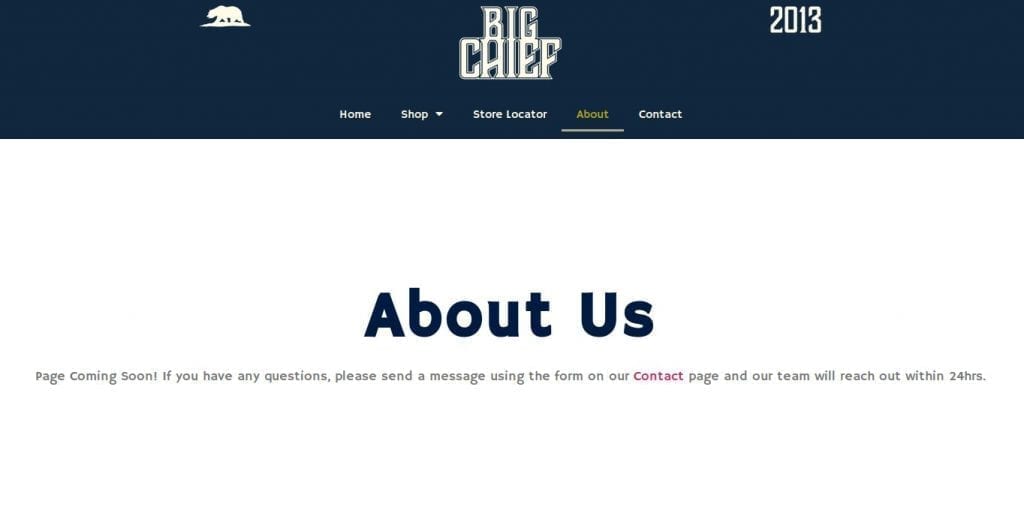 OK, a whole year is too long to not finish building your site! Especially when there's a runaway counterfeit of your product out there.
Incidentally, the Big Chief website does point to one of the four Instagrams. It's one of the ones set to PRIVATE!
Once upon a time when a Big Chief lab test page was visible. It showed the testing party as a company called "Cali Blue Sky Investments, LLC." License # C12-0000254-LIC checks out at the California BCC currently – but it was suspended before and has now been reinstated. However, we can't find any official website for Cali Blue Sky itself. We do find records of this company popping up on sites that track this sort of thing, and they're only listed as a "domestic stock" company.
It's funny that a domestic stock company would bother registering for a cannabis license in the first place. The California C12 license, as we show in our helpful guide, is for "Microbusiness": A small cultivator (less than 10K sq. ft.) acting as a seed-to-sale distributor. It's the only California BCC license where you can produce and sell your own extract without a separate CDPH license.
So this alleges, so far, that there exists somewhere in the world, a cultivation facility that is growing cannabis, extracting oil, filling carts, and distributing them under the brand name of "Big Chief Extracts." Wherever this place is, it is probably not at the address under the corporation listing. 1055 WILSHIRE BLVD, STE 1945, LOS ANGELES, CA, 90017. That's an office building. Meanwhile, the BCC's license sticks the company out in San Bernardino.
We got Cali Blue Sky Investments LLC on the phone
We did reach out to the phone number listed at that BCC record. The voice that answered affirmed that they speak for Cali Blue Sky Investments, LLC, and they are the makers of Big Chief Extracts. And we asked if they were aware of the counterfeits of this product flying around and the person responded they were well aware and were taking steps to mitigate that.
Here is the point we take exception with: We're a professional website invested in bringing cannabis product reviews and information to the public. And yet we had to do ALL THIS detective work just to tease out the fact that there is, indeed, some form of life behind the name "Big Chief." What chance does the average consumer on the street have?
About page
All it would take is five minutes just to fill in that "about" page. "We're a subsidiary of Blue Sky, license number so-and-so." Hundreds of other cartridge brands manage to do that. Why not make your Instagram page public, what are you hiding??? When you run a tightly closed operation with so little information getting out to the public, that's how counterfeit brands pop up.
As it stands, the actual company is so obscure and the counterfeits so widespread that it's listed on many "fake brands" lists. Right when we point to somebody about the Blue Sky license, it gets suspended. When it gets reinstated, nobody believes us.
Big Chief Extracts' web page offers just one other pertinent bit of information: a distributor's page. We did contact these two distributors and verify that yes, they do retail Big Chief, despite neither of them listing the brand on their own websites.
UPDATE 5/9/2020: Possible raid?
This is based on nothing but Internet rumors so far. But apparently, somebody out there thinks Big Chief carts got raided. All we're seeing is a bunch of Snapchat screenshots about this, with no credible sources. This screenshot, and this Reddit thread, seem to say so, while this screenshot is claimed to be the owner of Big Chief refuting the rumor and calling it fake news.
We have no idea what's going on. Until we find something substantial from an actual credible source we can't say anything for sure. We're just saving this story here for later in case it proves out.
Do we have to put out a bounty on a real Big Chief Extracts cart now?
If anybody out there is near downtown LA or Vista, California, and is a patron of either dispensary, could you be so kind as to flip us a phone photo of one of these actual carts? We're kind of anxious to see one to prove to ourselves we aren't crazy. Tell us more about Big Chief here or in our forums.