REVIEW OVERVIEW

SUMMARY
We're back with yet another gummy candy review. Somehow when they first said "legalizing pot," I never envisioned that it would lead to so many gummy brands. Despite the competition, Verma Farms CBD gummies are a cut above most, with excellent quality and presentation.
We have three varieties for this review: "Beary Beach," "Wahoo Worm," and "Tropical Cherry." They are priced on Verma Farms' site at $34.99, or they offer all three of these products as the "Fan Favorite Gummies Assortment Kit" for $99.00 – a modest savings.
See our video review of Verma Farms gummies here.
Pros:
Great taste!
No aftertaste
Fresh
Great packaging with clear labeling
Perfect potency
Cons:
So good, you have to stop yourself from munching through the whole jar in one sitting.
Recommendations: I do see that Verma Farms offers other full-spectrum products. I'd be interested in full-spectrum CBD gummies as well.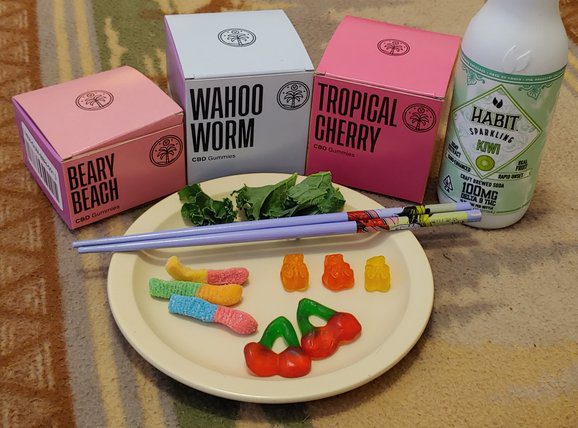 Perfection Starts With Packaging
All of these products are attractively packaged with designs, to quote Verma Farms' site, "inspired by the islands of Hawaii." All the boxes contain jars protected by freshness seal, and the jars are clearly labeled with ingredients, dosage per unit, and more.
While the names may be a bit "markety," I have to give them a point for creativity and staying on theme. Everything about these products shows that extra bit of thought and care went into them.
All three products have the same dosage, 10MG per gummy, and 25 units per jar. Yet we have a choice of three strikingly different flavors and even textures here.
A Gourmet Gummy Experience!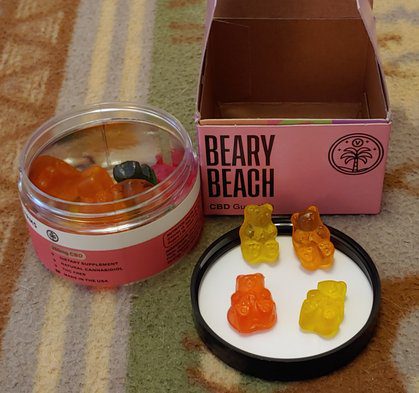 First off, we have the "Beary Beach" gummy bears. They are the softest of the three, and very easy to chew. They come in a rainbow of sweet, fruity flavors. As far as gummy bears go, these are as good as the finest I've ever had.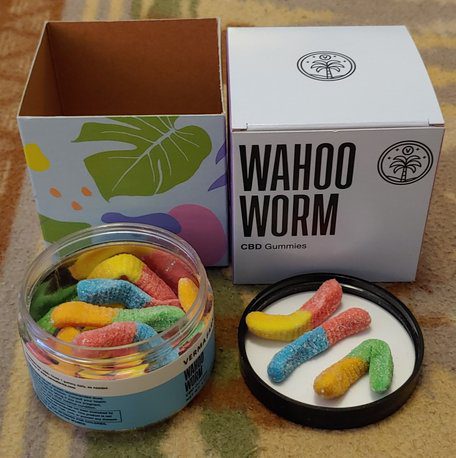 Next we have the "Wahoo Worm" gummy worms. They are the "sour gummies" texture with a sugar coating. Tangy fruit flavors again, short little guys with a delicious flavor.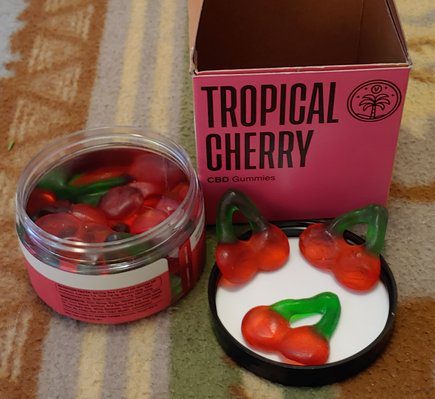 Bringing up the rear with the "Tropical Cherry" gummies. They're shaped like a cluster of cherries and deliver a bold and sweet taste. They're gummy texture, but a bit firmer than the bears.
All three deliver a 10MG dose of CBD, and we definitely feel the effects after taking a couple. Both my wife, Mrs. Penguin, and I are Generation Xers in our 50s, so we have the typical odd aches, pains, backaches, and insomnia to mark our advancing years together (30 and counting!). Her favorite is the Beary Beach. Mine is the Wahoo Worm. Verma Farms has a wide variety of edibles beyond just these three.
For all three products, we detect no sign of a cannabis aftertaste. You'd never be able to tell these from ordinary candies, and top-quality candies at that! They're effective at what they do; popping a couple provided relief from backaches and the like, and a couple right before bed helps us sleep like babies.
Verma Farms Gummies Are Top Quality
Given that the cannabis gummy market is absolutely saturated, I'm impressed to see a brand take such pains to get every detail perfect. I can't complain at all, but I would be interested in seeing a full-spectrum version of these.
Find out more about Verma Farms products here.
Readers, please explain the difference between a regular cherry and a tropical cherry – here in the comments or in our gummy-saturated forums.