REVIEW OVERVIEW

SUMMARY
So perhaps, you are one of the vaping elite proselytizers trying to get your friend into vaping. The trouble is, you can't start with a cartridge, because they have no battery, or can't start with a battery because then they still have to go out and buy a cartridge. What a predicament! (Work with me here.)
Then 2-in-1 kit packaging is what you need! Since the cost of getting started vaping tends to be more of a commitment than most first-timers prefer, TribeTokes offers this kit, their Saber 510-threaded battery plus a Delta 8 full gram cartridge. We're going to review them as the package deal they are.
See our YouTube review of the TribeTokes Saber battery kit here.
Pros:
Sleek and discreet battery design
Fits any 510-thread cart
Long-lasting battery with short charge time
Great hits
Fair price
Switchblade action!
Decently tasty and potent cart
Full spectrum oil
Cons:
Cartridge flavor is almost artificially sweet
Battery has no auto-shutoff feature
Recommendations: Considering adding that auto-shutoff if you want to keep up with the market.
TribeTokes offers a one-stop intro to vaping
The price for the Saber battery is currently $40. Meanwhile one of their delta 8 full gram carts normally retail for $60. So at the current price of the TribeTokes Starter Kit, $80 knocks $20 off the price. It's a good bargain if you happen to be in the market for a battery and cart at the same time.
You get:
1 Saber design 510-threaded vaping battery
1 USB charge cord
1 full gram cartridge of delta 8 oil
The Saber battery is pretty snazzy by itself. As many batteries as I've seen, I can appreciate good aesthetics and branding, alongside a solid mechanical design. The Saber battery functions great and looks great, with a flip-up cartridge mechanism that operates on the same principle as a switchblade. It just looks cool, and the folding action makes this an especially discreet choice for non-obtrusive vaping on the go. Among the most compact form factors you'll find in batteries.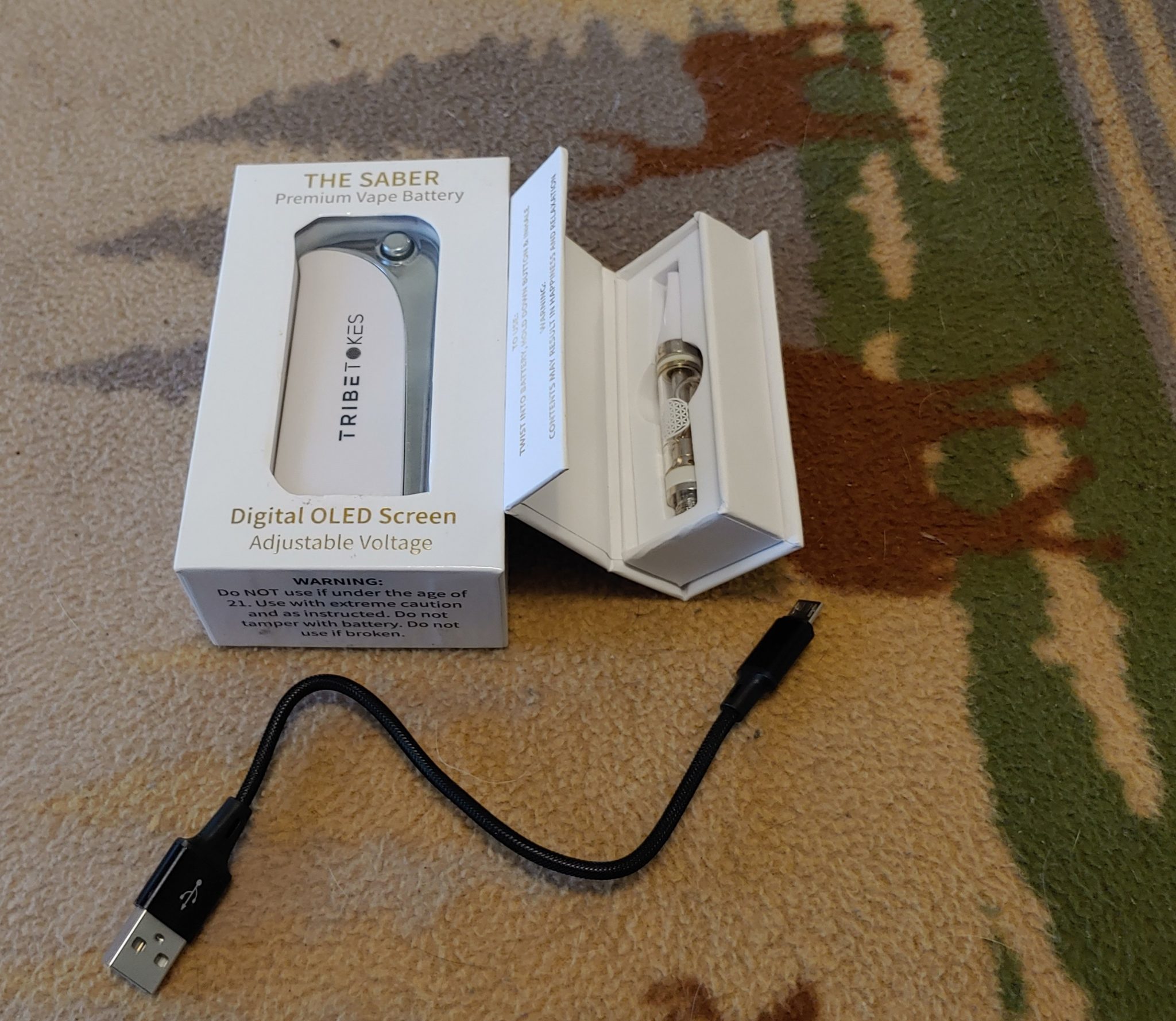 TribeTokes Saber meets or exceeds everything I expect from a vape cart battery
When we get to the buttons and digital readout, it's very standard. Top button X5 on, X5 off, hold to vape. Bottom button controls the vaping power, which is adjustable in 0.1 increments from 2.6-4.8 volts. I should mention the exclusion of one common feature: No auto-shutoff timeout. That can be a downside for absentminded geezers like us Generation X Stoners.
A word on battery power: My Saber arrived already at 75% battery power. Plugging into my USB port on my laptop charged it to full bars in minutes. Hence unplugged, this was my "daily vaper" for a week and the battery just ticked under 50% after that whole week. So the battery is impressively quick to gain a charge and strong enough to go a week without charging. I'd rank it at the high end in the battery power category.
The performance is also excellent. Before we consider the cart itself, the battery has top-notch airflow and smooth hits from start to finish. You can pull one heck of a blinker off this baby, as long as you don't mind killing a few brain cells. The flavor comes through and the voltage adjustment lets you dial in the perfect balance of flavors. In terms of hitting, this is top-notch.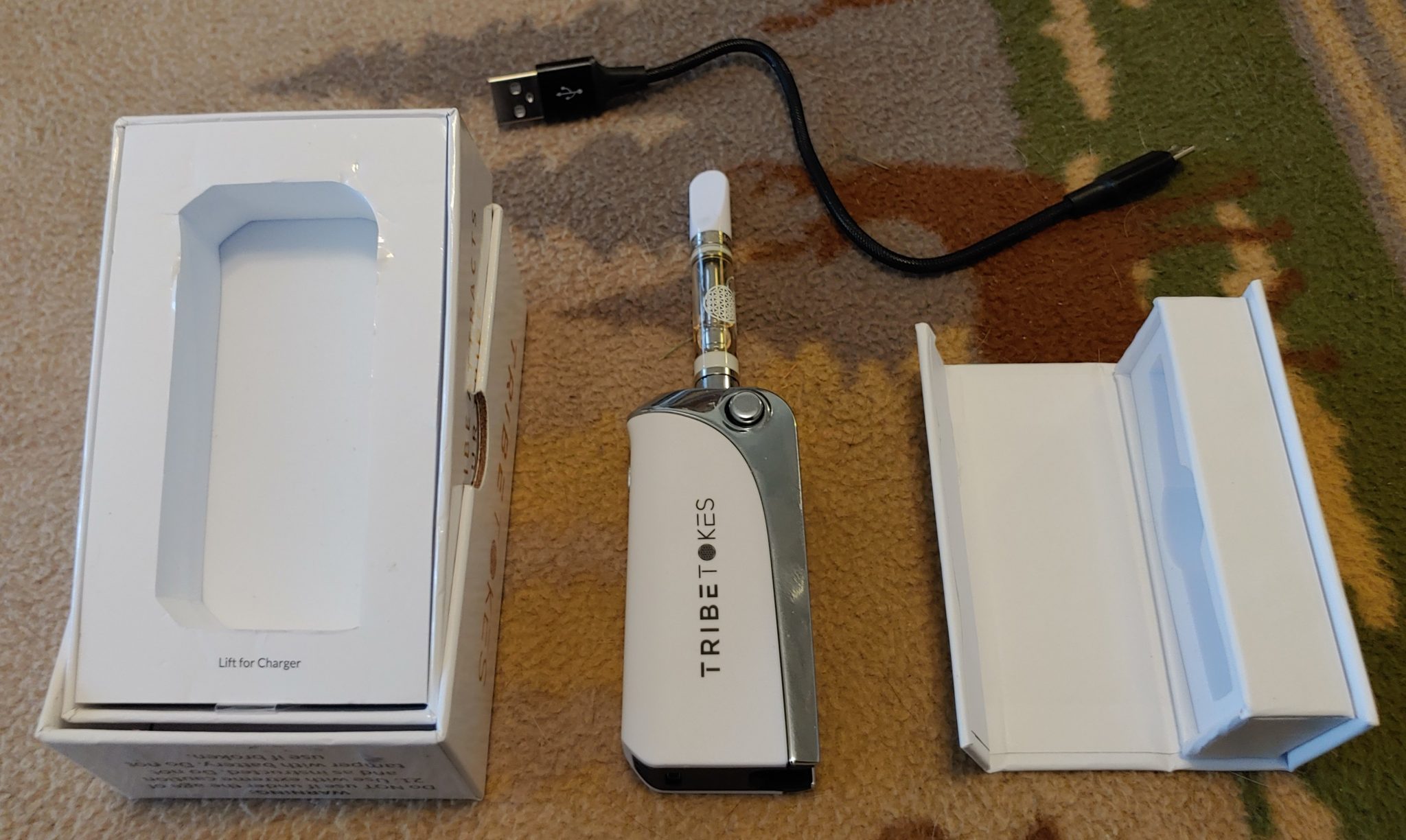 TribeTokes Delta 8 Full Gram Cart : Quite a lungfull!
The first thing to know about TribeTokes' delta 8 full gram carts is that they are full spectrum, but with delta 8 in place of THC. This extends to their terpenes, derived from cannabis / hemp itself rather than botanical terpenes. So you get full flavor oil, and you'd better be ready for it.
This particular strain is Birthday Cake Kush, a hybrid with not much info on it. It's from somewhere in the GSC / Cake strains. The thing to know is that this is the SWEETEST oil you will likely vape, which may pout you off if, like me, you lack much of a sweet tooth. The vapor has a perfume-like aroma thanks to the fruity, floral flavors of nerolidol, linalool, and limonene. It tastes just like birthday cake frosting with extra vitamin C. Pleasant in small puffs, but way too heavy a flavor for deep hits.
On top of this, delta 8 itself hits harsher than regular THC, so combine that with the flavor profile.
Your humble blogger confesses, I'm a bit of a spoil-sport when it comes to sweet flavors. I'm a lentil-boiling health food nut though, so take that into account. I know that sweet strains are here to stay, I just gravitate to the savory flavors.
Anyway: TribeTokes oil is good quality, lasting a fairly leisurely time. The effect was a mellow, balanced high that was both relaxing and uplifting, great for getting to your happy place after a rough day. Not too spiky or energizing though.

Overall, the TribeTokes Saber Starter Kit is good quality at a reasonable price
The Saber battery immediately became my favorite battery of the year so far just from the flip-action. The spring is strong with this one. You can't help playing with it. It's like a built-in fidget toy. The battery works good, looks good, and is small as a pack of gum. My only gripe in the battery is the lack of auto-shutoff after so much inactivity.
TribeTokes Birthday Cake Kush, delta 8 full spectrum cart, is a fair cartridge for standard delta 8 use. I'm not a fan of the sweet, strong terpene profile, and I'm not that into the Cake end of strains anyway. But the cart tasted good, at least, and had a good heady buzz to it.
Vapers, yield us your smoke-plume thoughts! Your experience with TribeTokes' Saber battery, cartridges, or other products may find a home in the comments below or in our swank forum.