REVIEW OVERVIEW

SUMMARY
Today, we again revisit the familiar "G Pen" logo, with a review of the Grenco Science Elite II dry herb vaporizer. Released in February of 2022, Grenco Science marked the 10th anniversary of the company. (Has it been ten years already?) Grenco Science touts this much time as their opportunity to collect community feedback and refine their design accordingly.
Pros:
Great airflow
Convection and conduction dual-heating system
Silicon sleeve for hand comfort
Cooling system for cooler vapor
Comes with hemp travel case
Cons:
Very expensive for a dry herb vape
Grows quite hot in the hand
Recommendations: N/A
An improvement on the original G Pen Elite
While we have reviewed several products from the Grenco Science line, we somehow missed reviewing the original G Pen Elite – perhaps because this site was barely getting started in 2016 when the original Elite came out.
The G Pen Elite II keeps the hand-friendly form factor of the original Elite, remaining discreet and portable. But it also crams in as many features as possible.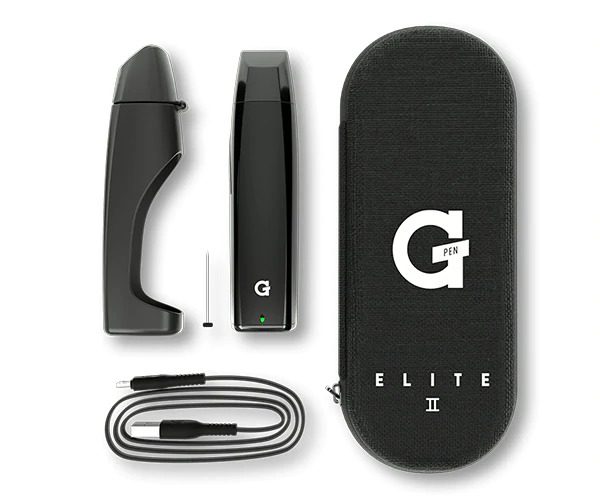 Unboxing to first cloud
You'll need to give it a USB charge, which gets the unit to full charge in a little over an hour. The chamber at the top is revealed by removing the magnetic mouthpiece, where you will find a generous compartment holding about 0.5 grams of loosely packed ground herb. Load it up and snap on the mouthpiece.
Hold the power button for 3 seconds to activate the device. Use the up and down buttons to adjust the temperature, which ranges from 200º – 430ºF (93º – 221ºC). The brightly-colored digital display will show your temperature setting. Then click the power button twice to begin heating, upon which the unit will buzz when it has reached the desired temperature. There is also a separate indicator light on the back of the unit (near where the USB plugs in) which will blink when heating and go solid when the unit is at the set temperature.
Draw on demand from there. The clouds are thick and bountiful, thanks to a dual-heating system that both keeps the chamber heated and provides extra heat flow on draw. Every hit is a solid, satisfying lungful. You can also control the airflow by placing your thumb over the array of intake holes at about the middle of the unit. If the unit overheats, slip on the sleeve covering for a layer of insulation.
Almost forgot – there's a little herb-poker tool which slides out of the bottom of the unit. So that's another first, a vaporizer that comes with its own poker built into the case. I would just be extra sure to clean it off before returning it to its housing.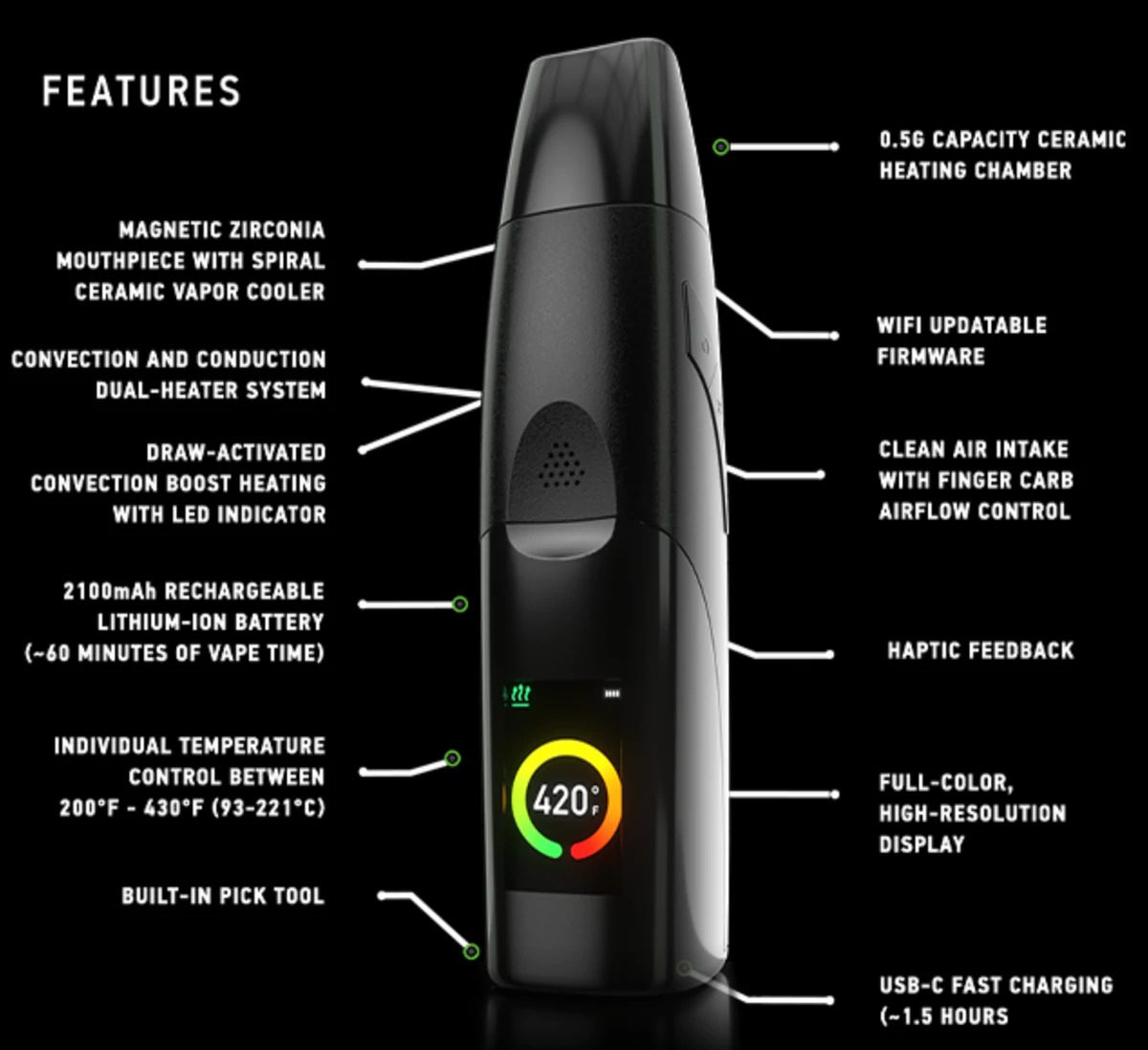 The first "smart vape"?
An interesting aspect of the G Pen Elite II is the WiFi connectivity. This can be used to view usage stats on your phone, and update the firmware. This is a new feature to me, and honestly seems a bit overkill. However, gadget geeks might get a kick out of it.
Pressing the power button five clicks also brings up a settings menu screen. The options here are:
Convection boost
Session timer
Haptic feedback
Screen brightness
Temperature readout (F or C)
Firmware (?)
Exit
Most of these settings are a simple on/off, with the session timer allowing you to set a shut-off time. While this is a lot to digest, you have to hand it to them, they really thought of every possible metric you'd want to customize. Be prepared for the day you loan your vape out but warn them "just don't change my settings!"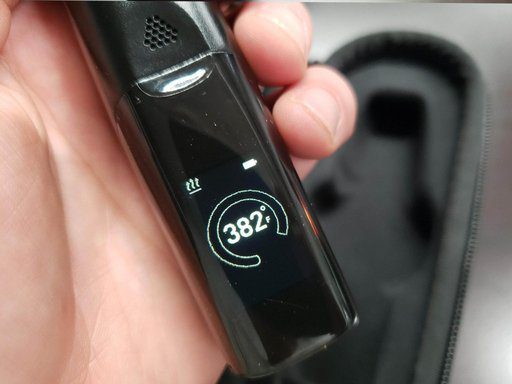 Probably the most featureful dry herb vape money can buy
Given that the unit is durable over time – and it certainly feels solid and works without a hitch – I would suppose that the G Pen Elite II will leave every dry herb vape user satisfied. You almost can't ask for more. I can appreciate that a lot of engineering went into this.
I would place the G Pen somewhere north of the XMax V3 Pro, with a similar form factor, and side by side with the Boundless Vexil, only with more advanced features. Considering the Vexil is this author's favorite daily-use dry herb vape, that puts the G Pen Elite II in the top ranks. Grenco Science leaves us no doubt that they thought through the design and studied the current market carefully to note what works and what doesn't.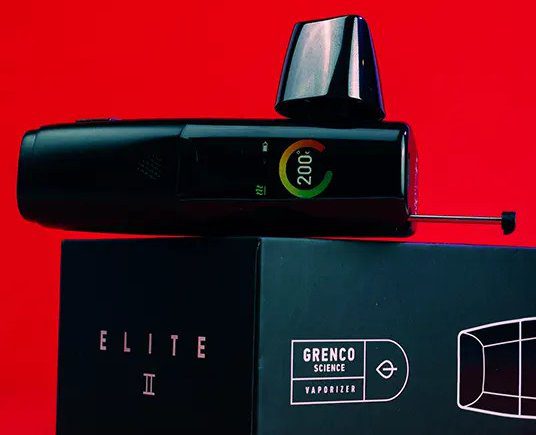 Perhaps a bit pricey for a dry herb vape?
That's the only thing stopping me from making a full-on top recommend. At a nickel short of $250, the G Pen Elite II is in the most expensive range for dry herb vapes that *only* handle dry herb. The cheapest dry herb vapes run from $60-$80, with most of them clustered around a median price of $120. There are vapes out there that handle extracts as well, and still only cost around $200. The $250 price represents a lot of commitment to just dry herb, when there's multi-fuction units out there that can handle concentrates and extracts as well.
In counterpoint, I can clearly see where every dollar was spent. With this much fanatic detail applied to features and tweaks, the Elite II is likely to define the standard for vape engineering for some time. The only way you could pack more features into a vape is if you just included a built-in phone. Find the Grenco Science Elite II here.
Readers, you have the floor! Yap about dry herb vaping, vaporizers, and G Pens, or speculate what kind of firmware upgrade these units will need in the future. Here in the comments or in our hotboxing forum.