REVIEW OVERVIEW

SUMMARY
I originally bought my Divine Tribe V4 vaporizer a while ago.  I just checked my emails, and I first ordered it on July 28th, 2020.  The basic setup includes the 510 threaded base, two quartz crucibles, a metal top cap, a metal drip tip, and some accessories and extra O-rings.  I think mine also included a free silicone glass water piece adapter. 
Pros:
Efficient CCELL hardware
Above-average potency
Fair taste
Affordable value
Cons:
Plastic mouthpiece and tube
Taste/potency could be improved
Recommendations: I would recommend anyone who likes Cannabis concentrates to consider this Divine Tribe V4 vaporizer.  Especially if you already own some vape devices or batteries.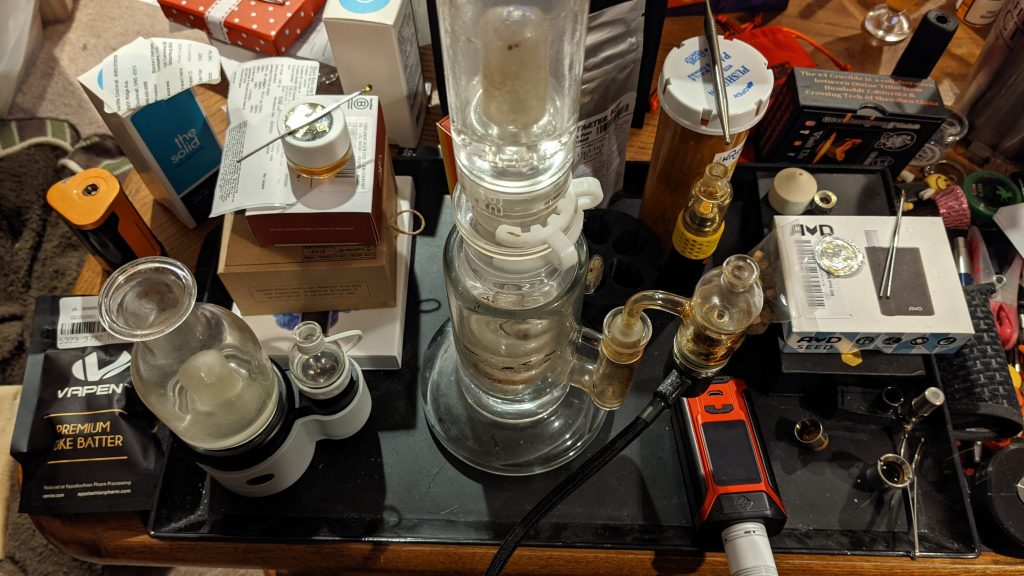 Divine Tribe accessories
There is a great selection of accessories for the DTV4 vaporizer, and I have collected a few pieces so far.  The first thing I bought was the "Hubble Bubble" 14 mm glass joint hydra tube, that I ordered from Ineedhemp.com, the same website that sells the DTV4 vaporizer.  Eventually, I bought the quartz, 90-degree bottomless banger from the same website.
I've had a nice Grav Stax water pipe setup for a couple of years, but it wasn't until just recently that I ordered the 510 extension and new vape mod with Arctic Fox firmware loaded onto it and started using my DTV4 with my Grav Stax piece.  The 510 extension makes a huge difference, and so does the Arctic Fox firmware.  I bought the mod, 510 extensions, and a 510 base device too from a fellow Ohio medical marijuana patient, who makes them and sells them on Discord and Reddit.  He goes by "FearandLawyering" on both places, and I have seen his extensions and other items in a few national subreddits like r/waxpen.
I'm not really sure how you can use the DTV4 with a full-size water piece, without a 510 extension.  You would either have to have the entire mod be hanging by the bottomless banger, or have something under the mod to make it the exact right height for the water piece.  Maybe it's different with a smaller water piece, but I don't know.
So far, I have only tried the quartz and titanium crucibles.  The device included two quartz crucibles, and I have since ordered a few titanium ones.  I need to get in a habit of keeping them clean better, but I am trying.  They also sell a Silicon Carbide crucible on Ineedhemp, as well.  I haven't had the chance to try one of those yet, but maybe someday.  I'm not really sure if that one is supposed to be better than titanium.  I like the titanium one so far because it's easier to clean than the quartz, but they both work awesome, in my experience.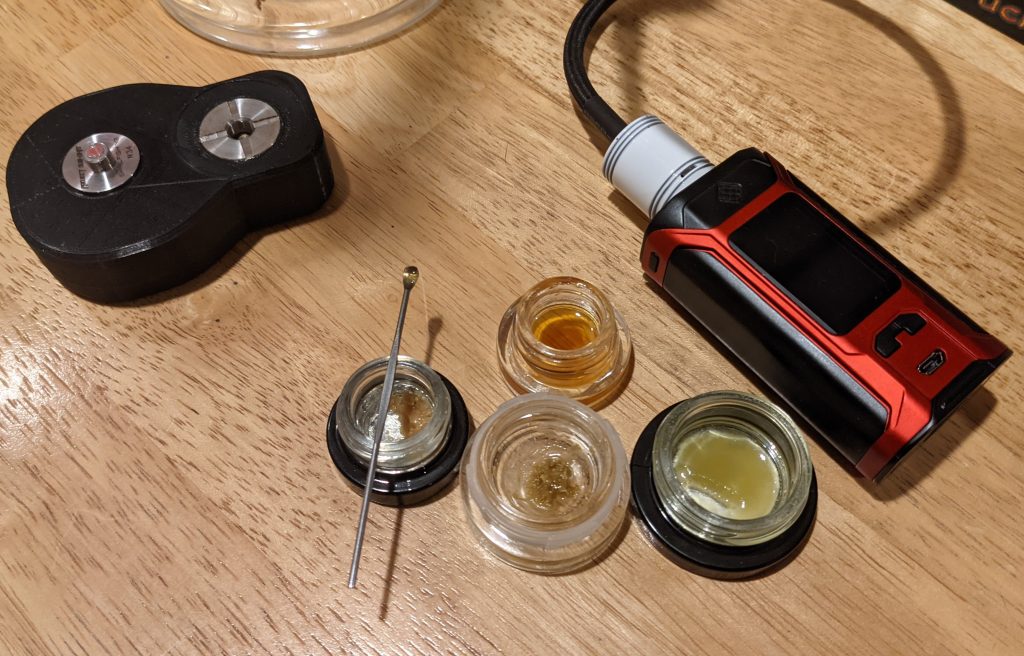 Amazing flavor and effects!
I bought a nice selection of tasty concentrates for this review, including a couple of live hash rosins and live resins too.  I really like how lately more companies have been including both the cannabinoid and the terpene content on the labels. It would be great if Firelands Scientific would join this trend with their live hash rosin concentrates and carts, but not so far.  This was the same case with the Vapen live resin "cake batter" that I bought, but thankfully the Buckeye Relief Koko Delta Shift Live Resin and Ancient Roots Forza San Souchi Live Rosin Jam do include terpene content, and these are some impressive stats.
I started with the Buckeye Relief Delta Shift live resin, because the terpene content is the highest that I've ever seen so far, and also Buckeye Relief is my favorite Cannabis company so far.  I was curious about this stuff, so I emailed Buckeye Relief and asked them about it.  They explained that it is partially decarbed, so that you can vape it at lower temperatures and taste the terpenes more.  So far, I really like it.  It has a consistency like honey, and the flavor and effects are amazing.  It has 63.84 mg/g of Myrcene!  That's extremely high.  I'm surprised that a hybrid would have such high myrcene content because from what I've read, that would usually be an Indica.
The other concentrate that I recently bought, which did have the terpenes listed, was this Ancient Roots Forza San Souchi live rosin jam.  The top terps here are Limonene at 27.70 mg/g and Caryophyllene at 18.80 mg/g, with Myrcene in third place at 10.50 mg/g, so some awesome terpene content too!  I have really enjoyed vaping all of these concentrates in the DTV4 vaporizer.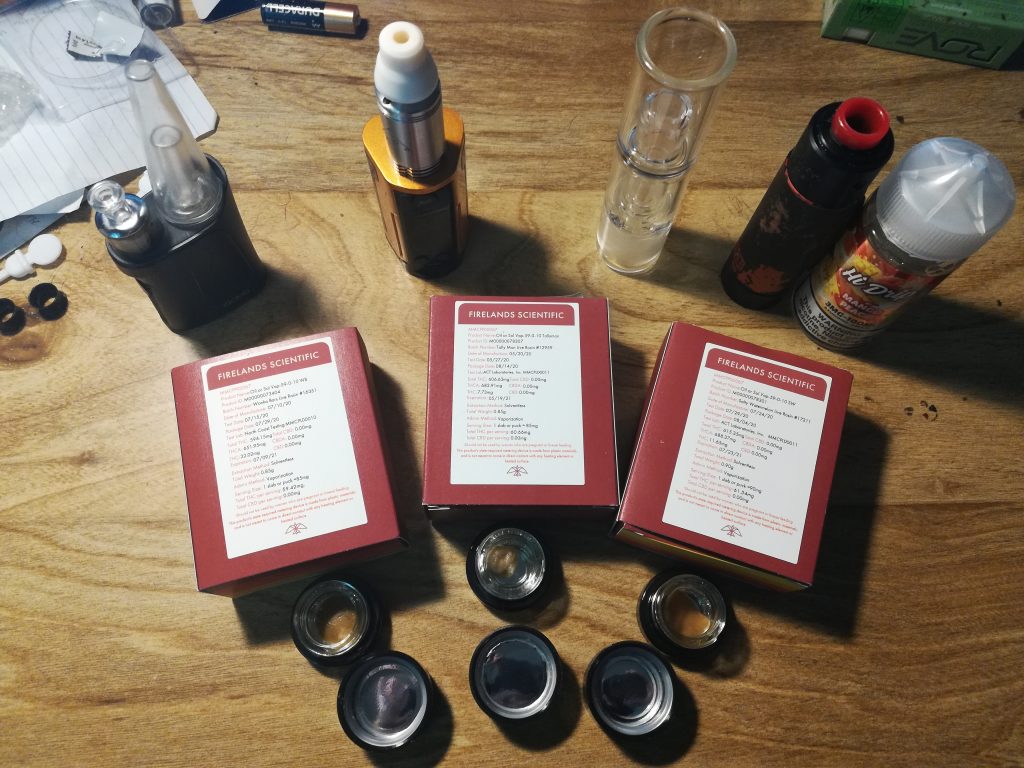 Similar Cannabis products for comparison:
I know there is another concentrate 510 thread vaporizers out there, but the DTV4 is the only one that I have tried so far.  I've considered the Sequoia because the crucibles for my Crossing Core are supposed to work in that too, so that would be convenient, or the Molecule 22 looks really cool, especially with its ESCC heater.  I don't really understand that, but I think it's supposed to be more temperature accurate.
The other similar product that I own is my Crossing Core portable electronic dab rig, that I mentioned above.  It's awesome and really easy to use and the battery lasts a while. I wish it had removable batteries or that you could use it while it's charging.  It's a real pain when you go to take a dab, and it just melts and you're waiting for the device to vibrate and tell you that you can inhale, but it doesn't and then you realize the battery is dead.  That isn't a problem with my DTV4 setup, since I can just swap out the two 18650 batteries.

Conclusion
I'm a big fan of this Divine Tribe V4 concentrate vaporizer.  I recently bought a Crossing Core portable electronic dab rig.  And I have been using that, but since I got my 510 extension and other accessories for my DTV4, I haven't touched my Crossing Core.  I like how you have so many options with this vaporizer.  You can really customize the experience that you get from it.  So far, I have only tried the quartz and titanium crucibles, but I like the titanium better.  I would like to try the Silicon Carbide crucible sometimes too.  If you are considering a concentrate vaporizer, then the DTV4 is an excellent option.  The initial price can be as low as about $40 if you already have a vape mod.
You can find out more about the vaporizer here. Have you tried it? Let us know in the comments or on our forum.