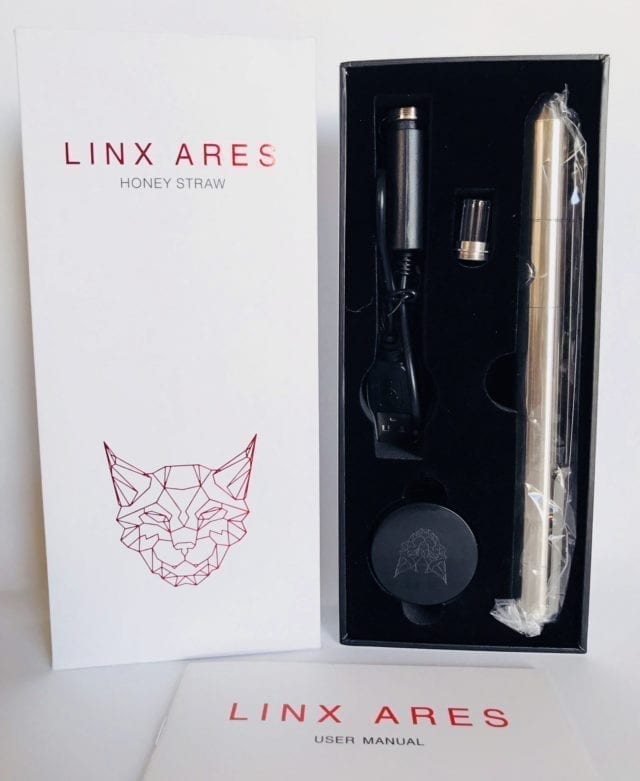 REVIEW OVERVIEW

Versatility / Atomizer Options

1

SUMMARY
On this review of the Linx Ares we go start to finish on the good and the bad. Overall, this nectar collector outperforms in some categories and under performs in others. We go through the product in depth. After quite a few dabs, this review should give you a good idea if this nectar collector is for you.
Design & Quality of The Linx Ares
The Linx Ares is an electric 'honey straw' or 'nectar collector' style vaporizer. The body is designed with stainless steel, and overall reminds me of those funny giant pens from the 90s. The Ares is 15mm in diameter, with 3mm airflow holes (which feel slightly restricted). It weighs 74g and is around 5.8in in length without mouthpiece and 6.25in with.
Ares Includes:
750mAh Rechargeable Battery
Coil-less Ceramic Rod Atomizer
Magnetic Pen Cap
Glass Mouthpiece
Glass Container
USB Charger
Cleaning Brush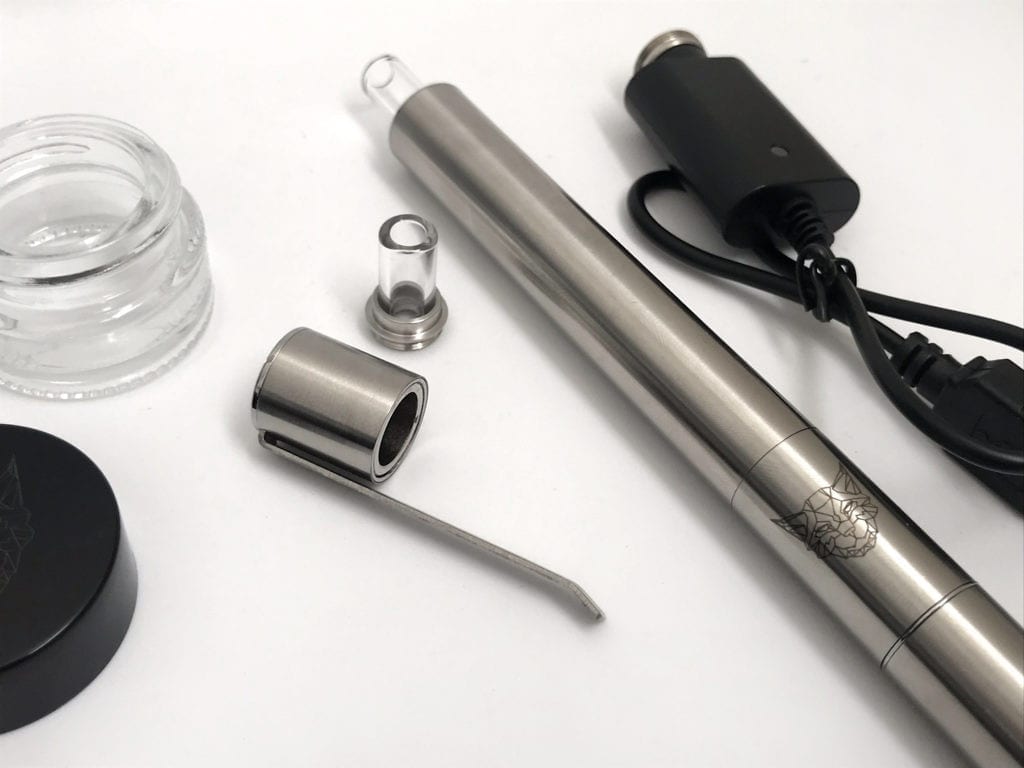 The Linx Ares 'pen lid' is magnetic, so it's easy to put on and off. This is the only electric honey straw vaporizer that doesn't use coils to vaporize the material. But rather, uses a long ceramic rod as the heating element. The design of the atomizer itself is very similar to that of the Dipstick Dipper, except it doesn't have a coil wrapped around the ceramic rod. It even has the same ceramic cover around the rod.
The vapor travels through the body of the atomizer, up a 3mm wide air vent, and through the battery, which is similar to the Dipstick Dipper as well. The glass mouthpiece is similar to the Hypnos Zero also made by Linx.
The Ares has two heat settings:  Low – up to 900F / High – up to 1100F.
Like all other electronic nectar collectors, the Ares includes a glass container. Not as an extra, but a necessity. This is because of their inherent design, which means you must press the heating element straight onto the wax. You would not want to do this on wax paper, or silicone containers, because they would melt. So, unless you plan to dab your full half gram, the only way to correctly dose yourself, is to transfer your wax into a glass container.
The Linx Ares works very well as a nectar collector. So if that's what you're looking for, and you've used one before, it's a good option. The body of the pen is still thin enough, that it won't block the view of your dab while in use, unlike the Boundless CF 710.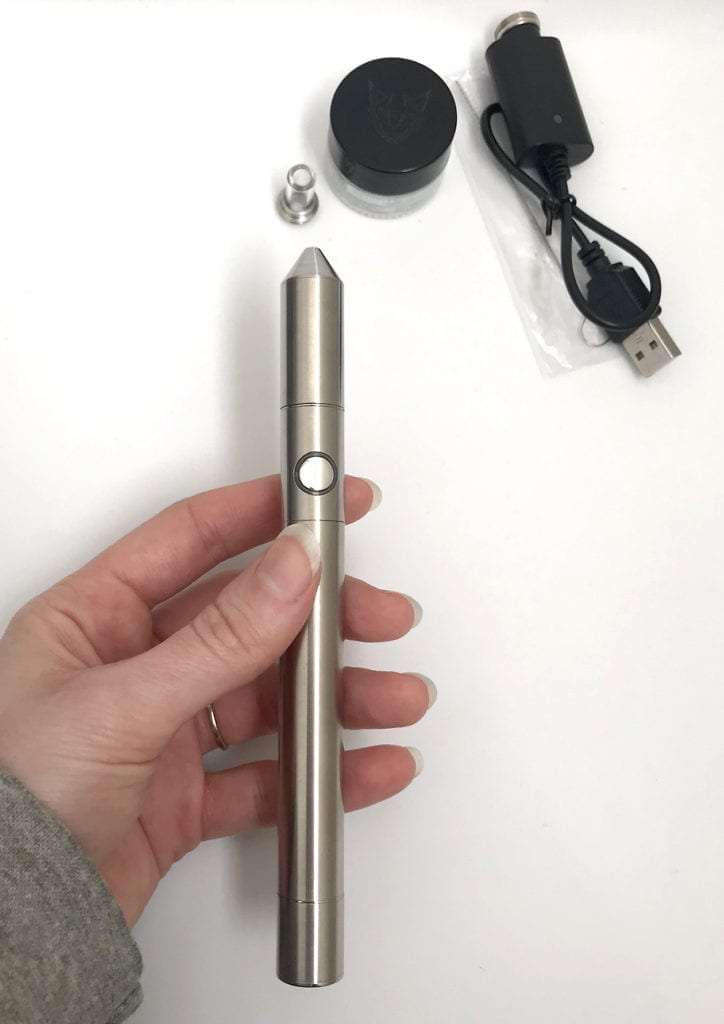 Ease of Use:
It's Not Any Easier On The Ares
Like other nectar collectors, the Ares pulls you in with promises of simpler hits. Linx explains that there's no loading like a normal vape pen, which they see as a positive. Simply hover over a glob of wax, press the button and inhale. This sounds simple enough, until you actually use it.
With a vape pen, you're able to load exactly what you want. The way nectar collectors work means you must use a glass container to dose your wax, for every hit. Or, very carefully use it on top of the rest of your wax, hoping it doesn't all burn.
This type of design isn't simpler than a vape pen – but simply equal, or even worse. It also means you must always carry around the container in order to use it while on the go. It's not great for use with concentrates of a honey-like consistency, which you lose even more of. It also doesn't come with a tool, so I hope you have one.
Changing temperatures was relatively easy. Just click 3 times and it changes between high and low.
Strength:
 The Linx Ares Gives Flavor Over Clouds
Unfortunately, the Ares doesn't give strong hits at all. It seems this one was designed with flavor in mind. Sadly, with that comes average clouds, even at the high setting. To see how hard a hit we could get, we tried pre-heating at the high setting for two 15 second rounds before using. Still, no coughing, lung-bursting hit was achievable.
Efficiency: 
Be Precise or Wax Gets Lost
The Linx Ares is efficient with wax. However, there's a problem with wax residue always getting lost on the glass container. The only thing that gets hot enough to vaporize anything, is the very small 4mm wide ceramic rod. So, if you get some wax on the outside ceramic, you'll lose that too, as well as what's melted onto the glass container. The heating element needs to be straight on, when touching wax, not at an angle.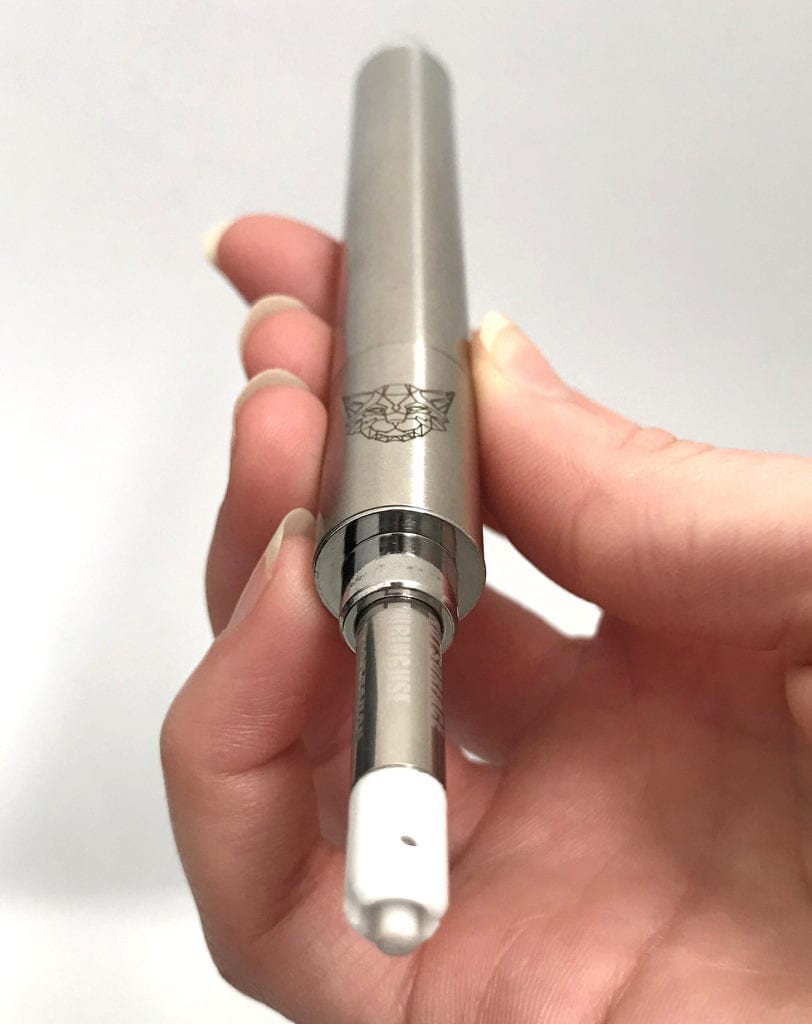 Versatility / Atomizer Options: Linx Ares Has Only One Atomizer Type
Only one atomizer is included with the Linx Ares. There's no coiled tip for stronger hits. It's just one coil-less ceramic rod, which bear in mind, you cannot change for anything else. It produces smooth hits, but it would be nice to have an option to get harder hits.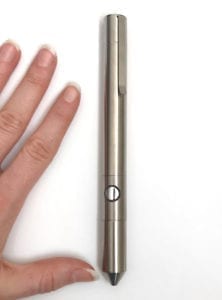 Portability: 

Best Choice For Nectar Collectors Goes To Ares
The Linx Ares is the most portable electric nectar collector available. But, that's still not as portable as most vape pens. At almost 6 ½ in long with everything put together, it will stick out of smaller pants pockets for sure.
It's not as heavy as other models, but still considerably more than a vape pen. You also need to carry the aforementioned container, in order to dab.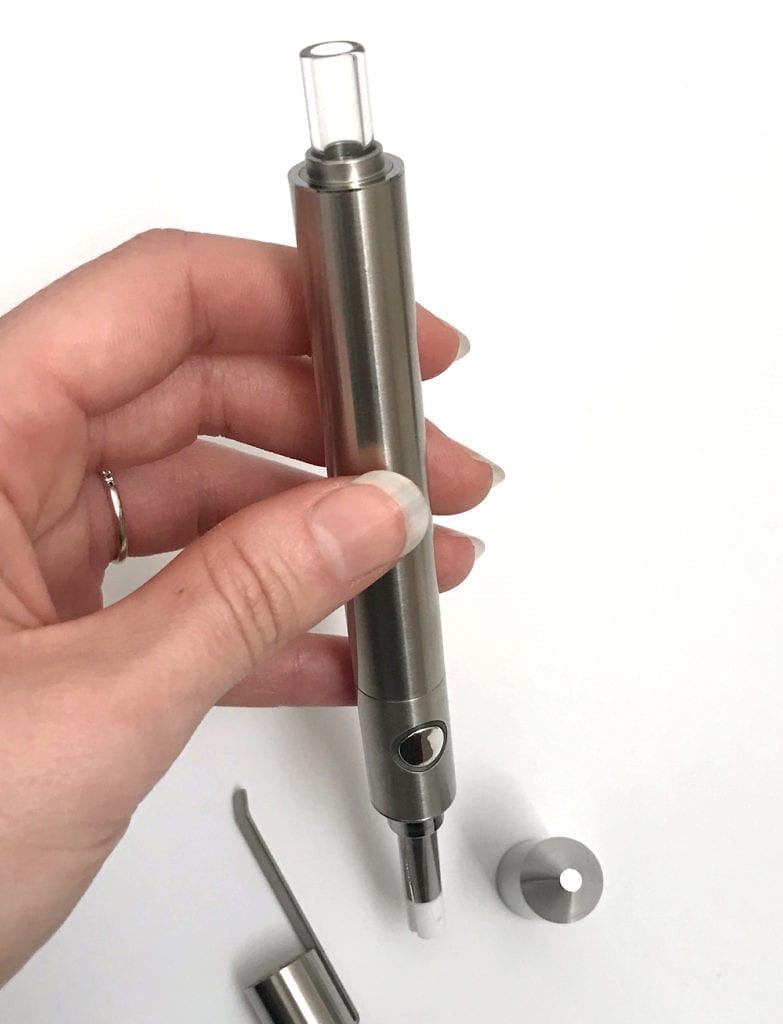 Discretion:
Not Possible On Nectar Collectors
The Ares may be the most portable electronic nectar collector, but the way it's used still makes discretion difficult. As this is a two-handed operation, there's no way to sneak in a cheeky hit, inconspicuously anyway. You must hold the container with one hand, while the Ares is in the other one.
A hit from this pen can be quick, but setting it up is not. There is no alibi, if anyone was to see you. It's also possible somebody may think you're doing hard drugs, by the look of it.
Taste:
Best of The Bunch, Beats The Dipper By A Mile
The Linx Ares tastes the best out of the portable nectar collectors we've tried, but that's still only just above average, in comparison to a good vape pen.
Thankfully, the ceramic rod doesn't burn your wax, like some coiled tips do. The taste is similar to using a ceramic donut atomizer. However, quartz would be preferred and overall delivers better taste on concentrates. Although it did not match the strength of the hits from the CF 710 or Dipper, it beats both by far on taste.
Value:
Expensive For a Vape, Cheap For A Nectar Collector
At $109.95, the Ares is the cheapest Nectar Collector – but that's still around $10 more than higher end vape pen models! Though it's unique and a new experience, this pen only includes one atomizer, a glass container, a mouthpiece and a cleaning brush.
This is quite a high price, considering this experience could be easily trumped by a better and cheaper vape pen.
Replacement Costs:

Pretty Expensive For What It Is…
Ares replacement atomizers cost $27 each. This is price seems way more than it should be. It's similar to that of replacements for their Linx Hypnos Zero, which is more than 20% higher than other replacements for premium vape pens.
Hopefully the rod doesn't burn out quickly, because replacing it could easily get expensive. Say you end up replacing it 5 times in one year – you'd spend more than what it costs to purchase another vape pen! Which at that price, often comes with a replacement (or two).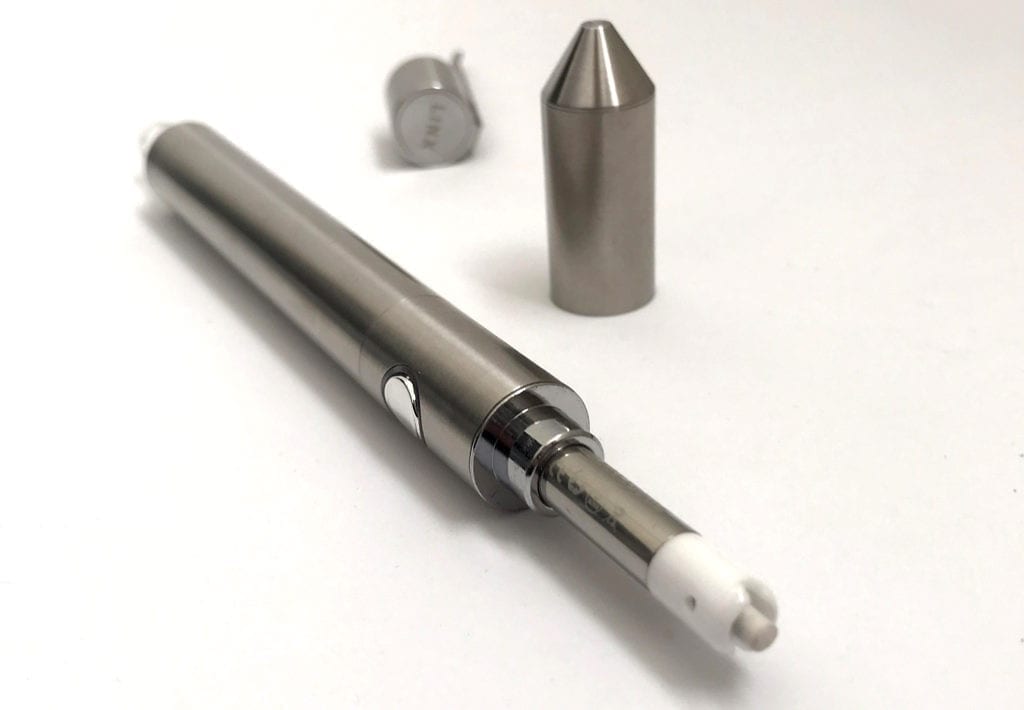 Final Thoughts On This Linx Ares Review
If you're looking for huge, strong hits on the go or don't like the way this works in use, get a vape pen. If you're looking for an electric nectar collector, are in love with the way they function, and are looking for flavorsome dabs, rather than big clouds – the Linx Ares is the perfect choice. It delivers better flavor than its competitors and is more compact. If you want to get one you can here-.