REVIEW OVERVIEW

SUMMARY
Today we will take to the court, Viola Extracts, which was established by former NBA player Al Harrington. Harrington is one of the most prolific sports athletes to move into the cannabis industry in recent years. Al Harrington named his brand after his grandmother Viola, who experienced successful results using cannabis to treat her glaucoma, diabetes, and high blood pressure. They have recently collaborated with Ball Family Farms for Reign, currently one of their most popular flower strains. Viola Brands will also introduce Iverson '96, which will premiere in early October. While Viola first started operating in Colorado, Viola is now currently distributed in California, Oregon, Washington, Detroit, and Oklahoma. For this review, I will focus on their live resin diamonds.
Pros:
Excellent quality
Impressive potency
Solid flavor
Decent price
Cons:
Recommendations: None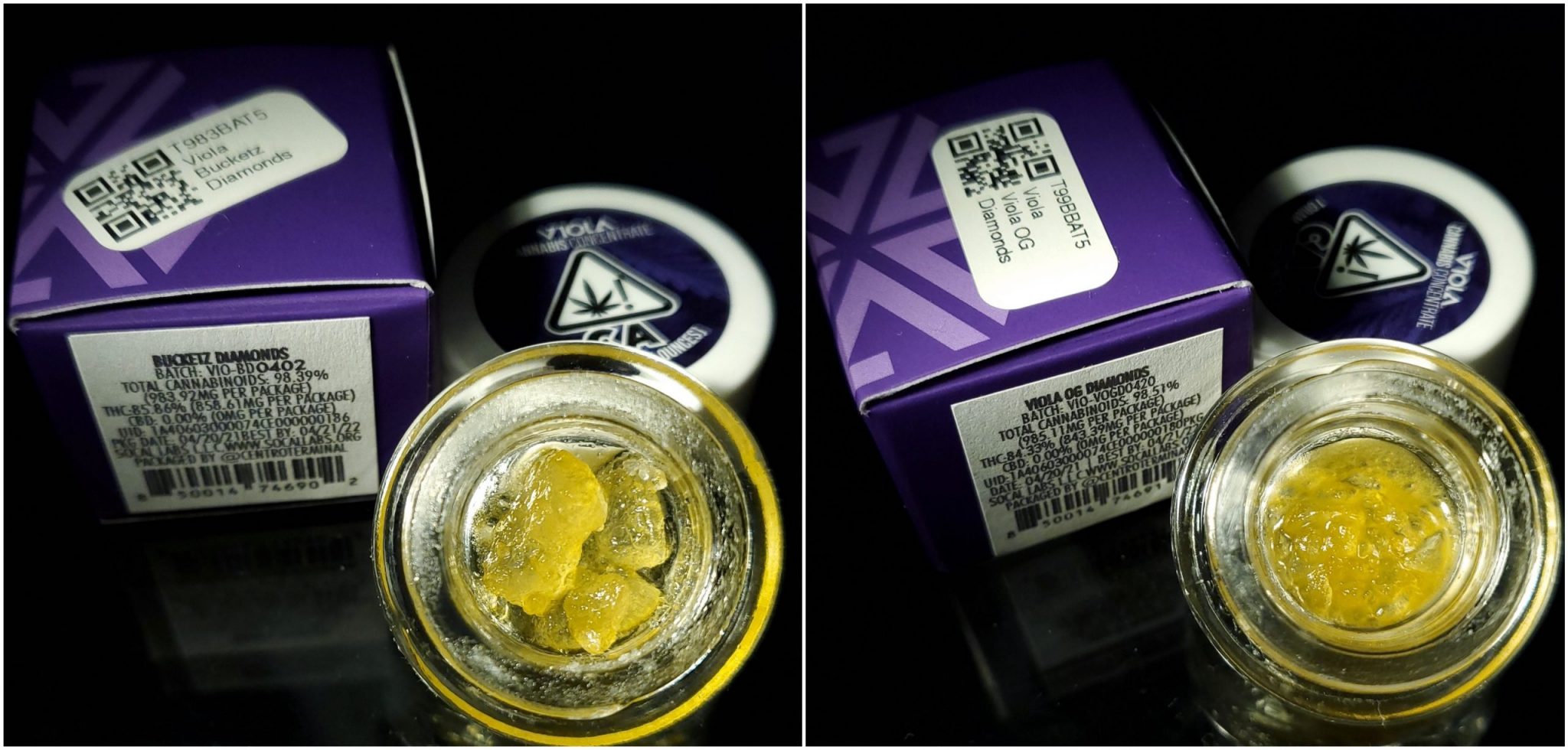 The size and consistency of Viola OG diamonds is similar to Kush Co. and Cosmic Brands 
The packaging for Viola Extracts is classy and minimal in their signature purple color with their snowflake-like logo in front of the box. First, I tried out their Viola OG live resin diamonds. Viola OG, which is one of their proprietary strains, is another one of the various phenotypes of OG Kush. When first opening the jar for Viola OG, it consisted of small to medium-sized diamonds clustered in a golden tree sap-like sauce. The size and consistency of the Viola OG diamonds are reminiscent of Kush Co. Sour Power OG diamond sauce and Cosmic Brands Sundae Driver live resin. The saucier consistency of Viola OG also works well with any kind of glass rig, electric dab rig, wax pen, and nectar collector.
Similar to Gucci OG from Rove Brand, the aroma and flavor of Viola OG are sweet, piney, and floral with notes of lemon, mint, and berries. The Indica dominant effects of Viola OG felt mentally uplifting yet physically soothing, which made it better suited for late afternoons and evenings. Viola OG is known to treat symptoms of chronic pain, depression, mood swings, muscle spasms or cramps, and chronic stress. The THC % of Viola OG is 84.33% and the total cannabinoid % is 98.51%.
The size and consistency of Bucketz diamonds are similar to Rove Brand, Cannatique Concentrates, and Connected Cannabis Co. 
Next, I checked out their Bucketz live resin diamonds, which are also a proprietary Sativa dominant strain of unknown origin. While the Viola OG diamonds were noticeably smaller, Bucketz consisted of medium to large-sized diamonds lightly coated in HTE sauce. The size of the diamonds was almost or just as huge as the diamonds from Rove Brand, Cannatique Concentrates, and Connected Cannabis Co. Due to the larger size of the Bucketz diamonds, they felt most effective with glass rigs and portable E-Rigs. The aroma and flavor of Bucketz are sweet, sour, and fruity with notes of grapefruit, lime, and diesel. The mostly cerebral effects of Bucketz felt energizing, focused and alert, which is perfect as a wake and bake or a midday creative boost. The THC % of Bucketz is 85.86% and the total cannabinoid % is 98.39%.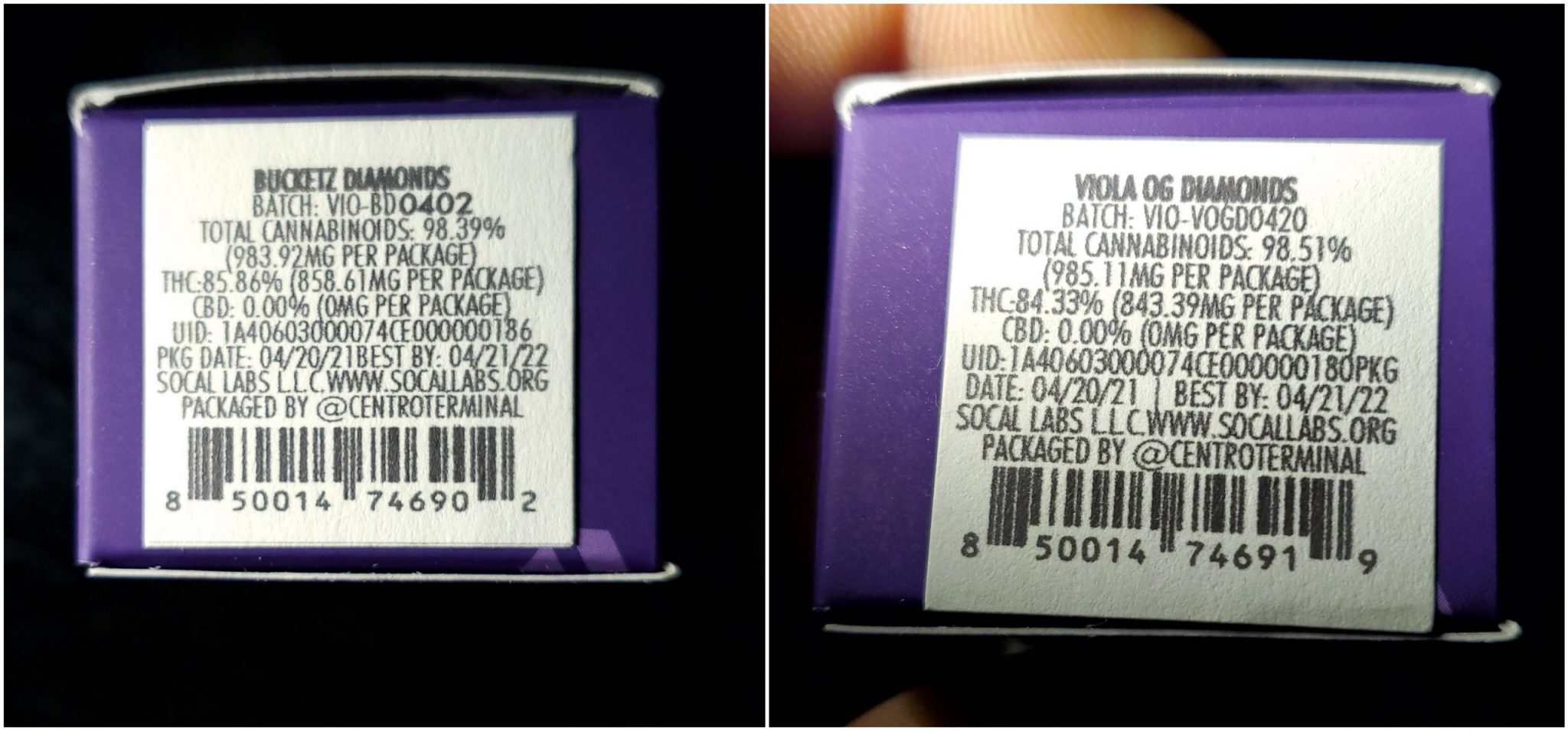 Bucketz is recommended for focus and energy, while Viola OG is recommended for relaxation and sleep 
The retail price for Viola live resin diamonds is usually around $40 for a gram, pre-tax. Although I preferred Bucketz for its tropical flavor, both live resin diamonds felt similarly potent. But I preferred the flavor of Blue Banana and Gucci OG diamonds from Rove Brand slightly more than both diamonds from Viola Extracts. In addition, the Blue Banana diamonds from Rove Brand felt slightly stronger than both diamonds from Viola Extracts. However, both diamonds had slightly stronger effects than the similarly priced diamonds from Cosmic Brands, Jetty Extracts, and Guild Extracts. 
View this post on Instagram
Overall, I would recommend Viola Extracts for their live resin diamonds
For the final tally, Viola live resin diamonds score high points for their excellent quality, impressive potency, and solid flavor for a decent price. Bucketz is recommended for its refreshing flavor and uplifting effects, while Viola OG is recommended for its potent sedative effects. Earlier this month, I also sampled their Pop That Papaya live resin Badder, which wasn't quite as tasty and potent as their live resin diamonds. Viola products are currently available in select dispensaries throughout California, Oregon, Washington, Detroit, Colorado, and Oklahoma. You can find all Viola products, including their flower eighths, pre-rolls, and concentrates, with their store locator here. Viola products are also available through Emjay delivery for $10 off for first-time customers who live in California.
Have you tried Viola live resin diamonds? Let us know in the comments or on our forum.