REVIEW OVERVIEW

SUMMARY

Hometown Hero delta 8 cartridges give smooth and clean hits. Very flavorful, these cartridges deliver a sensational experience. Only thing is that it's not the most potent, but still great.
Hometown Hero CBD is a unique brand, providing a variety of CBD and Delta 8 THC products. What makes this company unique is that it donates a portion of its sales to Veterans. In this review, we have their Delta 8 cartridge, Delta Red. Tasteful and very smooth, these carts overall deliver a nice and sensational experience. 
Pros:
Great taste/terpene infusion
Very smooth hits
Supporting the Veterans
Cons: 
Only one strain
Cartridge hits better with a 4volts dab pen
Recommendations: Perhaps using higher quality hardware, otherwise the distillate itself is great. Also, it would be nice seeing more strains.
Made our BEST DELTA 8 CARTRIDGES list!
See our video review on the Hometown Hero cartridge below, and read further into our review.
Hometown Hero-D8 is one of the smoothest hitting delta 8 cartridges, and tasteful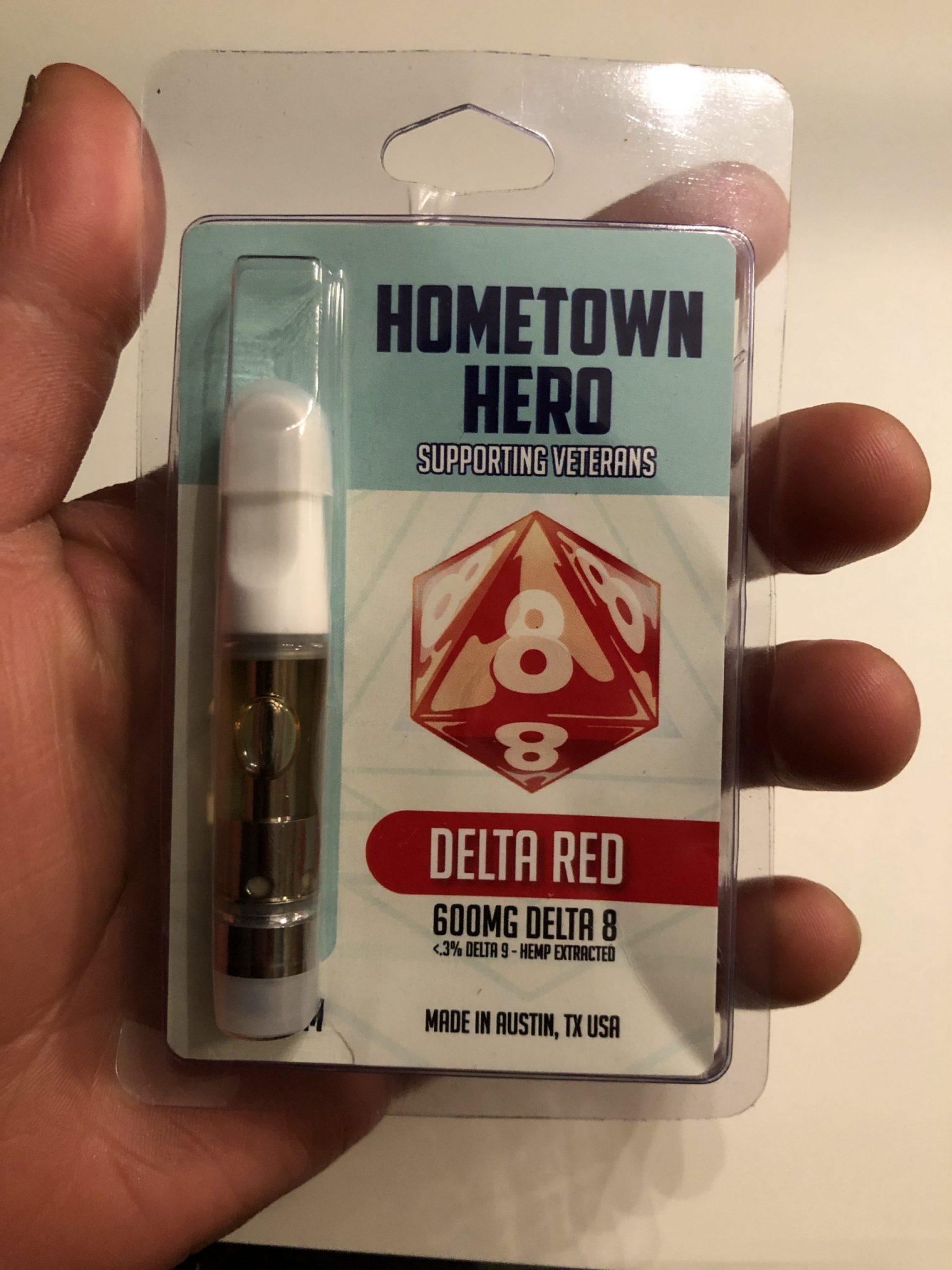 Curious in that these cartridges only have 600mg of Delta 8, I wasn't sure what to expect. Taking my first few hits, I enjoyed the flavor of these carts more and more. Smooth hits, as well as a soothing, sweet flavor. With it being one of the smoothest delta 8 cartridges I've tried, these carts give a great taste to it. Not that strong in flavor nor artificial tasting. Hometown hero Delta 8 did an amazing job with their terpene and D8 distillate infusion.
Authentic Lab Results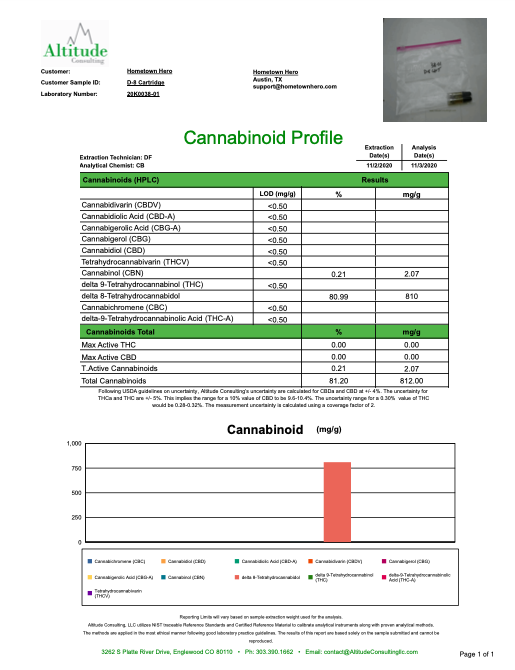 The information provided from their lab results shows that these cartridges contain about 80% Delta 8 THC. As mentioned earlier, this isn't as potent as other brands that claim to have over 90% Delta8 THC in their cartridges. Unfortunately, I couldn't find any tests to see if there are any metals or pesticides. But regardless, these cartridges taste and hit clean. Not the most potent, but still, fair effects.
Nice oil quality and fair potency, but contains slightly less delta 8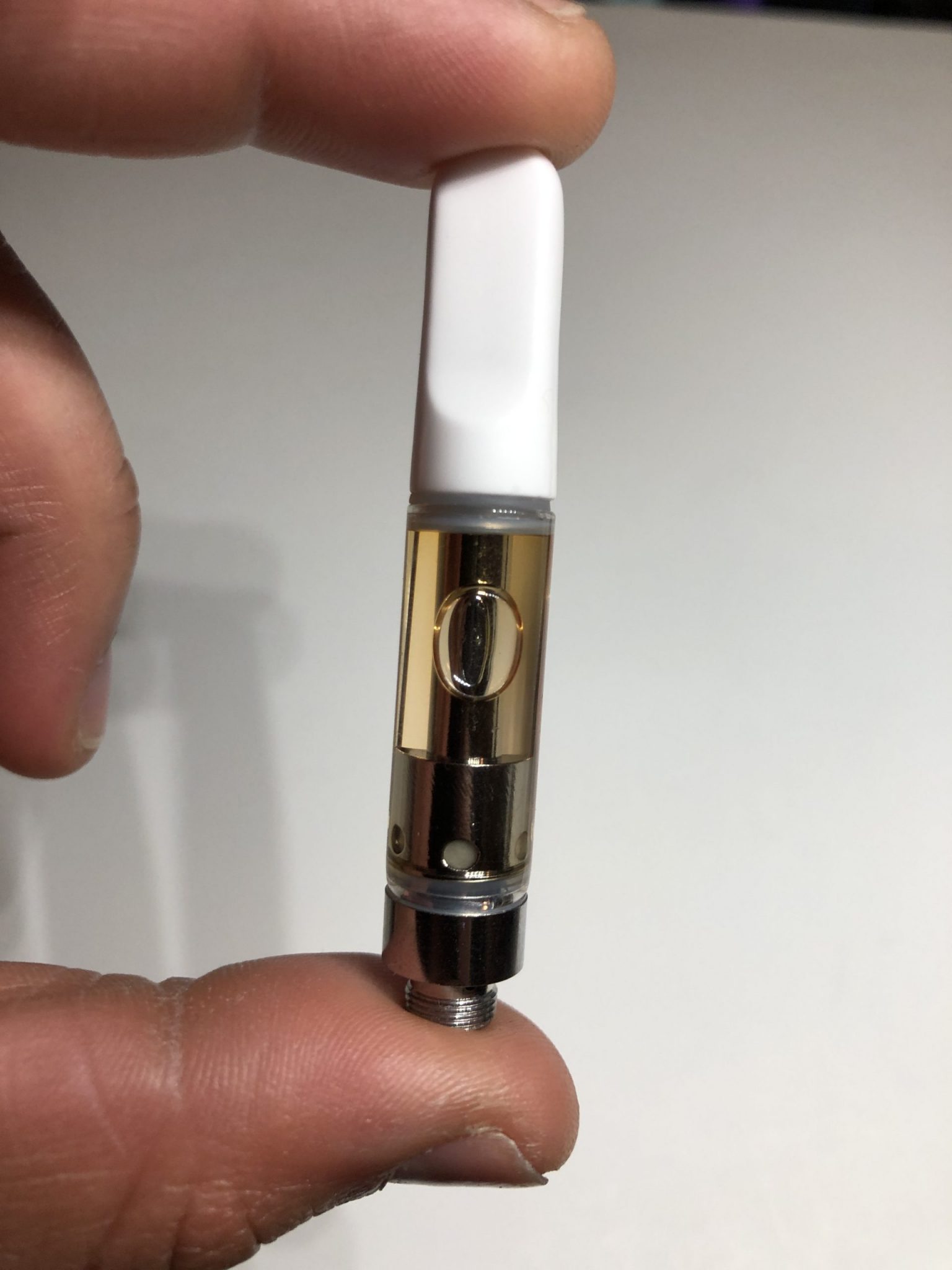 Taking a look at the oil quality, it's thick and consistent. Very efficient and can last you a while if you want to conserve it. Containing about 80% Delta8 THC, this cartridge isn't as potent as other delta 8 carts that go up to 90%+ D8 THC. But with that being said, these cartridges still deliver a smooth and slight high. Not very lasting, nor the most potent, but you will still get some nice effects off it.
CCELL hardware, but cartridge works better with 4V+
Hometown Hero uses CCELL hardware for their cartridges. For the most part, I always have good experiences with CCELL's. But, I kept getting light hits with a certain battery. Furthermore, I tried hitting this cartridge with the Vessel battery, and I'd get light hits. The vessel goes up to 3.6 volts. When I tried it with the Yocan Armor, I noticed a big difference. With the Armor having a higher temperature at 4V, it gives bigger hits.
Another thing I should mention with this cartridge is it may get clogged frequently. Sometimes occasionally, or maybe more often than not, but this is a common problem faced with cartridges. This doesn't happen as much with CCELL cartridges, but it can still happen.
Hometown Hero Delta 8 – Strawberry Cough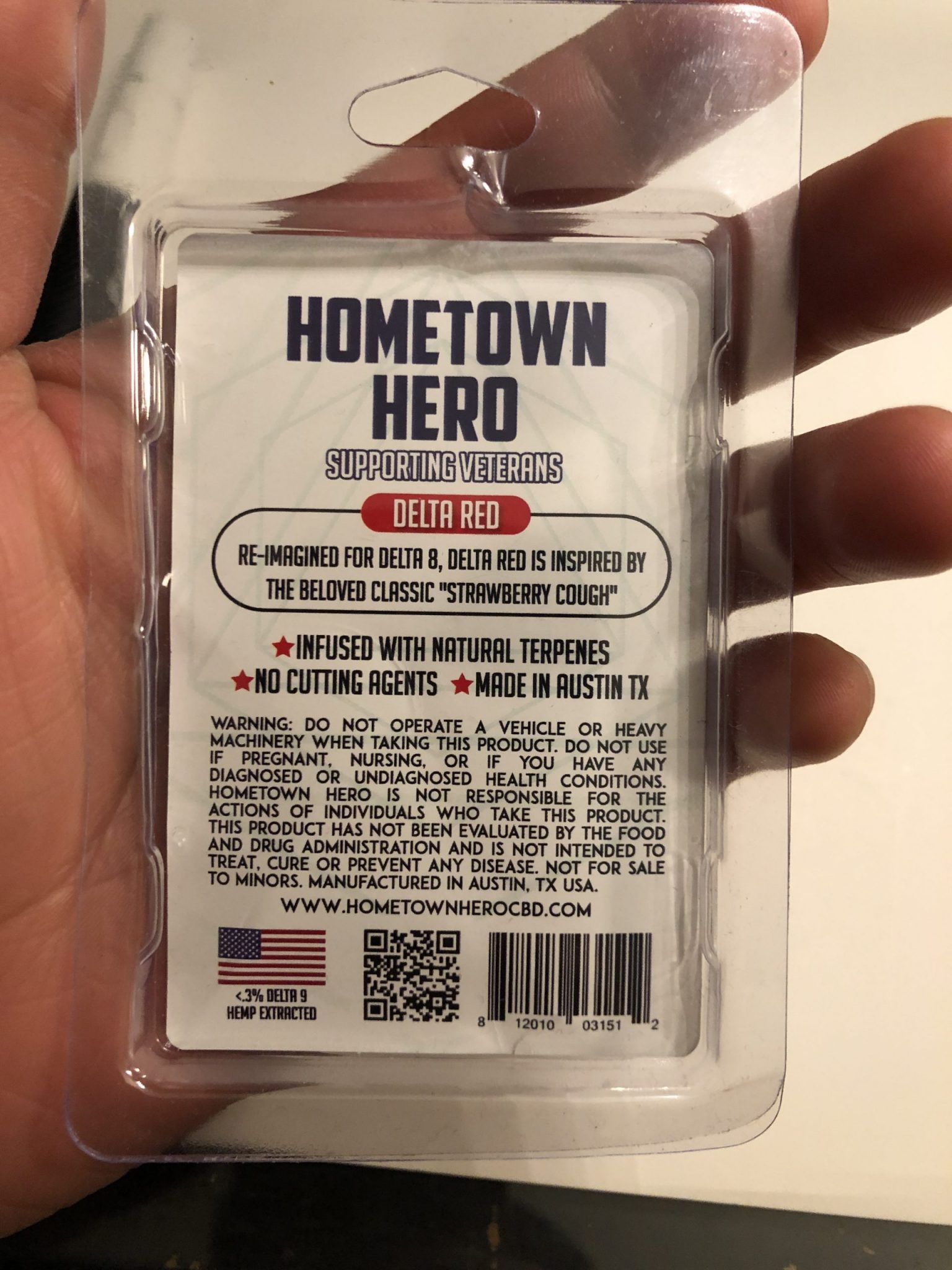 As of right now, Strawberry Cough is the only strain provided from Hometown Hero-Delta 8 carts. This is a disappointment because of how good these carts hit. Very flavorful and smooth, Strawberry Cough gives a sweet taste. Because it doesn't have any cutting agents and is only infused with natural terpenes, these carts give a smoother and tasteful experience. Great for those more into sweet and tasteful, terpene-rich cartridge and distillate.
Delta 8 is usually harsh, but Hometown Hero D8 isn't
Hometown Hero cartridges are one of the smoothest hitting Delta 8 cartridges I've tried as of now. We have many more Delta 8 products and cartridge reviews coming soon, but as of now, these are definitely one of the smoothest D8 carts. The distillate delivers a nice, sensational experience that makes it very enjoyable to smoke. If you don't like the harsh hits most delta 8 cartridges give, you'll really enjoy these cartridges.
Value: Definitely worth the experience
The price for these cartridges is going to be $50 per full gram cartridge. This may be pricier than other delta 8 cartridges and brands out there. And there may even be other brands that are just as good and inexpensive as well. But because of how smooth Hometown Hero really is and the taste it gives. it is definitely something to check out.
Concluding the Hometown Hero review
Coming to a conclusion, Hometown Hero Delta 8 cartridges are something that I'd highly recommend to anyone. If you are in a budget and looking for something inexpensive, this may not be the right product for you. You can find good delta 8 cartridges that cost less, for around $20-$35. But with these cartridges, they may be worth the value because of how smooth and good they are. Can't really determine if it's my favorite delta 8 product, but it is going to be up there. You can find more on these cartridges here.
Have any experience with Hometown Hero CBD/Delta 8? Have any questions or comments on Delta 8 THC? Post in the comments below or in our forum.