REVIEW OVERVIEW

SUMMARY

Overall the cbdMD bath bomb was a very high quality CBD product all around. This CBD product is both effective and affordable.
It's no mystery that bath bombs have been all the rage since they first emerged because they attract you to take a bath and make your bath time a sensory experience that's luxurious and relaxing. They're essentially no different from adding a splash of bath oil or salt into the water but add CBD to the mix and you take the relaxation element to a whole new level.
Pros:
cbdMD uses broad spectrum CBD extracted from USA organically-grown hemp 
The scents are each unique and not too overpowering but permeate the bath, the space, and your skin
Safe for all skin types
Great value, especially when you opt for the variety pack
Cons:
Recommendation: Add more scent options.
cbdMD's Bath Bomb's- revitalizes and relaxes
Made with 100% organic CBD and pure therapeutic grade essential oils, their Bath Bomb Signature Collection revitalizes and relaxes while providing a luxury experience with every soak.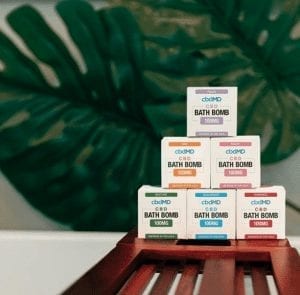 Each bath bomb contains 100mg of premium CBD with absolutely no artificial dyes or preservatives. Their coloring is all-natural, non-staining, and absorption-safe, allowing you to enjoy the CBD experience any time of the day or night.
Benefits of Using CBD Bath Bombs When You Take a Bath
Bath bombs are typically infused with Epsom salts and scents to create a relaxing aromatherapy experience. CBD-infused bath bombs up the ante with the therapeutic benefits of CBD. As defined by cbdMD, "Cannabidiol is a compound extracted from hemp with significant beneficial properties. It does not possess any psychoactive properties; therefore, it cannot make you high."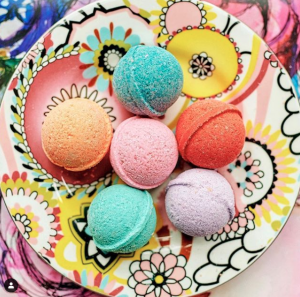 cbdMD goes on to explain that CBD works with your endocannabinoid system to maintain homeostasis, and helps regulate everything from your body's core temperature to hormonal fluctuation.
cbdMD's Packaging is Professional and Lux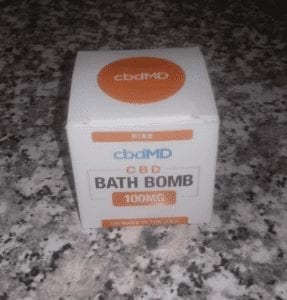 Each signature bath bomb arrives in its own box with clear labelling of both potency (100mg per bath bomb) and aroma (lavender, eucalyptus, frankincense, or blend).
Our Experience Using the Product – Here's What Happened
At first when I read the label I was angry that it had coloring in it. I am a natural health advocate. I don't care what color my healing products are. My bad. Upon further inspection, cbdMD is dedicated to natural, top quality ingredients on all fronts. The coloring is safe and natural.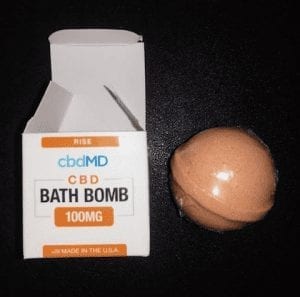 I was skeptical though that the product would have any effect as it would be so diluted in a whole bath tub full of water. I received the Eucalyptus Rise. The bath turned a nice shade of orange.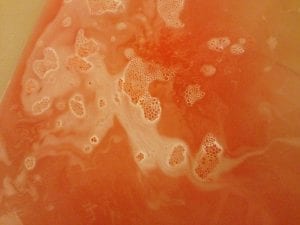 After a few minutes I noticed that the water felt softer maybe, or was it slicker? It made my skin feel that way too – silky describes it best. I didn't have any aches and pains but I found it soothing for sure. The Eucalyptus was mild and pleasant.
Is $9.99 For a Bath Bomb Worth it?
Truthfully, some can't afford this product on a regular basis. Based on my experience, if I could I would bath in it daily. However, I just gotta try the Frankincense. Because I personally love Frankincense and I can only imagine the hypnotic effect of the Frankincense and cbd combination.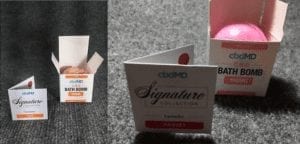 Each bath bomb contains an impressive 100 mg of CBD and costs $9.99. This works out to just shy of $0.10 per milligram, which is substantially lower than most of the competition (not to mention a higher dose of organic CBD per bath bomb than most of the others on the market). I can say based on experience that it's worth it because of the experience and and relaxation it gives.
Final Thoughts on cbdMD's Bath Bombs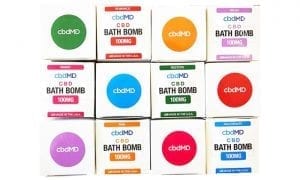 Honestly, With 100mg of CBD in each bath bomb, we know we're getting what it takes to make us feel our best. They also dissolve quickly, smell amazing, and won't stain your tub like some other bath bombs on the market. Lastly, they're gonna be cheaper if you consider their packs of 3 or 6 which reduce the price to $6-$8 per bath bomb. Overall, this is a very effective product for daily use or an etheric treat.
For more information about cbdMD and their product you can visit their website here.
Have you tried cbdMD Bath bombs before? Leave a review below! Question or comment? Post below or in our forum!