Muha Meds is a brand of black market THC vape cartridge we're been following for awhile. Unlike 99% of the fake brands out there, there seems to be some mysterious party behind the brand, who's very indignant about being called "black market."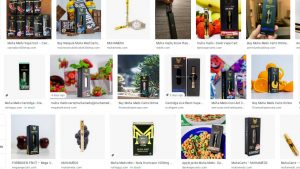 Previously you'll recall that we have established, beyond all reasonable doubt, that the Muha Meds cart brand is copied everywhere. We find 27 domain names claiming to be Muha Meds, infinite vendors on social media, and Muha Meds empty packaging being sold on every cart supplier site. Somebody got back to us about that post and claimed (1) They are represented by a firm called "Pot Brothers at Law," and (2) their licensing situation would get straightened out someday.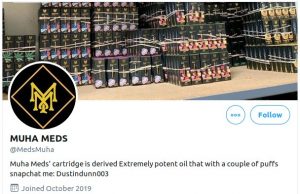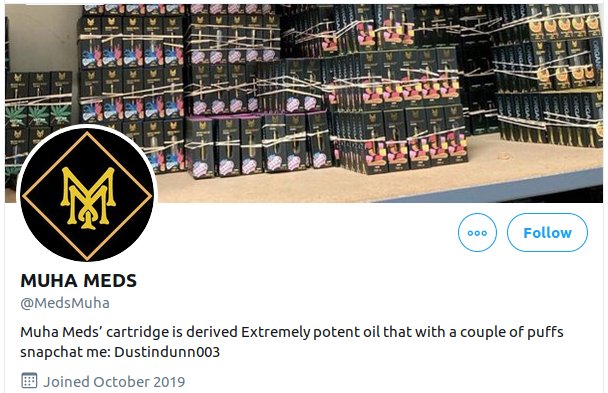 We followed up to point out many more fishy aspects of the Muha Meds brand, including a fake vendor bust, a controversy around their claimed lab tests, and the birth of a Reddit meme.
Now that you're caught up on past episodes, here's the latest word around the campfire:
Muha Meds alleges a license in Michigan
A leap from California to Michigan should come as no surprise to steady readers. Michigan has had some extremely sketchy enforcement and regulation incidents.
We begin with the claimed "official" Instagram page for Muha Meds. There's a gaggle of other Instagram accounts and general websites all claiming to be Muha Meds, but for now let's take that as the "real" one. It's a closed-down blank wall account, literally just this:

Even though they leave the city saying "Los Angeles Ca," that license is for Michigan. Well then, let's hop right over to our handy state-by-state license check resource (love that page, use it myself all the time). There's the recreational license listing in Michigan alright.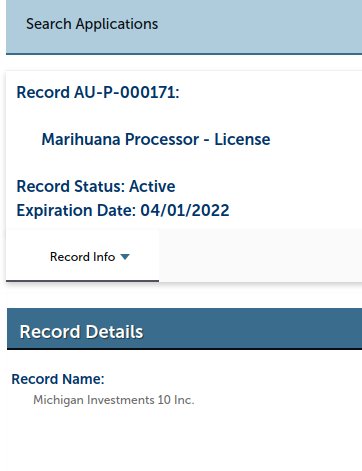 They're a "marihuana" processor. There's even a listing for them in the Michigan license report, PDF right this way. You'll find them near the bottom just before "Anonymous LLC."
Except the name given for that license is "Michigan Investments 10 Inc."
Great! So who is "Michigan Investments 10 Inc."?
That other name, "Anonymous LLC," just goes to show what a smokescreen a corporate license holder can be. The name "Michigan Investments" isn't quite as vague, but it might as well be. We do see, glory bless it, an address listing, so let's check that out…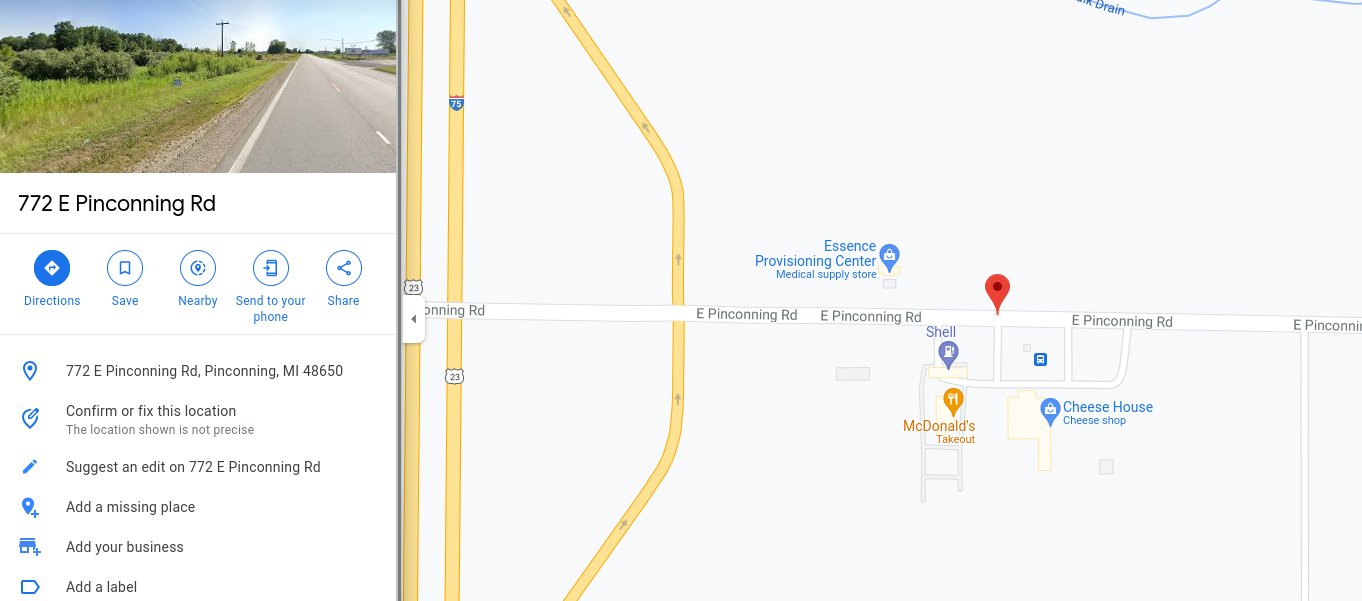 This lonely prairie road is the answer to all our questions. Finally we're going to meet Muha Meds!


Huh. This doesn't quite work the way we'd expect. There's a McDonald's / Shell station, a cheese shop, and the typical Midwest thatch of trees and shrubs. There is an Essence Medical Supply store / dispensary at 758 E Pinconning, but that's still the wrong address, they have a separate license, and we really don't see a processing facility happening there anyway.
As we find it, this doesn't tell us much. The licensing agent can use any address as a point of contact. But that's usually either (a) a private residence, or (b) an office suite. This is a field by McDonald's.
We do verify a "Michigan Investments 10 Inc."
It's easy enough to verify any incorporated company. Just head for any corporate index, like OpenCorporates.com, and there's the listing for this company as cheese as you please. Their mailing address is SUITE A, 108 S MAIN ST, ROYAL OAK, MI, 48067, which also doesn't tell you much. Finally we find a listing at MichiganCorporates, where the address is registered as 33 BLOOMFIELD HILLS PARKWAY STE. 100 BLOOMFIELD HILLS MI 48304. That at least is a corporate business park.
OK, fine, something by that name exists, although we've no doubt found another mail drop. In any case, The "official" Muha Meds website is now listing cartridges with lab tests linked which show "Michigan Investments 10 Inc" as the testing agent. You can find each of these linked from the products page. The tests are done at Viridis labs, and are named one at a time by the cartridge flavors rather than the Muha Meds brand name.
What we still don't know:
In the first place, Muha Meds started out in California. Somebody claiming to speak for the company gave us a run-around about trying to get licensed in Long Beach, California. What happened to all that? And how did this Michigan company come to claim them?
We also have no proof that Michigan Investments 10 Inc actually knows Muha Meds from Adam. There certainly is no website for the company, just corporate listings. Michigan Investments 10 LLC is registered under Michael K. Khalil, an attorney with a boutique law firm (their words, not mine!) that has hundreds of other companies listed under the same name.
There's one more thing. Muha Meds lists a store locator page which seems to show their brand is carried at ONE, exactly ONE, dispensary chain, which is Joyology. They have locations scattered across Michigan, but when we go to the individual menus for those stores, we keep not finding Muha Meds listed for four out of five stores. They are listed in the Center Line store.
At last. We've been waiting for this moment for 2 years, even since hearing about this pesky brand.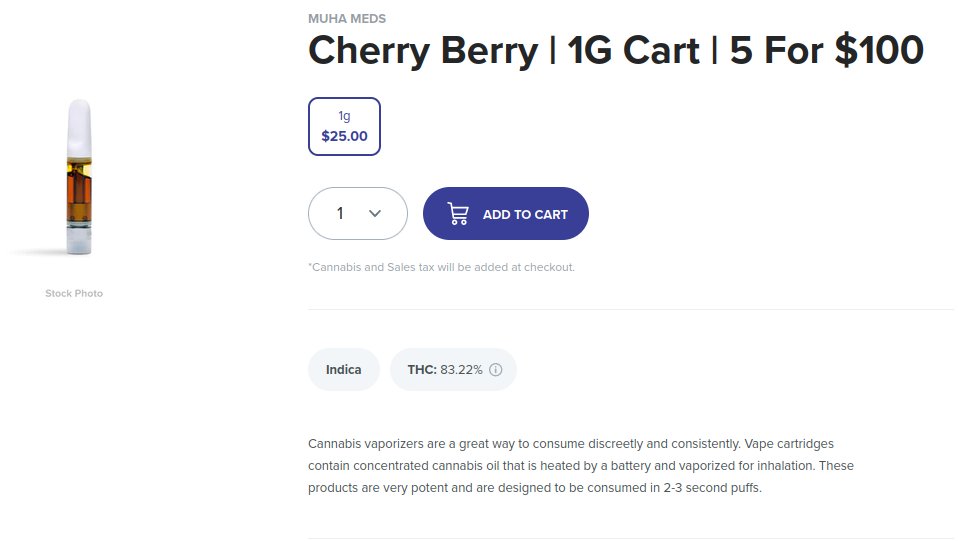 Yeah, 5 for $100, isn't that a peach? With a stock photo? Millions of photos of Muha Meds branding we find all over the cart packaging sites, and they couldn't just yoink a photo off DHGate?
Well, I'll tell you where we find Muha Meds every day: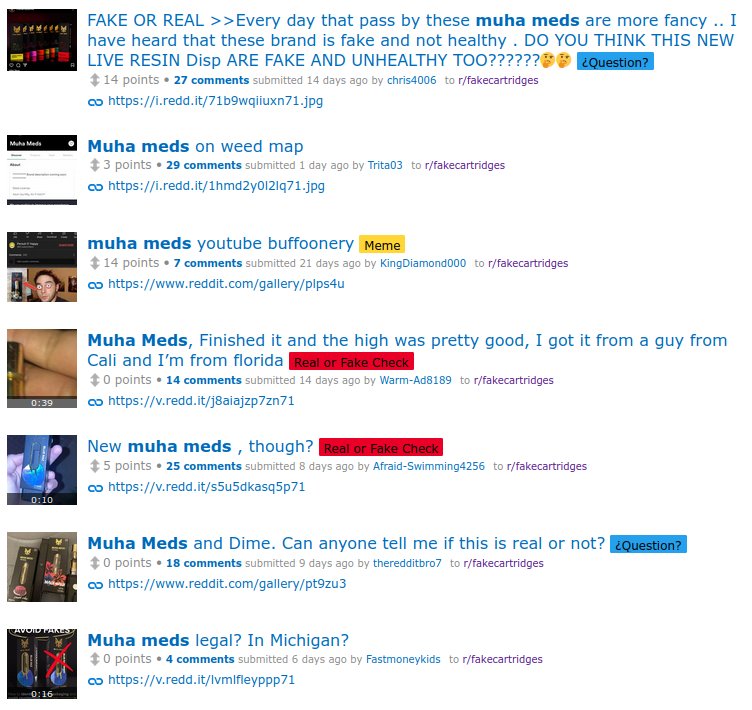 …in the Reddit fake carts forum. With a nonstop stream of people asking about them all over the place. One turns up in that screenshot from somebody in Florida relating the familiar mythical "plug from Cali." Day after day, we see bundles of Muha Meds rubber-banded together and flashing on every social media platform in every state. We know damn well they're not all coming from Center Line Michigan.
Bottom line: Vape what you want, but we're NEVER trusting a Muha Meds vape!
For every story we tell you about this brand, there's some ten more going on in the background. We have seen so many slippery, evasive moves out of Muha Meds, caught them in so many lies, that the brand has destroyed its own credibility even if it had a license chiseled in stone and autographed by the Supreme Being.
Readers, share your passion for our Fake Cart Detective series here in the comments or in our super forum!