REVIEW OVERVIEW

SUMMARY
I never thought I'd compare a disposable THC vape pen to a cocktail, but here I am. The Good News Friyay disposable vape is like a party in a pen without having to leave the comfort of your home. As a dedicated introvert, this is my kind of soiree. And, if you're an extrovert or an ambivert, this is a perfect replacement for alcohol. It's affordable, potent, and easy to use. What else could you ask for? Let's get into it.
Check out our video review of the Good News Friyay Disposable here.
Pros:
Tastes great
Productive high
Cute packaging
Cons:
Recommendations: None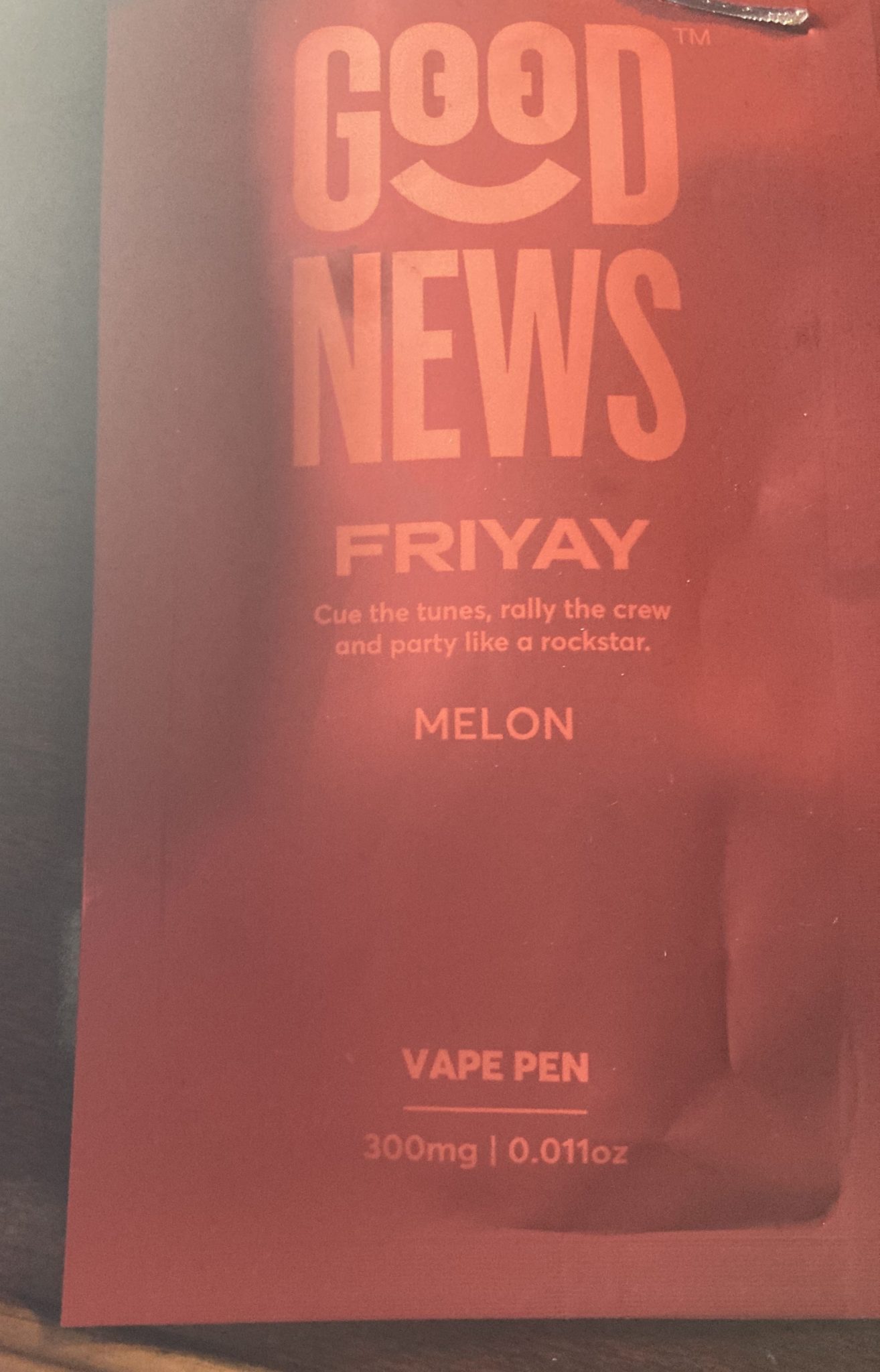 The packaging is cute and feminine
The Friyay vape pen tells you what you're getting into right on the packaging. "Cue the tunes, rally the crew, and party like a rockstar." This party pen by Good News is made by big cannabis honchos at Cresco Labs. The pen and packaging are a matching dark red and pink. I loved that the packaging was more feminine-leaning in design because a lot of cannabis products are normally catered to masculine energy.
The Friyay pen is like vaping a pack of Gushers
I love a good flavor, and the Good News Friyay pen is packed with flavor. The packaging says it's "Melon", and it has a fruity palate to it. It kind of tastes like a bag of Gushers or a Fruit Rollup. If you have a sweet tooth, you'll love the candy taste of the Friyay pen.

It's a potent disposable vape pen, but you won't get a lot of product
For a disposable, the Good News Friyay pen has a decent potency at 78.72% THC. It's 300mg (0.3g), so you won't get a huge amount in the pen. The pen was $50 at my dispensary, but keep in mind Chicago dispensary prices are pretty ridiculous.  The vaping experience is polished and sleek. I didn't cough at all, and I didn't feel my asthma flaring after a few pulls. 
An energizing high that will give you a flare-up of creativity and energy
This is a Sativa-heavy combination. I felt energized and had a clear high after using it. My creative juices were activated after a few pulls from the disposable. I also got inspired and it cured a bit of the writer's block that I was experiencing. I'd say the Friyay pen is ideal for creatives who want a good high. I didn't get the giggles or the munchies; it's more of a productive, hoppy high. I get a pretty good high after 2-3 pulls, that last about 30 minutes.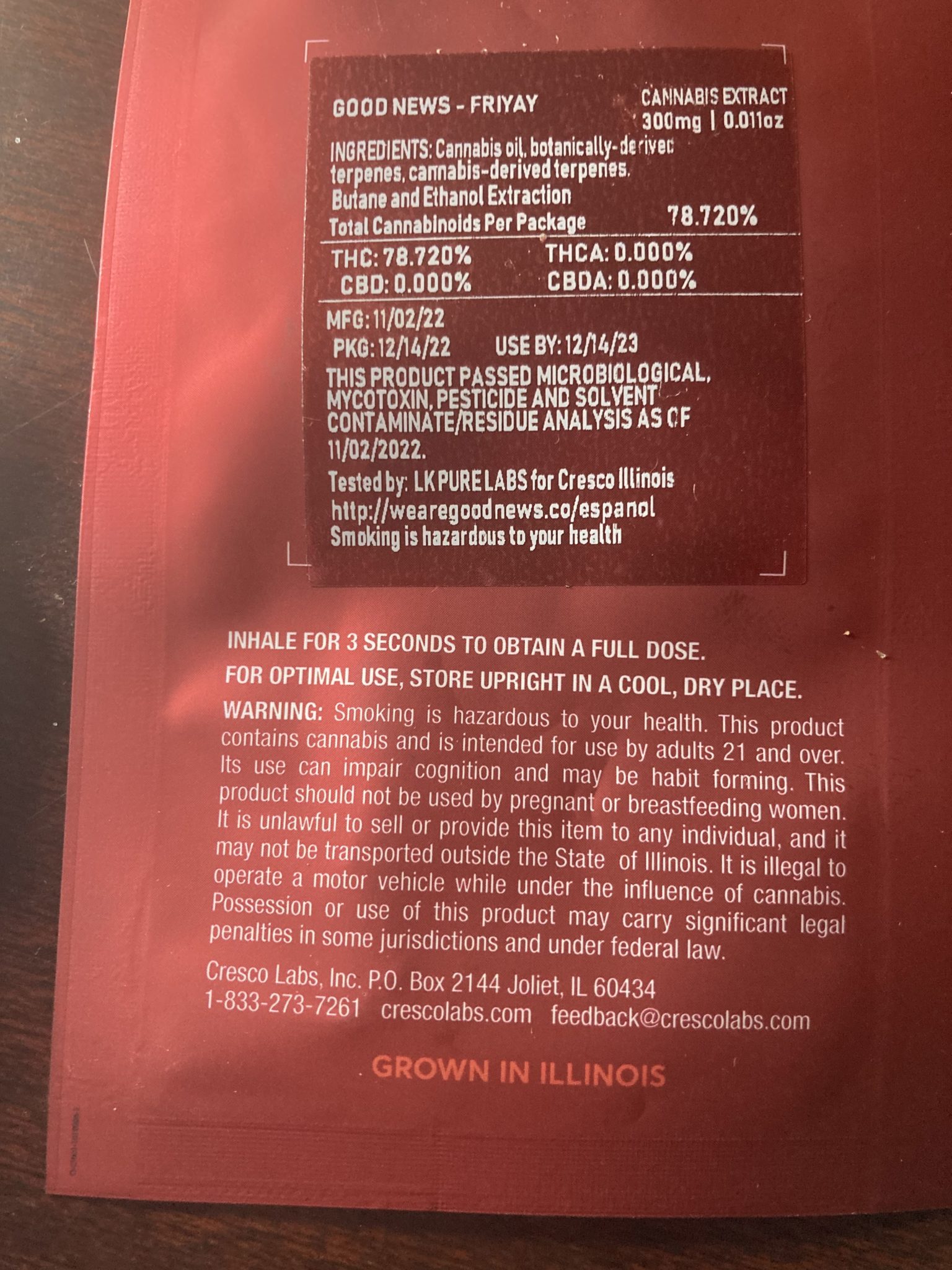 The pen is a little awkward to take pulls from
The Friyay vape pen is more of a cigarette-shaped tube than a "pen." The lack of a mouthpiece makes it a bit awkward to take pulls, especially if you have any lip piercings like me. My philtrum piercing kept getting caught between my teeth when trying to take pulls.  However, the size makes it a great on-the-go vape pen. You can stick it in your pocket or clutch it and bring it to your shindig for a few quick puffs to kick off a fun night. 
All in all, the Good News Friyay pen is a fun experience, that is great for a weekend high or a fun night. Have a party to go to? A painting to finish? I'd suggest the Friyay pen. 
You can find out more about Good News Friyay Disposable here.
Have you tried Good News disposables? Let us know in the comments or on our forum