REVIEW OVERVIEW

SUMMARY
I sampled this 500mg 72.81% uncut full-spectrum cannabis-derived cartridge (Co2/Ethanol) from Clear Creek Extracts. And I'm big-time impressed by the flavor of this cart. I'm a pretty big snob and lean toward solventless for most vapes and carts.
Pros:
510 universally compatible
Flavorful
Easy to use for beginners
SUPER affordable
Cons:
500mgs carts can be consumed quickly
Recommendations: None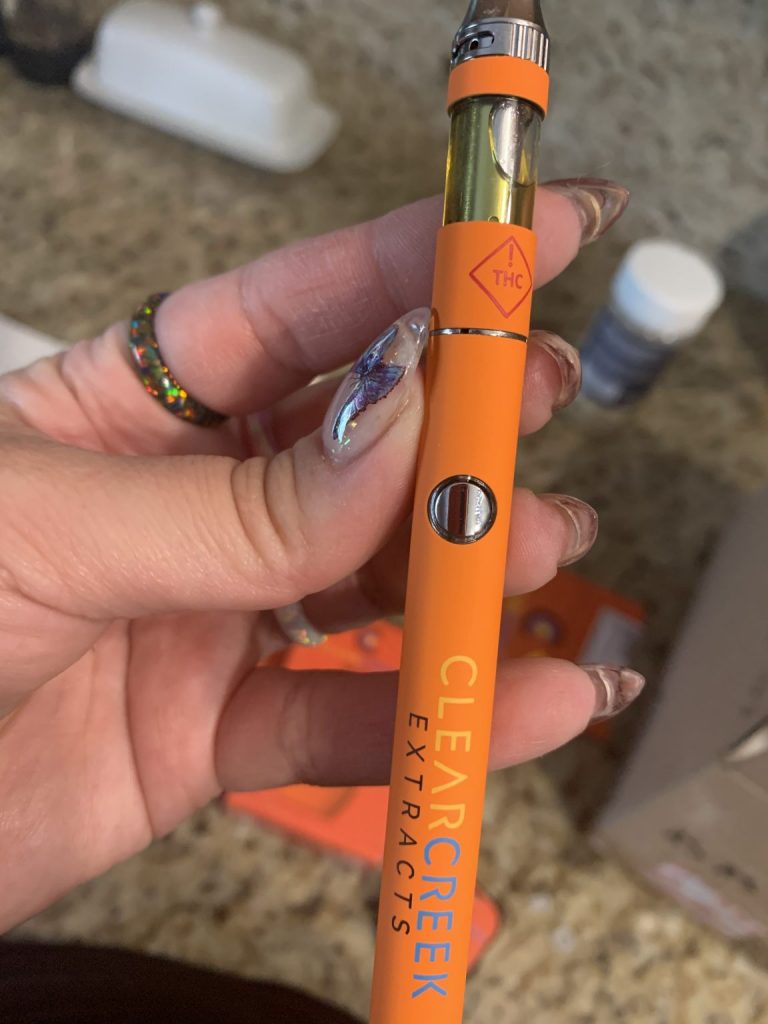 Clear Creek Extracts used to be Incredibles Extracts
I believe Clear Creek Extracts used to be Incredibles Extracts and has rebranded from that. I've been a huge Incredibles fan from the get-go, so testing these products is the full circle. I have done pop-ups with Incredibles and have always been blown away by consistency and flavor. I primarily smoke concentrates so I always love to review things I use daily. Since I smoke a lot of cartridges and this passes all the tests. I like the battery and voltage varieties. I also like the type of tank used to fill the oil. Being able to have a "carb" on my cartridge tank is great.
Let's talk terps!
I like that this product lists terpenes on the packaging because not many brands in Colorado list terpene % since it's not required by the Marijuana Enforcement Division. The clearness of oil tends to let me know how tasty the product will be. The sour pineapple tastes exactly like that it sounds, with fruity and sweet notes. Upon exhaling you can taste the sour diesel part which is earthy.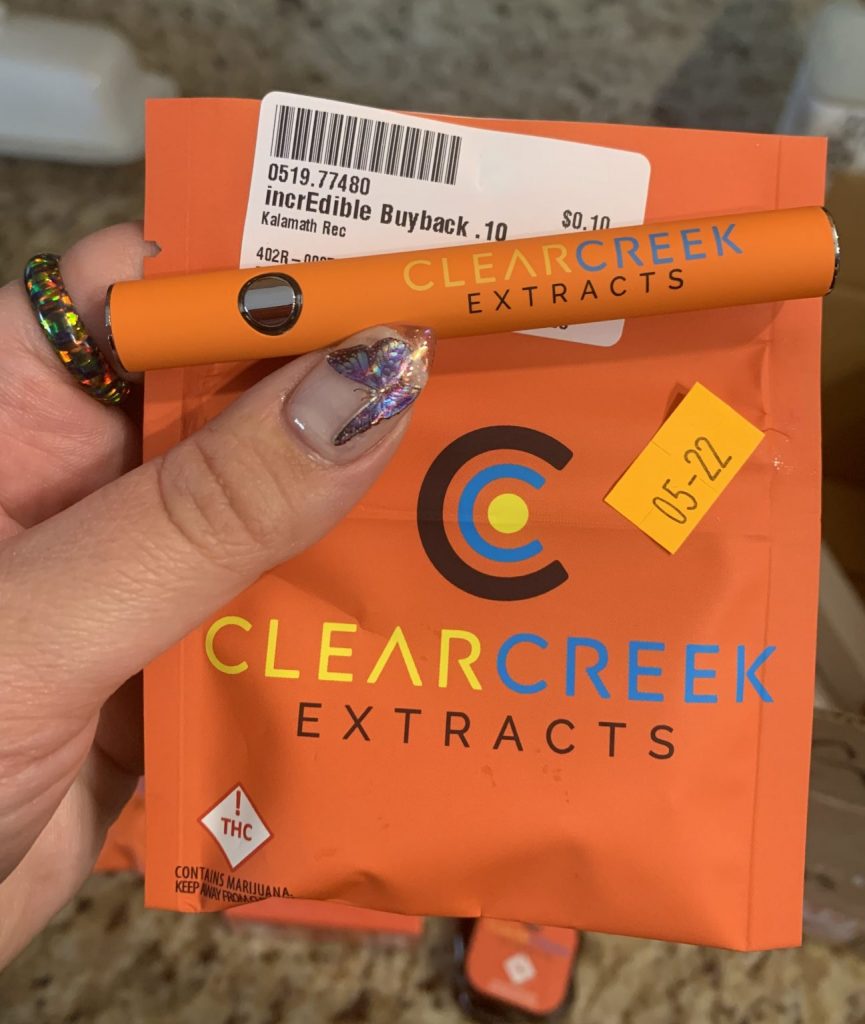 Let's talk about the effects!
Sour Pineapple is Sour Diesel x Pineapple Kush and is a Sativa-dominant hybrid (70/30). It was effective for and treated my anxiety, stress, and nausea. After consuming this cartridge I felt energized, euphoric, happy, and uplifted. It also relieved nausea, chronic pain, depression, stress, and migraines/headaches. I also was not tired after consuming this vape.
Super smooth
This Clear Creek Extracts cartridge hit like a champ, I barely coughed and hit the cartridge at the lowest setting with the carb cap open to one airhole.
Smoked like a champ all the way through
I usually smoke rosin carts like Lazercat, Dab Logic, or 14er. But I do smoke CO2 cartridges like AiroPro, O.pen Vape, or Potions and the hardware is typically the issue for me. Most carts will leak oil from the mouthpiece, or leak from the bottom where the battery and cartridge connect. This cart smoked like a champ all the way through. 10/10. Moreover, the flavor was better or on par with any of these CO2 cartridge brands.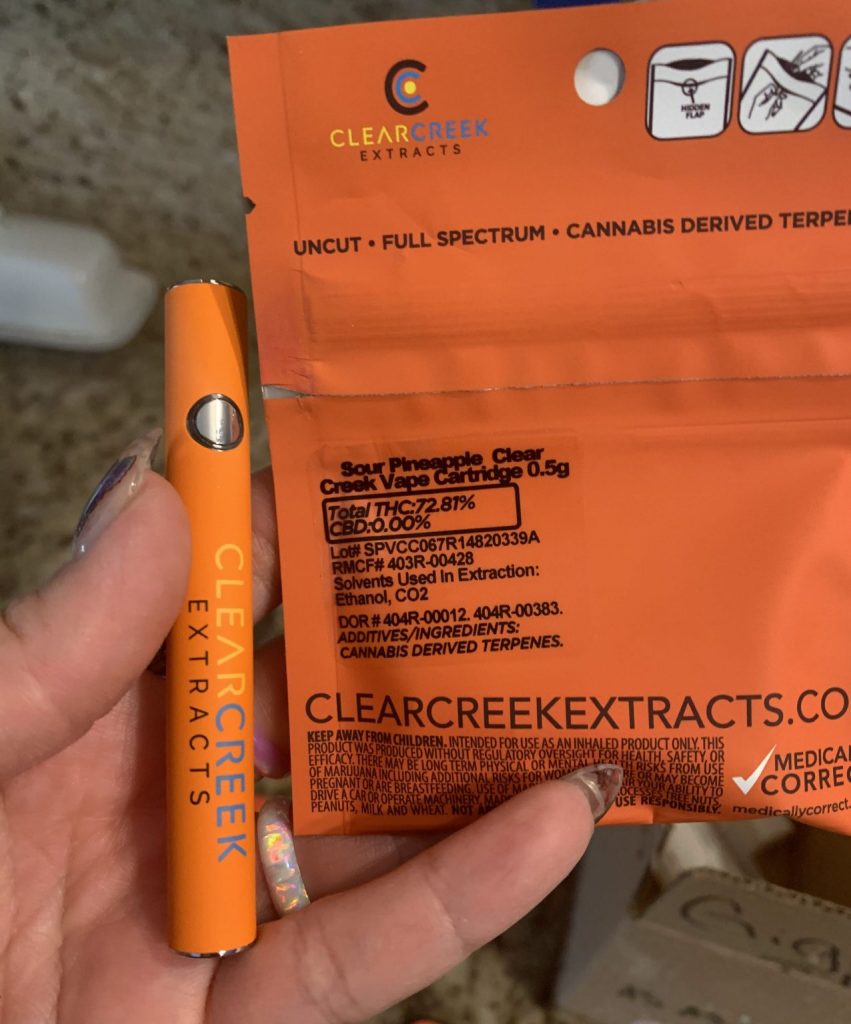 Concluding the review
In conclusion, Clear Creek Extracts carts are flavorful, affordable, and easy to use for beginners. The only downside that 500mgs carts can be consumed quickly.
You can find more about Clear Creek Extracts here.  Have you tried their carts? Let us know what you think in the comments or on our forum.