REVIEW OVERVIEW

Design and Build Quality

8

SUMMARY

AliensRx carts are definitely a good hit, but where is the source? A California based company with a mysterious background, AliensRx remaining a lowkey company and SC Labs approved supposedly.
Claimed to be a cannabis cup winner, Aliens Rx carts are definitely a good hit, but where is the source? A California based company with a mysterious background, AliensRx remains a low key company. Research showed nothing about them on cannabis cups, but one strange thing did pop up.  The website for Aliens RX and original Instagram are currently down. Now they are up as @AliensRx_Cail.
On that Instagram account, they list a California License number 10002329, belonging to Loud Pack, makers of Heavy Hitters. You can search for it here. AliensRx might be made by Loud Pack, but we emailed them to confirm and will update this post once we receive a response.
Pros:
Appears to be licensed
Strong
Cons:
No background information
Heavy terp flavor tastes almost artificial
Pre-printed THC claims probably false
Flavor sour
Vitamin E claims have been made, but not verified
Notice: DabConnection does not offer any medical advice nor guarantees the safety of any of the products reviewed on the site. The FDA currently advises against vaping THC. This particular product appears to be black market and may pose additional dangers beyond state-regulated cartridges.
Fake info right out the box on Aliens RX carts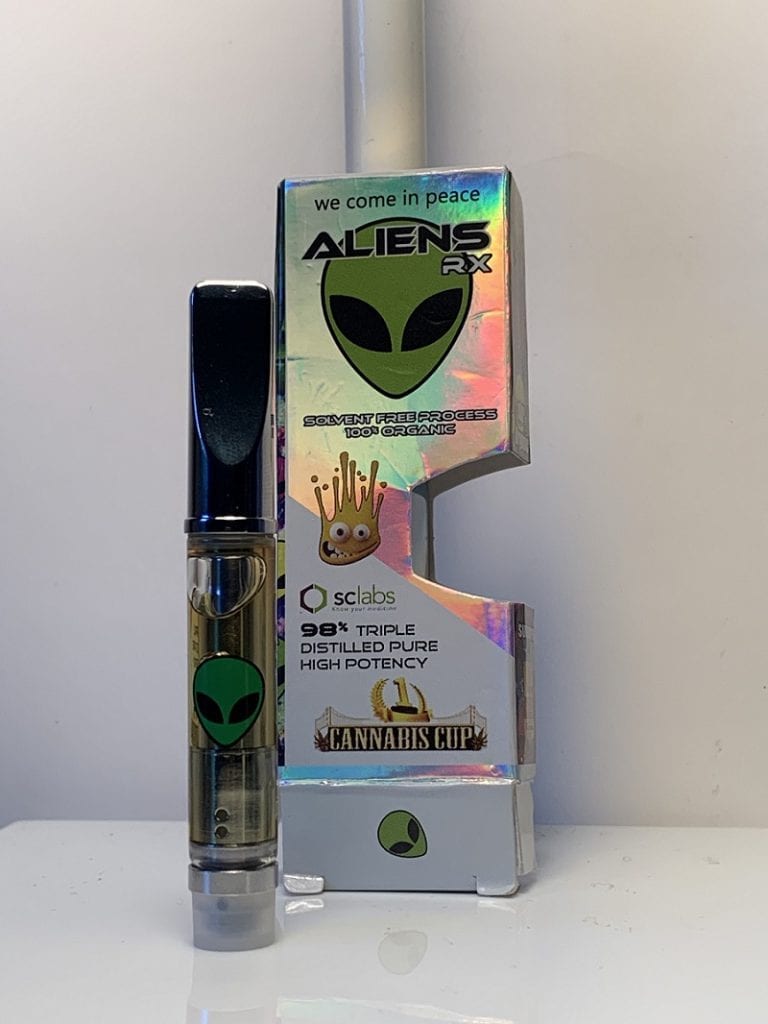 A shiny little box with strange figured characters and an alien face, no child safety lock and they come in 26 pieces per box. This cart seems very suspicious given the information available. The box seems very attention-grabbing but that's about it. Claims to be 98%, but unless it's a sticker with fresh lab results, we don't trust it.
The background behind AliensRx and OxClear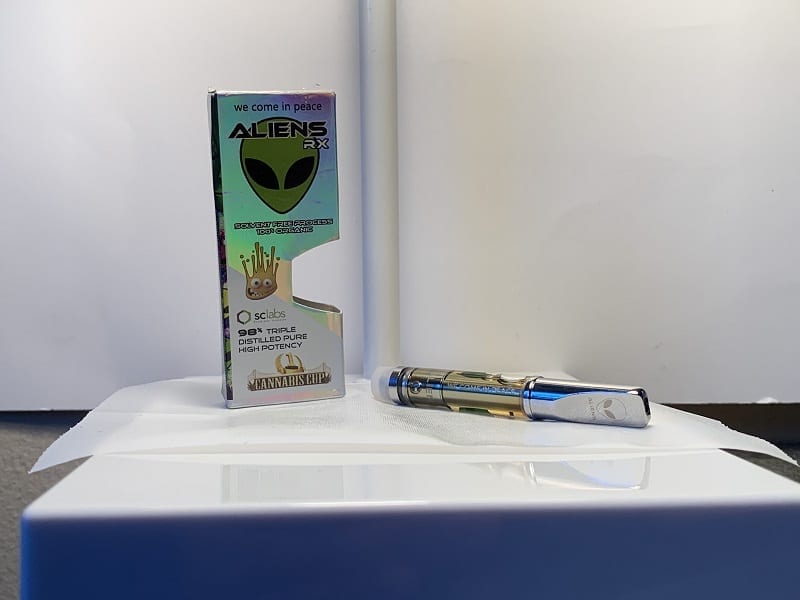 Aliens Rx might just be a labeling company similar to Dank Vapes or any other black market cart, the only difference is the this one states the company that produces them. Besides that, all the information we could find is provided by threads and people, concluding these carts still have almost no background.
Taste is very unnatural on the Alien RX cartridge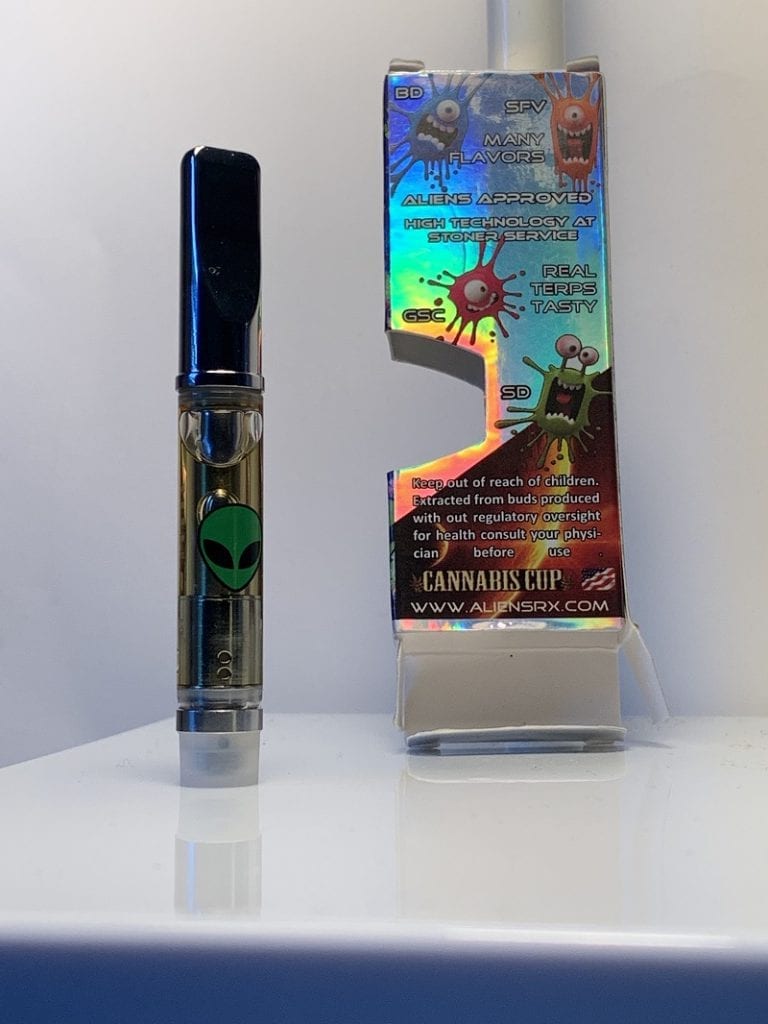 Claiming to be Do-Si-Dos but definitely reintroduced terpenes have been added and you can clearly taste it. I don't want to say it's an unpleasant flavor but definitely was an unusual taste. Terps seem to ruin this cart. When terps are reintroduced they most likely aren't MJ derived and in this cart, you can definitely taste a strong flavor. Unnatural terpenes are not recommended by some for vaping.
AliensRx Oil Quality is a mystery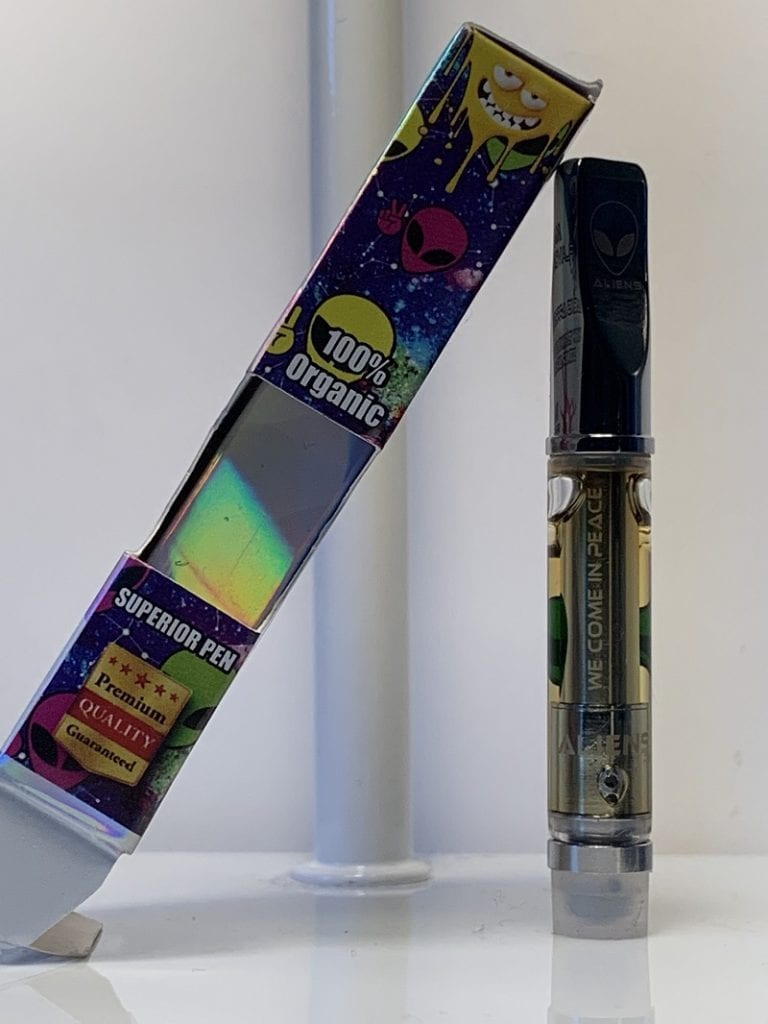 Claims to be a Cannabis Cup winner and SC Labs certified, but the oil definitely doesn't compare to any dispensary cartridge I've had. Very thick oil doesn't seem diluted, but the amount of terpenes added seems very excessive.
After a small amount of research done there were claims of the company using Vitamin E and causing problems in its local community about a year ago. After seeing that, I instantly put the cartridge down, I'd rather be safe than sorry. I was hoping maybe they changed that since I did happen to hit on it before stumbling across that, but evidently there is no way in surely knowing.
Concluding the AliensRx Review…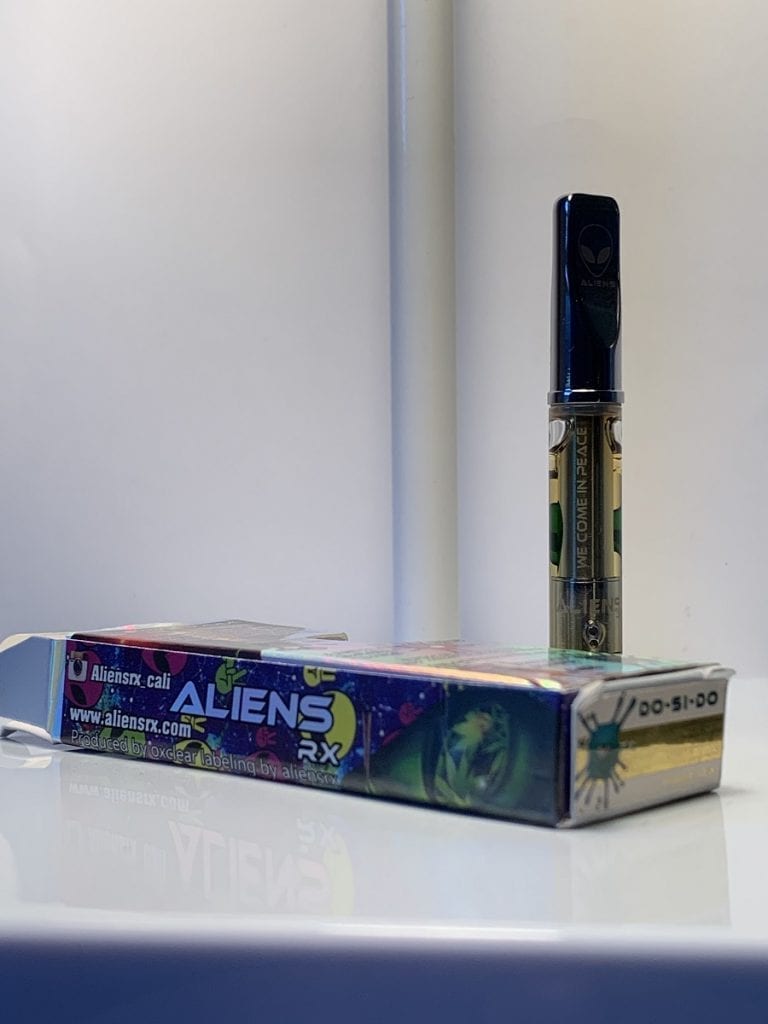 Always trust your source and be cautious about what you consume. Although the first hits I did in this cart made me feel decent, the information that could be gathered made me definitely reconsider.
Have you tried the AliensRx Cartridge before? Post your review below! Questions or comments? Post below or in our forum!