A few months ago, we did a write-up on the vape cartridge brand 1Match Concentrates. Our initial conclusion was that it's either a completely fake brand, or a home-brewed street brand. To be sure, there's very little difference (fake brand = one party sells packaging, others fill; street brand = same party also fills, but others may fill too). A new dramatic comment left under that post revealed some fresh insight.
Disclaimer: We do not claim omniscience. We're going on information somebody left us and whatever we have found that correlates to it.
A person claiming to be a detective has alleged some information about the people behind 1Match
The person identified themselves only as "a private investigator hired by parents of whose kids fell sick from these products." His other remarks are quite long, so we will summarize the commenter's claims.
The commenter alleges that:
That 1Match is owned by Akram Alawdi and Dhaker Hassan
That they operated in Bakersfield, Kern County, California
That they "also sell spice and liquid spice"
That Akram Alawdi was "busted" making 1Match carts in Kern County
That Dhaker Hassan subsequently left to New York City
That Hassan continues the 1Match operation there and distributes to that area
That one of our photos from the Instagram account of 1Match shows Akram Alawdi
So… We have a lot to unpack here. To make a long story short, we did find links that appear to correlate to these allegations. If all of this is as credible as it looks, it paints a very educational picture of the story of a street cartridge operation. Here we go step by step:
First we tried verifying Akram Alawdi
We find multiple hits under that name on various searches. We'd rather not link to them until we have it more nailed down whom we are looking at. We can say that we find people under that name reported at ages 33, 34, and 38, and that one or more of them might be affiliated with the businesses "Smoke One" or "Wellgreens CBD" in Bakersfield, Ca.
As for the photo from the 1Match Instagram channel, we have it now as the banner image for this post, with a clip and zoom in the upper left corner. It looks to us like it vaguely could be the same person we're thinking of from social media profiles, but this is far from anything one could confirm.
So far, we don't want to make too many assumptions about faces because we find multiple people by that name in various forms.
There is a court record under that name in Kern County for a narcotics charge
At KernCo.us, Superior Court, we find the following details of a criminal case: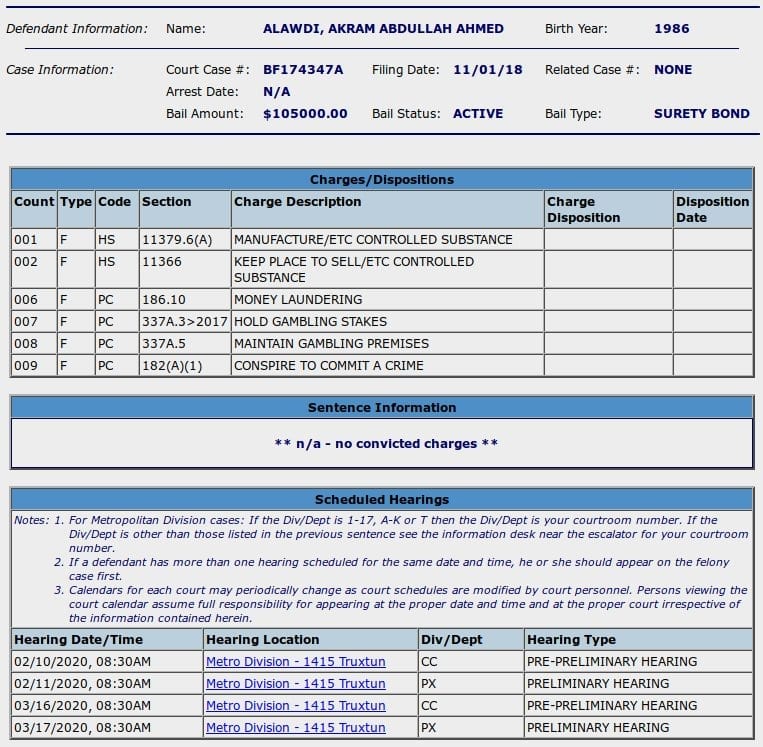 Court case #BF174347A identifies a "AKRAM ABDULLAH AHMED ALAWDI" charged in 2018 with "MANUFACTURE/ETC CONTROLLED SUBSTANCE" and "KEEP PLACE TO SELL/ETC CONTROLLED SUBSTANCE."
These are far from the only charges under that name, but these are the main ones we're concerned with in this story. So far, we do have to conclude that somebody answering to a version of "Akram Alawdi" was charged with a couple controlled substance charges.
The birth year shown there is 1986, which would put the subject in the age range of 33-34 years depending on whether or not they have celebrated a birthday this year.
We also find this possibly related case in the Central District of California, a judgment and injunction against a defendant named Akram Alawdi whom is associated with "R&J MARKET & SMOKE SHOP, INC." and "TAHAM LLC." This seems to be a settlement in an unrelated matter, but once again ties the name to a smoking-related business.
At this point, it could be the case that there are multiple people of that name, several aliases attached to one person, several similar names related to each other, and several smoking-related businesses, all in the Bakersfield area.
Next we tried verifying Dhaker Hassan
This story is much shorter and more conclusive. We find a Dhaker A Hassan right away as the operator of the "Smokezilla" shop at 3022 Taft Hwy, Bakersfield, Ca. We know this because we find a suspension order from the Kern County Public Health Service, which proclaims that during an inspection, the business was found to possess synthetic drugs with the intent to sell. Specifically, there would have included "Psychoactive Bath Salts, Psychoactive Herbal Essence (Spice), and Other Synthetic Drugs."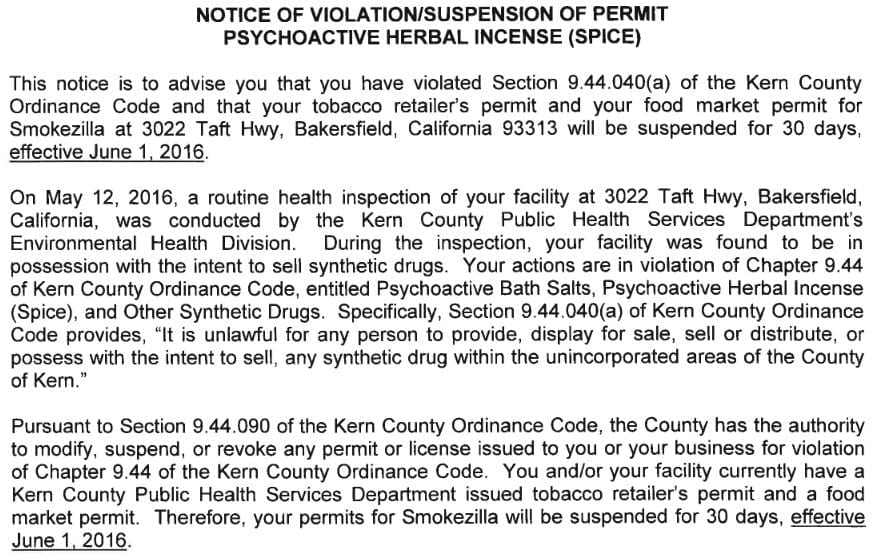 We also find a Twitter account for Smokezilla, on Taft highway in Bakersfield. "Smokezilla" is also a common name for other businesses and products.
Likewise, we feel safe in concluding that somebody named Dhaker A Hassan got in trouble in Bakersfield for synthetic drugs. But we of course should not make further assumptions.
A word or three about Spice (K2)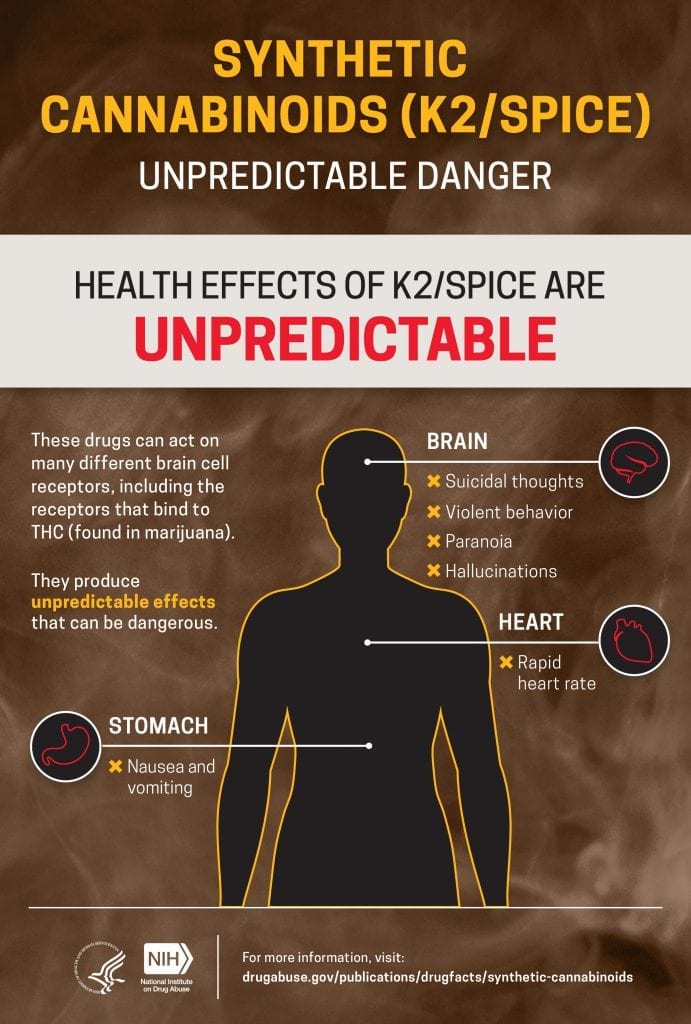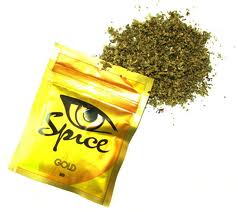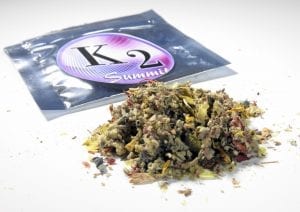 This is far from the first time synthetic cannabinoids have popped up in connection with a cannabis vaping story.
After all the bad press synthetic cannabis substitutes have gotten over the years, one would think everyone would be avoiding them like the proverbial plague. Especially now that we're getting legal natural cannabis in so many states. Synthetic marijuana has even been discovered tainted with rat poison!
Yet apparently there's still a market for the stuff that people partake of willingly, and there are a few cases where synthetic cannabinoid was discovered in vape juice or oil pens sold as containing actual cannabis.
So chalk that up to another possible contaminant in untested, unregulated THC cartridges.
Final thoughts on 1Match story
We appreciate any tips anyone could supply on cannabis products produced and distributed outside of regulation. We want to inform the public as much as possible about enjoying cannabis responsibly and safely. We would ask, however, to be more careful in the future throwing identities around, because you never know when several similar names can be tied into trouble they never asked for. The "Internet lynch mob" is notorious for cases of mistaken identity.
We publish our findings on court cases and regulation because that is a matter of transparent public record. But at no point do we suggest a complete tie between the brand 1Match and these individuals, at least not based on a tilted photo.
Join us for discussion here in the comments or in our forum.