REVIEW OVERVIEW

SUMMARY
Howdy, vape cartridge fans! We're back today with the Doteco TargetX vape cartridge battery. The TargetX is a new model, almost a prototype, at this stage, and I'm informed that it will be an OEM product sold for third-party rebranding. Hence, no MSRP.
We have reviewed Doteco products before and I have been impressed with their efficiency and economy. As opposed to the prevailing trend in vape hardware, Doteco goes for the stripped-down, no-frills philosophy and I actually appreciate them for it. The TIK10, previously reviewed, has become my go-to battery simply because it is so fast and hassle-free.
With that said, the TargetX is a very experimental design which includes a few new features that are a real curve ball, but still in a compact design.
See our video review of the Doteco TargetX here.
Pros:
Compact and discreet (Doteco always excels at this aspect)
Good airflow and hits
Innovative temperature control
USB type C charger
Strong battery performs long-term with minimal charging
Automatic shut-off
Cons:
Cartridge docking needs work
Needs better documentation
Unit seems a bit sluggish to respond
Recommendations: Improve the cartridge docking mechanism so the cartridge attaches more securely; compose a detailed user manual.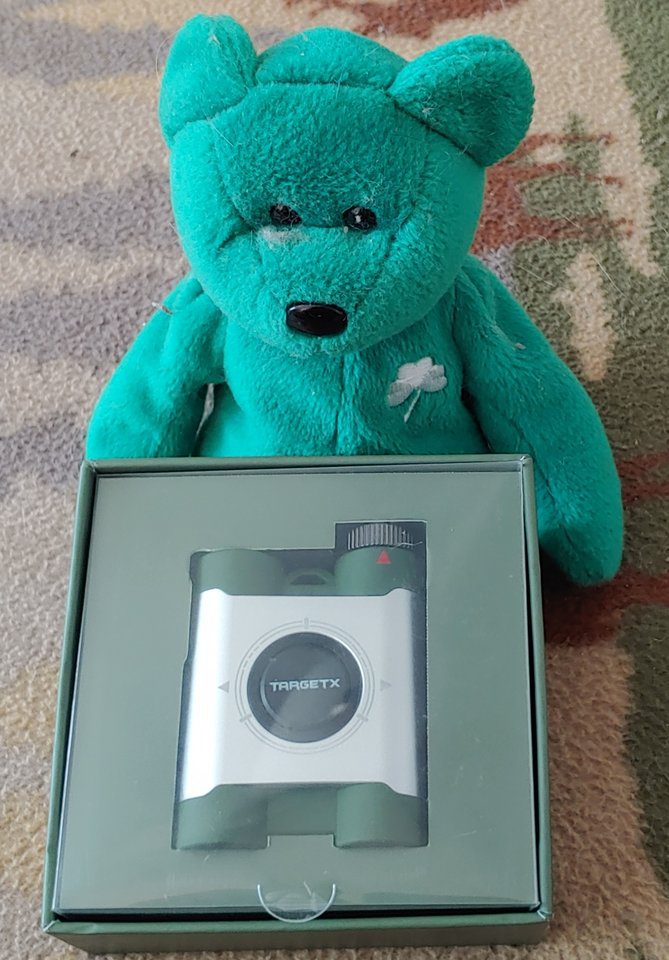 Doteco's TargetX is innovative on multiple levels
From your first glance at the unit, you can tell that they were going for a new design standard. It's shaped like a pair of binoculars, with the control on one side and the cartridge docked on the other.
Next, even though it takes a standard 510 threaded cartridge, there is actually a magnetic attachment for the cartridge. The unit comes with 2 metal nuts that thread onto the bottom of the cartridge and help it attach to the dock.
Then there's the temperature control. The temperature is set with a dial at the top of the unit, which you twist to adjust the voltage from 2.7 to 4.2 V. This is definitely easier to use than a button setting, and gives you a full range of control. I've never seen this feature on a cartridge battery before, so congrats to Doteco for the creativity.
Finally, the unit has one big thumb-size button on the front, seated in an LED light display capable of a whole rainbow of colors. It looks cool and is great to use once you get used to it, but as you can see from the video I was practically figuring it out from trial and error because there's very little documentation of it.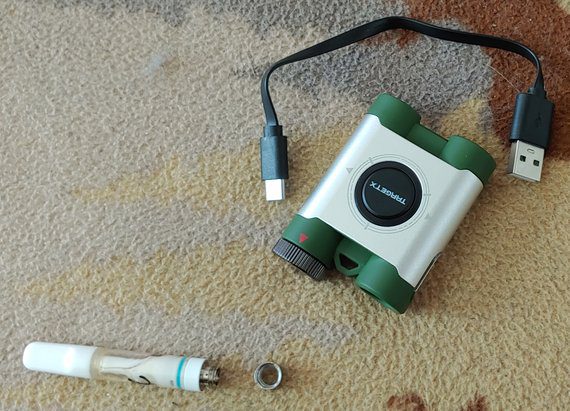 Doteco TargetX from box to first puff:
Plug in the USB-C to charge it up – the button turns green when charged
Take the metal nut and thread it onto the bottom of the cartridge
Seat the cartridge in the unit – it will flash blue to show a cartridge is detected
If not done already, press the button 5x to turn it on – it will flash green for "on"
Adjust the dial to your desired voltage
Press the button 2x to start preheat mode – it will cycle through colors to show this working
When ready to vape, hold in the button, which will turn red
Inhale from the cartridge after a few seconds while holding the button
Once you get used to it and have it working, it hits smooth and has great airflow like all Doteco products.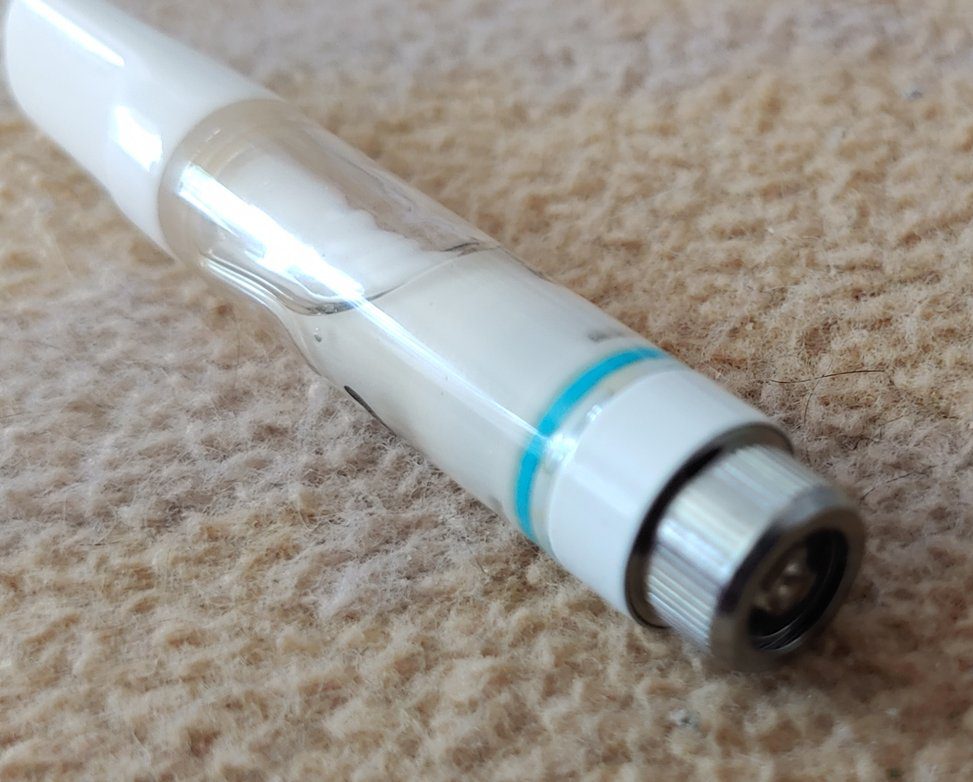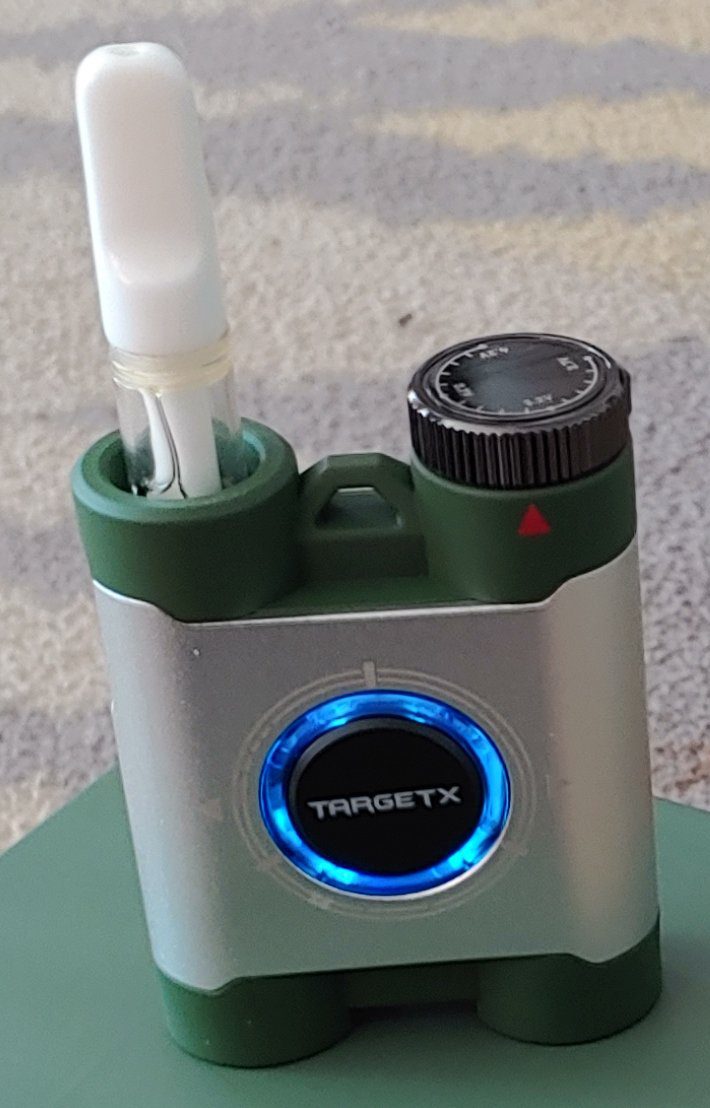 The TargetX needs to go back to the drawing board
While I appreciate the thought that went into this product, perhaps it is innovating a little too much. Between the dial setting, cart docking, and colored light display, there is a lot to get used to all at the same time.
The docking mechanism is the most frustrating. The theory I think they are going for is to make it so the mouthpiece can be angled just how you prefer, rather than having to stop wherever the cartridge threads stop. In practice, the cartridge does not seat very securely and wriggles around a bit. The light blinks blue to show a cartridge is detected, but then you might move it accidentally when you're waiting to hit it and it will come unseated again. It is just not well-implemented and made it difficult to use.
I love the dial setting, which is a great idea we might see a few other models adapt over time.
The color LED display around the button looks cool. It seems capable of at least 8-bit color? Between that and the thumb-friendly big button, the button control and light feedback system is top-notch. Unfortunately, there are no detailed instructions to fully understand this system, so I had to do a lot of fiddling with it to figure it out.
Doteco has some instruction on its site, and I also watched this video which barely covers a start-up hit. You can see in the video, even after inserting the cartridge and the unit flashing blue to show it is detected, the hand model has to adjust the cartridge slightly. In any case, the flashy color display doesn't do much good when you don't know what the colors all mean.
Lastly, I found that you have to hold the button in for a few seconds, even after the preheating, before the unit is ready to hit. Since I did not have this issue with the Doteco TIK10 or MGear4, this caught me off-guard and was also a bit frustrating to figure out.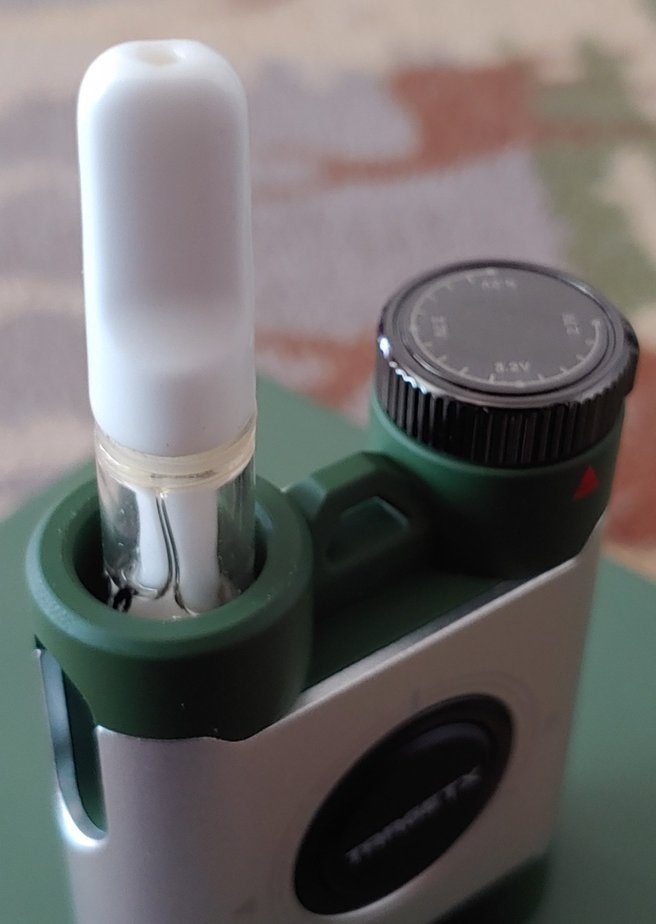 Wrapping up…
I wanted to like the Doteco TargetX, because it sports many features which are a plus. But the cartridge docking system is a minus. Another issue is the need for threaded nuts to adapt a cartridge for use. What happens if you want to switch between 3 cartridges? You have to stop and fiddle with the nuts, and if you lose them, you're out of luck. Its tiny size makes it pocket-friendly, but now to use it on the go you have to make sure you carry a nut around with you too.
Once I got it working, it delivered smooth and satisfying hits. The dial setting is luxurious, capable of a full range of voltage tweaking. I also like the window where you can see the cartridge oil. But the faulty connection mechanism shot down the unit's performance. So I can't recommend this one until they give it a re-design. The Doteco TargetX is an ambitious design with many cool ideas, but not all of them hit the target.
Readers, you may share your thoughts on Doteco TargetX, vape cartridge battery design, and vaping in general here in the comments or in our once-again-active forum.